Contixo F28 Review: A Comprehensive Guide (2023)
Updated On: Oktober 29, 2023
Welcome on board, folks! Today, we have something buzzing, something that has the potential to elevate your drone experience to a whole new level. By now, you may be wondering what I'm talking about - it's none other than the fantastic F28 drone from the reputable brand Contixo. In this exclusive Contixo F28 review, I aim to provide an in-depth analysis of this remarkable flying machine!
What truly strikes me about the Contixo F28 is its seamless blend of design innovation combined with an array of handy features. We're talking about a drone that not only soars high but also captures stunning views with sharp clarity thanks to its adjustable 2K Full HD camera. Offering smart flight modes such as Follow Me and time-lapse photography mode lets you capture dynamic footage like never before.
What You'll Gather Here
Comprehensive insights into the key features and capabilities of the Contixo F28 drone
Real-life experiences gathered from versatile use cases
Valuable tips and tricks for leveraging your drone experience
Detailed guide on how to best maintain your F28 unit
Crucial suggestions on relevant accessories you might consider for your drone setup
Brief Introduction to Contixo F28 Review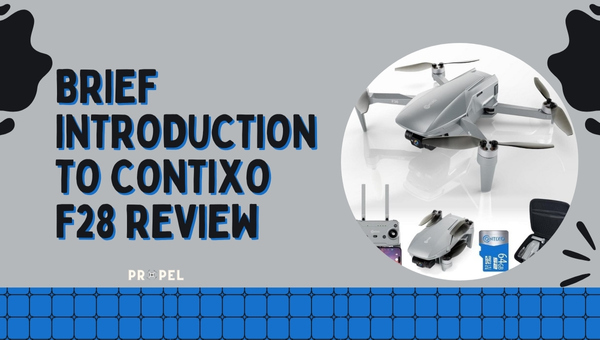 Let's cut right to the chase: we're here today to talk about the Contixo F28 Drone. By drifting into this article, it's clear you're venturing to sort out whether this flying machine is worth investing your hard-earned cash into. Well, guess what? You are in the right place. Before we get lost in the specifics of it all, I thought I'd provide a quick rundown on what exactly makes this drone stick out from amongst the crowd.
A Closer Look at the Specifications
Most specifically, let's delve deeper into what might make or break your decision: The specifications of this machine. Here they are for an easy glance:
| Spezifikationen | Einzelheiten |
| --- | --- |
| Camera Resolution | 2K Full HD |
| Adjustable Camera Angles | -90 to 0 degrees |
| Fliegen Modi | One-key modes including Fly Far, skyrocketing, time-lapse photography |
| Intelligente Flugmodi | Follow Me, Way Point, Orbit Mode |
| Flugbereich | Up to 1700 feet |
| Batterie | 7.4V 2000mAh |
| Bürstenlose Motoren | 1503 brushless motors |
| Wireless Control | 2.4 GHz dual-frequency controller |
| Wireless Video Transmission | 5.0 GHz Wi-Fi with a range of up to 1000 feet |
| Gimbal Stabilization | Tilt and roll stabilization |
| Mobile App | Contixo F28 mobile app |
| Sender | 2.4GHz with a range of up to 500 meters |
| Intelligent Flight Battery | 2000mAh Li-Polymer |
| Charging Time for Battery | About 4 hours |
| GPS Control | Yes |
| Selfie Mode | Yes |
| Field of View | 85 degrees |
The Contixo F28: A Closer Look
When it comes to drones, the market is full of options. But if you're looking for a high-quality and reliable drone packed with many features and an affordable price tag, then consider the Contixo F28.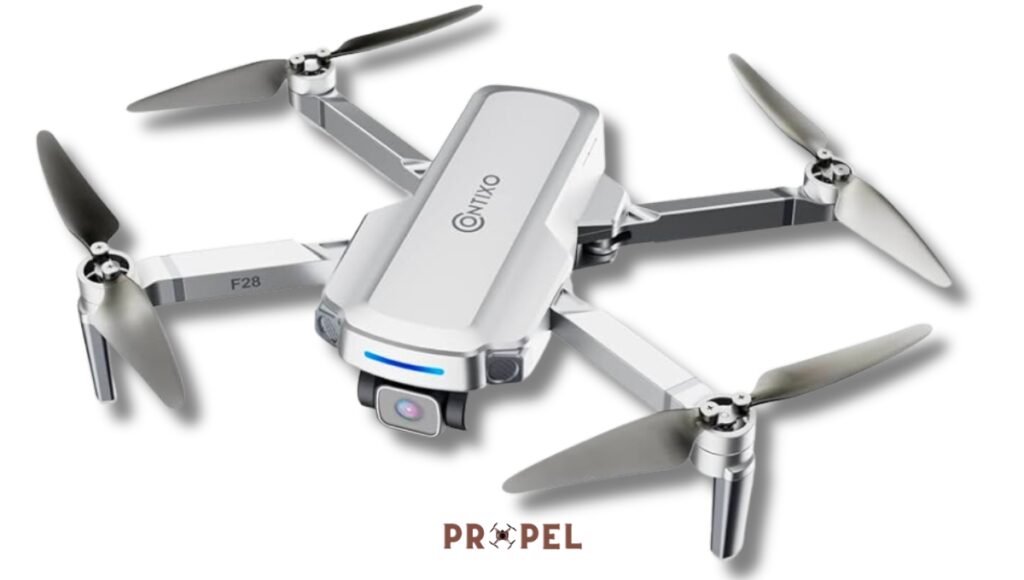 Drawn from my own experience with drones and hours of research, I've compiled a comprehensive overview of this fascinating machine in the form of specs, features, design, and build.
Specs and Features
At the heart of the Contixo F28 are its impressive specifications und features. Let's take a closer look:
Camera Resolution: With 2K Full HD resolution, the camera guarantees crisp visuals.
Adjustable Camera Angles: The camera angle can be adjusted from -90 to 0 degrees depending on your needs.
Intelligente Flugmodi: Includes Follow Me Mode, Way Point Mode, and Orbit Mode.
Wireless Control & Video Transmission: Control your drone remotely with a 2.4 GHz dual-frequency controller. Supplemented by 5.0 GHz Wi-Fi for seamless video transmission within a range of up to 1000 feet.
Furthermore:
It boasts Brushless Motors (1503 brushless motors)
The flight range extends up to an impressive 1700 feet
Equipped with intuitive Contixo F28 mobile app
Incorporates GPS control
Lesen Sie auch: Best Drones Pilot School
Design & Build
A drone's longevity greatly relies on its build quality - something that the Contixo F28 doesn't lack:
Durability: Crafted using robust materials that resist damage during impacts.
Appealing Appearance: Sleek design coupled with smooth curves make it visually appealing without being overly flashy.
Gimbal Stabilization allows tilt and roll stabilization, ensuring jitter-free footage.
There's even a Selfie Mode with an 85-degree field of view!
Moreover:
The drone comes with a long-lasting 2000mAh Li-Polymer flight battery. Expect your drone to be airborne around four hours after charging.
It is also equipped with a highly responsive 2.4GHz transmitter, providing smooth operations within a range of up to 500 meters.
Lesen Sie auch: Beste Drohnen unter $300
Performance Assessment
As a drone enthusiast, testing the performance and capabilities of a new model is always exciting. In my latest series of flights, I got hands-on with the Contixo F28 Drone for an in-depth look into its flight performance and camera quality.
Flight Performance
I could instantly sense the power behind this beast from the moment I fired up the 1503 brushless motors. While maneuvering, it exhibited an impressive response to the dual-frequency 2.4 GHz wireless controller that was both swift and highly accurate.
Speed and Stability: The Contixo F28 Drone offered an exceptional flight experience. The power from its intelligent flight battery, along with brushless motors, allowed it to zip through skies rapidly, reaching up to a range of 1700 feet. Even at its maximum speed, stability was never compromised due to its advanced GPS control system.
Responsiveness: The level of responsiveness on this drone is top-notch - It was quick to respond to every command, which proved particularly handy while navigating around obstacles or making abrupt changes in direction.
Wind Resistance: Even when faced with strong wind conditions during my test flights, it handled impressively well, maintaining a stable altitude throughout.
Intelligente Flugmodi: The real joy lies in its smart flying features like Way Point and Orbit Mode, which allowed me to experiment more creatively during my test flights.
Also read: Best Drones To Buy This Year
Qualität der Kamera
The camera quality of the Contixo F28 matches its brilliant flying performance perfectly, making it one delightful package for photography enthusiasts like myself.
Resolution: Equipped with a Full HD 2K camera having adjustable angles between -90 to 0 degrees, it significantly enhances aerial photography experiences by offering vividly detailed images, whether you are capturing landscapes or simple selfies.
Video Quality: It truly shines in video mode, where it can handle different lighting conditions efficiently with a wide field of view of 85 degrees. This makes it particularly suitable for capturing stunning video footage during various times of the day.
Mobile App: An additional benefit is its exclusive mobile app that gives you the ease and flexibility of controlling camera functions right from your smartphone, allowing more precision in getting that perfect shot.
The Contixo F28 outshines many competing models in terms of both flight performance and camera quality, making it a solid buy for anyone seeking advanced drone capabilities at a reasonable price tag.
Also read: Best Drones for Photogrammetry
Battery Life and Range
The Contixo F28 drone is powered by a 7.4V 2000mAh battery. This energy-efficient, rechargeable feature assures you of hours of uninterrupted flight. However, multiple factors such as temperature, flying mode, and altitude might influence the drone's battery longevity and, subsequently, the range it can cover.
Battery Longevity
Exploring the world above from the comfort of your ground isn't cut out for only birds; with drones like the Contixo F28, anyone can experience this thrill with just the press of a button. That said, an essential aspect that ensures this seamless adventure is none other than battery longevity. Here, we dissect how different conditions affect this crucial element:
Temperature Difference: The colder it gets outside, battery efficiency tends to drop, ultimately affecting your drone's flight uptime. This means that in colder weather, your Contixo F28's battery life might reduce significantly compared to when in warmer climates.
Use of Intelligent Flight Modes: Modes, like Follow Me and Orbit mode, require constant adjustments by the drone during flight, which may result in faster depletion of power reserves.
Use of Accessories: Flying your F28 drone with accessories could also lead to an additional drain on its power storage.
To sum things up:
Mind your environment when scheduling flights.
When using intelligent flight mode options or additional accessories, be prepared for possible shortened flight times.
Always ensure batteries are fully charged before takeoff, as well as spare batteries being at arm's length if needed.
Lesen Sie auch: How to Store Drones?
Pros And Cons To Consider
Based on my personal testing results with the Contixo F28 drone, I've found several standout features that make this drone a great buy. But let's not forget that no product is flawless, and sometimes the downsides may affect your overall experience.
Pros:
Impressive 2K Full HD camera resolution for breathtaking video and image quality.
Adjustable camera angle from -90 to 0 degrees, offering flexibility for diverse perspectives.
Intelligent flight modes (Follow Me, Way Point, Orbit Mode) provide easy maneuverability around obstacles.
Wireless video transmission range of up to 1000 feet and flight range of 1700 feet for extended coverage.
1503 brushless motors ensure smooth operation and top-notch performance even in high wind conditions.
Advanced Gimbal Stabilization for precise tilt and roll stabilization.
The Selfie Mode feature adds a fun element to the drone flying experience.
Cons:
The learning curve required due to sophisticated features, potentially intimidating for beginners.
GPS Control might not be foolproof; navigation back home could be challenging in case of weak signals.
Long charging time of approximately 4 hours, posing an inconvenience for extended flights or shooting sessions.
Recommendation – Who Should Buy It?
As I delve deeper into the wonders of the Contixo F28 drone, I have begun to picture certain types of users who would significantly benefit from this powerhouse model. Here's a list of potential users that come to my mind:
Photography Enthusiasts: With its 2K Full HD camera resolution and adjustable camera angles, you can capture stunning photos from a unique aerial perspective. Trust me, your Instagram shots will never be the same again!
Adventure Seekers: Are you someone who loves exploring and capturing every moment of your thrilling adventures? The Contixo F28 is perfect for you. Its Follow Me' Intelligent Flight Mode ensures it never loses sight of you, making it ideal for recording hiking, surfing, or biking exploits.
Tech Lovers: If you are passionate about cutting-edge technology and love testing out new gadgets, the numerous intelligent flight modes and features the Contixo F28 offers will hold an irresistible appeal.
Drone Racing Enthusiasts: Skyrocketing at impressive speeds with its 1503 brushless motors propelling it forward, this model is excellent for those interested in drone racing.
The Contixo F28 drone truly caters to a broad spectrum of needs. Hence, whether you're an amateur looking at drones as a new hobby or a professional videographer seeking to upgrade your equipment, there's something here for everyone.
Just remember one thing! While scouting out whether this model aligns with your requirements or not - don't just stop at checking off bullet points. Spend some time understanding how these features can enhance your experience instead!
For example - it has become intimately clear to me after conducting my thorough Contixo F28 review how beneficial its high-quality camera could be when deployed in areas like wedding photography or nature documentaries. The 85-degree field of view ensures a broad capture, transforming what could have been simple clips into awe-inspiring footage.
You can Find More about this in Beste Drohnen für Hochzeitsfotografie.
FAQs
Are there any unique features not found on other drones?
Yes, the Contixo F28 has several features that set it apart, such as a mobile app that assists control and an adjustable camera with a range from -90 to 0 degrees.
As with any product, some users have faced challenges with after-sales services. However, the majority have reported positive experiences.
How hard or easy is it to get replacement parts if required?
Obtaining replacement parts for the Contixo F28 Drone is quite simple as they are available in many online stores and directly from Contixo's website.
Is the drone suitable for indoor use?
The drone's sophisticated control features and stable flight make it suitable for both indoor and outdoor use. However, its size and power may be more suited to open outdoor spaces.
Schlussfolgerung
Every inch of the Contixo F28 drone is meticulously designed to give you a surreal flying experience. With features like adjustable camera angles, numerous flight modes, and an impressive flight range, it is truly a marvel in the world of drones. The selfies have never been better with the unique mode provided by our F28 Drone. Plus, with GPS control and 2k full HD resolution, every single shot promises to be spectacular.
Key Takeaway Points
Impressive Flight Range – Exhilarating flying experience up to 1700 feet.
Advanced GPS – Ensures precise control and professional quality imaging.
Customizable Flight Modes - Your command liberates its pathmaking prowess.