DJI File Recovery: How to Recover Lost Files from Formatted Memory?
Updated On: August 17, 2023
When it comes to capturing stunning aerial shots and drone videos, DJI stands out as one of the industry leaders. However, like any other digital device, there are times when files may get deleted accidentally, or a memory card might get formatted unintentionally.
This article will walk you through the process of DJI file recovery, such as recovering lost files, and provide precautionary steps to prevent such mishaps in the future.
What You Need to Know About Deleted Files on DJI
Contrary to what many believe, when a file is deleted, or a memory card is formatted, the data isn't wiped off immediately. Instead, the system simply marks that space as 'available for reuse', but the actual data remains until it's overwritten by new data.
This means there's a window of opportunity where you can recover these 'lost' files, as long as you act quickly and avoid storing new data on the card.
Pre-Recovery Steps
Before diving into the recovery process:
Do not use the memory card. This ensures that new data doesn't overwrite what you're trying to recover.
Ensure your drone or the device you're using is fully charged to avoid interruptions.
Gather the necessary tools: a card reader, a computer, and recovery software.
Choosing the Right Recovery Software
DJI-Drohnen, like many other devices, store their data on memory cards that can be accidentally formatted. Thankfully, there are a variety of software tools available to help you retrieve those valuable files. Here's a brief overview:
Recuva: Developed by Piriform, Recuva is free software that provides an easy-to-use interface. It can retrieve files from hard drives, external drives, and memory cards. A professional version with advanced features is also available.
EaseUS Data Recovery Wizard: A popular choice for both Windows and Mac users, EaseUS can recover lost files from a multitude of devices, including memory cards and hard drives. It offers both free and premium versions.
PhotoRec: A free, open-source tool, PhotoRec focuses on recovering lost media files, making it particularly relevant for drone operators. It lacks a GUI and operates in a command-line environment, but it's powerful and has a good success rate.
R-Studio: Designed for more technically-inclined users, R-Studio provides advanced recovery features. It's suitable for both Windows and Mac.
GetDataBack: Available for Windows, this software has a reputation for deep scans and efficient recovery, especially for more complex data loss scenarios.
Not all recovery software is created equal. It's crucial to select a tool that's reliable and tailored to your needs. For DJI files, EaseUS Data Recovery Wizard stands out as a top choice.
Its user-friendly interface, high recovery rate, and compatibility with various file types make it an ideal choice for drone enthusiasts. Learn more about its features at EaseUS's official website.
DJI File Recovery: Step-by-Step Guide to Recover Deleted Files
Recovering files sounds daunting, but with the right software, it can be straightforward. One highly recommended tool for this purpose is the EaseUS Data Recovery Wizard. Here's a guide on how to use it:
Step 1: Connect your DJI device to your computer.
Start by connecting your DJI Drohne or its memory card to your computer using an appropriate cable or card reader.
Step 2: Use EaseUS Data Recovery Wizard to scan your DJI device.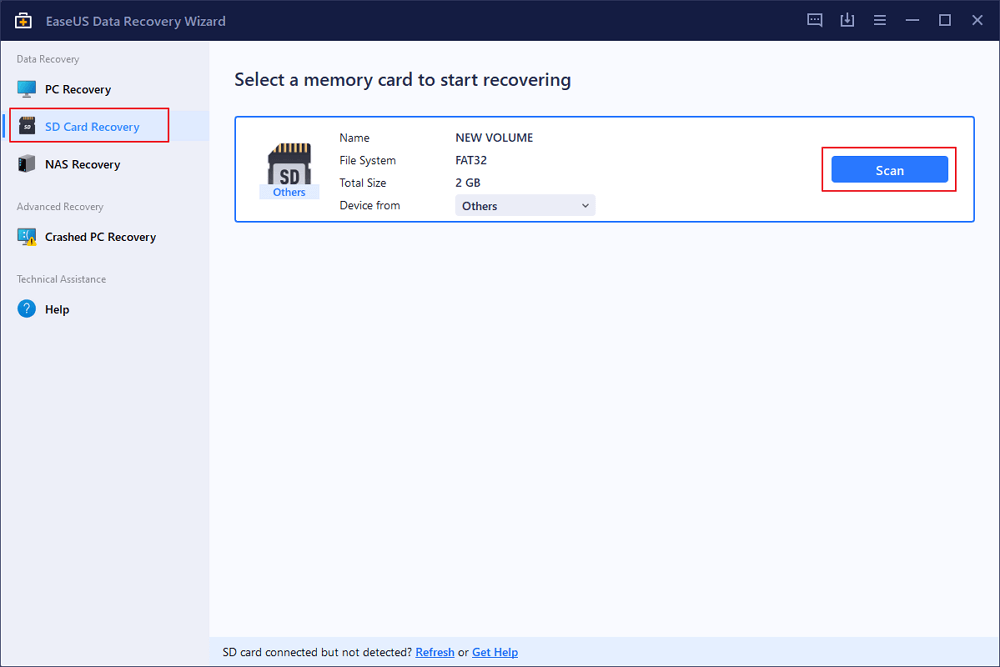 Launch the program and select the DJI device or memory card from the list of available drives.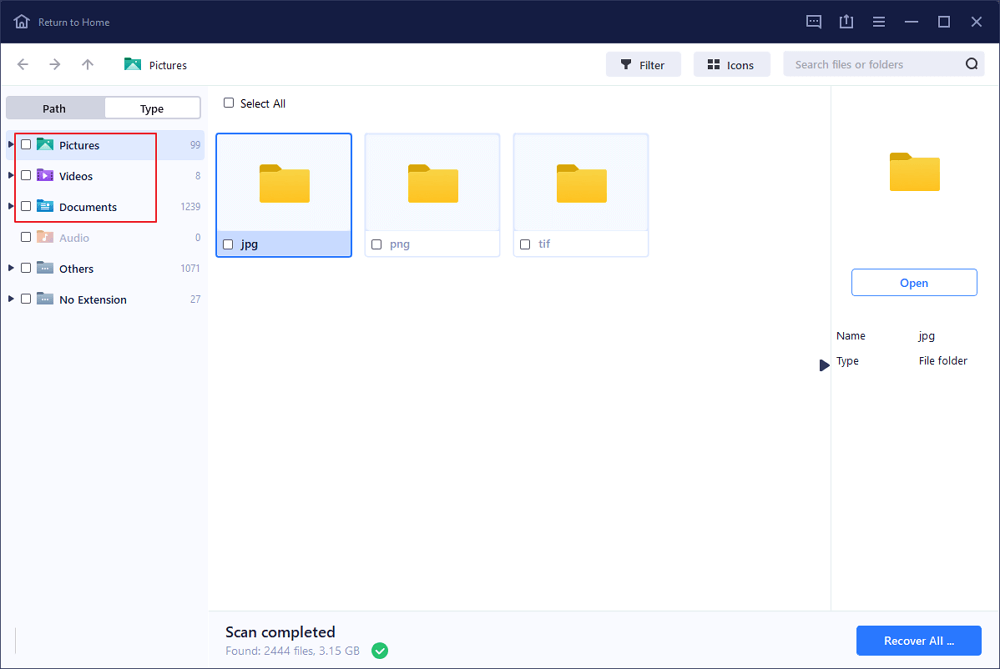 Click on the 'Scan' button to begin the scanning process. The software will search for deleted or lost files on the device.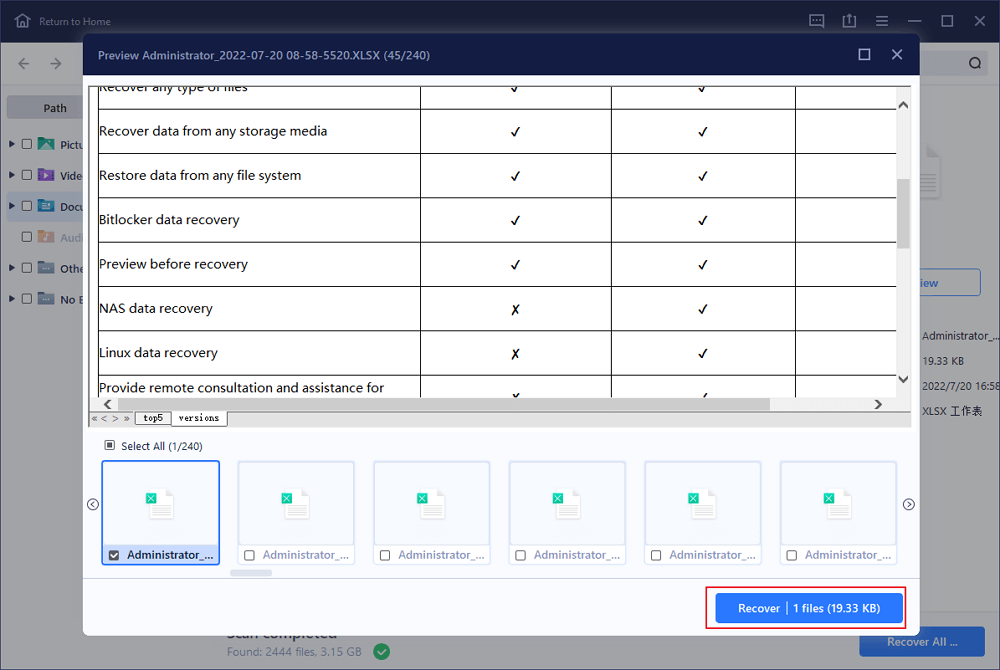 Step 3: Preview and recover the lost files.
Once the scan is complete, the software will display a list of recoverable files. You can preview these files to ensure they are the ones you wish to retrieve.
Select the files you want to recover and click on the 'Recover' button.
Step 4: Save the recovered files to a safe location.
After recovery, you will be prompted to choose a safe location. It's advised not to save the recovered files back onto the DJI device directly, as this might risk overwriting other lost data. Instead, choose a location on your computer or another external storage device.
Matters Need Attention to Prevent File Loss
To avoid the anguish of lost files, consider the following precautionary steps:
Always Backup: Before deleting files or formatting the card, always ensure that you've backed up your data to a secure location.
Handle with Care: Avoid abruptly disconnecting the drone from the computer or removing the memory card without proper ejection.
Regularly Check Memory: Before embarking on a new shooting session, check the memory to ensure it's not close to being full.
Use Reliable Software: In case of accidental deletion, rely on trusted software like EaseUS Data Recovery Wizard for recovery. Acting quickly and using reliable software increases the chances of successful recovery.
Avoid Overwriting: If you suspect data loss, stop using the memory card immediately to prevent overwriting the lost files.
Schlussfolgerung
While losing precious footage can be a daunting experience, the right tools and knowledge can help you retrieve those lost memories.
Remember, the key lies in acting swiftly and leveraging efficient recovery tools like the EaseUS Data Recovery Wizard. Always ensure you take preventive measures to minimize the risk of data loss. Safe flying and happy recording!