EXO Mini Pro Review: The Compact Drone with Top-Tier Specs
Updated On: November 1, 2023
My first encounter with the EXO Mini Pro was nothing short of captivating. A drone packed with features yet maintaining its compactness, truly, it's a game-changer in the world of drones. This EXO Mini Pro Review is an effort to detail my experience and equip you, the reader, with all there's to know about this modern piece of technology.
When I first held it in my hand, its lightweight design surprised me. As an overall impression, the EXO Mini Pro left no stone unturned when it comes to balancing high performance and adaptability. It made me realize that exceptional things indeed come in small packages.
What You'll Get From Here:
Comprehensive analysis and detailed evaluation of the Exo Mini Pro features.
Insight into my personal examination experience using the Exo Mini Pro.
An honest report from a user's perspective, including an intricate breakdown and thorough inspection of every aspect related to this drone.
Give a Quick Overview of the EXO Mini Pro Review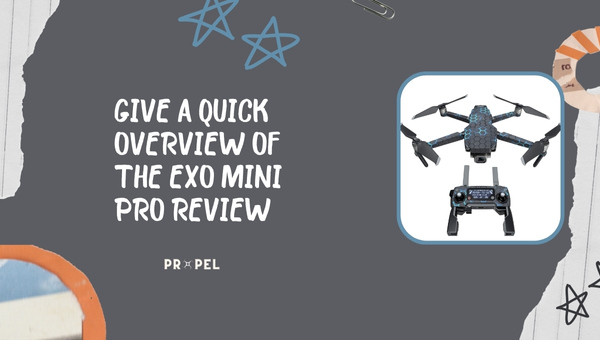 In this EXO Mini Pro review, I'm diving into all things related to this incredible drone. From its sleek design and substantial camera quality to its unique features and impressive flight time, it's no wonder that it's been receiving so much buzz in the drone community. But let's not simply take things at face value; it's time for a thorough analysis of everything the EXO Mini Pro has to offer.
A Closer Look at the Specifications
As we draw closer to understanding what exactly makes the EXO Mini Pro tick, we can start delving into intricate details—particularly its robust set of specifications.
The following table will give you an overview of these features:
| Spezifikation | Einzelheiten |
| --- | --- |
| Megapixels | 48 Megapixels |
| Sensor Size | 1/1.3in CMOS Sensor |
| Gewicht | 249 g (excluding battery) |
| Max Bitrate | 200mbps |
| Optical Flow Sensors | Downward Optical Flow Sensors |
| Hindernisvermeidung | Optional Front, Rear, Below |
| Flugzeit | 40 Minuten |
| Aufladezeit | 90 minutes |
| Max Range | 5 Miles |
| Wind Resistance | Level 5 (24mph+) |
| Gimbal | Movements controlled by a three-axis electronically stabilized gimbal |
| max immutable Integer | Mavic mini propellers are made safe by protector guards |
| max key path length | Mavic mini propellers are made using Aerodynamics technology that improves flight time and also reduces energy consumption. |
Features of EXO Mini Pro
Before we delve into the nitty-gritty of the EXO Mini Pro Evaluation, it's crucial to get an overview of what this high-performance drone offers. Based on my experience and analysis, I have narrowed down its major features to three main categories: Compactness and Portability, Performance, and Connectivity and Compatibility.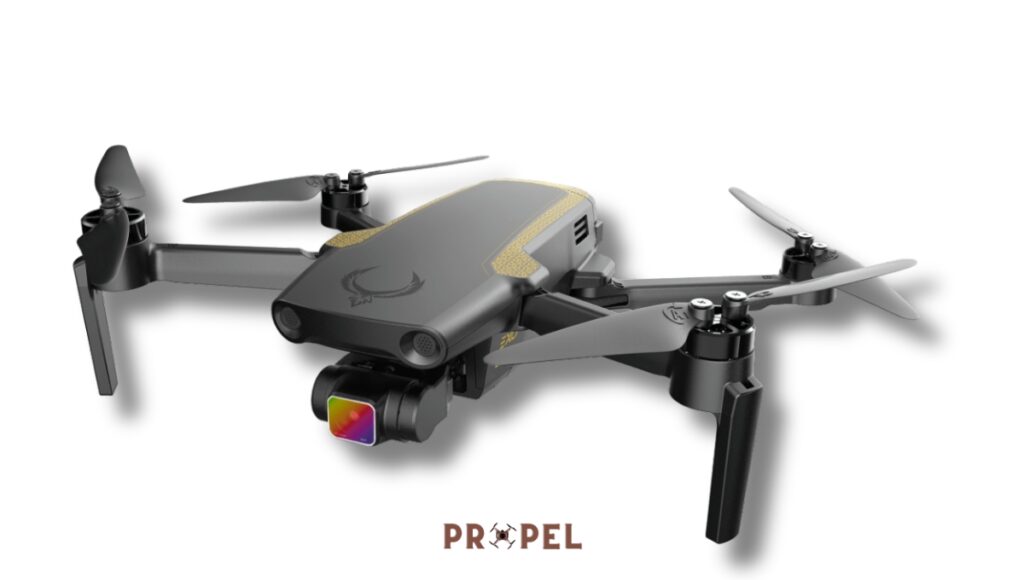 Compactness and Portability
The first thing that struck me when I examined the EXO Mini Pro was its compactness. This drone embodies a sleek design with some impressive specs while maintaining a unique balance of portability. Let me break down some specifics:
Size: Although exact dimensions are often overlooked in many an EXO Mini Pro Review, it's evident that this drone has been designed to fit in your bag comfortably.
Gewicht: Weighing in at 249 grams (excluding battery), this apparatus is surprisingly light, considering its powerful capabilities. In practical terms, it saves you from heavy lifting.
Portability: The legs fold up neatly, giving it a compact figure and making it easy to carry around - be it nature hikes or urban explorations.
Lesen Sie auch: Potensic D8 Review
Leistung
Any serious drone knows that performance is key when choosing your tool. In line with this assertion, the EXO Mini Pro shines brightly like a diamond in the rough:
Geschwindigkeit: Features like 200mbps Max Bitrate allow for top-notch speed not commonly found in comparable drones.
Battery Life: With an impressive flight time of up to 40 minutes on full charge (which takes about 90 minutes), you're guaranteed more time capturing breathtaking shots.
User Interface and Response Time: Despite accessing advanced features such as obstacle avoidance or setting flight paths being challenging at times, I found navigating through the controls to be intuitive and quick, especially for experienced drone pilots.
Lesen Sie auch: Best Syma Drones
Connectivity and Compatibility
Finally, a vital feature that often gets scant attention in typical EXO Mini Pro Analyses is connectivity and compatibility:
Konnektivität: This powerful tool can connect flawlessly within a range of 5 Miles.
Compatibility: In terms of compatibility, the drone works well with most devices using Bluetooth technology.
Lesen Sie auch: Drone Laws In Greece
The practicality of EXO Mini Pro
In a world increasingly dependent on technology, the usage of drones has become commonplace. Amongst scores of drone models in the market, EXO Mini Pro has certainly carved a niche for itself with its versatile and practical features. Whether it's being used domestically for capturing picturesque landscapes or professionally for mapping building sites, the practicality of it cannot be overstated. In this article, we delve into two major facets that contribute to its practical nature - everyday usage and ease of use.
Everyday Usage
Whether at home or on my travels, I've found that the EXO Mini Pro integrates seamlessly into my daily life. Weighing just 249g (excluding the battery), its portable design makes it an effortless travel companion, easily fitting in backpacks or even large pockets.
What truly sets this drone apart is its superior camera specs. Boasting a 48 Megapixels camera coupled with a 1/1.3in CMOS Sensor and vivid 4K footage at 100mbps bitrate capacity allows me to capture stunning visuals spontaneously! Having tried various drones myself, like Holy Stone HS72 vs DJI Mavic Mini, the better photography quality offered by EXO Mini Pro really stands out.
Also worth noting is the incredible flight time of up to 40 minutes after only needing 90 minutes to recharge from an empty state completely. This level of efficiency can rarely be seen elsewhere.
Lastly, in terms of wind resistance – having tested it during breezy days overlooking coastal California – I can vouch for its Level 5 wind resistance, which means it can withstand winds up to 24mph!
Ease of Use
When it comes to operating drones, we all want simplicity and user-friendliness. The EXO Mini Pro has been a charm to handle! Equipped with a 3-axis electronically stabilized gimbal, this drone is easy to control and navigate even for first-time users. It's an amazing experience maneuvering it through varied landscapes - thanks largely to the 3-Way Obstacle Avoidance (Front, Rear, and Below) feature.
For first-timers worried about controlling the drone properly, using a practical guide on Recreational Drone Pilot Rules(Read here) can be extremely useful!
Moreover, there's plenty of internal storage - options for either 64GB or 128GB cater to varied usage needs effectively, whether recording short clips during travels or filming professional-grade videos running into hours.
As far as video quality goes – crystal-clear visuals are guaranteed at every step, whether capturing intimate details at home or sprawling landscapes thousands of miles away. Thanks to its powerful Video Resolution: 4K UHD at 30fps / 2.7K at 60fps capabilities!
Command and Control: Getting Familiar with Remote and App Functions
One of the most critical aspects of the EXO Mini Pro Breakdown is undeniably its intuitive control system. For both novice fliers and seasoned drone veterans, a well-crafted control scheme can make or break your experience.
Understanding and adapting to the remote controls and app functions is pivotal. Poor comprehension could result in potential accidents, damage to your machine, or even legal issues if you happen to breach drone laws in certain areas, including countries like Norway or states like Maryland. Given these risks, I delved right into assessing how user-friendly this significant element of our EXO Mini Pro Evaluation was.
The Remote Control: With a comfortable grip and soft-touch buttons, this remote feels natural in your hand. The buttons are clearly labeled for easy operation—nothing too complicated here. It ensures precise maneuvering from miles away up to its maximum range.
App Functions: Using an intuitive app-based interface gives you full flight mode controls at your fingertips on your smartphone screen—an excellent approach for those more comfortable with touch screen gadgetry.
Pre-programmed Flight Modes: The EXO Mini Pro also includes preset flight modes such as Follow me, Orbit mode, etc., making it a top pick in my EXO Mini Pro Report.
Control Layout: All critical controls are easily accessible without needing to adjust your grip—a boon for ensuring continuous control during flight.
The EXO Mini Pro Review establishes that its command and control systems strike a great balance between complexity and ease of use. The controls are intuitive without oversimplifying, maintaining a certain degree of depth for those looking to explore more complex flight operations. Plus, the inclusion of the smartphone app provides a contemporary touch to the entire experience.
Understanding drones better, including their history and evolution, is also valuable when navigating this technology's functionalities. You can read more details about this on our Geschichte der Drohnen page.
Whether you are a beginner or an experienced operator looking for an upgrade or impulsive about your EXO Mini Pro, Analysis should not be an issue once you grasp these controls—an aspect I truly appreciated in my EXO Mini Pro Examination.
Lesen Sie auch: Beste Nano-Drohnen
Pros And Cons To Consider
Alright, let's dive into the nitty-gritty of the EXO Mini Pro. Like every drone out there, it has its strengths and weaknesses. My testing confirmed many of the advertised features but also revealed a couple of areas where improvements can be made.
Pros:
Image Quality: Standout photography prowess with 48 Megapixels resolution and a 1/1.3in CMOS Sensor, which is excellent for image quality.
Video Resolution: Films in vivid 4K UHD at 30fps or 2.7K at 60fps, making video recordings breathtakingly detailed.
Flugzeit: Has a good flight time of approximately 40 minutes - more than sufficient for capturing key moments and shots.
Reichweite: The maximum range is impressive, too, reaching up to about five miles.
Cons:
Obstacle Avoidance: Though it does come with optional avoidance features (front, rear, and below), it might not perform as well as expected in certain environments due to its limited scope.
Size and Weight: The total weight is around 249 g (excluding the battery). While this may be advantageous for portability, it could affect stability during strong winds, given that the wind resistance level is only up to level five (24 mph+).
Lesen Sie auch: Beste Drohnenhersteller
Recommendation – Who Should Buy It?
Amazingly, the EXO Mini Pro's long list of features does not mean it's only meant to be in the hands of seasoned pros. In fact, it's an incredibly versatile piece of tech that can benefit a wide range of individuals.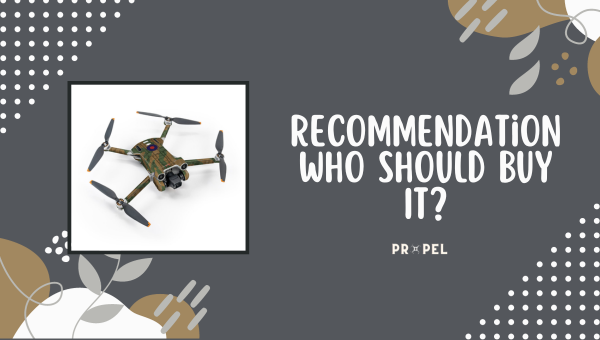 Drone Enthusiasts
Given its array of high-tech features and capabilities, it goes without saying that drone enthusiasts will find plenty to love about this model. If you're among these folks, you'd definitely appreciate:
its 40-minute flight time
stunning 4K UHD video capture at 30fps
advanced obstacle avoidance system
Photographers and Videographers
Creatives looking for new perspectives would undoubtedly relish the EXO Mini Pro's aerial photography prowess. Highlights include:
eye-popping visuals from its astounding 48-megapixel camera
enhanced imaging with a 1/1.3in CMOS sensor
dynamic video resolution supported up to 2.7K at 60fps
Outdoor Adventurers
Whether you're hiking in the mountains or dropping a fishing line in a remote lake, the compact and lightweight design makes it travel-friendly-- hence, perfect for adventurers who need solid performance in their gear but still value portability.
Real Estate Agents
If property showcasing is part of your gig, this drone can give your listings a 'wow' factor with panoramic views that showcase each property in all its glory.
Long story short, whether you're a gadget lover craving bleeding-edge tech or an outdoor enthusiast keen on capturing memories from above, or even if you need elevating visuals for business needs such as real estate, The EXO Mini Pro has got everyone covered.
Aside from these groups, though, perhaps one could pose this question: Who shouldn't consider the EXO Mini Pro? Given its remarkable price-to-performance value, dipping your toes in drone flying has never been friendlier.
Just be mindful of local drone laws, as is the case with any other UAV out there. Different countries and states have their own specific rules for operating drones, so it's crucial that whether you're in Iceland oder Bulgaria, you're aware of all necessary regulations.
FAQs
How long does the battery last on a typical usage?
The battery of EXO Mini Pro lasts up to 40 minutes on a typical flight. Charging time is about 90 minutes.
Is it easy to set up?
Absolutely! The EXO Mini Pro comes with an easy-to-follow installation guide that makes the setup process quick and effortless.
What devices or operating systems are compatible with it?
EXO Mini Pro is designed for maximum compatibility. It gets along well with all major operating systems, including iOS, Android, Windows, and Mac.
Is it suitable for professional use?
Yes, absolutely. The EXO Mini Pro's 48MP camera, together with its vivid 4K video capabilities and impressive 200mbps max bitrate, makes this drone highly suitable for professional use.
Schlussfolgerung
After a thorough EXO Mini Pro Evaluation and establishing its incredible features, I must admit it exceeds my expectations. The high-quality images captured by the 48 MP camera with a 1/1.3in CMOS Sensor are impressive. And let's not forget the drone's ability to record vivid 4k footage at an astonishing bitrate of 100mbps.
The EXO Mini Pro Analysis illustrates that it has combined lightness (weighing just 249g) with exceptional strength, practically unheard of in compact drones. The maximum range of up to five miles offers expanded horizons for aerial photography adventures.
The surprisingly efficient flight time stands at around forty minutes on a single charge - making it ideal for extensive shoots or leisure flights.
Key Takeaway Points
Superior quality image capture (48 Megapixels)
Compact yet sturdy (Weight: 249 g)
Extended flight time (40 Minuten)
Efficient max range (5 Miles)