V-Coptr Falcon Review: Innovative V-Shaped Bi-Copter Drone
Updated On: November 7, 2023
If you're on the hunt for a truly one-of-a-kind drone, look no further than the V-Coptr Falcon: Innovative V-Shaped Bi-Copter Drone. This high-tech gadget isn't your regular quadcopter; it's an exciting foray into the innovative world of bi-copter design. Its unique V-shaped dual rotor is eye-catching, but that's just a small picture of what this drone can do.
Its astonishing 50-minute flight time means more fun in the sky and less time charging batteries. When it comes to aerial photography, the V-Coptr Falcon delivers in spades with its 4K video resolution and breathtaking transmission distance of up to 7 kilometers. With such outstanding features coupled with advanced obstacle avoidance tech, this drone is nothing short of a game-changer.
What You'll Get From Here
A closer look at the impressive features of the V-Coptr Falcon Drone.
First-hand information about its performance and capabilities.
Insightful comparison between bi-copter and quadcopter designs.
Smart shopping tips for choosing Drohnen like this masterpiece.
V-Coptr Falcon: Innovative V-Shaped Bi-Copter
It was just another day when I came across the V-Coptr Falcon Drone. This isn't just your ordinary drone. With its unique, innovative V-shaped design, this bi-copter drone takes aerial photography to new heights - literally!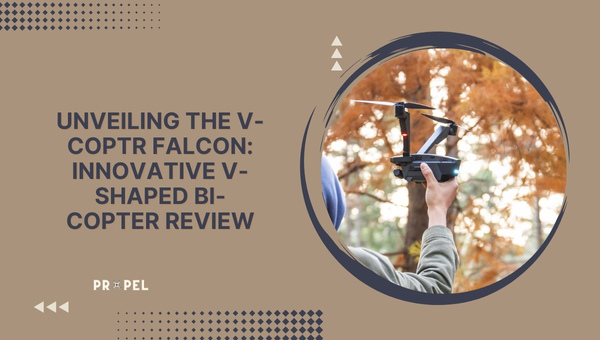 Let's dive in and take a closer look at what sets this apart from regular drones. We'll also inspect its specifications and explore how it can potentially upgrade your aerial photography game. If you're considering buying the V-Coptr Falcon Drone or want to know more about it, don't miss a word of this review.
A Closer Look at the Specifications
Here are the specifications in table format using Markdown syntax:
| Spezifikation | Einzelheiten |
| --- | --- |
| Preis | $899.00 |
| Flugzeit | Up to 50 minutes |
| Propulsion System | V-shaped dual-rotor |
| Control System | Tilt rotor technology |
| Gimbal | 3-axis mechanical gimbal |
| Video Resolution | 4K (12 MP CMOS sensor) |
| Transmission Distance | 7 kilometers |
| Hindernisvermeidung | Equipped with VIO and front-facing stereo camera |
| Pre-programmed Flight Paths | Trackshots for cinematic effects |
| Available Protection Plans | 1 Year ($64.99), 2 Year ($109.99), 3 Year ($149.99) |
| Included Accessories | Intelligent Battery, Remote Controller, Spare Propellers, Landing Gear, Battery Charger, Gimbal Protector, USB 3.0 Type-C Cable, EPP Protective Case, Screwdriver, and Screws. |
| Warranty | Track shots for cinematic effects |
Presenting the V-Coptr Falcon: Innovative V-Shaped Bi-Copter Drone
The world of drones has witnessed a revolutionary innovation with the introduction of the V-Coptr Falcon: Innovative V-Shaped Bi-Copter Drone. This drone is truly a marvel in aerial photography and drone tech, boasting features that set it way ahead of its peers.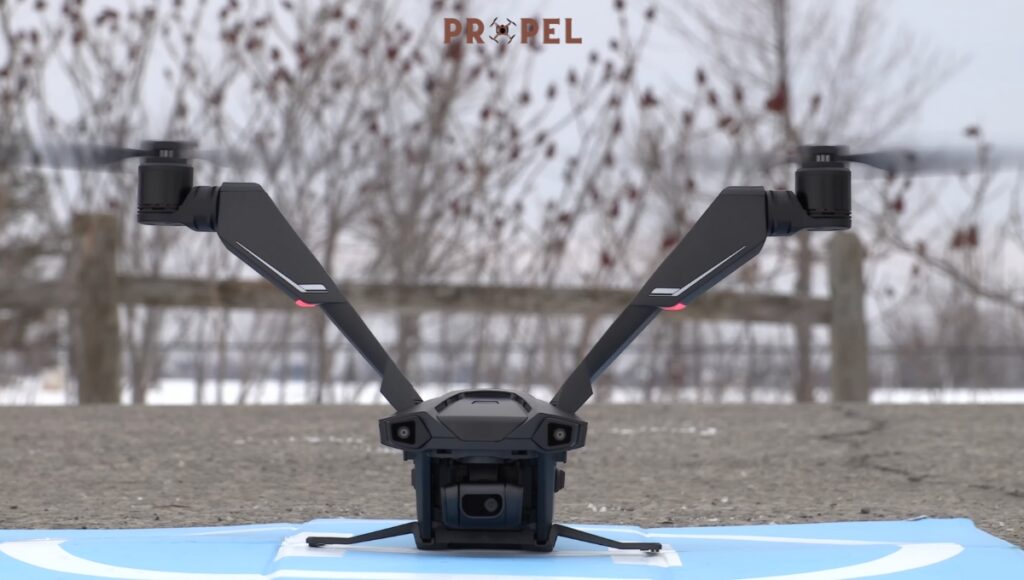 With a staggering 50 minutes of flight time, resistance to wind and weather impacts, and advanced stabilizing technology for video recording – this drone is more than just an airborne gadget; it's an unprecedented leap in UAV technology.
First Impressions
Upon unboxing the stylishly designed protective case encasing this wonder gadget, I was immediately gripped by its futuristic personality. The distinct v-shaped design of the V-Coptr Falcon Drone justifies its name – mimicking the predatory bird's aerodynamic design for cutting through winds at high speeds.
Danish physicist Niels Bohr once said that prediction can be very difficult -- especially when it involves the future. Well, unfold this drone's dual rotors and watch as they align into a v-shape, and you'll feel like you're glimpsing into a lot where robotics seamlessly harmonize with nature's designs.
An initial glance at the features shows that there are substantial technological advancements incorporated in this device, and integrated obstacle avoidance with VIO (Visual Inertial Odometry) and stereo cameras open up opportunities for more precise navigation even in challenging environments.
Couple these specs with up to 7 kilometers long-range transmission capabilities, Trackshots pre-programmed flight modes for cinematic effects, tilt-rotor technology, and beautiful 4k video resolution from a three-axis gimbal stabilized camera - we are looking at more than just novelty; we're exploring unprecedented heights in Aerial Photography.
Lesen Sie auch: Drone Laws In The United Kingdom
Understanding the Bi-Copter Design
The groundbreaking V-shaped Bi-Copter Drone design is not just aesthetically appealing but also strategically oriented to the drone's performance. Conventionally, drones incorporate Quadcopter designs with four rotors for propulsion and stabilization. The Falcon diverges from this norm, integrating only two rotors in a v shape.
This V-Shaped layout enhances the Falcon's wind resistance, providing it a better resilience to gusts of wind while soaring through the skies – making it a relatively smoother operator against challenging weather environments. This reduction in quantity-side by expanding on the quality further impacts positively on energy usage, contributing effectively towards that impressive 50 minutes operation time.
Additionally, this unique construction choice results in less mechanical complexity and subsequently reduced overall drone weight – again boosting efficiency levels of operation. Surely enough, flying drones won't be the same after experiencing the V-shaped Bi-Copter Falcon firsthand!
Lesen Sie auch: Can A Color Blind Person Become A Pilot?
Deep Dive into the Innovative Features of V-Coptr Falcon
The creators of the innovative V-Coptr Falcon Bi-Copter Drone ingeniously reimagined traditional drone technology. They endowed it with an array of exceptional qualities that make it a game-changer. Today, let's delve into some of the most outstanding features that make it truly stand out from the rest.
Verlängerte Flugzeit
One thing that impresses me about the V-Coptr Falcon Drone is its fantastic 50-minute flight time. This remarkably extended duration is something you don't commonly encounter in other drones in this tier.
This unplugged airtime is made possible by its efficient energy use, thanks to its unique V-shaped design.
It undercuts many competitors on the market, allowing for more extended shooting sessions before requiring a battery swap.
The extra minutes mean you could capture more breathtaking videos or aerial photography shots without fear of losing power mid-air.
While using this drone, I felt as though time was on my side. It's ideal for those who require plenty of sky time with their drone, whether for work or play.
Advanced Flight Technology
Another remarkable attribute of this biocopter drone is how it flips traditional quadcopter designs. A noteworthy leap forward from conventional four-propeller drones and stepping squarely into sci-fi territory with two propellers by utilizing tilt-rotor technology.
The advanced flight control algorithm enables stable flight even with only two rotors in operation, which results in smoother footage and precise maneuvering.
Its unique design also means less power usage since less energy is used to maintain lift, leading to longer flight times.
The tech inside this V-shaped flying marvel is quite impressive, where simplicity and efficiency meet.
Lesen Sie auch: Drohnengesetze in Nebraska
Omnidirectional Obstacle Avoidance System
Speaking about safety and user experience, the V-Coptr Falcon doesn't disappoint in this regard either. It's equipped with a comprehensive omnidirectional obstacle avoidance system that exponentially enhances drone safety.
It comes with a Vision Positioning System (VIO) and a frontal stereo camera. These paraphernalia work together to map areas around the drone and avoid obstacles 360 degrees.
I felt completely at ease while maneuvering it, knowing that its intelligent sensors were always on guard to prevent accidents.
It's the equivalent of having high-tech guardian angels under every wing—a confidence booster for pilots, especially those still learning the ropes of aerial photography or video capture.
User Experience with V-Coptr Falcon
The V-Coptr Falcon: Innovative V-Shaped Bi-Copter Drone has been turning heads in the world of drones. I decided to get my hands on this bi-copter drone and share my user experience. Focusing primarily on its ease of setup, operation, and flight performance, let's dive right into it.
Ease of Setup and Operation
Setting up the V-Coptr Falcon Drone couldn't have been more straightforward with its comprehensive manual guide:
First, I unboxed all provided accessories, including the Intelligent Battery, Remote Controller, and Spare Propellers, among other things.
After unpacking, assembling the Landing Gear was next.
Inserting an Intelligent Battery and connecting a USB 3.0 Type-C Cable followed.
Lastly came activating the drone by connecting it with the zero-zero robotics app on my smartphone.
I was pleased to find each step well detailed in the user manual, making it essentially foolproof to configure my brand-new drone.
Once assembled and activated, getting comfortable with operating this bi-copter drone was easy peasy, too! The Remote Controller is ergonomically designed, making every flight command seem natural, as if piloting has always been second nature to me!
Another noteworthy aspect is finding important operational tips accessible right within their User Manual, which truly makes maneuvering through various flight modes a breeze!
Don't forget to stay informed about flying rules around your region! Here's an insightful article about Drone Laws in Alaska if you live there or are planning a drone-flying trip.
Flight Performance Review
When it comes to flight performance, the V-Coptr Falcon Drone is no less than any other top-tier drone in the market:
The first thing I noted was its excellent stability during the flight. Despite its distinctive V-shaped design, it never compromises on maintaining a steady altitude even in windy situations, thanks to its robust tilt-rotor technology.
This diopter drone possesses an impressive maximum flight time of up to 50 minutes, which is something quite extraordinary for a drone of this price range.
The maneuverability is also worth mentioning. Making tight turns or ascending at high speeds was remarkably smooth and effortless.
One other major highlight is the front-facing stereo camera used for obstacle avoidance, which essentially puts safety first during flights.
Lesen Sie auch: Drone Laws in Kansas
Pros And Cons of V-Coptr Falcon: Innovative V-Shaped Bi-Copter
No product review would be complete without an honest assessment of its strengths and weaknesses. After putting the V-Coptr Falcon: Innovative V-Shaped Bi-Copter Drone to the test, I've gathered my conclusions.
Profis
Verlängerte Flugzeit: The biggest appeal of the V-Coptr Falcon Drone is its extraordinary flight time. With up to 50 minutes in the air, it significantly outperforms most quadcopter drones on the market today.
Superior Video Quality: Boasting a 4K video resolution with a 12 MP CMOS sensor, this drone guarantees crisp and clear aerial photography and videography.
Impressive Transmission Distance: Thanks to its advanced transmission system, you can control it even from as far as seven kilometers away!
Obstacle Avoidance System: It's equipped with VIO and a front-facing stereo camera,, which helps in avoiding any incoming obstacles while flying.
Tilt Rotor Technology: The incorporation of this technology in its control system aids in higher maneuverability and stability during flights.
Nachteile
Price Point: Retailing at $899, the V-Coptr Falcon Drone demands quite an investment compared to some alternatives available on the market.
Absence of Multiple Rotors: Being a bi-copter drone, it might lack stability compared to quad-copters, especially under high wind conditions.
Learning Curve for Tilt Rotor System Control: While tilt-rotor technology provides excellent aerodynamics, some users reported that mastering maneuvers takes some practice.
Lesen Sie auch: Drone laws in Brazil
Recommendation – Who Should Buy It?
Are you mulling over whether this innovative V-Coptr Falcon: Innovative V-Shaped Bi-Copter Drone is the perfect fit for your needs? Well, let's delve deep and break down who can truly benefit from this model.
Profis: People involved in various professions stand to gain enormously from the advanced features of the V-Coptr Falcon Drone. Especially if you are a Liegenschaften agent, land surveyor, or rescue operator, this drone lets you accomplish tasks with unmatchable efficiency and accuracy.
Photography enthusiasts: The extraordinary flight time of up to 50 minutes, coupled with top-notch video resolution, make this drone a must-have gadget for avid photographers and videographers. It provides unique angles for aerial photography, which used to be accessible only by helicopters or airplanes before.
Travel fanatics: If you're someone who loves indulging in thrill-seeking adventures around picturesque landscapes across the globe, equip yourself with this bi-copter drone to capture precious moments from new heights.
Tech aficionados: Its V-shaped design, along with other highly advanced features such as an obstacle avoidance system, makes it an irresistible buy if innovative tech excites you.
Drone racers: Not to forget, drone racers need both speed and control in their drones to win competitions. This drone's tilt-rotor technology and powerful propulsion system fulfill those requirements with ease.
Beginners and novices: If you're a novice, fret not! The pre-programmed flight paths available with this model make it user-friendly even for new users who are still learning the ropes of handling drones.
Lesen Sie auch: Can a color-blind person become a pilot?
FAQs
What makes V-Coptr Falcon different from other drones in the market?
The innovative V-shaped bi-copter design of the V-Coptr Falcon Drone sets it apart. This unique dual-rotor propulsion system enables remarkable flight stability and a 50-minute flight time, a distinction in the drone market.
Why is having a longer flight time important for drone users?
A longer flight time allows for more aerial photography opportunities and reduces the need for constant battery changes and recharges, minimizing interruptions during critical shoots. It enhances usability by significantly maximizing operational duration.
Can beginners easily operate the V-Coptr Falcon Bi-Copter Drone?
Absolutely! The V-Coptr Falcon comes with advanced features like Trackshots for pre-programmed cinematic effects and obstacle avoidance systems. Yet its user-friendly control system incorporating tilt-rotor technology makes it accessible to beginners.
Are there any possible drawbacks or limitations to consider when purchasing this equipment?
While the V-Coptr Falcon ticks most boxes regarding performance, its price tag can be quite an investment. Ensure that your usage justifies this cost. Additionally, keep an eye on changing drone laws in your area that can impact use.
Schlussfolgerung
Given its impressive specifications and innovative design, it's clear that the V-Coptr Falcon: Innovative V-Shaped Bi-Copter Drone pushes the boundaries of what we can expect from drone technology.
The bi-copter design increases flight time while maintaining stability, and the high-resolution camera makes it perfect for professional aerial photography. Despite its hefty price tag, you are definitely getting what you pay for with the V-Coptr Falcon Drone.
Key Takeaway Points:
Extended flight time of up to 50 minutes
Innovative V-shaped dual-rotor design
High-quality, 4K resolution videos
Remarkable obstacle avoidance features