Kaufen Sie die schnellsten Drohnen der Welt im Jahr 2023: Guinness-Weltrekordhalter
Updated On: Dezember 9, 2022
Drohnen are evolving at the highest-ever pace, and so is the speed of the drone, so much so that with the advent of new technology, the fastest drones are being developed for commercial use.
With people getting more and more fascinated by these unmanned aircraft, their demand is increasing day by day, and their unmanned aerial vehicles (UAVs), also known as drones, have quickly found a place in various fields like photography, surveillance, real estate surveys, fishing, and security.
Currently, the fastest drones in the world are shaped by their demand and are mostly used by the military for aerial surveillance to identify a target or a threat from a long distance. They can be deployed to keep an eye on border crossings too. Fast drones are also used in drone racing.
The fastest drones in the world are not necessarily the most expensive but rather the fastest and most reliable drones designed based on their requirements like speed or endurance for a particular mission.
There are numerous things to consider while buying a drone, but if you feed on high speed and the thrill that comes from it, the number one thing to consider is the speed of the drone. A fast drone can be a great companion for you if you have a need for it. If not, then the fastest drones are totally not for you.
A few years ago, it would have been almost impossible to find a drone that flew at over 80 mph on the market. Today, they're everywhere, and there are a wide variety of speeds available. You can get a small racing drone or a large multi-rotor helicopter if you want one with some great speed.
In this article, we're going to take a look at some of the fastest consumer drones available right now as well as some upcoming devices that might just beat them all.
If you lose your focus while flying high in the sky, then you will probably fail to notice obstacles coming from the front side, and the drone will collide with an object ahead which results in damages and sometimes even loss of the drone itself.
There are numerous benefits of fast drones they can be used for creating 3D maps, cinematography work, or even exploring wind conditions at high altitudes. When choosing a fast aerial vehicle, make sure that you buy one which has greater speed than your other counterpart so that you should not get bored during Flugzeit.
Lesen Sie auch: The 7 Best Battle Drones
The Most Fastest Drones in the World in 2023
IMAGE
PRODUKTANGABEN

DRL Racer X

It can fly at a top speed of 179.78 mph.

Tanky Drone

It can fly at a top speed of 100 mph.

Teal Drone

It can fly at a top speed of 85 mph.

EACHINE Wizard X220 FPV

It can fly at a top speed of 75 mph.
1. DRL Racer X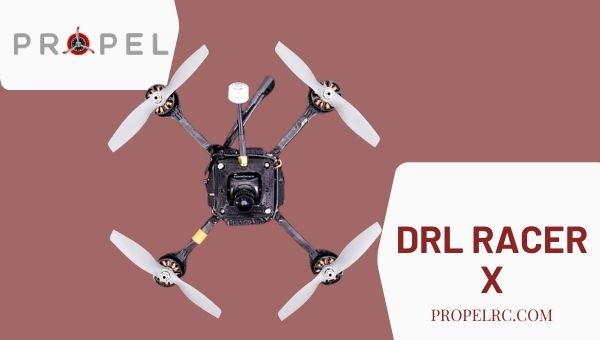 Spezifikationen:
Geschwindigkeit: 179.78 mph (290 Km/h approx)
RPM: 46,000
Powertrain: 10S (42V)
TMotor: F80 2407 2500kv
Props: APC 5×4.5BN
Power Distribution Board: BeeRotor 80A (10S) ESCs / BLHeli with Multishot
Batteries: 2 x 1300mah 5S R-Line Tattu Lithium Polymer
The DRL RacerX, the world's fastest racing drone, was designed by Daniel Norberg and his team at Drone Racing League. Their subsidiary company, DRL Innovations, provided all of the manufacturing for this record-setting model.
DRL Racer X is the fastest racing drone to be tested yet. It holds the Guinness world record for the fastest drone In the world. It can fly at a top speed of 179.78 miles per hour. DRL Racer X is powered by four brushless motors, which are capable of producing 46000 RPMs each, giving it an unmatched thrust-to-weight ratio.
The first battery-powered onboard was set on fire due to high voltage, and the drone had to be grounded before its first flight when DRL's technical team redesigned the power system onboard after ground testing.
It once again experienced motor failure during the flight, which led to the grounding of this super-fast drone, but later they were able to fix these problems, and Drone Racing League Racer X achieved a top speed of 179.78 mph setting the new Guinness World Record for fastest racing drone ever.
Drone Racing League's Racer X is one of the fastest drones in the world. Powered by four 83-turn, 42V brushless outrunners and four 22-amp speed controllers. The body is made of lightweight carbon fiber with a wingspan of 16 inches (40 centimeters) and weighs only 1 pound (0.5 kilograms).
Since this drone has broken all records, it was able to set new ones, too, as it flew for 100 seconds back in 2017. To attain the record, RacerX had to fly back and forth across a 100-meter (328-foot) course with the official best speed as the average of all those flights.
The DRL Techops team has spent years developing technological breakthroughs for this racecar. With a 165.2MPH / 265.87kmph oneway top speed, it's no surprise that this will be the world's first UAV capable of exceeding 200 mph.
Since its maiden flight in 2017, DRL Racer X has been refined, and the team continues to push the limits of strength and speed. The drone is comprised of a carbon fiber body with three-inch (7.6 centimeters) propellers capable of producing 173 mph (278 km/h).
2. Tanky Drone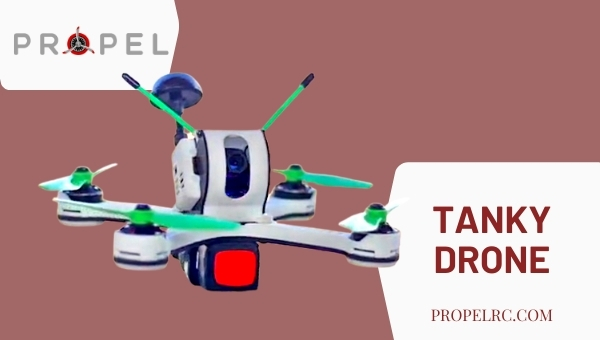 Spezifikationen:
Motors: 2305 2600KV
Geschwindigkeit: 100 mph (160 km/h)
FrSky Reciever
30 A Blazing Fast ESCs
25/200mW 40Ch VTX
FPV Camera
F4 Flight Controller With OSD
Tanky FPV drone has finally made it to the list of the fastest drones with its latest speed test, which confirmed that its maximum speed could go up to 100mph (160kmph). The prototype of the Tanky FPV drone was launched in 2016, and since then, it has been continuously improving its design to add new features.
Tanky is mainly known for having the longest flight time when compared with all other drones. It can be attributed to its lightweight and big battery, which helps the drone fly longer than others.
It also has a sturdy and light frame or body which makes it capable of withstanding crashes and collisions without damaging itself too much.
Tanky was designed by an engineer named Bogdan Ryabyshchuk. He works for Digital Robotic Technologies (DRLabs) and was first introduced at the Maker Faire 2016 held in New York City.
Bogdan Ryabyshchuk used DIY drones as inspiration to design Tanky, whose main aim was to make something amazing using standard components available today to make flying even more affordable for everyone.
The speed of the drone comes from its lightweight and aerodynamics of the drone. It reduces the amount of friction between air and drone.
The weight of Tanky is around 282gm, which makes it easy to carry around. It also has self-tightening propellers that make the process of repairing itself after any crashes quick and efficient.
The last but not least feature that this amazing product offers is its new remote control system equipped with an OLED display, which helps you know how much battery remains, current speed, signal strength, etc.
This drone would be a great option for any racer who is looking to have a racing experience with high speed, lightweight, and heavy battery life.
Lesen Sie auch: Top Best Star Wars Drones
3. Teal Drone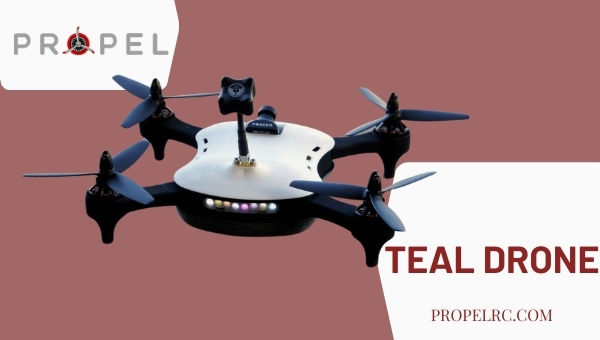 Spezifikationen:
eingebautes GPS
Geschwindigkeit: 85 MPH (137 km/h)
Kamera: 13 MP HD Wide View With 4K Recording
Internal Storage: 16 GB
Max Altitude: 400 Ft
Max. Flight Time: 20 Min.
Aufladezeit: 30 Min.
Teal drone is one of the world's fastest racing drones. It was designed and manufactured by a British company called Velocity. It has a top speed of 85 MPH (137kmph).
Teal Drone is built with carbon fiber and weighs only 1.6 pounds (730 grams). The entire body of this drone is made up of four different layers, which makes Teal an extremely durable and strong vehicle.
It can withstand crashes and collisions without breaking apart easily and offers 360-degree redundancy against motor failure even if two motors fail simultaneously. Each arm has its own motor installed to ensure that one does not lose control because of such situations.
The first 1,000 units were introduced in December 2017, while the next batch was sold out even before it hit the market. Teal drone is being used by British Cycling, Great Britain's national governing body for cycling.
This drone was designed by a teenager named George Matus. He was 15 years old at the time of designing it and had no prior experience in making drones.
Teal drone is said to be one of the most advanced drones in the world because of its features, it can do 360-degree flips, has three batteries that allow for nonstop flying, and comes with high-precision sensors installed onboard these help the drone detect nearby objects without crashing into them.
Apart from this, there are also some other notable attributes, like it uses an ultra-low latency remote control system (under 10ms), making games seem more responsive than ever.
The last but not least attribute is that it provides gamers with amazing comfort & speed owing to its ergonomic design, which allows long gaming sessions without any discomfort.
It comes with a 13 MP Camera that offers 720p HD quality live video streaming, it can also record 4K videos which can be a dream for many top gamers.
4. EACHINE Wizard X220 FPV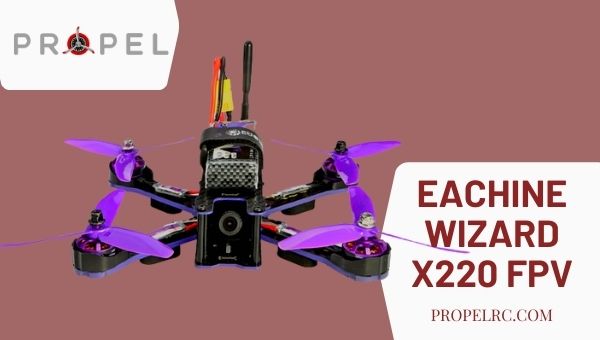 Spezifikationen:
Motor: 2205 2300KV
Geschwindigkeit: 75 mph (120 Km/h)
Flying Time: 12 Minuten
Flugregler: F3 6DOF, betaflight 2.9.1 Version
Transmitter: 5.8G 200mw 48ch
Total Weight: 535g
Kamera: 700TVL
With the fourth drone, the speed comes down to 75mph. EACHINE Wizard X220 FPV is a racing drone that has a top speed of 75mph or 120kmph. It also costs less than the three fastest drones mentioned above and floats around $130.
When you use Wizard X220 FPV over Wi-Fi for the very first time, its live view is known to be streamed with low latency of around 60 ms thanks to an advanced video transmission system and powerful antennas on both the controller and the drone itself, which makes it possible for gamers to enjoy playing their favorite games without any delays in video streaming as there is no buffering or stuttering on this drone.
Even if your smartphone, tablet, or other devices being used have a poor internet connection. There are also some other notable attributes, like it uses an ultra-low latency remote control system (under 10ms), making games seem more responsive than ever.
As far as the camera and controller of this drone are concerned, they both come with eye-catching blue LED lighting, 4K resolution, and a wide FOV (field of view).
There are 9 different channels available if you use Wizard X220 FPV over Wi-Fi due to the availability of two different Wi-Fi systems, such as 2.4GHz and 5 GHz band options on both controllers and on the drone itself.
Both the transmitter and receiver antennas on Wizard X220 FPV's remote controller come with high-gain amplification, which assists in the prevention of signal loss even when this drone is flying at a distance far away from you.
All these features make it one of the best drones for gaming available out there, and considering its price; it might be considered a great bargain.
This drone is perfect for photography & videography if you are not too much into racing. Last but not least attribute is that it provides gamers with amazing comfort & speed owing to its ergonomic design, which allows long gaming sessions without any discomfort.
Lesen Sie auch: Top 10 Best Drones Under 250 Grams (0.55lbs)
Zusammenfassung
All the drones mentioned in the list are the fastest drones in the world, and they all have their own unique features, which make them stand out from the rest of the drones.
If you are looking for the schnellste Drohne, mostly for racing, Tanky Drone is perfect to go with as it offers high speed and lightweight components.
On the other hand, if you want to record videos & take photos while playing games, EACHINE Wizard X220 FPV is what you should choose as its 4K resolution camera allows not only recording but taking pictures in real-time.
To conclude, the choice is entirely up to you because all these drones are known for their high speeds & performance but also they have different features which set them apart from each other.