Autel EVO 2 Pro In-Depth Review (2023)
Updated On: octubre 21, 2023
The thrill of exploring the sky from a bird's-eye perspective is undeniably exhilarating. Having the opportunity to do so with innovative technology at your fingertips makes it even more exciting! That's why I want to introduce you to the subject of my latest Autel EVO 2 Pro Review.
There's nothing quite like taking flight with a high-performance dron, and the Autel EVO 2 Pro undeniably tops that list. With its robust features and superior camera technology, it just might be what you've been waiting for in your quest for stunning aerial footage. My experience getting my hands on this beast was nothing short of breathtaking, and I'm going to share every detail with you in this review.
Is there anything more refreshing than watching a top-of-the-range drone defying gravity right before your eyes? Cunningly designed for serious aerial photo and video work, this magnificent piece has its way of capturing incredible shots that are literally out of this world! Head into this Autel Evo 2 Pro review prepared to have your expectations defied - you might as well fasten your virtual seatbelts because we're taking off into a whole new level of unmanned aviation!
Features of Autel EVO 2 Pro
The Autel EVO 2 Pro drone is undeniably a beast in the world of drones. It comes with an array of features that set it apart from its counterparts. Whether you're a professional cinematographer or a hobbyist who likes to explore new heights, this drone definitely won't disappoint.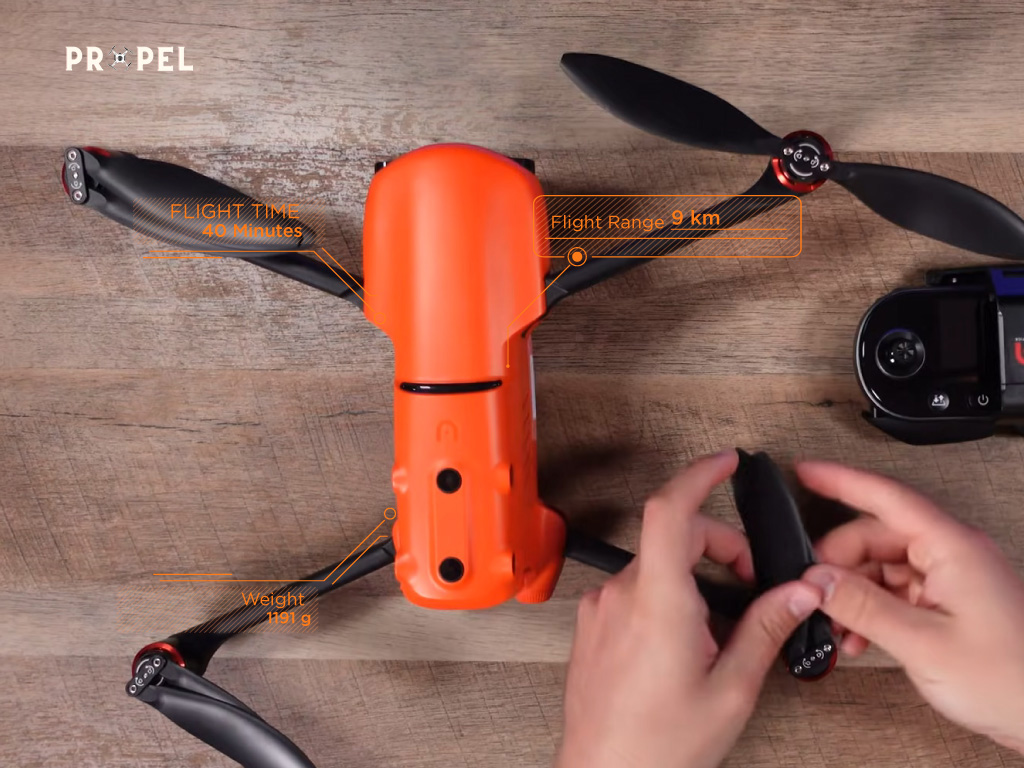 But before we dive into dissecting what makes the Autel EVO 2 Pro outstanding, let's get up close and personal with its specifications.
Lea también: Reseña del DJI Air 2S
A Closer Look at the Specifications
| Especificaciones | Detalles |
| --- | --- |
| Takeoff weight | 2.62 lbs (1187 g) |
| Max flight distance (no wind) | 25 km |
| Max flight time (no wind) | 40 min |
| GNSS | GPS/Beidou/Glonass/Galileo |
| Camera sensor | 1 inch CMOS; 20M pixels |
| ISO range: Video, Photo | Video:100-44000; Photo:100-6400 |
| Max video resolution | 5472x3076P30/P25/P24 |
| Max photo size | 5472*3648 (3:2) |
| Capacidad de la batería | 7100 mAh |
| Max transmission distance | FCC:9.3 miles(15 km)CE:5 miles (8 km) |
| Display screen | 2340x1080,60fps |
| Sensing system | Omnidirectional sensing system |
The Innovative Design: Autel EVO 2 Pro Review
As a dedicated drone enthusiast, I'm constantly on the lookout for the latest designs that push the boundaries of tech innovation. Top among my recent discoveries is the Autel EVO 2 Pro, which proves to be a game-changer in both professional and amateur drone usage.
User-friendly Interface
The Autel EVO 2 Pro stands out because it caters to a wide range of users, from amateurs just getting started with flying drones to professionals who demand advanced capabilities. Notably:
The intuitive control console: The layout makes operating this drone feel second nature right off the bat.
Detailed flight information: Features such as flying speed, altitude, orientation, and other necessary statistics are conveniently displayed.
Smart return home functionality: This feature ensures your drone always finds its way back in risky situations or low battery phases.
All these features undoubtedly streamline operations for users at any level. However, if you're new to drones altogether or are interested in seeing how this model stacks up against others you might consider purchasing, be sure to check out my roundup of the best Syma drones.
Foldable Design & Portability
Another key advantage of the Autel EVO 2 Pro is its impressive compactness and portability:
Foldable design: The arms fold neatly into its slim body structure for hassle-free transport.
Lightweight yet robust build: At just over two pounds (2.62 lbs precisely), this model is ideal for travel without compromising stability during flights.
Easy storage and transport: Even with an onboard camera and sensors packed onto this dron potente, it still fits conveniently into most backpack bags and larger pockets.
In the realm of portability, few drones can compete with the EVO 2 Pro. However, if you're interested in exploring more compact options available on the market, you might want to read my take on the best underwater drones.
Lea también: Revisión detallada del Parrot Anafi
Durabilidad
Perhaps my favorite aspect of the Autel EVO 2 Pro lies in just how sturdy it is:
Robust structure: Despite its being lightweight, this drone boasts a resilient design that can withstand various flight conditions.
Weather-resistant build: This makes it capable of dealing with light rain and snow—a factor most drones fall short of.
Long-lasting battery life: A staggering 7100 mAh capacity means longer flight times, resulting in extended fun or productivity.
In terms of durability, the Autel EVO 2 Pro is practically unbeatable—a trait that really allows it to shine for longer outdoor sessions. If you're curious about other durable models available out there, be sure not to miss my review on some of the best Yuneec drones.
I've recently had the pleasure of flying the Autel EVO 2 Pro drone, and boy, just when I thought that drones couldn't get any more autonomous, reality proved me wrong. The Autel Evo 2 Pro flaunts remarkably enhanced AI-powered capabilities. But don't just take my word for it; let's explore what these groundbreaking features look like in practice.
AI-Powered Capabilities
Among a host of impressive facets and features, two capabilities powered by Artificial Intelligence stand out on the Autel EVO 2 Pro: Mission Planning and Object Detection and following.
Mission Planning
Let's kick things off with the awe-inspiring feature of Mission Planning. Having set new bars for pre-programmed flight autonomy, the application of AI is revolutionizing drone flight trajectories with unprecedented precision. Here's how:
Pre-set Paths: Equipped with AI-powered flight automation, this drone enables you to plot and follow pre-set paths across various landscapes like never before. This is a game changer for filmmakers or surveyors who can now minimize human error by leaving intricate paths up to the capable brains of this pet mechanical bird.
Automated Path Correction: From avoiding obstacles in its path to intelligently adjusting its route based on live data feeds from its environment - falconry seems bland compared to administering an Autel EVO 2 Pro.
Lea también: DJI Go vs DJI Go 4
Object Detection & Following
The other stunningly effective feature enabled by AI algorithms in drones these days is Object Detection and following. With advanced algorithms efficiently analyzing live feed data from sensors located all around it, here are some benefits:
Intelligent Object Recognition: Let's be honest - "Follow Me" drone modes have been around for a while. But the Autel EVO 2 Pro takes it to another level. The accuracy and responsiveness in recognizing and tracking objects or persons are astounding!
Safe Following Distance: Not only does this aerial fiend recognize what or who to follow, but it can also intelligently maintain an optimal distance based on its velocity, surrounding obstacles, and the target's speed.
So there you have it! If autonomy is technology's North Star, these AI-powered capabilities shine brightly in their trajectory to get there.
Lea también: DJI Mini SE Drone Review
Pros And Cons To Consider for Autel EVO 2 Pro
Whoever said that drones are for professionals only clearly hasn't tried the Autel EVO 2 Pro. Renowned for its superior quality, this machine is a stand-out drone in the market; yet, like all devices, it has both benefits and drawbacks that potential users must be aware of before purchase. While I believe no product is perfect, my comprehensive testing did reveal a number of standout features and some minor drawbacks that I feel are worth mentioning.
Pros
Exceptional Flight Time: The Autel EVO 2 Pro boasts an impressive maximum flight time of forty minutes with no wind. This proves to be a cut above the rest, enabling extensive operation on a single charge.
Advanced Sensing System: Equipped with an omnidirectional sensing system, this drone provides seamless navigation, avoiding obstacles in every direction during flight.
High-Quality Camera: With its one-inch CMOS sensor capable of capturing twenty million pixels' worth of detail, it's hard not to fall in love with this drone's camera quality. Maximum video resolution being 5472x3076p at 30/25/24 frames per second ensures professional-grade shoots every time you take off.
Robust Transmission Distance: The transmission distance reaches up to nine miles under FCC regulation and five miles under CE regulation- quite remarkable considering its price point.
Contras
Weight Carry Capacity: Weighing at approximately 2.62 lbs or roughly 1187 grams, some might find the Autel Evo 2 Pro slightly hefty compared to other drones on the market. It requires careful handling due to its weight and size.
Price Point: Being packed with high-end features does mean the Autel Evo 2 Pro is at a slightly higher price point than average hobbyist drones.
Remember, it's important to weigh these pros and cons before purchasing the Autel EVO 2 Pro. Depending on your particular needs and budget, this drone might be an ideal choice with its plethora of benefits despite a couple of downsides.
Lea también: Revisión del controlador inteligente DJI
Pricing and Value Proposition
When it comes to an Autel EVO 2 Pro review, there's no ignoring the topic of pricing and the value proposition. Let's dig into this, considering the overall attributes, features set, plus the price point the drone sits at. The evaluation will provide insights into whether you're getting your money's worth or not.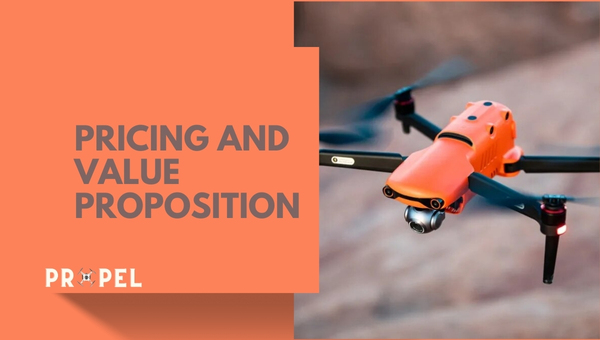 Price Evaluation
Frankly speaking, my initial impressions are that we're looking at a fairly impressive bargain here! The EVO 2 Pro is priced competitively when considering its advanced features and superior quality.
Performance: When it comes to performance figures such as flight time (40 min) and maximum flight distance (25 km), it scores highly. Very few drones in this category can match these stats - if anything, they tend to fall short.
Features: Then, we have an omnidirectional sensing system with impeccable ISO ranges for both video and photo capture. I cannot stress enough how indispensable such elements are for capturing high-quality aerial footage in volatile conditions.
Utility: Besides this utility factor, its user-friendliness further enhances its demand among beginners as well as seasoned flyers. It has robust navigational assistance (GPS/Beidou/Glonass/Galileo). This functionality makes steering easier for operators who may not be finessed with flight maneuvers or navigating through particularly challenging landscapes.
Durability: Factor in as well that the drone's weight at 2.62 pounds significantly adds to its stability during flights while still enabling all those functionalities mentioned above; what you get is durability commensurate to your pay grade!
In all honesty, I can confidently assert that with all these factors combined – performance metrics plus utility functions plus durability aspects, you really do get your money's worth!
Lea también: Can A Drone Fly-In Strong Winds? Too often, potential drone owners shy away due to concerns over wind conditions hampering flight. This piece could provide a further in-depth understanding of that!
Lea también: Revisión detallada de Autel Evo Nano
Conclusión
After spending substantial time with the Autel EVO 2 Pro, I can affirmatively say that it's one of the top performers in the drone market. With a takeoff weight of just 2.62 lbs and an impressive max flight time of 40 minutes, this device is evidently designed for convenience and longevity.
Thanks to features like an omnidirectional sensing system and robust battery capacity (7100 mAh), users are primed for seamless flight sessions, capturing breathtaking images in high resolution. The revolutionary camera sensor and expansive ISO range further elevate your photo/video capturing experience to new heights.
The GNSS technology guarantees accurate positioning, while the staggering max transmission distance allows wider coverage. Without a doubt, the Autel EVO 2 Pro drone raises the bar with its stellar capabilities! If you possess an appreciation for unrivaled aerial photography/videography backed by superior performance, then this drone is certainly worth considering.