Autel EVO Lite Plus Review: An In-Depth Look (2023)
Updated On: octubre 22, 2023
As a drone enthusiast, getting my hands on the latest piece of tech is always exhilarating. So, when I finally got the chance to test out the Autel EVO Lite Plus, I couldn't contain my excitement! This beast has caught the attention of hobbyists and professionals alike. Let me give you an Autel EVO Lite Plus Review that delves into the nitty-gritty details of it.
Right from unboxing, there's something inherently impressive about this drone. With claims of high-end camera specs and lengthy flight times, the expectations are already set sky-high. But does it live up to these towering hopes? Well, that's what we're here to find out! Grab a cup of coffee and settle down as we delve deep into everything this aircraft brings to the table.
Before we proceed further, though, I think it's important for you to understand where I'm coming from in regard to my review process. When I look at drones, camera quality, flight time, and smart features aren't just buzzwords; they make or break my experience with a product. In this regard, how does the Autel Evo Lite Plus fare? Only one way to find out - let's dive in!
Overview of Autel EVO Lite Plus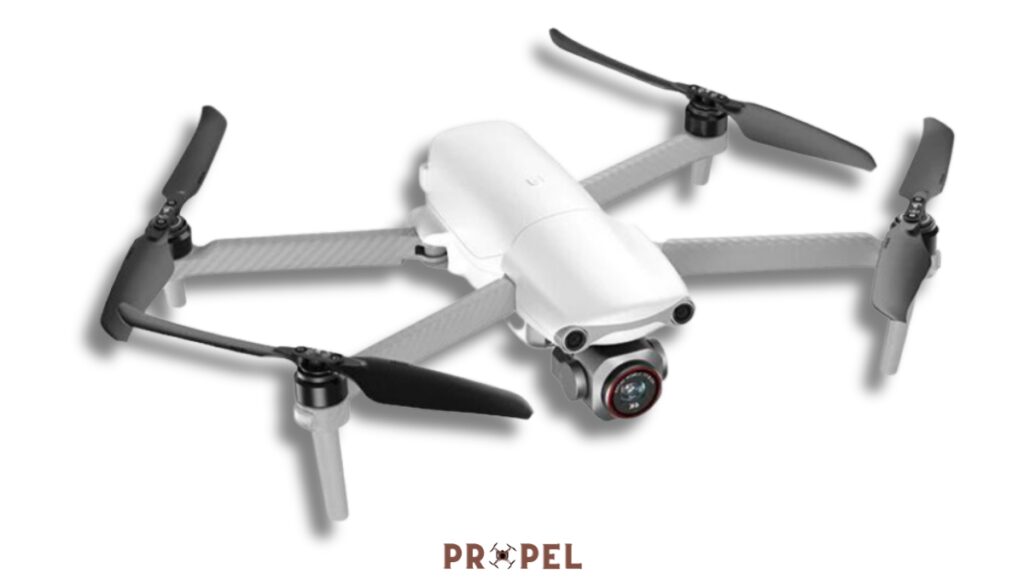 In my quest for the ultimate drone, I recently stumbled upon the Autel EVO Lite Plus- the latest in a long line of premium drones by Autel Robotics. An up-and-coming favorite among aerial photography enthusiasts, this piece of tech is packed full of impressive features that caught my attention. Today, I'll share my take on this compact yet powerful drone in this comprehensive Autel EVO Lite Plus review.
A Closer Look at the Specifications
Before I dive straight into all its bells and whistles, though, let's take a look at what this bird is made of:
| Especificación | Feature |
| --- | --- |
| Camera Sensor | 20MP Type 1 CMOS |
| Lens and Aperture | 29mm (equiv.), F2.8 – F11 |
| Video Recording | 6K/30p, 4K/60p, 1080p/120p |
| Video Bitrate | Up to 120 Mbps (H.264 and H.265) |
| Video Zoom | 1X to16X digital zoom, Lossless zoom at 4K (1.3X) and 1080p (3X) |
| Image Capture | 8-bit A-Log, HDR video, 8-bit JPEG,10-bit Raw |
| Image Transmission | Skylink,12 km range |
| Tiempo de vuelo | Up to40 minutes |
| Peso | 29mm (Equiv.), F2.8 – F11 |
| Modos de vuelo | Dynamic Track2.1 |
| Sound Recording | SoundRecordfor ambient sound capture |
| Additional Storage | Supports up to 256GB memory cards (UHS-3), 6GB onboard storage |
Exploring Key Features of Autel EVO Lite Plus
When I first got my hands on the Autel EVO Lite Plus, I was excited to dive in and explore what made this drone stand out. After spending ample time with it, I can say without a doubt that this device has shattered my expectations. It's become more than just a regular drone for me; it represents a technological advancement in the palm of my hands.
Enhanced Camera Quality
One of the standout attractions of the Autel EVO Lite Plus is certainly its camera quality. Seeing is believing with this little beast as it comes equipped with:
A 20MP Type 1 CMOS sensor delivers crisp, clear images that are full of detail.
A lens and aperture that ranges from F2.8 – to F11, which offers amazing low-light performance.
The video recording capabilities are equally impressive—6K/30p, 4K/60p, and even slow-motion at 1080p/120p.
The bitrate reaches up to an astounding 120 Mbps for both H.264 and H.265 formats!
To top it off - you can zoom digitally from anywhere between 1X to 16X.
Whether you're capturing the urban sprawl or natural landscapes — be prepared for lifelike colors and super smooth footage!
Lea también: Autel EVO 2 Pro In-Depth Review
Flight Performance
Next up comes flight performance — as stunning as capture quality may be on a drone — if it doesn't fly well, then there's not much point, really!
Breaking down its flying prowess:
It offers Dynamic Track 2.1 as one of its flight modes, leading to some breathtaking cinematic shots.
Weighing around only approximately 835g (that's merely about two pounds), this drone maneuvers incredibly well.
With a 12km transmission range, your drone can wander off quite a distance while you stay in control.
So, whether you're dashing around corners or gliding across wide fields, you can expect this little device to keep up effortlessly.
Battery Life & Charging System
Finally, I want to touch upon perhaps one of the essential factors that can make or break your drone experience - the battery life and its charging system.
With the Autel EVO Lite Plus:
You get an impressive flight time of up to 40 minutes!
Its efficient charging system replenishes your drained batteries in a surprisingly short amount of time.
So go ahead, fly longer, and explore more because battery life is one less thing you need to worry about!
Lea también: How Long Do DJI Batteries Last?
User Experience
When it comes to the user experience, there are many aspects to consider. The two most important points I would like to address are the ease of flight control and the experience of using the drone's software app.
Ease of Flight Control
From my first-hand perspective, I can say that controlling the Autel EVO Lite Plus is a piece of cake even for beginners, despite its advanced flight capabilities. Here are some reasons why:
First off, its 20MP Type 1 CMOS sensor camera provides a clear view while in flight, which simplifies navigation significantly.
The weight of this model, a surprisingly light 835g (1.84 lbs), makes for much easier handling than you'd expect, given how robust its features are.
With an exceptional transmission range thanks to the Skylink feature reaching up to 12 km, users can count on uninterrupted control even at large distances.
Finally, it offers up to 40 minutes of flight time on a single recharge — this means less worrying about draining your battery and more time spent discovering your surroundings!
Drone Software App Experience
Equally essential when considering flying drones is discussing associated software apps. Autel EVO Lite Plus shines here as well; let me tell you why:
To begin with, it provides an easy-to-use interface that even non-technical users can master.
More impressively, though, is how richly featured it is, voiding the necessity for multiple applications covering different functionalities as has been the case with other models before; everything from flight controls to image and video editing can be managed through one application.
Furthermore, the fact that updates can be accomplished directly via the app also adds tremendously to enhancing the overall user experience.
Lastly, it caters admirably even for professional drone users by offering unique features such as Dynamic Track 2.1 and SoundRecord for ambient sound capture.
The Autel EVO Lite Plus app maintains its own against the competition while being user-friendly enough that even individuals with no prior experience can jump right in after a couple of brief sessions.
Lea también: How to Get a Drones License
Comparing Autel EVO Lite Plus to Other Drones
As an avid drone enthusiast, I constantly find myself comparing various models on the market. One model that has recently caught my eye is the Autel EVO Lite Plus—a feature-packed yet affordable option within its category. In order to give a comprehensive Autel Evo Lite Plus review, let's delve into a direct competition comparison and focus on its unique selling points.
Direct Competition Comparison
When comparing the Autel EVO Lite Plus with similar drones in its price range, several key features stand out:
Camera Sensor: The 20MP Type 1 CMOS sensor of the Autel Evo Lite Plus brings high-resolution imaging potential.
Video Recording: Its capability to record in 6K/30p, 4K/60p, and 1080p/120p places it ahead in its class. This compares favorably with similar drones like those mentioned in our Hubsan Zino Drones Review.
Image Capture: With 8-bit A-Log HDR video support, along with JPEG and Raw capture modes, this drone provides versatile imaging options.
Tiempo de vuelo: It can fly for up to 40 minutes—a longer flight time compared to others at this price range.
Unique Selling Points
When considering what sets the Autel Evo Lite Plus apart from other drones on the market or similarly priced models:
Video Zoom: It supports up to a whopping 16X digital zoom—a feature not commonly found on many drones in this category. Specifically for photographers looking for strong magnification capabilities without compromising quality—it also offers lossless zoom at 4K (1.3X) and 1080p (3X).
Image Transmission: With Skylink's 12 km range, you can control your drone from a longer distance while maintaining a clear video feed. It's useful for exploratory flights or when capturing wide landscape shots.
Sound Recording: By incorporating SoundRecord for ambient sound capture, Autel continues to push the boundaries of what drones can offer beyond just excellent visual capabilities.
Additional Storage: Unlike most drones in its class, the Autel EVO Lite Plus supports up to 256GB memory cards (UHS-3), along with onboard storage of 6GB—an impressive amount in this price range.
Once you've read these points, I'm sure you'll agree that the Autel Evo Lite Plus presents an enticing offering for both beginners and seasoned drone enthusiasts alike.
Lea también: Hubsan Zino 2 vs Zino 2 Plus
Pros And Cons of Autel EVO Lite Plus
When I got my hands on the Autel EVO Lite Plus, I was extremely eager to test it out. Let me walk you through every nitty-gritty detail regarding the upsides and downsides of using this drone based on my personal testing results.
Pros Of Autel EVO Lite Plus:
Superior Image Quality: With a 20MP Type 1 CMOS sensor coupled with a 29mm lens, the image quality is fantastic. The drone can take high-quality photos and videos even in challenging lighting conditions.
Impressive Video Recording Capability: Not only does it offer 6K/30p video recording, but it also caters to 4K/60p and 1080p/120p for those slow-motion shots. A camera feature that provides an edge over many competitors.
Larga duración del vuelo: Thanks to its powerful battery, the drone provides me with up to forty minutes of flight time – more than most drones on the market.
Advanced Flight Modes: It comes equipped with Dynamic Track 2.1, enabling easy following or orbiting around subjects at varying speeds and heights.
Cons Of Autel EVO Lite Plus:
Although I love how this drone performs underwater immensely, some features could have been enhanced:
Size and weight limitations: Weighing in at almost two pounds (835 grams), it's not the lightest option available for regular travel or tours. Its size might also be slightly intimidating for beginners.
Expensive Memory Cards: Although having ample storage is a huge plus point, getting memory cards up to UHS-3 can be relatively expensive.
I must say that even though there are some drawbacks associated with owning the Autel EVO Lite Plus, it offers some standout features. Even though the memory card expense is certainly something to be aware of, the superior video quality and flight modes might make it worth considering if you're a dron profesional pilot or enthusiast.
Lea también: Drones Pilot Salary
Autel EVO Lite Plus Premium Bundle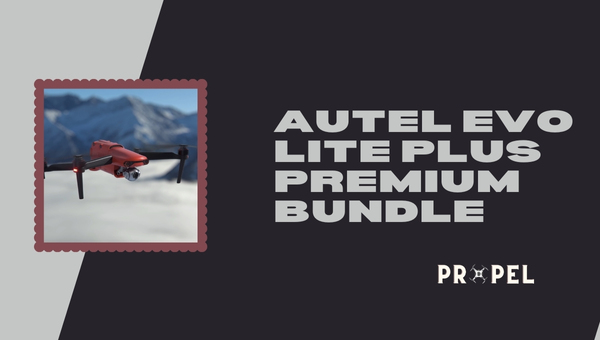 Among all the variants I explored, I found an appealing package known as the Autel EVO Lite+ Premium bundle. This bundle package not only includes the base drone but also additional accessories that prove quite valuable during long expeditions.
For those concerned with the investment factor, remember that this package provides incomparable convenience. You won't have to run around arranging for various parts separately – everything you would likely need lies snugly within this inclusive deal.
Recommendation – Who Should Buy It?
Before diving into who should be considering the Autel EVO Lite Plus in their shopping cart, let's shed a bit of light on what kind of drone we are talking about. The Autel EVO Lite Plus is a premium drone tailored to high-quality video and photography capabilities with professional-grade features.
This model features a robust 20MP Type 1 CMOS camera sensor capable of recording 6K/30p and 4K/60p videos and capturing breathtaking pictures. Further enhancing its filming capabilities are its lens and aperture range (29mm equiv., F2.8–F11), making it possible to seize every moment in stunning clarity and vivacity.
With all these mouth-watering features aboard the Autel EVO Lite Plus, it begs the question - who does this drone serve best? Here's my take:
Professional Photographers/Videographers: If you engage in commercial photography or videography where quality, clarity, and efficiency matter significantly, this is your optimal companion! It comes with an unparalleled video bitrate of up to 120 Mbps (H.264 and H.265).
Enthusiastic Travelers: With extended flight time that reaches up to 40 minutes per charge – one of the best-in-class stats currently - you can cover more ground during your explorations.
Drone Hobbyists: Its impressive weight at only 835g makes it one of the lightest options on the market today. Besides being easy to carry around for hobbyists like myself, that attribute influences flight performance positively as well.
Real Estate Entrepreneurs: The Autel Evo lite plus offers an array of flight modes, including Dynamic Track 2.1, which could significantly benefit real estate & construction businesses for property showcase or site inspections.
Remember that despite these recommendations above, choosing whether this product fits your needs ultimately lies in your use case and preference. Geek over features, analyze related costs and check whether your criteria align with what Autel EVO Lite Plus offers.
Lea también: How much does a drone cost?
Preguntas frecuentes
How durable is the Autel Evo Lite Plus?
En Autel Evo Lite Plus is highly durable, thanks to its robust construction. Its weight of 1.84 lbs contributes to its solid stability during flight.
How does this drone perform under harsh weather conditions?
The performance of the Autel Evo Lite Plus under severe weather conditions depends on the specifics. However, it's designed with a powerful transmission system, Skylink, which offers up to 12km range.
What additional accessories come with this product?
This depends on the package you choose. For example, if you opt for the Autel EVO Lite+ Premium package, you can expect extra batteries and other accessories.
Is there a warranty policy for this product?
Yes, there is certainly a warranty policy provided with the purchase of Autel Evo Lite Plus. However, details regarding its duration or extent are normally found in your purchase documents or on their official site.
Conclusión
The Autel EVO Lite Plus has a tremendous impact on the drone market with its advanced features and competitive price. The quality of its camera, coupled with high flight time and numerous flight modes, make it an excellent choice for both hobbyists and professionals.
Whether you need detailed images for work or clear cinematic videos for personal use, this drone won't disappoint. Its sound recording feature is a nice touch that not many models offer, enhancing the overall usability of the product. Overall, it provides great value for money without compromising the fun factor or professional-grade capabilities.