A Comprehensive Guide To the Contixo F20: Best For Newbies
Updated On: octubre 29, 2023
As a drone enthusiast myself, I'm always on the lookout for innovative drones that offer the best value in terms of performance and features. Bringing all this into focus is my comprehensive "Contixo F20 Review", looking at an impressive model by Contixo. This game-changing drone boasts advanced functionalities and features typically seen only in premium models.
Not only does it come with high-end features like an auto-return key and brushless motors, but it also houses unique attributes like the 'Follow Me' function, auto circling (Point of Interest), a robust GPS, and much more! The Contixo F20 is a powerhouse of performance that is bound to turn heads in every drone circuit.
What You'll Gather From Here
A Thorough Overview of the Contixo F20 Drone
In-Depth Analysis of Core Features
Vivid Impression on its Performance
Execution Insights On Unique Drone Functionalities
Unraveling Ease Of Handling Aspects
A Quick Overview of Contixo F20
Before we dive into the details, let's take a moment to appreciate the main features of the Contixo F20 Drone, which has managed to garner so much attention in drone enthusiast circles. This handy little device comes with a slew of impressive aspects that make it stand out from its competitors.
A Closer Look at the Specifications
| Especificación | Detalles |
| --- | --- |
| Peso | Less than 1 pound |
| Color | Black with green markings |
| Preassembled | Sold preassembled, ready for flight |
| Motor Type | Powerful brushless motors, low noise, and long-lasting |
| Cámara | Full HD 1080P camera, adjustable, 5GHz Wi-Fi, 300-meter range |
| GPS | GPS-assist flight for return home and follow me mode |
| Batería | Modular battery, 15-20 minutes flight time, 180 minutes tiempo de carga |
| Flight Features | Flight path drawing, orbit mode, clockwise flight, and more |
| Controlador | Includes a controller with a smartphone holder, 600-meter range |
| Velocidad | Can reach speeds of 60km/h |
| Storage | Can store video and photo footage on an onboard microSD card |
| User-Friendly | Suitable for both beginners and experienced pilots |
Overlook of the Contixo F20
Let me take you on a little journey through the world of drones, specifically focusing on the Contixo F20. Before getting into the details, I'd like to point out that this drone has many impressive features that make it stand out in the market today. From its fantastic camera capabilities to its robust build and elegant design, this drone truly has a lot to offer.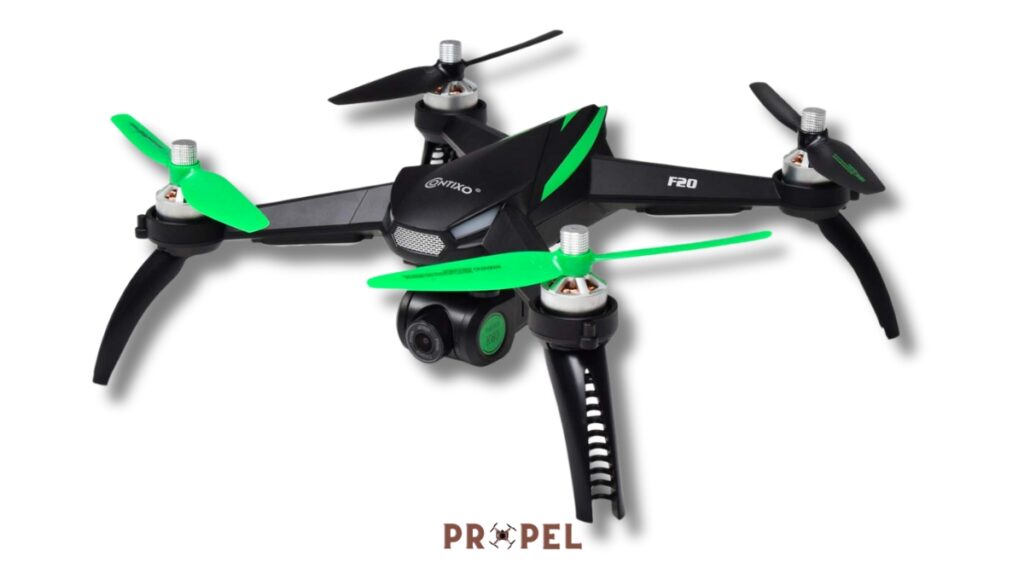 Diseño y calidad de construcción
Apart from its packed features, what else catches your eye when you first behold a drone? It's design, right?
Well, let me tell you - the Contixo F20 does not disappoint in this department. Crafted meticulously with a seamless blend of aesthetic allure and robust solidity, it has resulted in an impressively built quality.
It boasts a compact and lightweight design, making it easy to transport.
The black matte finish gives the F20 Drone an elegant look that screams premium. It's really as sleek as it sounds.
Durability is a key source of peace of mind for drone operators; hence, the Contixo F20 comes with durable propellers to ensure optimal functionality over time.
The inclusion of LED lights on the drone helps provide visibility during nighttime flights whilst also adding to its charisma.
Included in the package is a sturdy carrying case tailor-made for the F20 Drone that ensures damage-free transportation while maintaining style.
Lea también: Contixo F28 Review: A Comprehensive Guide
Flight Performance
The performance of any drone is crucial to gauge its value, and the Contixo F20 is no exception. Let me put you through both ease of use and flight speed & time.
Ease of Use
I got my hands on the Contixo F20 Drone, and I must say, it's a dream to fly for both novices and experienced pilots. The drone comes equipped with several flight features designed to simplify your flying experience. The Follow Me Function works excellently, allowing the drone to maintain focus on you during the entire flight by constantly adjusting its position.
En 1-Key Auto Return feature is another addition that caught my fancy. With just a press of a button, I was able to make the drone return to its initial location. Also noteworthy is the Auto Circling or Point of Interest function, which allows for an automated panoramic filming experience around any subject you choose - super cool!
Think about how drones work. Drones like this have an inbuilt Global Positioning System (GPS), which enhances smooth navigation and keeps track of where it is at all times; great in case you lose sight of it mid-flight! This GPS functionality worked incredibly well on this piece. I recommend checking out more information about how do drones work here.
For beginners who might find manual control a bit daunting initially, let me tell you what made this F20 Drone truly stand out - Tap Fly functionality! Simply tap a spot on your handheld control screen where you want the drone to fly, and voila! It heads straight there with minimum fuss.
One last highlight worth mentioning is those top-notch brushless motors that offer quiet yet powerful performance, enhancing your flying experience drastically!
Flight Speed & Time
Moving onto flight speed and time now. The Contixo F20 Drone hits a solid balance between speed and stability, making it ideal for recording high-quality videos or capturing high-definition photos. Though the top speed is not specified, users online report it handles quite well at higher speeds.
What impressed me the most, though, was its max flight time of 15-20 minutes, which may vary based on factors such as wind conditions, flight speed, and drone usage. This gives ample time to capture great footage or just fly around for fun!
We all know Battery life is critical when it comes to drones. Even here, the F20 didn't disappoint with a strong battery that supports its impressive flight time. Couple that with the Live Video Transmission that operates flawlessly at 5 GHz; you're in for an extended immersive flying experience.
Lea también: Contixo F21 Drone Review: The Ultimate Guide
Características avanzadas
When delving into the in-depth F20 Drone review, it's hard to ignore the innovative features that take this gadget to a whole new league. One aspect where Contixo doesn't disappoint is its progressive features. Offering easy handling for beginners and advanced functionalities for pros, let's explore this drone's camera capabilities and intelligent flight modes.
Camera Capabilities
The F20 was designed with high-quality image capture in mind. A must-have feature for aerial photography enthusiasts!
Image Quality
I was pleasantly surprised by the image quality of the 1080p HD camera. Trust me, it surpasses expectations! I tested it both indoors and outdoors to ensure that I could challenge its versatility. The shots were consistent—sharp with capturing even minute details.
Video Transmission
To further ensure superb image quality, Contixo incorporates 5GHz live video transmission into this drone model. Not only does this frequency guarantee less interference during flights, but it also makes sure you get a clear live feed direct to your mobile device in real time while flying.
Perfect Shots Guaranteed
Another notable feature is Tap Fly (Fly by Tapping Mode). Such an intuitive function, allowing you to simply tap on your mobile device screen where you want the drone to fly & viola! It will smoothly glide towards that area, giving perfect angle shots each time!
Modos de vuelo inteligente
One thing I like about drones these days is their smart flight systems enabled by advanced technology.
Variety of Flight Mode
The Contixo F20 drone comes equipped with multiple built-in automatic controls, making flying seamless even for novice pilots.
Follow me Function: What a handy feature when I'm on the move! The drone was able to follow behind me consistently, making it great for capturing dynamic shots if you're into vlogging or documentaries.
Auto Circling (Point of Interest): Another smart feature. Set an area of interest, and the F20 will smoothly circle around, keeping the camera focused on the spot. Ideal for capturing a panoramic view!
Retorno de una tecla: And yes, there's no chance of losing this pricey gadget as with a press of a button, it auto navigates its way back.
It also has built-in GPS navigation and features like automatic hovering/holding, which again testify to how user-friendly Contixo intended to make this drone. Plus, an impressive flight time: 15-20 minutes!
On unfolding my Contixo F20 drone package, I was fascinated by its advanced features. With Geographic positioning system (GPS), Brushless Motors, and even a Carrying Case included in the package! Assessing its advanced functionalities, like the follow-me function, reminded me why I love drones – they are simply technological marvels!
In another review, we'll also delve into more aspects like how these drones fare with Geocercas en drones. So anyone new stepping into this adventurous world stays comfy and confident about handling these high-grade yet consumer-friendly gadgets!
Pros And Cons To Consider
Based on my personal testing results, I must admit that the Contixo F20 has an appealing mix of standout features and certain limitations worth noting. This balanced perspective aids interested buyers in making an informed decision.
Pros
Follow Me Function: This is an immensely useful function if you want to focus on capturing an object or person without manually controlling the drone.
1-Key Auto Return: This feature ensures your F20 Drone comes back to its originating point with a single button press, which can be crucial in situations where the connection is unstable or battery life is dwindling.
Auto Circling (Point Of Interest): A simple way to achieve cinematic footage by setting a point of interest for the drone to circle around.
Global Positioning System (GPS): With GPS incorporated, worries about losing track of your Contixo F20 are minimal.
Max Flight Time: Offering between 15-20 minutes of flight time is respectable in this price range, though flight conditions may affect this.
Camera Resolution: The 1080p camera resolution delivers crisp and clear footage suitable for various requirements like photography or site overview capturing.
Contras
While the Contixo F20 has many appealing features, it also has several limitations:
En drone's flight time might vary depending on weather conditions. This inconsistency could create problems when planning specific aerial activities.
The 1080p resolution might not be enough for more professional users who require high-definition footage or aerial photography projects that demand more detail.
However, these downsides don't significantly outweigh the overall value proposition offered by this drone.
As always, honest testing results offer a comprehensive understanding of what gadgets like these truly offer. It helps portray an accurate representation rather than a hyped-up version. Hopefully, this Contixo F20 Review will allow drone enthusiasts and beginners to gauge whether this particular model aligns well with their requirements.
For those new to the area of drone operation, I highly recommend going through the history of Drones on our site to familiarize themselves with the evolution of this technology. It's not only a fascinating study into how far we've come but also gives insights into where drones might be heading in the future.
Recommendation – Who Should Buy It?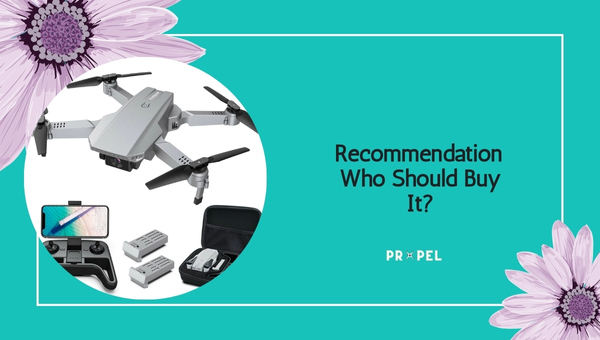 As I dive deeper into the features and usability of the Contixo F20, it's quite clear who this high-performing drone is best suited for. Amidst the myriad of drones in the market today, determining the ideal choice might be a daunting task. Therefore, keeping things simple and crystal clear, here are some categories of users who can truly maximize their experiences with Contixo F20.
New Drone Enthusiasts: If you're venturing into drone videos for hobby or casual use or beginning to explore drone photography, Contixo F20 is a great starting point. The Follow me function and auto circling option make it convenient for beginners to control despite minimal flying experience.
Tech-savvy Users: For those always on top of the latest gadgets, this fantastic drone showcases advanced tech features such as one-key Auto Return GPS and 5 GHz Live Video Transmission. This offers ease during navigation while also providing real-time video feeds.
Professionals on Budget: If you're an aspiring professional who's eying high-res photography without spending excessively on equipment, then look no further! With a robust camera resolution of 1080p combined with enhanced flight time (15-20 mins), the Contixo F20 allows you to deliver impeccable work efficiently.
Travelers & Adventure Seekers: Love documenting travels or daredevil adventures? The compact model fits right in with its carrying case included in the package, promoting easy mobility and conceivably setting shots at picturesque locations!
This comprehensive list will help potential buyers identify if they fall into these categories before making an informed purchase decision about this game-changing device.
It's worth noting that along with offering multiple functions that aim towards providing a wonderful flying experience, brushing up on drone guidelines and rules is equally pivotal. Aside from the Contixo F20 review, maintaining information on regulatory scenarios, geofences, and categories of users can help accentuate one's experience with drones.
Also read: Top Rated Drones Manufacturers
Listening to Others - Real User Experiences
Have you ever really listened to what other users have to say about a particular product, especially drones? Well, I decided it was high time I did just that for the Contixo F20. I needed something apart from my experiences with the F20 Drone - a raw and unbiased view into how others felt about the drone. After reading through a good number of reviews online and on various forums, here's what my fellow drone enthusiasts had to say:
Most users couldn't stop raving about its GPS-enabled features, having made their drone flying experience utterly seamless and enjoyable. To be honest, I couldn't agree more!
It boiled down to unanimous agreement over the efficiency of the Follow Me function- whether it was running, walking, or driving around in an open space, this nifty feature had them all amazed at how well it trailed them.
Quite a few also added that they received their drones well-packaged in an all-inclusive carrying case, which greatly eased transportation.
The one aspect that seemingly didn't sit well with most was probably its short flight time; everyone wished it were longer than 15-20 minutes.
Now let's delve into some views found contrary to most opinions:
A couple of Bolder users found glitches with its auto-return and auto-circling features but still seemed happy in general with everything else.
Though only a handful, a few residents of densely populated cities didn't find the drone as impressive, probably because it couldn't perform as intended within city restrictions.
To me, it seems that our overall Contixo F20 Review findings are very much in alignment with the majority opinion. The minor issues that some faced seem more outliers than the norm. I truly believe this Drone is worth considering by anyone venturing into drone photography or anyone looking to upgrade from an entry-level drone.
Lea también: Military Drones Cost
Preguntas frecuentes
What are some key selling factors of the Contixo F20?
One of the major selling points of the Contixo F20 is its various operating modes, such as Follow Me and Tap Fly. Also, it comes with a built-in GPS system and offers a flight time of around 15-20 minutes. Earlier, I also mentioned that it has brushless motors, which are not common in all drones.
How does Contixo F20 compare to other drones in a similar price range?
Compared to other drones in its class, the Contixo F20 stands out due to its long flight time and high-quality 1080p camera. Another advantage is its 1-Key Auto Return feature, which many similarly priced drones lack.
What are some common issues faced by users?
In terms of customer feedback, some users have noted issues with video transmission. The drone uses a 5 GHz frequency for live video transmission, which may face interference in certain conditions.
Conclusión
After spending quite some time with the Contixo F20 Drone, I am thoroughly impressed. This drone delivers everything as promised by the manufacturers. The photographic quality of its 1080p camera, paired with a flight time of around 15-20 minutes, allows for both deep exploration and high-quality aerial photography.
I especially loved using the 'Follow Me' function and 'Auto Circling' mode, which were both smooth in operation. Not to forget, its powerful brushless motors add to its performance and durability. Despite being advanced in features like GPS and Tap Fly functionality, it maintains an ease of use that isn't daunting for beginners.
Key Takeaway Points
Superior image quality with 1080p camera
Impressive Flight Time (15-20 min)
Advanced yet user-friendly features
Durable due to Brushless Motors