MJX Bugs 5w Review: Unleashing the Sky Beast (2023)
Updated On: noviembre 7, 2023
I've been searching long for a drone that won't punch holes in my wallet but will deliver the amazing features you'd expect from high-end models. Well, look no further! The MJX Bugs 5w barrels through expectations with impressive specs and versatility.
Let's dig into this MJX Bugs 5w review, which unveils a dron that strikes an exceptional balance between affordable quality and splendid performance. Unlike any other drone in its price range, the MJX Bugs 5W demolishes boundaries with advanced brushless motors, a precise global positioning system (GPS), mind-boggling camera capabilities, and user-friendly flight features.
What Will You Gain from Reading This?
Unmask unpublicized insights on the MJX Bugs 5W Features
Get inside info on the Bugs 5W Specifications
Understand how stunning the MJX Bugs 5W camera performance.
Discover why this drone should or shouldn't be your next purchase.
Unveiling the MJX Bugs 5w Review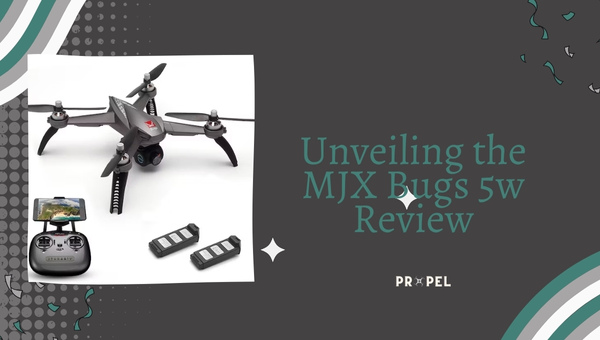 As an avid drone user and hobbyist, I've had my share of favorite models over the years. But there's one that's left a ride-or-die willingness in me—the MJX Bugs 5W. If you're curious as to why, buckle up because we're about to dive into a comprehensive MJX Bugs 5W review.
A Closer Look at the Specifications:
Here's a detailed look at what this drone is packing:
| Descripción | Detalles |
| --- | --- |
| Motores sin escobillas | Advanced Brushless Motors |
| 4K WiFi Camera | High-resolution 4K WiFi Camera |
| 2.4 GHz Two-Way Communication | Two-way communication technology at 2.4 GHz |
| GPS | Global Positioning System for precise flight |
| Punto de interés | Capability to set points of interest during flight |
| Follow Me Mode | Follow Me mode for tracking the user |
| TapFly Mode | TapFly mode for easy navigation |
| One-Key Return Feature | One-key return feature that brings your drone back to your location with just a single press of the return home button |
| Barometer Altitude Hold Functionality | One-key return feature that brings your drone back to your location with just a single press on the return home button |
| 4K 5G Wi-Fi Camera: | High-quality 4K Camera utilizes both Wi-Fi and cellular networks to transmit vivid images real time |
| Single-Axis Servo: | Altitude hold using an advanced barometer for stable, consistent flights-your drone won't rise or descend abruptly and will maintain its current size until further notice |
| Powerful Lens: | Stabilization provided by single-axis servo that helps the drone balance in mid-flight considerably coming in handy, especially when it's windy outside |
| Video Transmission Range Support: | Powerful camera lens capable of taking expressive and richly textured shots even from great heights or distances with zero compromises on quality or clarity |
In-depth Review of the MJX Bugs 5w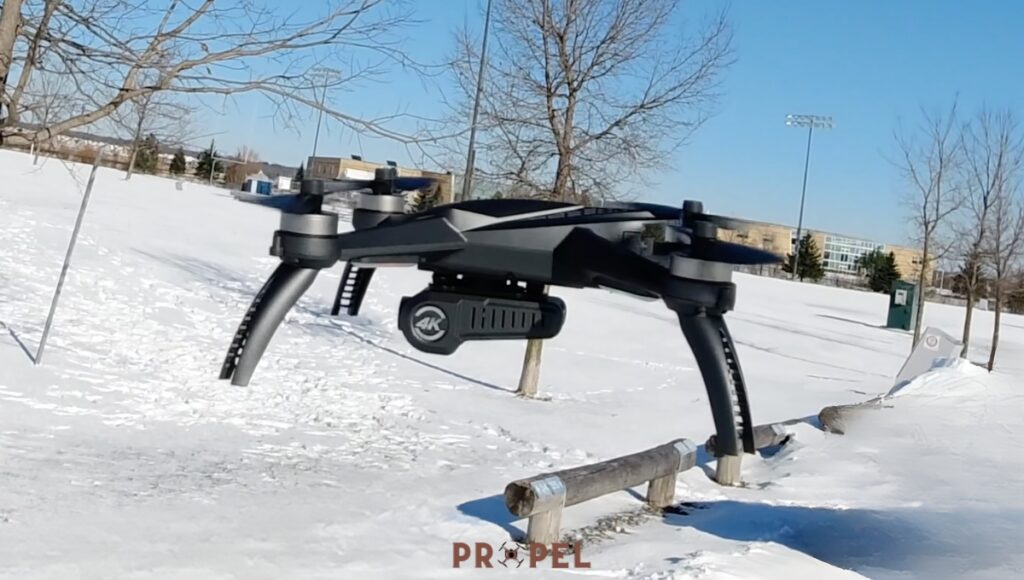 Camera and Video Quality
For those who love capturing breathtaking aerial footage, the MJX Bugs 5w is a winner on all fronts.
Equipped with a 4K WiFi camera, the Bugs 5W captures incredibly detailed videos and photos like you've never seen before.
With an impressive frame rate, this drone ensures smooth, stutter-free videos every single time.
En single-axis servo provides stable image capture by reducing unnecessary shakes while filming.
Comparatively to other drone models, such as the popular JJRC X5) or SNAPTAIN SP6, I appreciate the superior clarity and detail that is significantly noticeable in MJX Bugs 5w's output.
Lea también: Revisión de Potensic D58
Flight Experience
While excellent camera quality is crucial for photography enthusiasts such as myself, at heart, we're still enthusiastic about piloting these incredible machines.
The Bug 5W delivers an unparalleled flying experience with its brushless motors, ensuring a reliable and robust performance without worrying about overheating or motor failure.
For beginners finding their wings in the world of drones, this drone comes loaded with beginner-friendly modes like Sígueme, TapFly, and a one-key return feature for easy navigation.
As someone who has tried out drones from the best drone manufacturers globally, this one's flight capability stands toe-to-toe with some of the best.
Lea también: Best VR drones
Remote Control & Transmission Range
For any drone pilot like me, the range of transmission and the efficiency of remote control are always a concern.
The MJX Bugs 5W provides remarkable responsiveness with its 2.4 GHz Two-Way Communication.
With a range of video transmission spanning between 200-300 meters, it's commendable.
Compared to other drones in this price range, like Qcopter QC1 o Hubsan Zino Pro Plus, I'm impressed by how the Bugs 5W's remote control has an ergonomic design, making it comfortable for prolonged handling.
Lea también: Revisión del controlador inteligente DJI
Battery Life & Flight Time
Flying drones is an exhilarating experience. The thrill of the flight and capturing stunning photos and videos from previously inaccessible views are incomparable. But like everything else in technology, the flight experience depends heavily on the battery life and flight time. For the MJX Bugs 5W, that's an area I have been pleasantly satisfied with.
Battery Performance
Generally speaking, the battery performance of this drone is impressive! It is quite comparable to other drones in its category.
Types: The MJX Bugs 5W is powered by Lithium Polymer batteries, better known as LiPO batteries.
Charging time: A fully depleted battery takes around 3 hours to re-charge completely.
Flight conditions: Now, here's where things get interesting. As you'd expect, different factors may affect battery consumption during flights: flying speed, hovering time, altitude reached, and even temperature can contribute to a shorter or longer flight time.
Let's break these down:
Wind Conditions: On windy days, your drone might consume more power trying to stabilize itself against strong air currents. Hence, always consider wind strength when planning for your flight day.
Hovering vs. Flying: Believe it or not, approaching consumes a lot more power than flying at high speed because of the constant adjustments needed by multiple motors to maintain stability.
Flight Speed: The faster you fly your drone at its maximum speed setting continually, the faster it will drain its juice.
Lea también: DJI Remote ID Error
Maximum Flight Time
The MJX Bugs 5w really stands out when we consider its average flight time:
On a single full charge with optimal flying conditions (light winds, mild temperatures), I've got approximately 20 minutes of airborne fun from my MJX Bugs 5W. This isn't something you'll find on many other drones within the same price bracket.
To compare, similar drones in its category may give you 15 minutes of flight at most.
Consider these points:
Power Management: The drone has intelligent power management protocols that warn me when the battery is running low so I can return the drone before it gets too low.
Return Home Feature: It even comes with a smart return home feature that kicks in when the battery runs critically low or when it loses connection, ensuring that you never lose your investment.
When compared to others in its category, it's evident to me that MJX Bugs 5W strikes a good balance between flight time and battery performance. Sure, there are other high-end drones with longer flight times, but considering its price point, I find the MJX Bugs 5W's performance solid and reliable.
Lea también: Can You Take A Drone on a Plane
Pros And Cons of MJX Bugs 5w
Thoroughly reviewing the MJX bugs 5W drone, we must touch on its numerous benefits and potential drawbacks. I always believe in ensuring you get all the information you need when considering a drone purchase. You see, it saves your time and money and, most importantly, assures peace of mind.
Benefits of MJX Bugs 5W
To say that the MJX Bugs 5w stands out from many drones within its price range isn't an overstatement. Its unique features make for an exciting flying experience and have garnered positive feedback from satisfied customers worldwide.
Advanced Brushless Motors: The robustness of this little powerhouse can be attributed to its advanced brushless motors, which provide superior flight stability - a critical requirement for capturing those perfect aerial shots.
High-Resolution Camera: With a high-resolution 4k WiFi camera onboard, crisp pictures and videos are not just possible but guaranteed. This makes the MJX Bugs 5w a fantastic choice for photography buffs.
Two-Way Communication Technology: Pair that with its excellent 2-way communication technology operating at a frequency of 2.4GHz, and you've got yourself a drone with fewer connection issues and better responsiveness.
GPS Features: The addition of GPS (Global Positioning System) makes for precise flights, while modes like Point Of Interest Follow Me add elements of versatility to flying.
Lea también: How Long do DJI Batteries Last?
Drawbacks if Any
While entitled to have its fair share of drawbacks (as is expected with every device), rest assured they're nothing major to raise eyebrows about within this specific context or even affect your final choice.
Single-Axis Servo: One aspect where improvement could be useful is the addition of more servo axes. For now, the drone only possesses a single-axis servo system. While it offers enough stability for steady flight in most conditions, additional axes would make for even smoother performance.
Transmission Distance: The transmission distance (200-300m) can be considered quite limited on the part of professional drone pilots who may want a little more range for sophisticated maneuvers.
A comprehensive understanding of these pros and cons goes a long way in informing your choice. It empowers you with all you need to embrace your flying experience fully while being aware of where improvements might be required in future units.
Lea también: Best Places To Buy Drones Online
Recommendation – Who Should Buy the MJX Bugs 5W?
Determining who should buy the MJX Bugs 5W largely depends on one's drone usage and needs. This striking drone - with its advanced features and impressive performance - surely deserves discussion.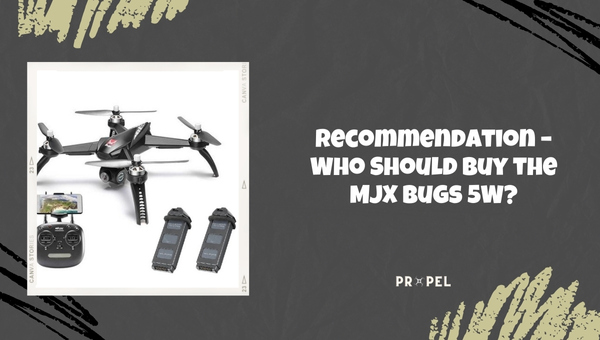 Photography Enthusiasts: If you have a keen interest in aerial photography or videography, the MJX Bugs 5W is a fantastic choice for you due to its high-resolution 4K Wi-Fi cameras.
Outdoor Adventurers: For those out there who love capturing their adventures from unique vantage points, the MJX Bugs 5W becomes your perfect partner. Its 'Follow Me' mode makes it roam around you, capturing footage as you live your moments.
Beginners and Hobbyists: You don't have to be an expert pilot to use this drone because of its user-friendly features like 'One-Key Return'. Its excellent GPS also allows newbies a smooth flight experience.
Tech Enthusiasts: It goes without saying that if you are someone who enjoys exploring technology's latest offerings, the MJX Bugs 5W should land on your must-acquire list. With advanced brushless motors and a single-axis servo for stabilization, it offers much more than what an average tech buff seeks in such gadgets.
Listening to Others - Real User Experiences
When it comes to the MJX Bugs 5W, one of the most valuable resources we can look at is real user experience. After all, personal experiences bring out aspects that may not be covered in typical product descriptions or even in my observations, considering I've only tested a limited number of conditions. So, without further ado, let's plunge into the world of drone enthusiasts and take a look at some of their reviews.
One consistent praise from users is on the MJX Bugs 5w's durability. While not everyone crashes their drones (thankfully), those who have were quite surprised by how well this little guy took the impact and carried on flying like it was just another day in the park.
"I had a minor collision with a tree and thought that was it for my drone. Imagine my surprise when I saw it still hovering at its spot!"
The Bug's camera also received equally enthusiastic praises from users across different internet forums:
"The 4K WiFi Camera delivers crisp, clear images, making every flight an absolute joy!"
However, no product exists without criticism. Some users found that the range of video transmission could be limiting depending on flight conditions.
Avid Young Photographer: "Great pics, but I wish I could go further during sunset hours without losing video transmission."
Finally, something worth noting from real user reviews is high respect for Bugs 5W Specifications, particularly features like GPS and Follow Me mode, which often proved highly useful during flights:
Adventurous Traveller: "Love hiking with this little pal following me around, capturing stunning sights."
Of course, while these reviews cover a substantial array of features and experiences, they do not encompass everyone's experience. It's worth pointing out that personal experiences can vary greatly based on individual use conditions and handling.
Ultimately, the MJX Bugs 5W boasts a robust array of features packed into it, making it a perennial favorite among drone enthusiasts from varied backgrounds. With its strong performance in terms of both durability and photographic outcome, it's not too hard to see why!
Lea también: Best Places To Buy Drones Online
Preguntas frecuentes
What are some unique features exclusive to the MJX Bugs 5W?
The MJX Bugs 5W sports some impressive features, like the advanced Brushless Motors and high-quality 4K 5G Wi-Fi Camera. But what makes it truly stand out is its GPS-enabled precision flight, TapFly mode, Follow Me function, and powerful single-axis servo for stabilization.
Does it come with any accessories or necessary parts?
Yes! Your MJX Bugs 5W comes packaged with all the necessary components to get you flying swiftly. It includes a set of spare propellers, one battery, a charger, and even a screwdriver for easy installation.
How easy is it to set up and begin flying?
Getting your MJX Bugs 5W in the air is incredibly simple! With included instructions and tools provided within the package, setup is quick and straightforward. Its user-friendly design makes starting your drone adventure as effortless as possible.
Is there a return home function available?
Absolutely! The One-Key Return feature available on the MJX Bugs 5W ensures your quadcopter promptly returns to you with just a touch of a button. It's simple yet effective and an absolute game-changer!
Conclusión
In my journey of exploring different drones, the MJX Bugs 5W certainly stood out. The host of features it offers users, from the advanced brushless motors to the 4K WiFi camera and impeccable GPS, are undeniably exceptional.
The drone is fitted with user-friendly modes like Follow Me and TapFly that make navigation a breeze. Furthermore, its Barometer Altitude Hold capability ensures stable flight while capturing high-quality images or videos.
Key Takeaway Points
Advanced Brushless Motors perfecting drone's flight
High-resolution 4K WiFi Camera for crystal clear images
Follow Me mode for effortless tracking
Stable flight assured with Barometer Altitude Hold