Toutes les nouvelles lois sur les drones à Hong Kong (2023 Mis à jour)
Updated On: février 6, 2023
In recent years, drones have become a powerful tool to deliver goods, conduct search and rescue operations, and provide entertainment. Hong Kong is no exception to this movement; many innovative companies have embraced technology to improve their services and use it as an effective tool.
For instance, drone operators in Hong Kong have been able to assist the healthcare system in delivering medical supplies more quickly during emergencies.
They can also leverage their drone cameras to take amazing aerial footage of visually stunning places like The Peak or Victoria Harbour, providing a unique perspective unseen by most people visiting those locations.
Drones are revolutionizing how Hong Kong engages with its environment, bringing rapid progress for future development. Countries have had to create legislation around the use of drones due to their increasing presence in civil life, especially concerning safety and security issues.
Hong Kong is no exception when it comes to establishing laws related to drone usage as they seek to ensure the safety of their citizens while also encouraging innovation in this burgeoning industry.
This blog post will take an in-depth look at drone laws in Hong Kong, discussing relevant regulations, necessary application processes, and penalties for violations.
General Drone Rules to Follow in Hong Kong (2023)
To comply with Hong Kong law, it is essential to adhere strictly to the regulations and guidelines for drone operations.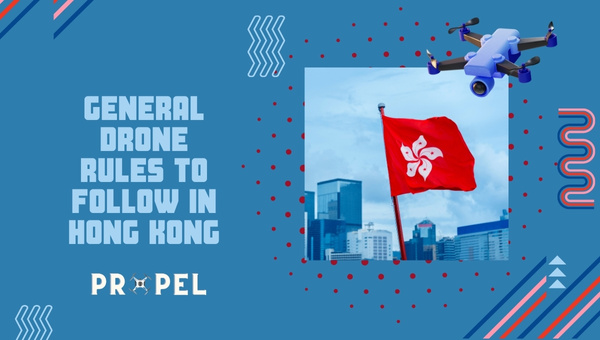 When utilizing a drone pour le commerce intentions or if it weighs more than 7 kilograms (15.4 pounds), you must obtain approval from the HKCAD. But, no authorization is required when flying your drone under this weight limit as part of recreational activities.
If a drone operator is utilizing the device for professional use, they must keep accurate flight documents approved and authorized by HKCAD under local regulations. These records should be easily accessible to HKCAD whenever requested.
A crucial requirement for the Hong Kong Civil Aviation Department (HKCAD) to thoroughly analyze application and safety protocols before allowing commercial UAS (Unmanned Aerial System) operations is that operators must maintain and provide an operational manual containing all procedures related to using a UAS. This document provides HKCAD with the precise information necessary to decide whether or not it should grant permission.
Operating a drone within an airport's 5-kilometer (3.1-mile) radius is prohibited.
Except during take-off and landing, drones must remain at least 164 feet from any people, vessels, motorized vehicles, or structures on the ground. This is to ensure everyone's safety and well-being.
As the drone takes flight, its pilot must never lose sight of the aircraft.
Obtaining approval from the land/property owner on whose terrain the UAS will launch and function is a must.
Drones must not soar above 90 meters (295 feet) by law.
Soaring a drone after dark is strictly prohibited.
Drones are prohibited from flying in highly populated and congested areas for safety reasons.
Drones cannot fly over or near any object, installation, or facility that could be hazardous if a drone crashes into it. Similarly, drones must remain in good order and under control while in flight; otherwise, their operations will be jeopardized.
Unmanned Aerial Vehicles (UAVs) are prohibited from hovering above the airspace of Hong Kong International Airport, as well as other areas such as the North Lantau coastal region, Tai Lam Chung to Tsuen Wan, and Tsing Yi Island's coastal zones, Victoria Harbour and its nearby area, and Shek Kong district.
Lire aussi : Lois sur les drones en Estonie
Hong Kong Civil Aviation Department (HKCAD)
The Hong Kong Civil Aviation Department (HKCAD) is a government agency responsible for promoting and regulating the civil aviation industry in Hong Kong.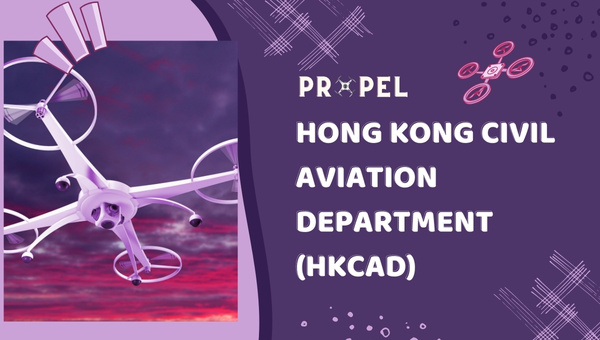 It is tasked with overseeing airport operations, aircraft safety and performance, air traffic control, licensing of personnel in the aviation industry, and coordinating with international organizations related to air transport.
It works closely with the airline industry to ensure that flights are conducted safely and securely while maintaining high customer service standards. In addition, the HKCAD protects passengers' rights seriously, ensuring their right to fly with comfort and convenience.
The department also encourages innovation in aviation technology by providing continued support and funding related research projects.
With its continuous efforts towards growth in this field, HKCAD remains dedicated to upholding world-class standards for a healthy Hong Kong aviation sector.
As part of a vehicle control devoted to ensuring safe and secure air travel, HKCAD oversees drones' regulation, enforcement, and licensing, providing guidance concerning which altitudes they are allowed to fly at, which areas they can traverse, and other important safety considerations.
Through their work in controlling drones, HKCAD plays a crucial role in maintaining aircraft safety across Hong Kong.
Lire aussi : All New Drone Laws in Haiti
Registration & Authorisation
The Hong Kong, Civil Aviation Department has launched a streamlined and user-friendly online registration portal, available in Chinese and English, to register your drone conveniently.
Submitting your registration is a simple process; all you need to have on hand are the basic details of yourself (and possibly a Chinese phone number) and the technical specifications of your drone. To complete it, make sure that you provide these details:
Personal information about you
The technical details of your drone
The information about your flights
Evidence of your insurance
An Operations Manual is essential to ensure your drone and team are protected from unforeseen circumstances so you can fly with the utmost safety for everyone involved.
To gain authorization to fly in a restricted zone, you'll need to submit an online form including your personal information and precise details regarding the flight area. Additionally, attaching a copy of your insurance policy will be necessary for approval.
As you approach your departure day, make sure to contact the closest Air Traffic Supervisor and share all of your flight information. Additionally, please provide a Hong Kong phone number for further communication purposes.
Commercial Guidelines For Drones
Regardless of the UAV size, all commercial pilots must declare their intended maneuvers to CAD and show off their pilot skills. Additionally, an operations manual with emergency protocols should be included in the submission.
Insurance Requirements
Although insurance for drone operations in Hong Kong is not a legal requirement, it is highly recommended to help protect you and others from any potential costly damages that could be caused by an unexpected loss of control.
Lire aussi : Updated Drone Laws in Jamaica
No Drone Zones in Hong Kong
No drone zones are areas where unmanned aerial vehicles (UAVs) and drones are prohibited by law due to safety and privacy concerns. Airports, national parks, historical monuments, and educational institutions are some locations that have been declared as no drone zones.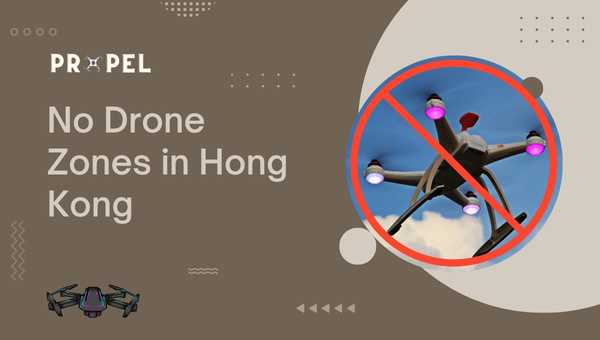 Generally speaking, if you operate a drone in a no-drone zone without permission, you could be fined or even potentially face criminal prosecution. Drone enthusiasts should check with local authorities before flying their UAVs in any area.
In hong kong, no drone zones are defined by the government to prohibit the unscrupulous use of drone technologies. It has also been reported that hong kong is taking steps to legalize the flying of drones in appropriate areas and during particular hours of the day, depending on the specifications required for safe operations.
Ultimately, hong kong is working hard to ensure that drone users understand and adhere to the necessary regulations regarding no drone zones to promote responsible usage of this technology.
Lire aussi : All Drone Laws in Maldives
Know about No-Drone Zones
Hong Kong's Civil Aviation Department (HKCAD) published a detailed list of no-drone zones. Additionally, they provide maps and other informative resources to help pilots identify all the areas where drones are prohibited.
You can also check online to discover any new restrictions in your region. The HKCAD also provides information on its website regarding safety regulations for flying drones in Hong Kong that you should be aware of before taking off.
To avoid potential liabilities and fines, all drone users need to stay up-to-date with the latest rules and regulations related to UAV operations.
FAQ
Is using drones in Hong Kong a permissible activity under the law?
Yes, the use of drones in Hong Kong is permissible, provided that you adhere to the rules and regulations set by the HKCAD. Flying drones near no-drone zones and other areas where it is prohibited could lead to potential legal liabilities.
Are there any special requirements for flying a drone in Hong Kong?
Yes, you must obtain approval from the Civil Aviation Department before carrying out flights with an unmanned aircraft system (UAS).
You may be liable for a fine and/or potential criminal prosecution if caught using your UAV without permission in a prohibited area. It is essential to always check with local authorities before operating your drone in any area.
Conclusion
The guidelines for operating a drone in Hong Kong are very clear and should be followed to ensure the safety of everyone involved. Registering your drone, obtaining authorization from the relevant authorities, following local regulations and flight rules, and ensuring your UAV is properly insured are essential.
By adhering to the laws, regulations, and safety procedures set forth by HKCAD, you can ensure a safe and responsible experience when using drones in Hong Kong. Research and preparation allow you to enjoy all the benefits of flying UAVs without worrying about legal liabilities or fines.
We hope this article has given you an insight into the necessary procedures when flying a drone in Hong Kong and some tips on staying safe while doing so.
Before embarking on any flights with your unmanned aerial vehicle, carefully read through all official regulations. If you have any questions or want to provide feedback, feel free to comment below.