Toutes les nouvelles lois sur les drones au Kansas (mise à jour 2023)
Mis à jour le : 7 janvier 2023
As technology rapidly evolves, drones are becoming increasingly commonplace in Kansas. From farmers utilizing their aerial capabilities to survey crop health and monitor large tracts of land to tech startups that use them to capture beautiful footage for movies and commercials.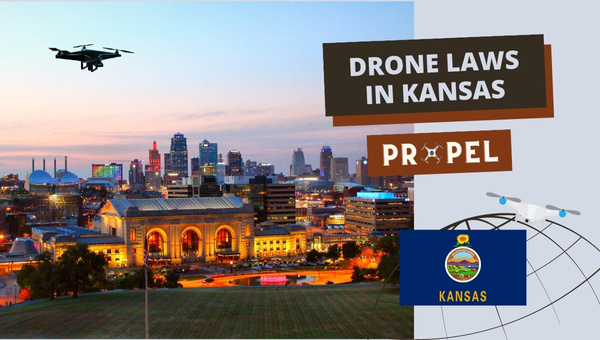 One thing is sure: drones are here, changing how we experience the state. From drones delivering packages to drones capturing breathtaking images, unmanned aerial vehicle (UAV) technology has opened up a whole new world of possibilities for many.
However, these positives come with some drawbacks, especially in Kansas, where drone laws are still being developed and implemented. With so much to consider when flying a drone in this Midwestern state, it's essential to stay informed on all Kansas UAV regulations and ordinances before taking off.
In this article, we'll dive into the drone laws in Kansas, from current regulations and safety precautions down to tips for getting started as an amateur.
General Drone Rules in Kansas (2023)
In Kansas, drone operation is primarily regulated by the Federal Aviation Administration (FAA). To ensure that you remain up-to-date with all laws applicable to your operations, some highlights of these rules have been included below.
In Kansas, fly your drone strictly for leisure and enjoyment.
To ensure your safety, always adhere to the guidelines established by an FAA-approved Community-Based Organization (CBO).
To remain safe while flying your drone, keep it within your line of sight. If you cannot see the drone due to distance or obstructions, enlist a co-located visual observer who can directly communicate with you so that they know its exact location and movements.
Make room and do not obstruct crewed aircraft.
To operate within controlled airspace (Class B, C, D, and E), you must obtain prior authorization via LAANC or DroneZone. Ensure your altitude is maintained at 400 feet or lower during the flight.
When flying in Class G (uncontrolled) airspace, maintain an altitude of 400 feet or below.
Ensure you take The Recreational UAS Safety Test (TRUST) and always have proof of passing handily.
Make sure to stay current with your registration, mark all drones over 0.55 lbs (250 grams) exteriorly with the registration number, and carry proof of their registration. Thankfully, for recreational flyers, no drone weighing less than 0.55 lbs must be registered or marked according to FAA standards.
Always fly with care and caution. Never interfere with emergency services or law enforcement operations while using your drone, nor should you be under the influence of drugs or alcohol when controlling it.
Keep away from any critical infrastructure, such as airports, power plants, etc., when flying your drone.
Recreational drone pilots must be aware of the criminal and civil penalties they could be subject to if they fail to adhere to safety requirements or operate carelessly.
Lire aussi Drone Laws in Japan, Penalty, Registration
Note for Commercial Use of Drones in Kansas
To unlock the potential of small unmanned aircraft in Kansas, it's essential to understand what is and isn't permissible under Part 107 rules.
If your drone weighs less than 55 pounds, you can fly it for business or work purposes by adhering to the FAA Part 107 guidelines and Drone Laws within the United States.
In Kansas, FAA Part 107 regulations permit drone commercial operations. However, before flying, it's important to research local jurisdiction rules for any additional licensing or clearance requirements that apply in your area. Not all operations are included in Part 107 and will necessitate a waiver.
Commercial Drone Pilots must steer clear of airports at all costs due to the potential risks posed by their unmanned aircraft. Manned airplanes can have difficulty spotting and avoiding drones while they are up in the sky, which is why drone operators must stay away from this airspace.
The FAA (Federal Aviation Administration)
The Federal Aviation Administration (FAA) is an agency within the United States Department of Transportation that regulates aviation safety. It ensures aircraft, drones, airports, and other related transportation elements comply with government regulations.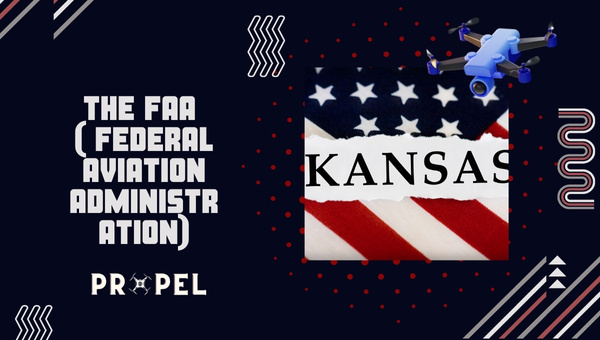 The FAA sets forth numerous drone rules and regulations, including airspace restrictions, weight limits, drone operator registration requirements, and more.
Additionally, the FAA works to protect people from drone misuse by publishing safety guidelines for drone operation and providing training to operators to ensure drones do not pose a risk to public safety.
With their oversight, the FAA has been instrumental in maintaining aviation safety standards nationwide.
Partie 107 de la FAA
The Federal Aviation Administration (FAA) has issued its Part 107 rules for operating small unmanned aerial vehicles (UAVs) with a maximum take-off weight of 55 lbs or less inside national airspace.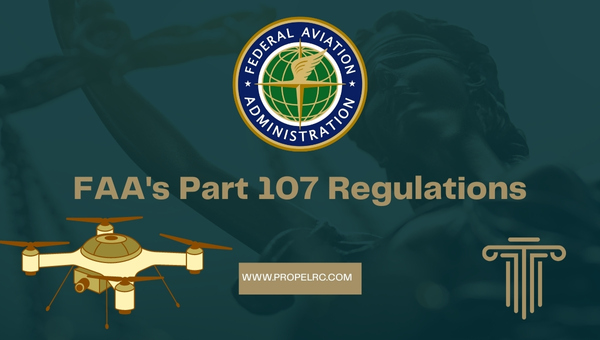 According to FAA regulations, drone operators must receive a remote pilot certificate and register their drones with the agency for legal operation.
Moreover, specific rules determine where and how drones may be flown. For example, drone operators must always keep the aircraft in their visible line of sight; it is illegal to fly a drone over crowds or close to airports.
Licence de télépilote
To soar through the skies and monetize your drones in the United States, you must attain a remote pilot license from the Federal Aviation Administration (FAA). Thankfully, gaining such authorization is straightforward.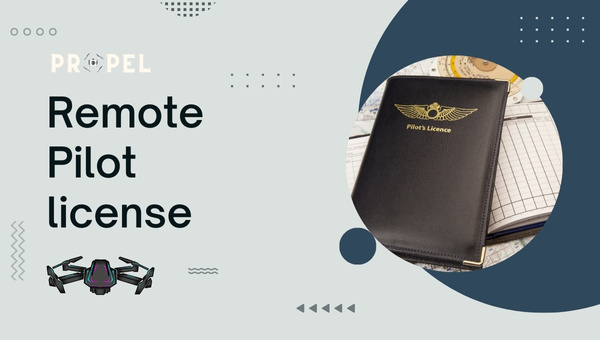 To obtain your remote pilot certificate, you must pass an aeronautical knowledge test at an FAA-approved testing center. Subsequently, submit a finished application to the FAA for processing and await your temporary remote pilot certificate issuance.
In order to retain your remote pilot license, you must take and pass a recurrent aeronautical knowledge test at least every two years and complete an online safety course.
Lire aussi Get Your Drone License In 4 Easy Steps
Register Your Drone With FAA
Registering with the FAA is a must if you're planning to operate a drone in the United States for commercial purposes. Fortunately, it's an easy and quick process that won't take more than several minutes of your time.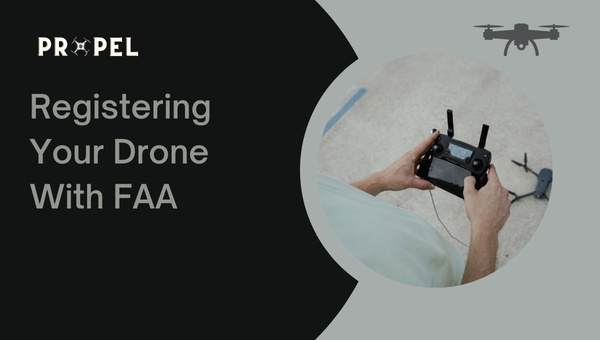 Begin by registering for an account on the FAA's website and supplying your contact information and details about your drone. Finally, make sure to pay the $5 registration fee to complete this process.
Upon registering your drone, you will receive a Certificate of Aircraft Registration and an exclusive registration number that should be affixed to the drone at all times.
The Unnamed Aircraft Systems (UAS) Commission
The UAS Commission is tasked with developing a framework for drones to operate safely and legally. It works to address issues like safety and security, privacy and data protection, liability, operations over people, certification of drones, market access for drones, as well as communication infrastructure for drones.
The Commission also has responsibility for the potential use of drones across multiple sectors, such as agriculture and forestry, health care delivery, infrastructure inspection, delivery services, and public safety.
Along with all these tasks, the Commission works hand in hand with designers and manufacturers to ensure drones are safe enough to be out in everyday life. 
Lire aussi 10+ Best Tips For Flying a Drone at Night
Penalties for Breaking Drone Laws in Kansas
Disregarding the Federal Aviation Administration's (FAA) Part 107 regulations when operating a drone can have serious consequences, including civil and criminal penalties.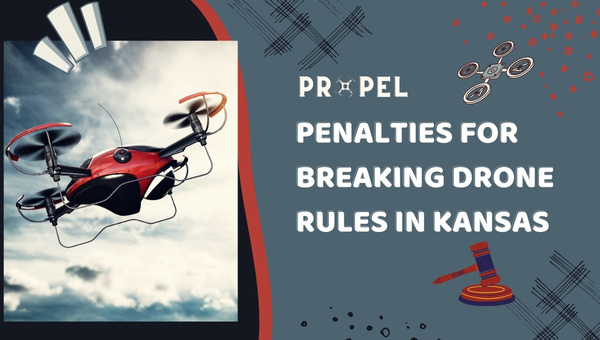 Criminal charges / Offenses
The most severe violation is deploying a drone in such a manner that puts another person's life at risk. If this occurs, the perpetrator could face hefty fines and even imprisonment of up to a few years.
Other crimes punishable by criminal charges include operating an unmanned aerial vehicle without obtaining the proper remote pilot license, failing to register with the FAA, obstructing a government aircraft's activities, or hacking into its control system.
Civil penalties / Jailtime
Beyond the potential criminal penalties, flying a drone violating Part 107 regulations can result in hefty civil fines and jail time.
Furthermore, anyone who utilizes drones irresponsibly or negligently may be held accountable for any harm arising.
If a person breaks state or local laws
Not only are drones subject to federal regulations, but they must also abide by state and local laws which often differ significantly between jurisdictions. Hence, you must know the exact rules governing your area before you fly a drone.
Guide ultime pour l'entretien et la maintenance des batteries de drone
No Drone Zones in Kansas
No Drone Zones are areas where the use of drones is prohibited. Common locations for these designated areas include prisons, airports, military bases, and even public parks.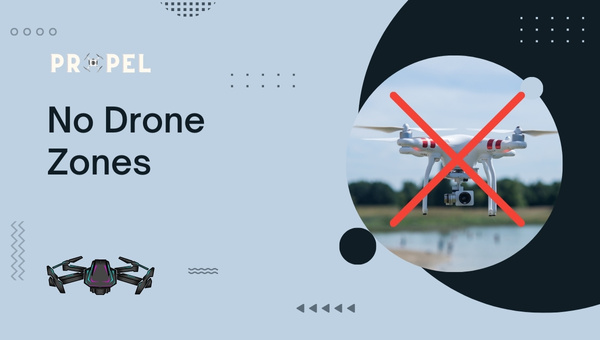 These rules and regulations vary among sites and vary in scope and scale. They can range from banning all unmanned aerial vehicles (UAVs) to particular kinds or sizes.
Kansas is one of many states that has designated certain areas as no drone zones. Kansas law is clear on this distinction, prohibiting drones from flying in any location more than 400 feet above ground level, over any state, county, or private property without permission, and within a five-mile radius of Kansas City International Airport.
Drone users must be aware of these designations and abide by them when flying their UAVs in Kansas. Failure to do so can lead to severe penalties and fines.
How to Know about No Drone Zones?
To stay compliant with FAA regulations, it is essential for drone operators in Kansas to familiarize themselves with designated No Drone Zones within the state.
The best way to do this is by referencing multiple sources such as your local airport authority, the FAA's website, or even checking state government websites for information about any relevant laws and regulations regarding UAVs.
B4UFLY App
Another useful resource for drone operators in Kansas is the B4UFLY app, created by the FAA to help users stay up-to-date with state and local laws governing UAVs.
The app provides information on all relevant regulations and restrictions and a detailed map of no-fly zones in your area.
The app also sends push notifications, allowing users to stay informed about any changes in regulation that could affect their ability to fly drones safely.
FAQ
Are unmanned aerial vehicles permissible in the state of Kansas?
Yes, drones are permissible in the state of Kansas. However, drone operators must abide by all applicable FAA regulations and local laws when flying UAVs in the state.
Is it necessary to register my drone before flying?
Yes, all drones that weigh over 0.55 pounds must be registered with the Federal Aviation Administration (FAA). Failure to do so can lead to hefty fines.
Are there any designated No Drone Zones in Kansas?
Yes, Kansas has several designated No Drone Zones that vary in scope and scale. These include areas around airports, military bases, prisons, and some public parks.
Conclusion
The use of drones in Kansas is playing an increasingly important role across a variety of industries within the state. As such, when it comes to operating a drone in Kansas, it is essential to ensure you abide by all applicable federal, state, and local regulations.
Ensure that you stay informed of the latest developments regarding UAVs and their operation within your area. Operating a drone in Kansas requires knowledge of federal and state regulations and an understanding of designated no-fly zones within your area.
All drone pilots must abide by these rules and regulations or risk facing civil or criminal penalties. Following these guidelines will help ensure you have an enjoyable time while enjoying the wonders of this trendsetting technology.
Be sure to adhere to the pertinent regulations and comply with all federal and local guidelines. We hope this article was beneficial for you. Please leave your thoughts in the comments below.