Lois sur les drones au Nebraska (2023 Updated) : Tout ce que vous devez savoir
Mise à jour le : janvier 3, 2023
Drones are becoming increasingly popular, and many people use them for recreational purposes. However, drone laws are complicated and vary from state to state. If you're thinking of flying a drone in Nebraska, it's important to understand the relevant drone laws in Nebraska.
As technology advances, so do the ways people can use drones. While drones can be fun and entertaining, they also can be quite dangerous if not used correctly.
Because of this, it is important to know and understand their use in a good manner in Nebraska. In this blog post, we will discuss the current drone laws in Nebraska and what you need to know before flying a drone in the state.
General Drone Rules to Follow in Nebraska (2023)
Before getting into the skies, a few general laws are important for all drone pilots to know.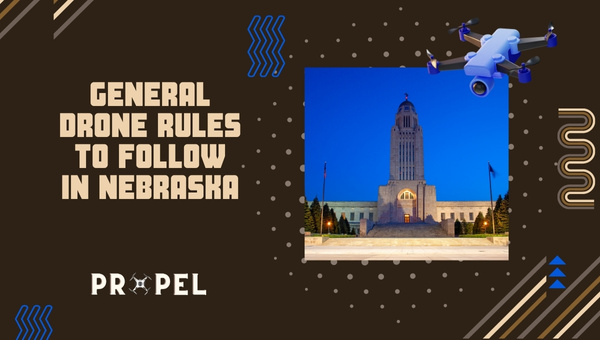 These are some of the general laws which are to be followed, there can be more specific rules for each state, so it is always best to check with your local authorities.
If you're in Nebraska, please bear in mind to use drones and fly solely for recreational purposes.
Adhere to the safety protocols of an FAA-acknowledged Community Based Organization (CBO) when operating a drone for recreational purposes.
To ensure the safest flight experience with your drone, maintain its location within sight at all times. If this is not possible, a co-located visual observer should be present beside you and constantly in direct communication.
Make way for and do not disrupt crewed aircraft.
When flying in controlled airspace (Class B, C, D, and E), maintain a maximum altitude of 400 feet with authorization from either LAANC or DroneZone.
To remain compliant with aviation regulations, fly at a maximum altitude of 400 feet when operating in Class G (uncontrolled) airspace.
Ensure your safety in the air by taking The Recreational UAS Safety Test (TRUST), and don't forget to carry proof of passage.
Ensure that your drones are currently registered, and visibly mark the outside of each drone with its registration number. Also, don't forget to carry along proof of your registration for easy access.
If you are someone who flies drones recreationally, the FAA does not necessitate that your drone must be registered or labeled if it is under 0.55 lbs (250 grams).
Always exercise caution when operating your drone; avoid obstructing emergency response or law enforcement activities, do not fly while under the influence of drugs or alcohol; and keep away from critical infrastructure.
Lire aussi All Drone Laws in Wisconsin: Rules, Penalty
Penalties for Violation of Drone Laws in Nebraska
The penalties for violating drone laws vary depending on the severity of the offense, but they can range from a warning to a prison sentence. Some of the potential penalties for breaking drone laws include the following: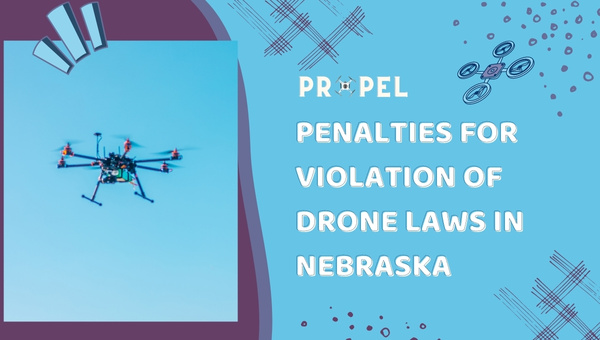 Fine for violation of laws
If you are caught flying in a way that violates any of the drone laws, you may have to pay a fine. Depending on the offense's severity, the fine can range from a few hundred dollars to several thousand dollars.
Lose of flying privileges
If you are found to be in violation of drone laws, you may lose your flying privileges. This means that you will not be able to fly a drone again until you have taken and passed a test proving that you understand the drone laws and how to operate a drone safely.
Jail time
In some cases, violating drone laws can result in jail time. This is usually only reserved for serious offenses, such as flying a drone near an airport or military base. If you are convicted of a crime involving a drone, you could face up to 5 years in prison.
Criminal Charges can be Imposed
In some more serious cases, you may face criminal charges for violating drone laws. This is usually only the case if you were flying in a way that endangered people or property. If you are convicted of a crime involving a drone, you could face serious trouble.
Lire aussi Mise à jour des lois sur les drones en Afrique du Sud
L'administration fédérale de l'aviation (FAA)
The Federal Aviation Administration regulates drones, also known as unmanned aircraft systems (UAS). The agency has rules and regulations to ensure that drones are operated safely and in accordance with the law.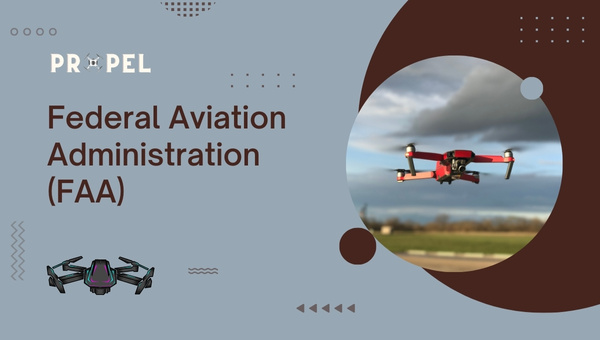 Generally, drones must be registered with the FAA and operated according to specific regulations. For example, drones must not be flown near airports or other manned aircraft and must not be operated in a way that endangers people or property.
In addition, the FAA has recently proposed new rules that would allow drones to be operated more freely in certain areas. For instance, the agency is considering allowing drones to be flown over people and buildings.
It is also exploring ways to reduce the need for drone operators to obtain special permission from the FAA before flying their drones in certain areas.
The proposed rules are currently under review, and it is unclear when or if they will be finalized. Nevertheless, the FAA's efforts to regulate drones are ongoing, and the agency is constantly evolving its rules and regulations to ensure that drones are operated safely and legally.
Licence de télépilote
You may need a remote pilot certificate to operate a drone for business purposes. Part 107 of the Federal Aviation Regulations (FARs) spells out the rules for getting a remote pilot certificate, also known as a Small Unmanned Aircraft Systems (sUAS) rating.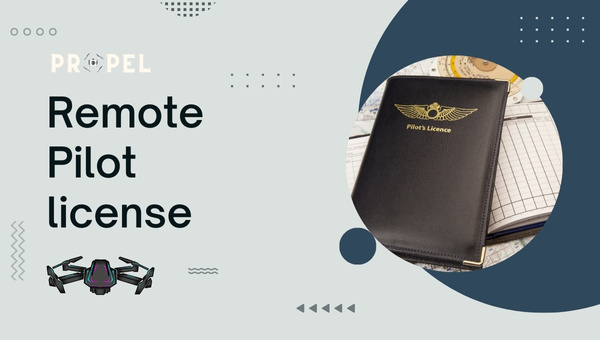 You must be at least 16 years old and have a valid, acceptable identification to apply. You will need to take a written exam covering aeronautical knowledge areas. Once you pass the exam, you'll receive your remote pilot certificate, valid for two years.
However, you will need to keep your skills up to date by completing recurrent training every 24 months. With a remote pilot certificate in hand, you'll be able to legally operate a drone for business purposes in compliance with all applicable regulations.
Remote Pilot Exam
You'll need to pass a written exam covering aeronautical knowledge areas to get your remote pilot certificate. An accredited testing center administers the exam, and you can find a list of centers on the FAA website. You can also find study materials for the exam on the website.
When you're ready to take the exam, you'll need to schedule an appointment with a testing center. You can do this online or by calling the center. Once you've passed the exam, you'll receive your remote pilot certificate, valid for two years.
Registering Your Drone With FAA
All drones must be registered with the Federal Aviation Administration (FAA). You must register your drone before you can fly it and have your registration certificate with you when you fly. You can register your drone online.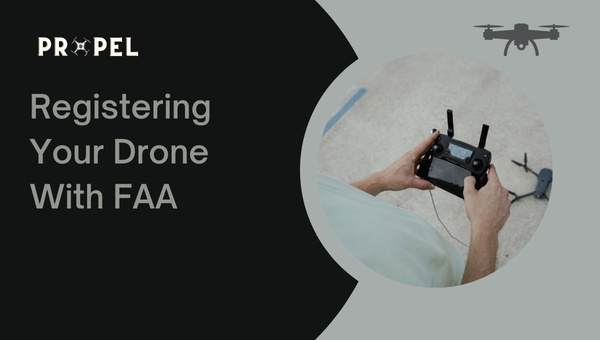 To register online, you'll need to provide your name, address, and email address. You'll also need to create a username and password for your FAA account. Once you've created an account, you can register your drone.
To register by mail, you'll need to fill out a paper form and send it to the FAA along with a $5 registration. Once registered, you will receive a registration number which must be displayed on your drone. The drone registration is valid for three years and must be renewed.
Lire aussi Toutes les nouvelles lois sur les drones au Minnesota
Partie 107 de la FAA
The FAA's Part 107 regulation is a set of rules that govern the operation of drones in the United States. The regulation covers commercial and non-commercial drone use and includes provisions for registration, marking, and lighting requirements, as well as rules for operating in controlled airspace.
The regulation also imposes restrictions on the maximum altitude and speed at which a drone can be operated and requires operators to maintain visual line-of-sight contact with their drone at all times.
Part 107 represents a major step forward in ensuring the safe integration of drones into the national airspace system and helps to foster a thriving drone industry in the United States.
UAS Commission
The Unmanned Aircraft Systems Commission (UAS) is responsible for developing the regulations governing unmanned aircraft systems (UAS) use in the US.
The Commission is made up of representatives from various government agencies, private organizations, and members of the public.
The UAS Commission was created in response to the growing popularity of unmanned aircraft systems and the need for regulations to ensure their safe operation.
The Commission's goal is to develop regulations that balance the need for safety with the need for innovation and the economic benefits that UAS can provide.
No Drone Zones in Nebraska
A no-drone zone is an area where drones are not allowed to fly. There are many different types of no-drone zones, including national parks, airports, and military bases. No drone zones are typically put in place to protect people and property from the potential hazards of drone flight.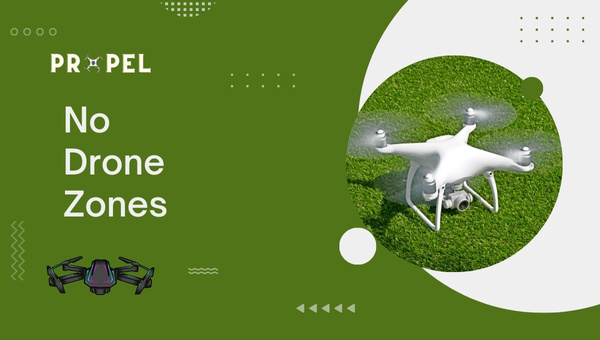 For example, drones can interfere with aircraft, and they could also pose a security risk if they were to fall into the wrong hands. In addition, some people find the presence of drones to be intrusive or annoying. As a result, no drone zones help to keep people and property safe and free from unwanted intrusion.
Lire aussi All Drone Laws In The Netherlands: Rules To Follow
Comment connaître les zones interdites aux drones ?
There are a few different ways to find out about no-drone zones. The first is to check the agency's website that manages the airspace in question. For example, the Federal Aviation Administration (FAA) website lists all areas where drones are not allowed to fly.
Another way to find out about no-drone zones is to use a drone mapping tool, such as Airmap, which allows users to input their location and see any nearby no-drone zones.
B4UFLY App
The FAA's B4UFLY app is another great resource for drone pilots. The app provides information about the rules and regulations for flying drones in the United States.
It also includes a map that shows the location of no drone zones. The B4UFLY app is available for both iOS and Android devices.
FAQ
Are drones legal in Nebraska?
Drones are legal in Nebraska. However, there are some regulations that must be followed according to the Federal Aviation Administration.
How to get permission to fly in a no-drone zone?
To fly in a no-drone zone, you must first obtain permission from the airspace agency. For example, if you want to fly in a national park, you must obtain permission from the National Park Service.
Conclusion
It is important to be aware of drone laws, as they are constantly changing and evolving. Ignorance of the law will not protect you from the consequences of breaking a drone law.
Make sure you know the current regulations in Nebraska and always fly responsibly and safely. Contact your local authorities for more information if you have any questions about the laws or how to follow them.
It is also important to remember that no-drone zones exist for a reason and should be respected. Flying in a no-drone zone can result in serious fines and even jail time, so ensure you abide by the regulations set forth by the FAA or other governing bodies.
By following these guidelines and understanding the rules of flying drones, you will help ensure that everyone can safely enjoy the wonders of unmanned aerial vehicles.
If you have any questions about drone laws in Nebraska, please leave them in the comments. We hope this article was helpful to you.