5 Best Return to Home Drones For 2023: Top Picks
A cura di:
Richard J. Gross
Updated On: Settembre 7, 2023
Have you ever watched your drone's battery drain away, helpless as you realize that it won't make it back to you before powering down? Maybe your drone disappeared behind thick foliage, and maneuvering around the trees to get a clear view has become an unwinnable game of hide-and-seek. Even experienced pilots find themselves in these situations from time to time!
That's where "Best Return to Home Drones" swoop in like a superhero. With smart tech designed to return them safely to their launching point automatically, these drones are redefining the flying experience.
Imagine freeing yourself from the constant worry about losing sight or control of your drone. Envision focuses on capturing breathtaking aerial views or nailing that tricky flight stunt without fretting over how much battery life remains.
Most importantly, consider being able to enjoy every moment of your flight, knowing that regardless of what happens—unexpected detours, low power level, or even a lost connection—your trusty machine will dutifully make its way back home.
Sounds tempting? I'm thrilled you think so because I'm here to introduce some of the best return-to-home drones available on the market today. Whether you're a seasoned professional looking for an upgrade or an amateur making their foray into this exciting pastime, stick with me, and let's explore these fantastic machines together!
Things to Consider When Purchasing Best Return to Home Drones In 2023
When you're in the market for a drone equipped with the Return-to-Home (RTH) feature, it's not just about picking one off the shelf. You need to be smart about your selection process, taking into account several crucial factors that can significantly affect your overall drone experience.
Price Range
What's your budget for acquiring one of these tech marvels? Drones range in price from under $100 to several thousands of dollars. Knowing how much you are willing and able to spend can help narrow down your options and prevent overspending.
For Beginners: Check out affordable options with sufficient features, like the Holy Stone HS700D FPV Drone.
For Pros: Consider more sophisticated drones like DJI Phantom 4 Pro V2.0 o Autel Robotics EVO II, although they come at a higher price.
User-Friendly Controls
How easy is it to master the controls? Before picking any drone, ensure that its control system is simple enough for you. This point cannot be overemphasized, especially if you're new to drones.
Important Tips
Look for drones that include Beginner Mode.
Pilot training simulators can also help beginners learn without risking their drones.
Durata della batteria
How long can the drone stay airborne before you need to change or recharge batteries? A longer tempo di volo often equals more fun and productivity, whether you're capturing epic landscape shots or mastering those piloting maneuvers!
Dedicated pilots would highly appreciate a longer battery life as it provides extended operating time periods!
Qualità della fotocamera
If you're interested in aerial photography or videography - How clearly does the drone's built-in camera take images or videos?
Consider these key points:
The resolution of still images: Generally, anything above 12 megapixels should suffice.
Video quality: Ideally, at least 1080p for smooth high-def footage
Gimbal stabilization: For ensuring steady shots during the flight
Leggi anche: 9 Best Underwater Drones: Dive into the Depths
5 Best Drones with RTH Feature
Flying drones can be a thrilling experience, but it comes with its share of challenges. One of those is ensuring your precious device's safe return without mishaps.
Fortunately, a range of drones is equipped with an intelligent feature called Return To Home (RTH) that, as the name suggests, ensures your drone finds its way back home safely. Now, let's delve into some top-notch RTH drones out there.
1. DJI Phantom 4 Pro V2.0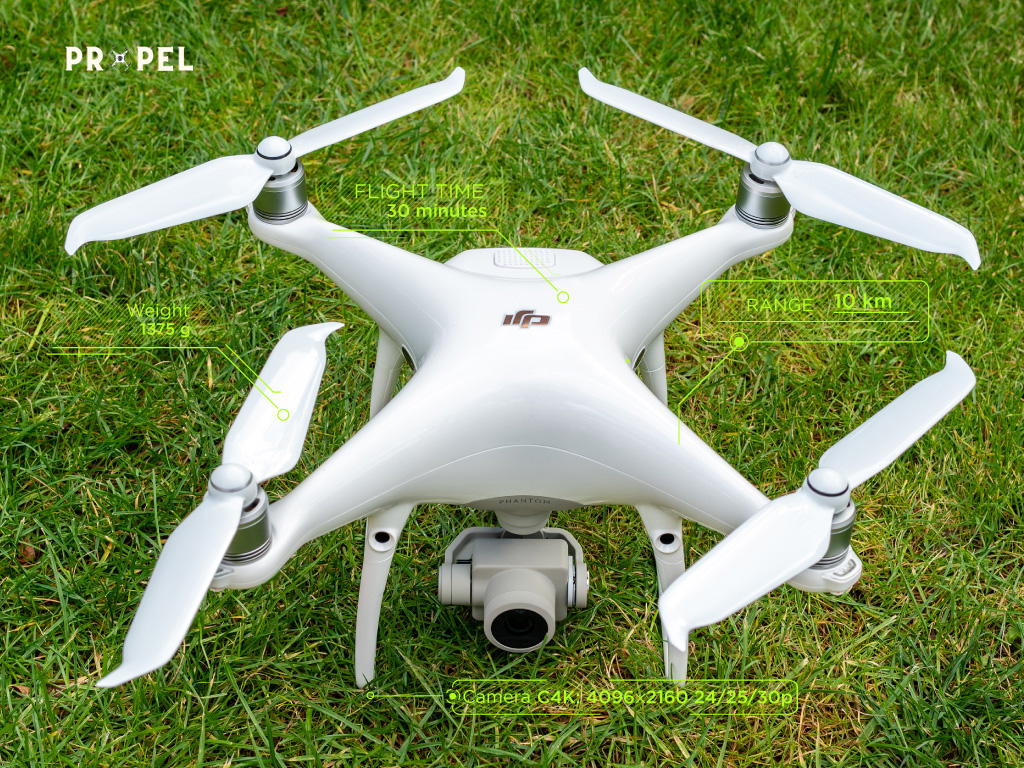 The DJI Phantom 4 Pro V2.0 stands among the best in class due to its outstanding features and reliable performance. It's renowned for its sophisticated obstacle detection system, providing extra security during flight.
| Tempo di volo | Peso | Gamma di trasmissione | Qualità della fotocamera | Batteria |
| --- | --- | --- | --- | --- |
| 30 minuti | 3 lbs | 10 km | 20 MP | 5870mAh |
This model possesses a high-resolution camera that ensures superior quality photos and videos at 20 megapixels and 4K/60fps, respectively.
Three key advanced features include:
Five-direction obstacle sensing
Intelligent battery
ActiveTrack technology for following fast-moving subjects
Trust me when I say this drone doesn't leave much room for disappointment or error.
Pro
Long flight time.
High-quality camera capabilities.
Robust transmission range.
CONS
Pricey compared to other models.
Bulky design not suited for travel.
Tricky controls for beginners.
2. Autel Robotics EVO II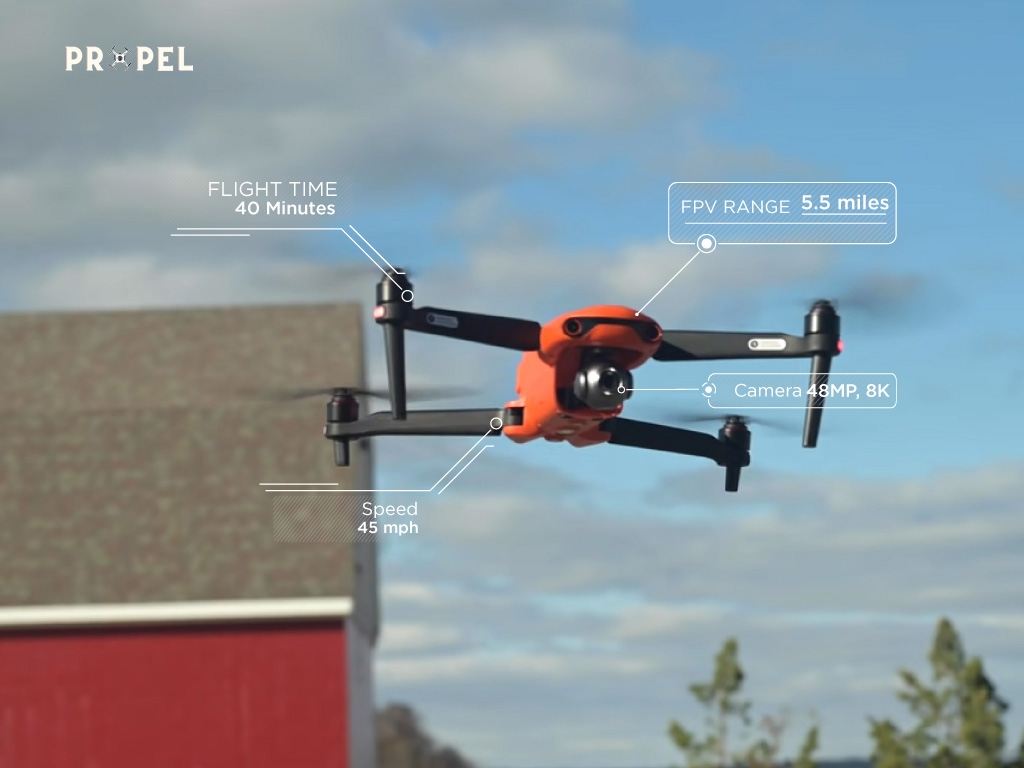 The Evo II from Autel Robotics is indeed a small beast. This tech marvel houses an incredible 8K camera that can capture stunning aerial photos, and its AI-enhanced tracking capabilities keep moving subjects in sharp focus.
| Tempo di volo | Peso | Gamma di trasmissione | Qualità della fotocamera | Batteria |
| --- | --- | --- | --- | --- |
| 40 minuti | 2.5 lbs | 9 km | 48 MP | 7100mAh |
This finely designed drone offers the longest battery life among all drones on this list, capable of staying airborne for up to an awe-inspiring 40 minutes.
Its high-end features make it probable that:
Omnidirectional obstacle sensing will turn your flight experience into a breeze.
LiveDeck feature allows for real-time video sharing
Dynamic Track 2.0 keeps tracking even fast-moving subjects
However, every coin has two sides - let's take a look at the pros and cons:
Pro
Extended flight times
Superior camera quality
Long-range control capability
CONS
The cost is on the higher end.
May require time to understand advanced features.
Compact size may affect stability in windy conditions
3. Parrot Anafi FPV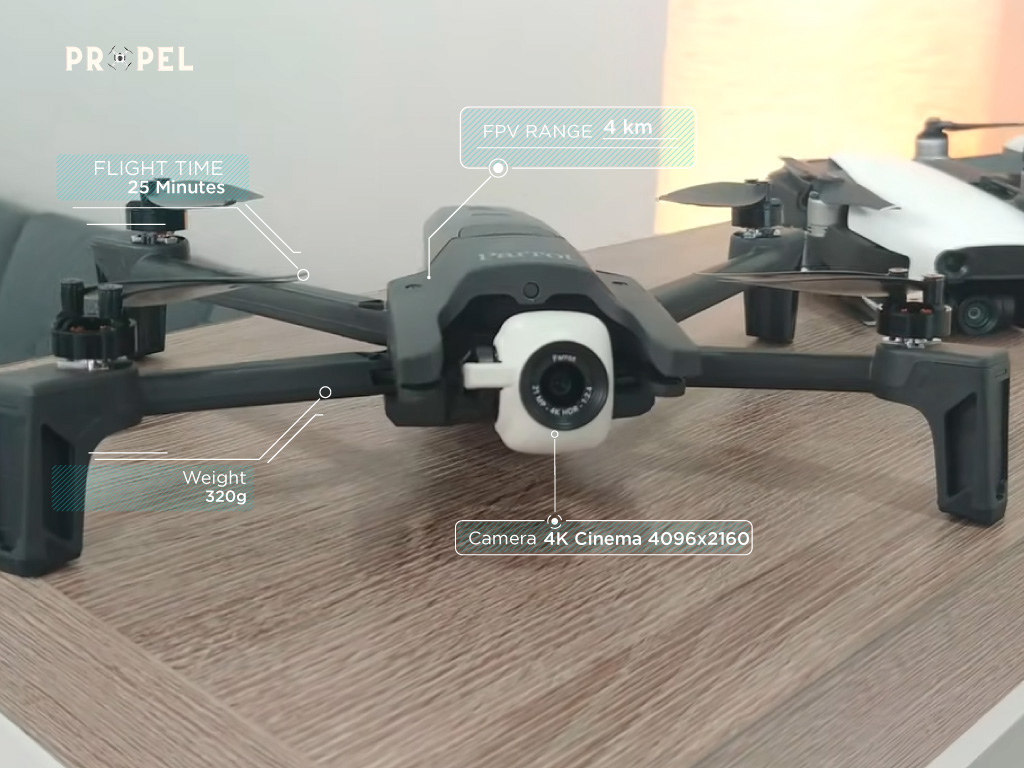 Il Pappagallo Anafi FPV is a lightweight, compact, and versatile drone that is perfect for the drone enthusiast on the go. Its unique 180° vertical swivel camera capability ensures you can capture breathtaking aerial views like never before.
| Tempo di volo | Peso | Gamma di trasmissione | Qualità della fotocamera | Batteria |
| --- | --- | --- | --- | --- |
| 26 minuti | 0.71 lbs | 4 km | 21 MP | 2700mAh |
While its flight time isn't as impressive as DJI's Phantom or Autel's Evo II, this featherweight competitor has its own charm with some appealing features:
Compact design with an easy foldable mechanism
Built-in Digital stabilization for vibration-free fly
The immersive flying experience through the cockpit glasses (FPV)
Let's weigh up the pros and cons:
Pro
Ultra-portable design.
Extraordinary camera swivel.
Beginner-friendly controls.
CONS
Less flight time compared to others.
Limited transmission range.
Longer battery recharge times.
4. DJI Mavic Mini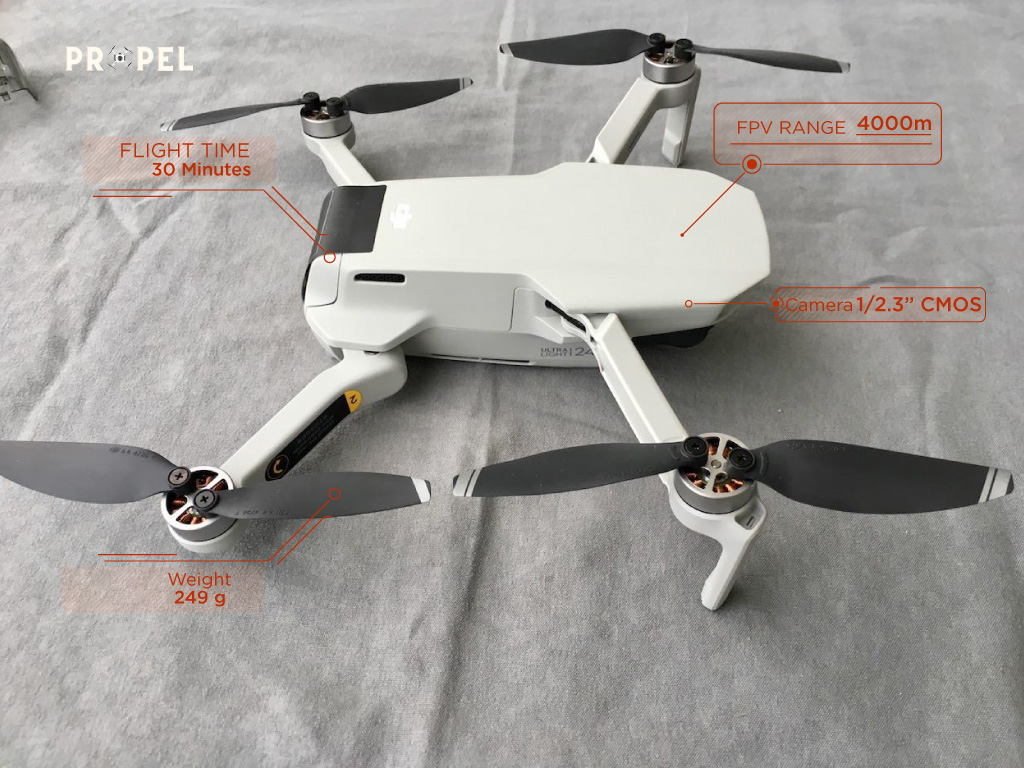 The DJI Mavic Mini is your pocket-friendly powerhouse, exemplifying that good things really do come in small packages. Despite being compact, it boasts an impressive flight time and beginner-friendly flying controls.
| Tempo di volo | Peso | Gamma di trasmissione | Qualità della fotocamera | Batteria |
| --- | --- | --- | --- | --- |
| 30 minuti | 0.549 lbs | 4 km | 12 MP | 2600mAh |
Don't be fooled by its diminutive size. This drone can pack a punch with these brilliant features:
CineSmooth Mode for exceptional steadiness during complex maneuvers
Simplified recording & editing through the Applicazione DJI Vola
QuickShot Modes for epic, professional-quality videos
However, it's always wise to check both sides of the coin:
Pro
Extremely lightweight.
Impressive flight time for its size.
User-friendly interface is ideal for beginners.
CONS
Lower camera resolution compared to other models.
Limited advanced features as compared to larger models.
Battery capacity is on the lower end.
5. Holy Stone HS700D
For those operating on a budget but still seeking top-notch features, the Holy Stone HS700D FPV drone could be an excellent choice. It offers an efficient brushless motor operation and a user-friendly interface at an affordable cost.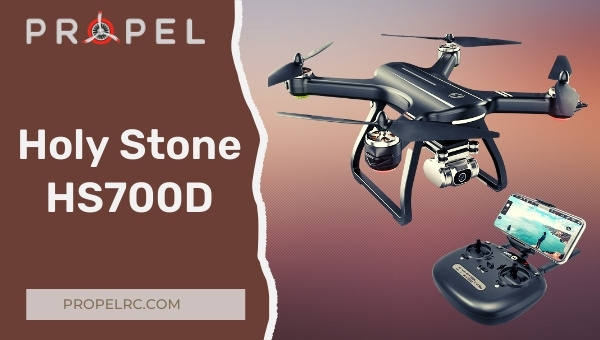 | Tempo di volo | Peso | Gamma di trasmissione | Qualità della fotocamera | Batteria |
| --- | --- | --- | --- | --- |
| 22 minutes | 1.4 lbs | 1 km | 2K HD | 2800mAh |
Despite being budget-friendly, it doesn't skimp on features:
Upgraded 2K camera for stunning imagery.
Easy and intuitive controls, perfect for beginners.
Brushless Motor for quieter operation and longer durability.
It's time to delve into the pros and cons:
Excellent value for its price.
User-friendly controls are ideal for beginners.
Decent battery life considering its cost.
CONS
Shorter flight time compared to more expensive models.
Limited transmission range.
The camera could be better in terms of quality.
Leggi anche: How Much Does A Drone Cost? Latest Price Breakdown
Understanding Drone Technology
While navigating the world of drones, there can be quite a bit of jargon to decipher. For any drone user, understanding key features and how they operate can significantly elevate your drone operation experience. Let's jump into a vital feature – Return to Home (RTH).
What is a Return to Home Drone?
An RTH drone is an innovation in the drone industry that adds an extra layer of security for both newbies and experienced pilots. An RTH drone has the ability to autonomously fly back to its starting location or controller's position whenever you command it or when it experiences connection disruption. This can save your investment from unexpected situations like disconnection or loss.
Key Traits Of RTH Drones:
Autonomous Navigation
GPS-enabled
Signal-Loss Response
How Does the Return to Home Function Work?
The brilliance lies in the mechanism that powers this function - GPS-assisted navigation and signal loss response:
GPS-assisted Navigation: The moment you turn your drone on, it uses GPS coordinates to mark its takeoff point.
Signal Loss Response: In case of disconnection between the remote controller and the drone, it uses these coordinates as a reference point, triggering its RTH function.
It's crucial to note that obstacles may pose challenges during return flights. Advanced models often incorporate obstacle avoidance systems for safer returns.
Benefits of Using Drones with RTH Feature
A few notable advantages make drones equipped with RTH functionality worth considering:
Loss Prevention: When a connection gets lost due mostly to range issues or interference from telecommunication signals, there is a high chance your drone may drift away uncontrollably, which could lead it toward dangerous areas, possibly destroying it in the process. Automating return during such scenarios saves your valuable investment.
Ease Of Use: Whether you are just learning the ropes or even if an experienced pilot wishes for hands-off control for some time, commanding a return via one touch is convenience personified! It allows time for users who've lost orientation, offering some breathing room.
Convenience During Emergencies: If you face battery issues mid-flight – having quick access way back home can prevent unnecessary crashes due to retaining only enough battery life necessary back home - another win!
Just as any other tool should serve its master's purpose – so do drones gear towards the functionality & convenience that their easy-to-use features provide.
Domande frequenti
Why is Return-to-Home a vital feature in drones?
Return-to-Home (RTH) is a vital safety feature that ensures your drone autonomously flies back to its starting point if the signal becomes weak or lost, thereby preventing loss of the drone and potential damage.
How does GPS play a part in Return-to-Home functionality?
GPS technology enables precise location tracking of the drone, thus facilitating its return to the original launch point when activated. The RTH function takes advantage of this data for accurate navigation.
How do I use RTH?
Using RTH involves activating the designated function on your drone controller – usually by pressing a specific button. Every model has its own unique directions, so it's best to refer to your user manual.
Are there drones without a return home feature?
Not all drones have an RTH feature; this is particularly common in cheaper, less sophisticated models. However, most mid-range and high-end drones include this function due to its importance for safe drone operation.
What other features should I look out for when buying my first drone?
Besides RTH, key features worth considering are battery life for extended flight time, a quality camera if you're into aerial photography or videography, ease of use through user-friendly controls, and durability – because, let's face it: crashes happen!
Conclusione
Drones provide an incredible standpoint for breathtaking photos and videos. However, the 'Return to Home' function presents an essential component that shouldn't be overlooked when buying one. Protecting your investment becomes a no-brainer with this feature, ensuring your drone finds its way back home even when you've lost control or signal.
The benefits make them well worth the consideration for both amateur enthusiasts and professional videographers. After all, who would not want peace of mind as they fly their valuable, high-tech equipment in a variety of environments?
So remember always to prioritize features that enhance safety and reliability on top of other attractive offerings like camera quality or flight time. With drones featuring RTH like DJI Phantom 4 Pro V2.0 or Parrot Anafi FPV, you can ensure safe flights while enjoying the wonders of aerial photography!