Top 8 Best Silent Drones of 2023
A cura di:
Richard J. Gross
Updated On: Ottobre 18, 2023
Are you tired of drones that buzz like a swarm of bees every time they take off? Well, it looks like technology has finally caught up with your needs. Welcome to the world of silent drones! Just imagine having a gadget that could zip through your neighborhood or soar through the skies without causing any noise pollution. Doesn't that sound fantastic? When it comes to tranquility and peace, these best silent drones are game-changers.
The progression in drone technology within the past few years has been absolutely astounding. No more do you require bulky remote-controlled beasts buzzing loudly and alarming everyone within a mile radius. The future is here, and it's much quieter than you think! However, choosing the quietest drone is not as straightforward as it appears. You could buy something marketed as "quiet" but still has disruptive decibels.
Lucky for you, I've invested hours researching and testing various models on the market just so I can bring you information on top-performing silent drones. If peace is high on your priority list when searching for a perfect drone - then my friend, this list is just for you! Stick around to explore some aerial performers that balance impressive tech with stealthiness.
Top 8 Best Silent Drones of 2023
When you're choosing a drone, one of the most important factors is noise production. Quiet operation not only enhances your flying experience but also minimizes disturbances to people and wildlife nearby. Let's get into detail and explore eight of our top picks for the silent droni market that excels in performance without making excessive noise.
1. DJI Air 2s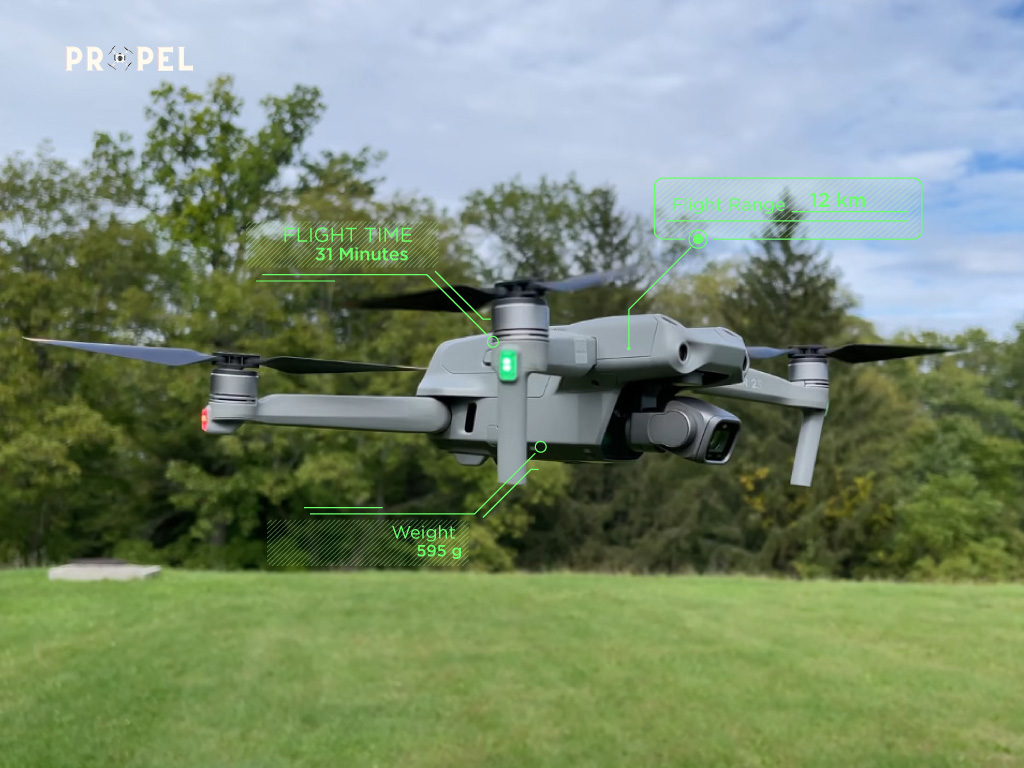 Il DJI Air 2s sits proudly at the top of my list, most notably for its quiet operation and sophisticated features. This drone provides a seamless blend of impressive flight time, remarkable camera quality, and whisper-quiet operation.
| Feature | Specifiche |
| --- | --- |
| Aircraft Weight | 595 g |
| Tempo di volo | Up to 31 minutes |
| Max Flight Distance | 18,5 km |
| Max Flight Speed | 19 m/s (S Mode) |
| Max Video Resolution | 5.4K at 30 fps |
| Gimbal Stabilization | 3-axis (tilt, roll, pan) |
| Transmission Distance | Up to 12 km (FCC) |
Let's now delve into the pros and cons of this drone:
Pro
Professional-grade camera with HDR capability
Superior transmission range
Excellent safety features, including obstacle detection
High-performance battery offering extended flight time
Advanced intelligent flight modes
Contro
Limited flight modes compared to rivals
Lacks side and top sensors for obstacle detection
Why is this the best silent drone on my list?
DJI Air S2 tops my list due to its world-class silent feature accompanied by high-end specs that do not compromise on quality just to cut down noise levels. Hosted within a compact design, it includes professional-quality photography, excellent safety features, and an impressive transmission range – all while being impressively quiet, making it a perfect choice if you prioritize quality over price!
2. DJI Air 3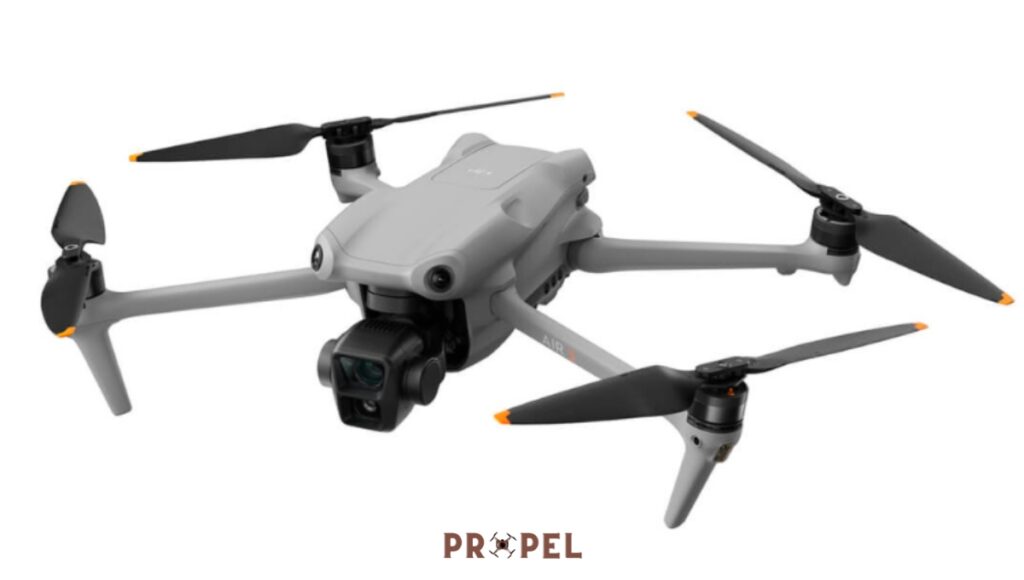 Next up on our list is another gem from DJI – currently under wraps but anticipated as DJI Air3. Expected upgrades are designed so that it offer sharp image capture while keeping noises low, ensuring your flight remains undisturbed.
| Feature | Specifiche |
| --- | --- |
| Peso al decollo | 720 g |
| Dimensioni | Folded (without propellers): 207×100.5×91.1 mm (L×W×H), Unfolded (without propellers): 258.8×326×105.8 mm (L×W×H) |
| Max Ascent Speed | 10 m/s |
| Max Descent Speed | 10 m/s |
| Max Horizontal Speed | At sea level, no wind: 21 m/s (19 m/s in EU regions) |
| Max Takeoff Altitude | 6000 m |
| Max Flight Time | 46 minutes (Measured by DJI Air 3 flying at a constant speed of 28.8 kph in a windless environment at sea level, with specific settings) |
Let's now dive into the anticipated pros and cons of this drone:
Pro
Anticipated brilliant camera capabilities.
Long transmission range.
Predicted impressive obstacle avoidance system.
Contro
Absence of built-in screen
Limited battery life
Why is DJI Air 3 the second-best silent drone on my list?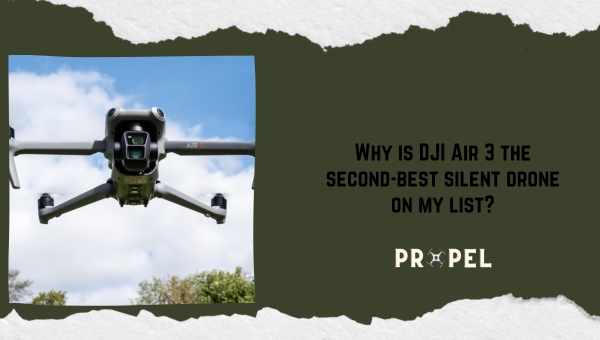 Speculations about DJI Air3 make it the second best on my list. Apart from directly inheriting silence as a key feature from the DJI family, it is expected to sport other noteworthy advancements like superior camera quality and better flight time against its predecessors.
3. FUNSKY 913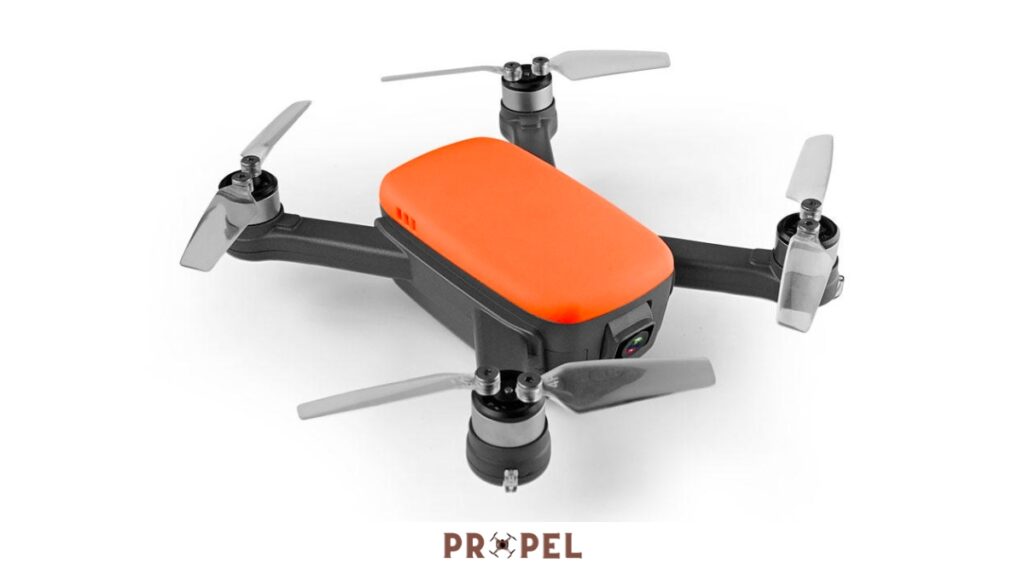 Jumping off from the DJI bandwagon, let's take a look at FUNSKY 913. This drone is widely recognized for its remarkably silent operation, making it a favorite among many hobbyists. The flight stability, strong wind resistance, and dynamic video functionality are noteworthy traits of this gem.
| Feature | Specifiche |
| --- | --- |
| Motors | 4 x 1306 2700KV Brushless motors |
| Macchina fotografica | Built-in 1080P 5G Wi-Fi camera |
| GPS Positioning | Yes (for accurate fixed points and return flight) |
| Modalità di mantenimento dell'altitudine | Yes (for easier control, especially for beginners) |
| One-key Takeoff/Landing | Yes (convenient operation, suitable for novice users) |
| Automatic Return Function | Yes (for low battery voltage or out-of-control range) |
| Batteria | 7.7V 1500mAh high-capacity battery |
| Maximum Flying Time | Up to 15 minutes |
| Controllo dei gesti | Yes (for photography and shooting) |
Subsequent to its technical highlights, here are some advantages and shortcomings of the FUNSKY 913:
Pro
Remarkable silent operation
Wind resistance up to level 4.
Easy to operate for beginners.
Contro
Limited flight time compared to Droni DJI.
Camera quality could be better.
Why is this the third-best silent drone on my list?
FUNSKY 913 makes it third on my list primarily because of its uniquely quiet operation - which is an essential feature we are addressing in this blog post. Apart from being a silent flyer, its simplicity and affordability offer a great advantage for beginners. While it might miss out on marks in areas like camera quality or sophisticated features compared to expensive models like DJI drones, given its price tag and primary focus on noise level - arguably, one cannot go wrong with the FUNSKY 913!
4. DJI Mini 3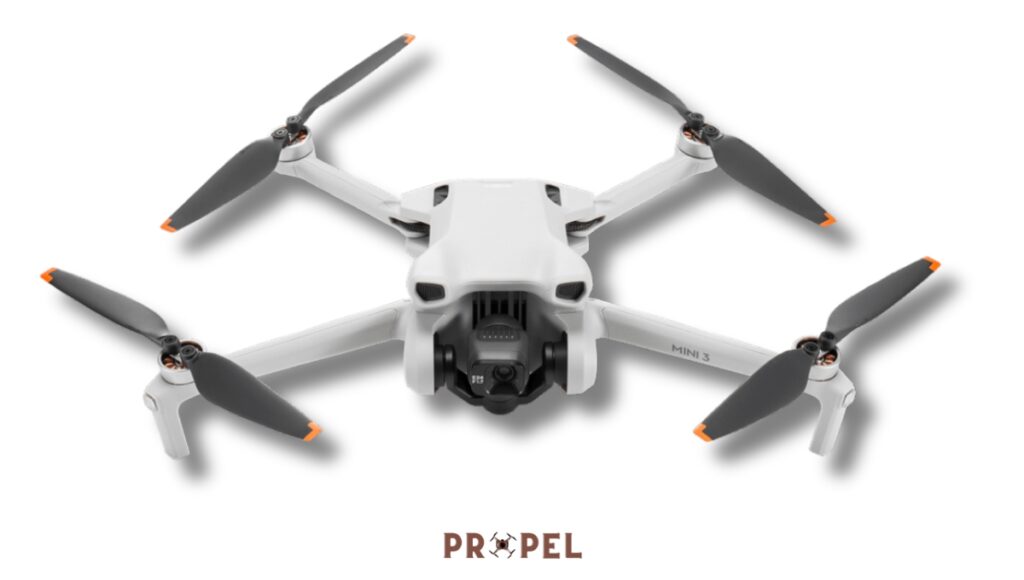 We're back to DJI with yet another popular model - the DJI Mini 3. Although this drone is smaller in size, it doesn't compromise on high-quality attributes. The Mini 3 is admired among users for its smooth handling and impressively quiet performance.
| Feature | Specifiche |
| --- | --- |
| Peso al decollo | 248 g (Standard aircraft weight), including the Intelligent Flight Battery, propellers, and a microSD card. The actual weight may vary. |
| Dimensioni | Folded (without propellers): 148×90×62 mm (L×W×H), Unfolded (with propellers): 251×362×72 mm (L×W×H) |
| Max Flight Time | 38 minutes (with Intelligent Flight Battery) or 51 minutes (with Intelligent Flight Battery Plus*), in controlled test conditions. |
| Max Flight Distance | 18 km (with Intelligent Flight Battery) or 25 km (with Intelligent Flight Battery Plus*) under specific test conditions. |
| Max Wind Speed Resistance | 10.7 m/s (Level 5), indicating its ability to withstand strong winds. |
| Macchina fotografica | Image Sensor: 1/1.3-inch CMOS with effective pixels of 48MP. Lens: FOV 82.1°, Aperture f/1.7, and a focus range from 1 m to infinity. - Video Resolution: 4K at 3840×2160@24/25/30 fps, among other options. |
| Cardanica | Stabilization: 3-axis mechanical gimbal for tilt, roll, and pan. - Mechanical Range: Tilt -135° to 80°, Roll -135° to 45°, and Pan -30° to 30°. |
Taken from the pool of rumors, now let's consider the expected pros and cons of this not officially released drone:
Pro
Ultra-lightweight.
User-friendly controls.
More accessible price point.
Contro
Lacks active track and follow-me mode
Short range in urban areas due to weak signal penetration
Why is this the fourth-best silent drone on my list?
The reason why the DJI Mini 3 comes forth on my list is its anticipated remarkable silent feature in a super compact design! It promises bigger while staying super quiet, which every drone enthusiast would relish having in their collection, balancing considerable functionality and affordability delicately.
5.DJI Mavic 3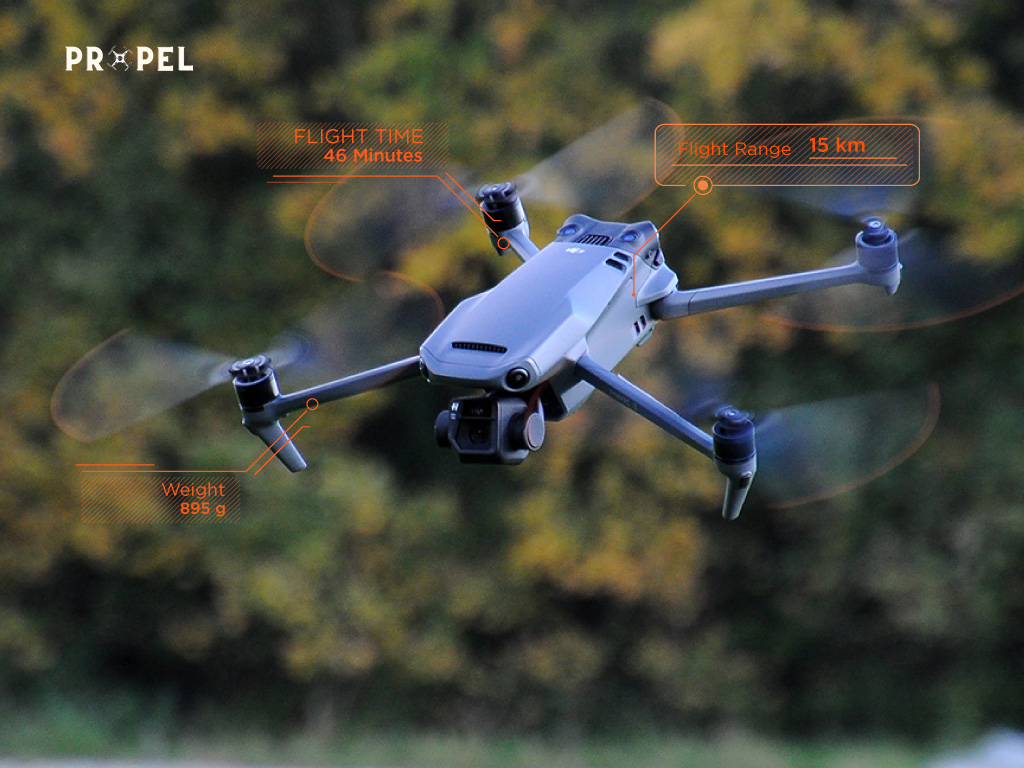 Moving ahead in our list, we have a noteworthy pilot from the DJI family - the much-anticipated DJI Mavic 3. This drone boasts an array of high-end attributes encompassing elaborate flight time and stunning camera specifications while maintaining a low noise signature to offer you a quiet yet robust flying experience.
| Feature | Specifiche |
| --- | --- |
| Takeoff Weight (Mavic 3) | 895 g |
| Dimensioni | Folded (without propellers): 221×96.3×90.3 mm (L×W×H), Unfolded (without propellers): 347.5×283×107.7 mm (L×W×H) |
| Max Flight Time (no wind) | 46 minuti |
| Max Flight Distance | 30 km |
| Hasselblad Camera | Sensor: 4/3 CMOS, Effective pixels: 20 MP, Lens: FOV 84°, Aperture: f/2.8 to f/11, Focus: 1 m to ∞ (with autofocus), Video Resolution: 5.1K, DCI 4K, 4K, and more |
| Cardanica | Stabilization: 3-axis motorized (tilt, roll, pan), Mechanical Range: Tilt -135° to 100°, Roll -45° to 45°, Pan -27° to 27° |
| Sensing System | Omnidirectional binocular vision system with various measurement ranges, Forward, Backward, Lateral, Upward, and Downward sensing capabilities |
Now, let's look at the expected pros and cons of this future release:
Pro
Exceptionally extended flight time.
Ultra HD video capture capability.
Extended transmission range.
Contro
High-end market price
The controller doesn't have a built-in display
Why is this the fifth-best silent drone on my list?
Despite being fifth in line, DJI Mavic 3 literally reigns with its promised supreme attributes bound within sophisticated silence! We are talking about extremely good camera quality, flight autonomy for longer periods, and impressive transmission range – all under ultra-silence mode.
6. Altair Aerial AA108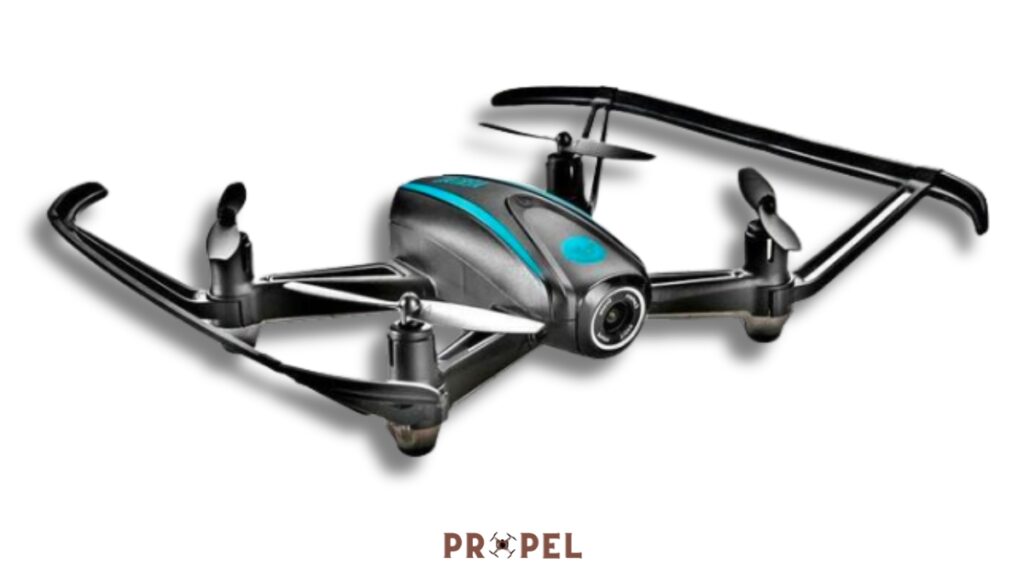 Breaking away from DJI and moving into another competitive model is the Altair Aerial AA108. It's popular among users due to its quiet operation and well-rounded attributes that make it an ideal choice for beginners and intermediate pilots alike.
| Feature | Specifiche |
| --- | --- |
| Flight Time per Battery | 7-10 minutes per battery |
| Gamma di trasmissione | Up to 100 meters from the controller |
| Included Battery | Two batteries included at no additional charge |
| Macchina fotografica | Built-in 120° wide-angle 720p HD camera |
| Camera Functionality | Captures high-quality photos and videos |
| Camera Control | Control and view camera feed from a phone or mobile device |
| Storage Requirement for Camera | Requires a Class 10 microSD card (max size 32 GB) |
| Ease of Use | One-button takeoff and landing, Modalità senza testa for simplified orientation |
| Custom Flight Modes | Custom flight modes with smartphone app control |
Now that we have seen the technical part, let's dive into its advantages and drawbacks:
Pro
Suitable for beginners.
Durable design.
Affordable price.
Contro
Limited flight time comparatively.
Less sophisticated camera compared to higher-end models.
Why is this the sixth-best silent drone on my list?
The Altair Aerial AA108 has earned its place as the sixth-best silent drone in my list primarily due to its user-friendliness, which goes hand in hand with quiet operation. Coming at a more accessible price point coupled with sturdy aesthetics – such impressive traits and keeping noise levels low surely appeal majorly to beginners starting their drone flying journey!
7. Autel Robotics EVO Lite+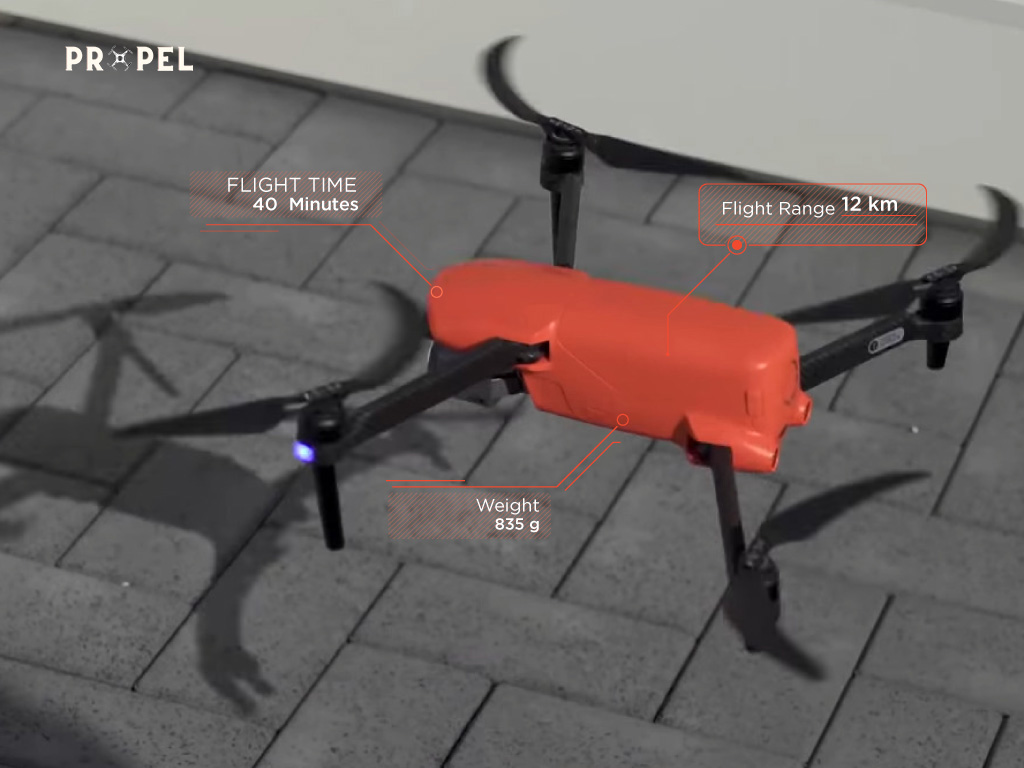 Now, let's step into the light with Autel Robotics EVO Lite+. Being a direct competitor to the DJI line of drones, this model strikes an outstanding balance of silent operation, upgraded camera capabilities, and commendable flight feats.
| Specifiche | Value |
| --- | --- |
| Peso | 835g |
| Dimensions (Folded) | 210×123×95mm |
| Dimensions (Unfolded) | 427×384×95 mm |
| Gamma di trasmissione | 7.4 miles |
| Maximum Flight Time (no wind) | 40 minuti |
| Macchina fotografica | 1-inch CMOS sensor, Aperture F2.8~F11, Maximum ISO48000 for night scene mode, Focus: Contrast, Photo: 20MP, Video: 6K/30FPS Video |
| Max Wind Resistance Level | Level 7 |
So far, we've explored the technical paper. Now let's dive into the practical dive by examining its expected pros and cons:
Pro
Powerful image capture capabilities.
Extended Range.
Robust built quality.
Contro
Limited in-flight features compared to other models
High price point not suitable for beginners
Why is this the seventh-best silent drone on my list?
Autel Robotics EVO Lite+, making its way to number seven on my list, owes most of it thanks to their refined features, which are geared towards remarkably quiet operations. It's expected that these advanced tweaks are especially devoted to handling critical landscapes quietly - be it long-range capture or obstacle evasions; helping users have a more fruitful flight experience without creating a stir of noise.
8. Autel Robotics EVO Nano+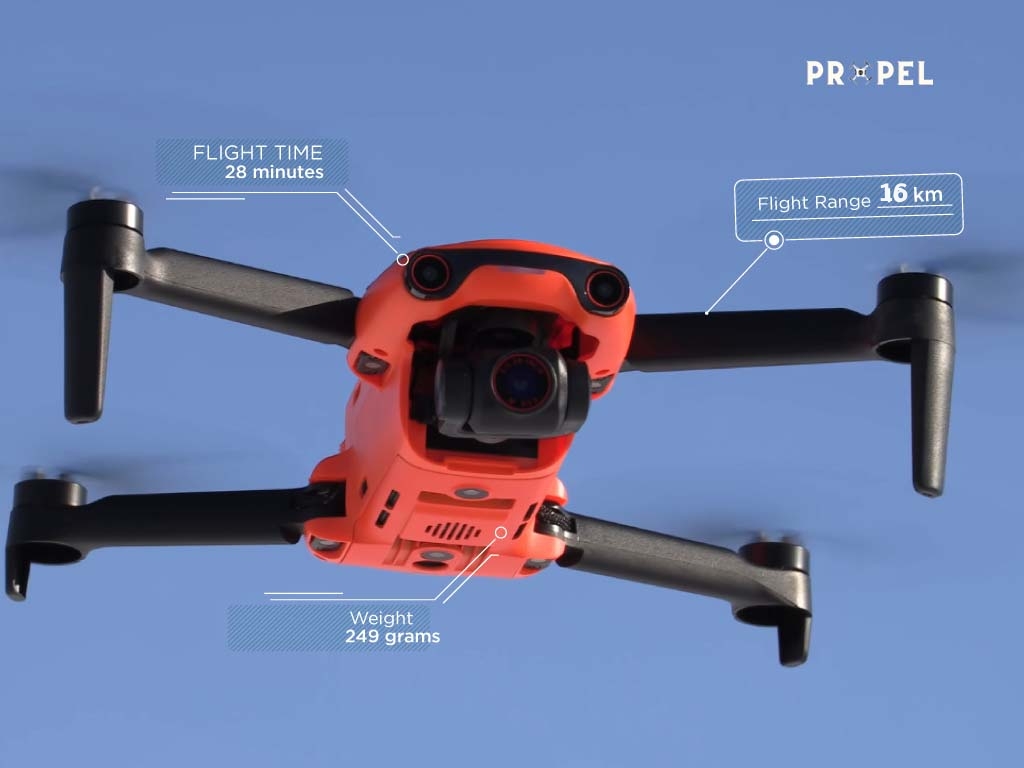 Rounding up our list, we have another fantastic drone from Autel Robotics - EVO Nano+. This drone combines quiet operation with solid technical aspects and is suitable for both beginners and experienced users.
| Specifiche tecniche | Value |
| --- | --- |
| Tempo di volo | Up to 30 Minutes |
| Peso | Estimated around 249 g |
| Gamma di trasmissione | Expected up to 16 km (FCC standard) |
| Qualità della fotocamera | 48 MP (4/3 CMOS sensor) |
| Capacità della batteria | 2250 mAh |
| Caratteristiche avanzate | Intelligent flight modes, Obstacle avoidance |
Let's now consider the potential pros and cons of the Nano+:
Pro
Ultra HD camera quality.
Good flight time.
Advanced functions.
Contro
The flight range is less than some competitors.
Camera performance under low-light conditions could be improved.
Why is this the eighth-best silent drone on my list?
Earning its place into my eighth slot, the anticipated EVO Nano+ by Autel Robotics wows with its rumored quietly effective set of features. Focused more on being user-friendly without causing much noise, it could be an ideal companion for any aerial photography enthusiast. With Autel's history of manufacturing premium drones that excel in silence, if these rumors are true – we believe it could be a major game-changer for drone pilots seeking quiet operations.
Leggi anche: 5 Best Return to Home Drones: Top Picks
Factors to Consider When Purchasing Silent Drones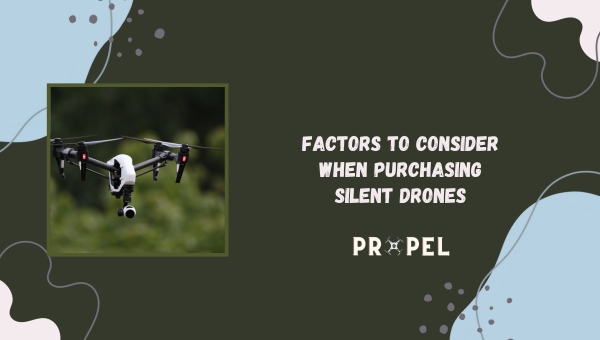 Before selecting any drone model, there are certain factors you should consider. You don't want a complex piece of equipment that makes you feel like you're trying to crack the Da Vinci Code. Some elements could make your drone flying experience a real delight.
Sound Level
The whole point of getting a silent drone is to reduce the annoying buzzing sound. But how quiet should it be? Well, the lower the decibel level, the better. Look for drones that fall within a 35-50 dB range (about as loud as a whisper or quiet conversation). For reference:
30 dB: Whisper
40 dB: Quiet room
50 dB: Light traffic
You'd also want one with minimal vibration - smoother operations usually mean less noise.
Qualità della fotocamera
Silent or not, your aerial adventurer needs to take good-quality pictures and videos.
Look for these specs:
At least 12MP picture resolution
Video resolution of nothing less than 1080p
Check if it supports 4K video recording
Bonus points go to drones with camera stabilization and obstacle-detection capabilities!
Tempo di volo
A long-lasting battery equals more flight time! You don't want your birdie returning home prematurely due to interference from weaker batteries. Look for silent drones with at least:
Remember, though - bigger batteries might add weight, which could lead to more noise.
Be sure there's an efficient and quick charging system, too!
Leggi anche: 15+ migliori consigli per aumentare il tempo di volo del drone
Ease of Operation
We're looking not just for brilliance here but also for convenience. Factors under this include:
Size – A smaller size usually indicates simplicity.
Portability – Foldable designs are easier to carry around.
Check if it has return-home features or altitude hold abilities - they help decrease the chances of losing your drone.
In all, research thoroughly before picking your quiet birdie. It's not just about being noiseless but being capable and user-friendly, too!
What Makes Drones Silent?
Silent drones provide the ability to capture breath-taking moments without the constant buzzing in your ears. But what makes a drone silent? Let's delve into the critical aspects, such as propeller design, choice of material, and motor power.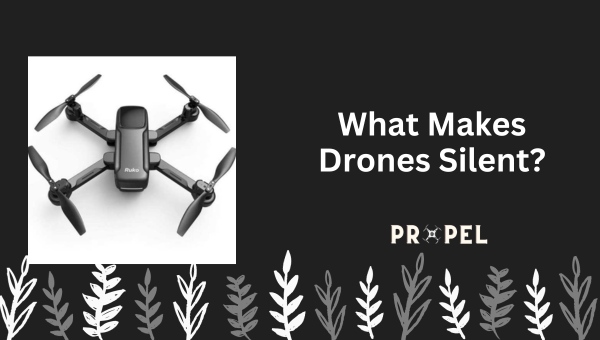 Importance of Propeller Design
The magic behind a silent drone primarily lies in its propeller design. Here are some insights:
Low-Noise Propellers: Drones equipped with low-noise propellers produce less sound. They have a larger surface area, pushing more air downwards, hence generating less sound.
RPM (revolutions per minute): RPM also plays a significant part in maintaining silence. Fewer revolutions per minute result in less noise.
Number of Blades: More blades don't mean more noise; it's quite the opposite! A higher number of blades can kick more air downwards, reducing the overall noise.
Role of Material in Noise Production
The material used for constructing drones has a crucial role to play as well:
Lightweight Materials: Most silent drones are made from light materials like plastic or carbon fiber. This reduces vibrations, causing less noise production.
Foam Inserts: Some manufacturers incorporate foam inserts around motors to muffle down any unwanted buzzing or humming sound emitted by them.
Rubber Dampers: Rubber dampers on drone mounts further help reduce vibrations, consequently minimizing audio emission.
Leggi anche: Top 100 Drone Manufacturers: The Ultimate Guide
How Motor Power Affects Noise Level
Finally, let's discover how motor power contributes to quiet operation:
Motor Speed: Generally, higher-speed motors tend to be louder, but with advanced technology, companies can manufacture powerful, quiet motors during operation.
Cooling System: An efficient cooling system keeps motor temperatures low, leading to quieter operations.
Remember though - While we prize 'silence', remember that truly silent drones do not exist yet - what we're talking about here are simply drones that are quieter than their peers.
A quieter drone allows you to work or play without causing disturbances, making them perfect for environments where silence is golden or when you're trying to sneak up on some unsuspecting wildlife. Plus, they're less likely to scare off your dog! So, make an informed choice while buying drones. Keep it silent, and let your creativity take flight!
Domande frequenti
Is it possible to make any drone quieter?
Yes, the noise made by a drone can be reduced by using low-noise propellers and reducing vibration through a balanced design.
How can I reduce the noise made by my drone?
There are several ways to reduce your drone's noise. You can replace its propellers with quieter ones, adjust your height and speed when flying, or use a smartphone app that optimizes its performance for quiet operation.
How is a "silent" drone's sound level compared to regular drones?
Silent drones tend to have significantly lower decibel levels than regular drones. Many silent drones operate in the 50-60 decibels range, while typical consumer drones can reach 75-80 decibels.
Are there restrictions on flying these drones in public spaces due to their sound level?
Generally, most areas don't have specific laws about drone noise levels. However, excessively loud drones could potentially violate local disturbance or nuisance ordinances. It's always advisable to check local regulations before flying your drone.
Conclusione
As I wind up, it's safe to say that quiet drones can dramatically increase the quality and enjoyment of your flying experience. They allow for more comfortable interaction with nature, can be less disturbing to the people around you, and offer advanced privacy.
I've explored several of the best silent drones from different manufacturers leading in this aspect, each with unique specifications and features. The choice boils down to personal preference when it comes to selecting the best quiet drone suitable for you.
Consider factors such as pricing, brand reputation, drone capabilities, and noise level in your decision-making. Don't forget proprietary noise reduction technology could be the key factor you're looking for! Silent drones truly represent a significant advancement in drone technology.