Bwine F7 Mini Review: Unveiling Peak Capabilities in Detail!
A cura di:
Richard J. Gross
Updated On: Novembre 1, 2023
I've braved the world of drones quite some times, yet nothing has made me sit up and take notice like the Bwine F7 Mini. Having dipped my toes into this exhilarating abyss in pursuit of great drone adventures, I have found a gem that requires ample shine. Many might gloss over this underrated modern marvel; however, one cannot overlook its grandeur once familiar with its capabilities.
In this Bwine F7 Mini review, we explore numerous enthralling features that are bundled within this compact gadget. From an exceptionally high-resolution camera to sustained flight time and advanced GPS functions – it's high time we brought this all-rounder into your realm of consideration.
Things You'll Uncover In This Article
Magic behind the 4K Camera of Bwine F7 Mini
How does Bwine F7's extended flight time redefine drone adventures?
What sets apart the GPS functions in our Bwine F7 Mini Review?
Unpacking the Bwine F7 Mini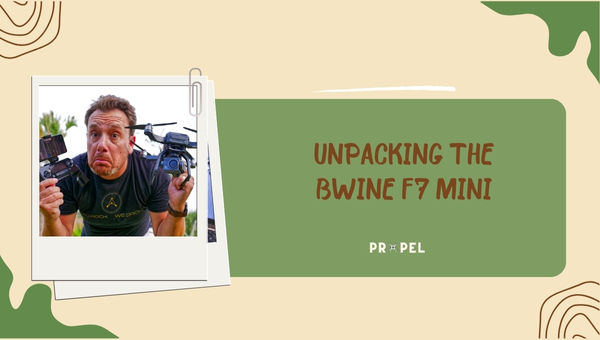 Today, I'm taking a closer look at the Bwine F7 Mini. This compact quadcopter is gaining quite some traction in the drone community as of late, thanks to its impressive specifications. Let's delve into those unique features that make this drone so captivating.
A Closer Look at The Specifications
This table contains detailed specifications about the Bwine F7 Mini that you should know:
| Specifiche | Dettaglio |
| --- | --- |
| Macchina fotografica | 4K Camera with an adjustable angle |
| Picture Resolution | 4K (4096 x 3072P) |
| Video Resolution | 2.7K stored on SD card/ 2K on Phone |
| Tempo di volo | 60 minutes (30 minutes on each battery) |
| Max transmission distance | 1640ft (500m) |
| Max-height | 393ft (120m) |
| Max supported SD Card | 128GB |
| Max-supported SD Card | GPS-enabled flight, Altitude holding, Follow me, and orbit mode. |
Detailed Bwine F7 Mini Review
As a tech enthusiast, I recently had the chance to get my hands on the Bwine F7 Mini drone. Let me tell you, it is one impressive piece of technology! After several flights and lots of tinkering, I'm excited to share my Bwine F7 Mini drone review with you.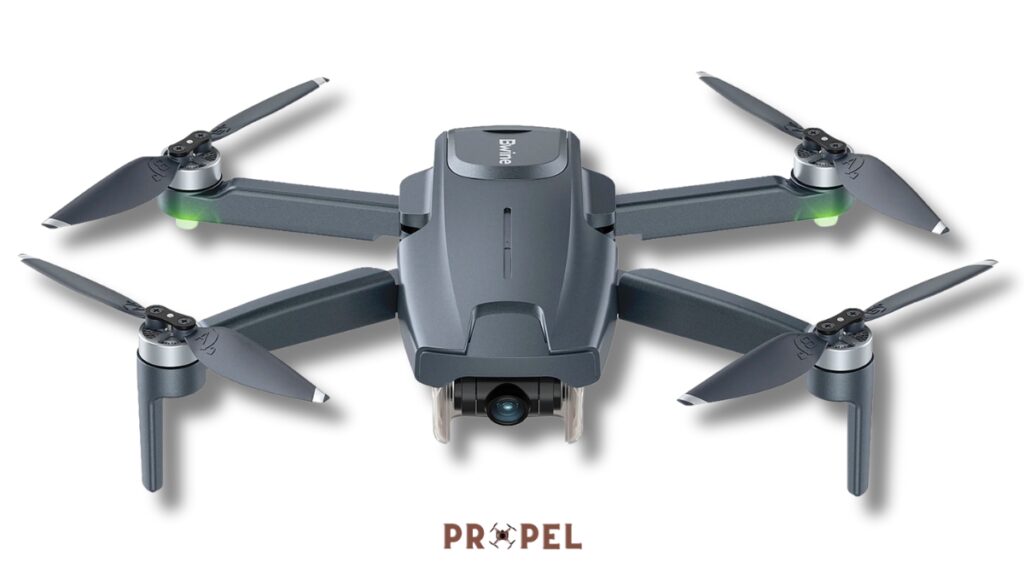 Design and Built Quality
One of the first things that caught my eye was its robust design. The aesthetic appeal is undeniable; it's sleek and compact with a beautiful finish that screams 'high quality.' Here are some attributes worth noting:
The weight: The Bwine F7 Mini is incredibly lightweight, which makes it easy to carry and handle.
Color options: It comes in classic black, which gives it an elegant yet high-tech look.
Build quality: Despite being light, the build quality doesn't feel cheap at all. In fact, the Bwine F7 mini feels solid in hand.
Overall, I was quite impressed by how sturdy this quadcopter felt despite its size and weight.
Performance & Efficiency
Moving onto performance - there's plenty to be impressed about on this front, too! Whether you're a new drone enthusiast or a seasoned pilot, you'll appreciate the features packed into this little flyer.
Battery life: With 60 minutes of flight time (30 minutes on each battery), you're guaranteed plenty of time up in the skies.
Max transmission distance: At 1640ft (500m), your exploring capabilities extend beyond many comparable drones.
Advanced features like GPS-enabled flight contribute to both performance and efficiency.
This performance showed me that size really doesn't matter when it comes to top-tier quadcopter analysis results!
Qualità della fotocamera
Last but certainly not least, let's talk about the camera quality. For anyone into fotografia con drone or videography, this is one area where you can't compromise.
The Bwine F7 Mini features a 4K camera with an adjustable angle.
Picture resolution stands at 4K (4096 x 3072P), guaranteeing crisp, clear images.
The video resolution goes up to 2.7K stored on an SD card/ 2K on the Phone.
In my experience, this resulted in beautiful shots from various altitudes and angles. I've found the stability particularly impressive when in motion!
Leggi anche: Keeping an Eye Underwater
User Experience
My initial impressions of the Bwine F7 Mini drone set its precedence on a high note. The exhilarating experience began immediately after unboxing. Assembling it and preparing for the first flight was just as exciting as operating the drone itself.
Ease of Use
I had an amazing time setting up the Bwine F7 Mini for my first flight. This unit offers simplicity and ease that genuinely blew me away. Here is a summary of my app installation and device setup experience:
The setup process was straightforward, with clear instructions provided in the manual.
I liked that it came pre-assembled, which saved time.
Getting it connected to my smartphone via its compatible mobile application was streamlined and glitch-free.
Adjusting settings was seamless because the app is user-friendly, both intuitively designed and responsive.
While some drones require you to have some technical knowledge to sync everything correctly, with this, everything felt almost automatic.
Leggi anche: The History of Drones
Flight Modes & Capabilities
The Bwine F7 Mini exceeded my expectations when it got into action in the air. Its flight performance encompasses features beyond other drones:
It has multiple unique flight modes, including Follow Me, Orbit Mode, and Waypoint Flight, amongst others.
I also enjoyed exploring its altitude-holding feature that brought stability during flights.
The use of GPS-enabled flights promises more precise control over drone movements in complex environments.
Finally, its maximum transmission distance peaked at an impressive 1640 feet (500m), which exceeded most drones within a similar price range.
Comparative Analysis
In the vast world of drones, deciding on the right one can feel like navigating a maze. I discovered this when digging into the Bwine F7 Mini review. Here, I decided to take a comparative angle and pit it against some of its notable competitors in the market. This approach allowed me to observe features and value propositions from a different perspective, leading to a more holistic understanding. So, let's dive in!
Bwine F7 Mini vs. Competitors
When comparing prices feature for feature with similar drones in the market, I found that numerous elements set the Bwine F7 Mini apart:
Camera Quality: The Bwine F7 Mini comes equipped with a 4K camera that captures high-resolution images (4096 x 3072P). This level of detail compares favorably to many other drones offering only 1080p resolution.
Durata del volo: With an impressive flight time of up to 60 minutes (30 minutes per battery), this drone outperforms many mid-range counterparts.
Funzionalità avanzate: The GPS-enabled flight, altitude holding, Follow Me mode, and orbit mode are typically advanced features seen in upper-tier drones. However, the Bwine F7 accommodates all these premium functionalities in its compact mini design.
Max Transmission Distance & Height: Flying as far as 1640ft (500m) and reaching heights up to 393ft (120m), these numbers truly speak volumes about its performance capacity.
SD Card Support: Accommodating SD cards up to an incredible size of 128GB allows more room for your photography shoots or exploration flights without worrying about storage space.
Leggi anche: Best Drones for Photogrammetry
Who Should Buy The Bwine F7 Mini?
If you're in the market for a new drone, but you're still unsure about which one to pick up, allow me to introduce you to the Bwine F7 Mini. I want to specifically address who this drone could be ideal for based on its features and performance.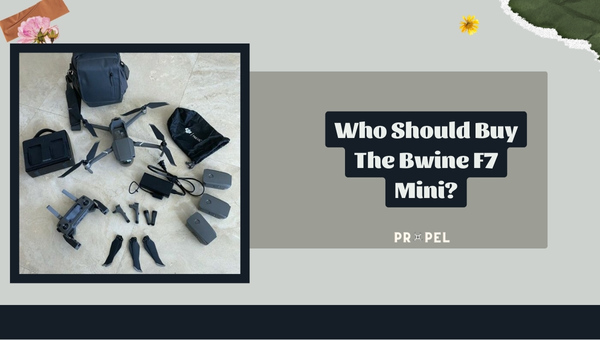 Beginners: With its GPS-enabled flight and altitude-holding capabilities, the Bwine F7 Mini is perfect for beginners who are just starting with drones. Are you not quite sure how to navigate your drone or scared of losing it? No worries! This device's 'Follow Me' feature means it can automatically follow you around, making it easier than ever for beginners to manage their flights.
Videographers/Photographers: If capturing high-quality images and videos is on your priority list, then look no further. The Bwine F7 Mini comes equipped with a 4K camera that boasts an adjustable angle. Plus, this gadget offers both 4K picture resolution (4096 x 3072P) and 2.7K Video resolution stored on an SD card or 2K on a Phone - definitely something photo enthusiasts will appreciate.
Hobbyists and Practitioners: Whether you enjoy drone flying as a hobby or use drones in a professional setting, such as for surveys and mapping tasks, the Bwine F7 Mini definitely won't disappoint you with its top-flight time of up to 60 minutes (30 minutes per battery). In fact, this device can reach heights of up to 393 feet (120m), proving useful for those in specialized practices like roofing inspections or falconry!
Leggi anche: Costo di ispezione del tetto del drone
Pros And Cons To Bwine F7 Mini
Alright, let's get down to business and peel back the layers on the Bwine F7 Mini drone. This discussion will be a candid look at the advantages and disadvantages that this drone offers based on my personal testing experience. If you're considering buying this quadcopter, I believe you'll find these insights quite valuable.
Pro
Impressionante qualità della fotocamera: The standout feature of the Bwine F7 Mini is undeniably its 4K camera. With an adjustable angle and the ability to capture high-resolution images (4K or 4096 x 3072p), your aerial photography experience will surely reach new heights.
Sustained Flight Time: With two batteries offering a collective flight time of 60 minutes, this drone flies longer than most in its category. Practically speaking, it gives more room for capturing those great moments without worrying about recharging.
Funzionalità avanzate: The GPS-enabled flight feature, along with Altitude holding, significantly enhances stability while flying. Further enriched by 'Follow Me' and 'Orbit mode', maneuvering your drone has never been easier.
Leggi anche: The Best Drones for Falconry
Contro
Video Resolution Mismatch: While picture resolution thrills with 4K clarity, video recorded onto an SD card cascades down to 2.7K quality, further slipping to just 2K when viewing through your phone.
Limited Transmission Distance: With a max transmission distance of only 1640ft (500m), those with a penchant for far-reaching explorations might find this limitation somewhat disappointing.
Purchasing any product has its sets of pros and cons - which we should acknowledge before parting with our hard-earned dollars. Remember, in finding the perfect drone for your needs, understanding its strengths and limitations is paramount.
As we weigh the pros and cons of the Bwine F7 Mini, bear in mind that choosing a drone is subjective to individual needs. Performance for one person might hinge heavily on camera quality, while another might prioritize extended flight time. So, reflect on what matters most to you before making a choice.
Now that we've covered the specifics of the Bwine F7 Mini, it's time to delve into how its specifications compare with other drones in the same category.
Leggi anche: I migliori droni cartografici
Domande frequenti
What is included in the package when purchasing a Bwine F7 Mini?
Every purchase of a Bwine F7 Mini comes with the drone itself, a controller, two batteries, and an SD card for video storage.
What makes the Bwine F7 mini stand out among other drones?
The extremely long flight time of 60 minutes and its advanced features like GPS-enabled flight and follow-me mode cause it to shine in a crowd.
How easy/difficult is it to fly a Bwine F7 mini for newcomers?
The ease of use aiming newcomers can be attributed to its advanced features, such as the altitude hold function that allows stable filming and orbit mode for centralized shooting.
Does the camera offered by "Bwine F7 Mini" deliver as per the claimed specs?
Yes, it absolutely does! The camera produces high-quality 4K pictures with resolutions up to 4096 x 3072P and 2.7K videos saved on an SD card.
Conclusione
After testing the Bwine F7 Mini extensively, I can say it lives up to its reputation. This drone is not just another addition to the market. It's a future-forward device that combines excellent performance, 4K video capability, and solid build quality with unmatched user-friendliness and other advanced features like GPS-enabled flight mode. Whether you're a first-time flyer or an experienced drone pilot, the Bwine F7 Mini would undoubtedly be a great addition to your collection.
Key Takeaway Points:
Top-tier image quality with 2.7K video resolution on phone
Advanced features enabling effortless captures
Extraordinary flight time offering longer aerial operations