DJI GO 4 vs Litchi vs Autopilot: In-depth Comparison (2023)
A cura di:
Richard J. Gross
Updated On: Settembre 9, 2023
In my quest for the best drone flight app, I've come across three top contenders that have consistently risen above the rest: DJI GO 4, Litchi, and Autopilot. Each app boasts unique features and capabilities that cater to different flying needs. Now, I don't know about you, but I highly value equipment that makes my flights smooth while capturing breathtaking footage from high above.
When comparing DJI GO 4 vs. Litchi vs. Autopilot, an important factor for me is how well they can enhance my entire volo del drone experience. From setting up intricate waypoint missions to automated camera controls – these apps promise convenience at our fingertips. Yet, have you ever found yourself asking which one nails it on all fronts?
Hold on tight as we're about to embark on a head-to-head comparison of these drone controller apps! We'll explore their standout features, pros and cons, and everything in between. So whether you're a seasoned pilot or just starting out in the world of drones – this exploration is for you!
Why Choose the Right Drone Software?
Choosing the right drone software can be a bit tricky. But it's an integral decision you have to make as this determines your drone's overall performance and functionality. You might think, "How would I choose the most suitable software?" Well, let me break down some critical factors that could guide your decision-making when you find yourself at this crossroads.
Compatibility is paramount. Not every software works well with all drone models. Make sure the software you're eyeing is compatible with your specific drone model to prevent any technical glitches or dysfunctions during flights.
Consider the available features next. The drone experience varies significantly from one software to another because of these features. Some offer attractive characteristics like Autonomous Flight modes, whereas others will charm with Panoramic Photo Modes or Smart Return Home options. Do some research and set priorities according to what suits your usage best.
Ease of use is another key factor for consideration. A user-friendly interface makes it easy for you even if you're not tech-savvy! Good software comes with simple layouts, clear instructions, and easy-to-locate controls, making your experience smooth & enjoyable instead of being as complex as decoding hieroglyphics!
Last but not least, don't overlook customer support services! Tech issues are stressful enough, even without neglectful customer care teams! 24/7 availability and quick response time can be life-saving when errors happen mid-flight.
Now you see why choosing the right drone application matters more than just picking any randoms from a list. It sure requires a bit of work, but trust me - making an informed decision now saves a lot later!
So put in those glasses of yours & start circling around those pros and cons like there's no tomorrow - cause time well spent on research equates to perfectly captured footage for memories!
Leggi anche: DJI Fly vs DJI GO vs DJI GO 4: Differenze (Guida completa)
Overview of DJI GO 4 vs Litchi vs Autopilot
As a drone enthusiast myself, I've used and experimented with numerous apps designed to enhance my flying experience. DJI GO 4, Litchi, and Autopilot are three such applications that have caught my attention. Each has its unique selling points and functionalities.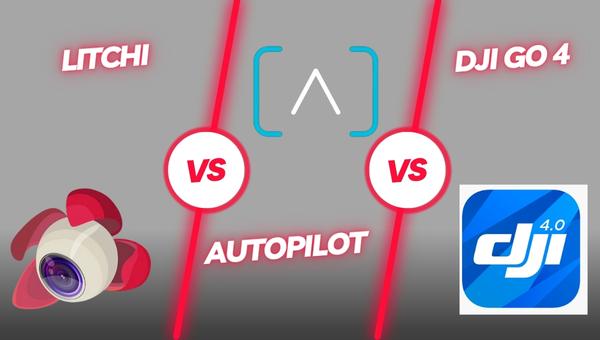 Over time, I have grown accustomed to their different features and compatibilities with varying drone models. So, let's delve into each of these impressive pieces of technology.
What is DJI GO 4?
DJI GO 4 is a high-tech platform that has earned its place amongst top-tier drone applications. This versatile app offers various customization options for video shooting (finger methods like tap-to-fly and draw). What sets it apart are features like real-time video feed and live streaming directly to social media platforms.
Compatible drones: This application works best with the latest models in the DJI line-up – Mavic, Phantom 4 series, Inspire 2.
What is Litchi?
Litchi brings an entirely different perspective on drone operations by focusing on autonomous flight capabilities. It's an application designed to give pilots more creative freedom by enabling intricate flight paths that can be pre-planned or modified during flight using waypoints.
Popular drones it works with: Besides working seamlessly with all Droni DJI (Phantom or Mavic series), it also supports most other brands in the market.
What is Autopilot?
Autopilot takes automated flights much further by providing advanced adaptive flight control technology - reminiscent of professional aircraft autopilot navigation systems but within reach of recreational pilots.
Unique features: Multi-target tracking, dynamic returns home during signal loss or low battery conditions.
Which droni can work well with it? Primarily designed for DJI drones including but not limited to Phantom series and Inspire models.
Each of these applications has its strengths tailored towards different flying experiences. DJI Go 4's integration and customization options, Litchi's autonomous flight capabilities, and Autopilot's advanced adaptive flight controls all provide unique added value to your drone experience. And though they vary in functionality, they aspire to the same goal – enhancing your drone journey into an effortless yet thoroughly engaging adventure.
You've finally invested in that drone you've been eyeing. Now comes the tough decision: Which flight control app to use? Trust me, I've been there. But, after trying out quite a few, my ongoing battle seems to be between DJI Go 4, Litchi, and Autopilot—these three reign supreme because of their enhanced features and performance capabilities. So, let's dig right into these contenders.
Leggi anche: Photogrammetry vs LiDAR: A Detailed Comparison Guide
Detailed Comparison between DJI GO 4 vs Litchi vs Autopilot
The key areas I'll be looking into will help highlight each application's best features and possible kickers.
Usability (Ease-of-Use Perspective)
User interface design is often a deciding factor for many drone pilots - both seasoned veterans and newbies alike. Between DJI Go 4's robust dashboard, which may seem overwhelming at first but is rather intuitive once familiar with it; Litchi's simplistic yet efficient design; or Autopilot's smooth blend of being informative without an overload of options - your choice will depend on what your comfort level is in digesting detailed telemetry data.
Functionality (Features Comparison)
Feature-wise, each software brings something different to the table. While DJI Go 4 guarantees an all-around performance, it offers pre-flight planning tools or in-flight controls with full access to camera settings within the app.
Litchi stands out due to its advanced waypoint mission engine alongside focus mode for capturing cinematics effortlessly. In contrast, Autopilot boosts accuracy and repeatability for complex autonomous flights using FOCUS™ technology, creating dynamic motion.
Performance on Different Drones
As someone who has tested these applications across various drone platforms, such as the Phantom series or the Mavic series from DJI - trust me when I say they all step up their game adequately! Still, why I am inclined towards one over the other varies based on specific instances like signal strength in certain environments or battery life management.
Ultimately, you want to choose the application that best suits your needs - from the aircraft you fly to the level of control you wish to have. Remember, each of these apps has strong capabilities but has unique nuances that can make or break your drone experience. So go ahead, make an informed decision, and let's get flying!
Leggi anche: Glossario AZ della terminologia dei droni: una guida completa
User Reviews
Allow me to bring in some larger perspectives. Online platforms have quite a chatter regarding DJI GO 4, Litchi, and Autopilot. I've been digging around various forums and social media platforms to give you a more well-rounded understanding of this software based on real user experiences.
First off, let's talk about DJI GO 4. The majority of users appreciate its user-friendly interface, and it seems to be especially popular among beginners. However, some have experienced flight glitches, which can raise a sweat! Others feel its advanced features could be more accessible.
Regarding Litchi, users rave about its superior waypoint system, allowing them greater control over their drone's path. It's also lauded for the ability to plan flights offline - handy for those remote aerial shots! On the downside, learners initially find Litchi's complexities a bit overwhelming.
Lastly, Autopilot boasts an incredible level of customization that has users thrilled at all its potential uses. This software also enjoys a positive word for providing an exceptional level of control precision in flight, but there are niggling issues regarding consistencies with updates that seem to irk some folks.
So all, what am I seeing? No one app is perfect, but each has unique strengths: DJI GO 4 for ease of use and straightforward features; Litchi for advanced control like waypoints and offline planning; Autopilot for those who crave customization power and high-precision controls. Take your pick according to your needs.
Remember, though - real-time experience speaks volumes over posts on the internet!
Domande frequenti
What drones are compatible with each software?
Well, DJI GO 4 is compatible with all DJI drone models. Litchi supports the Phantom 3 Advanced, the Phantom 3 Pro, and newer DJI models. Autopilot works primarily with DJI drones but does have limited support for a few other brands.
Where can I download each software?
You can easily find these software on their respective official websites. Alternatively, they are also available in app stores like Google Play Store for Android and Apple App Store for iOS devices.
Which software offers the best customer support?
From my experience, I've found that both DJI GO 4 and Litchi offer great customer support. Autopilot's customer service is decent but not quite up to par with the others.
Can I switch between different drone software, or am I limited to just one?
Absolutely! You can switch between different drone applications effortlessly. However, you should familiarize yourself thoroughly with one application before switching to another.
Is there a free version of these applications available for trial purposes?
Yes indeed! All three applications - DJI GO 4, Litchi, and Autopilot - offer some free trial or lite versions so that you can test drive them out before making a purchase decision.
Conclusione
After methodically taking each application for a spin, I found that all three - DJI GO 4, Litchi, and Autopilot - have their own pros and cons. If you're after compatibility with a broad range of models and superb customer support, DJI GO 4 stands out.
But if you want an app that's simple yet powerful with loads of autonomous features, Litchi strikes the right balance. Meanwhile, Autopilot's intuitive design and advanced flight mode options are compelling for tech-savvy drone enthusiasts.
Simply put, choosing between these apps comes down to your specific preferences in terms of features, user interface, ease of use, and compatibility with your drone model. Remember, though, whatever drone app you choose is just as important as the drone itself. Happy Flying!