Leggi aggiornate sui droni in Sudafrica (2023)
A cura di:
Richard J. Gross
Aggiornato il: Gennaio 2, 2023
Drones are versatile and affordable tool that is growing in popularity in South Africa to capture aerial footage. Whether you're looking to take stunning photos or videos of your property or you need to survey a large area, drones can provide the perfect solution.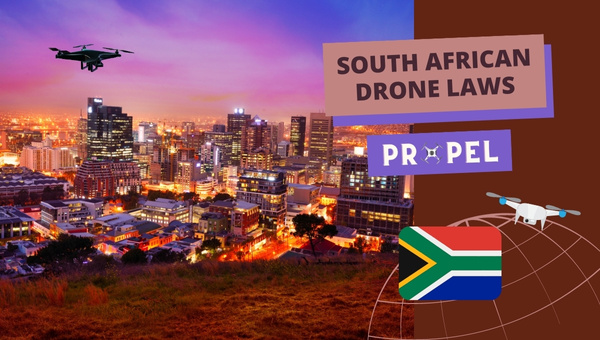 In addition, drones can be used for various other purposes, such as delivery and search and rescue. With so many potential uses, it's no wonder that drones are becoming increasingly popular in South Africa.
With the rise in the popularity of drones, new laws are being created to regulate them. In this blog post, we take a look at the drone laws in South Africa.
We answer some of the most common questions that people have about drone use in South Africa, such as what you can and cannot do with a drone, how to get a license, and what penalties you could face if you break the law. So, if you're thinking of flying a drone in South Africa, going through this article will help you.
General Rules for Drones in South Africa (2023)
There are general rules that apply to all drones and specific regulations for flying in South Africa. Whether you're a beginner or an experienced pilot, it's important to be aware of these rules before taking your drone out for a spin.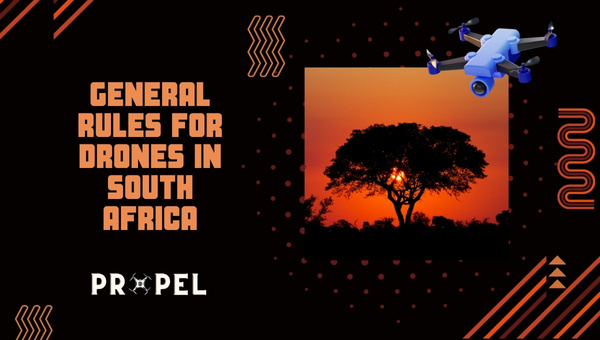 Drones cannot be flown any closer than 10 kilometers (6 miles) to an airport without receiving special permission from SACAA.
Personal use of drones is only allowed when there is no commercial purpose or benefit to be gained from the footage.
Any business wanting to use drones commercially must have a registered pilot who will operate under Part 101 of the SACAA regulations.
Drones that weigh more than 7 kilograms (15.4 pounds) cannot be flown without special permission from the proper authority.
Drones cannot be flown within 50 meters of people or private property without prior consent from the owner.
While operating a drone, pilots are required to keep the aircraft within their vision at all times.
Drones may not be flown at night.
Drones are not allowed to be used inside national parks.
SACAA approval is required to fly remotely piloted aircraft or toy aircraft in the vicinity of manned aircraft, within 10 km of an aerodrome, weighing more than 7 kg, in controlled airspace, restricted airspace, or prohibited airspace.
All drones in South Africa must be registered with the SACAA.
Leggi anche: Tutte le nuove leggi sui droni in Minnesota
Registration of your Drone In South Africa
According to the Civil Aviation Regulations, 2011, no remotely piloted aircraft can be operated within the Republic of South Africa without a registration certificate from the SACAA.
If a drone is unregistered, the operator may be liable to pay an administrative penalty or face criminal prosecution.
To register your drone, you will need to fill out an application form and provide documentation (such as proof of identity) to prove that you are the owner or authorized user of the aircraft.
You must also provide information about the tipo di drone you are using, its weight, and where it will be operated.
Depending on your needs, please fill out the following form:
Form CA-47R1 – This is an application for registering a new RPA.
Form CA-47R2 – for new ownership.
Form CA-47R3 is for deleting accident reports or exporting them.
Requirements for Obtaining a Remote Pilot License In South Africa
Before applying to SACAA, you must get aviation training from an approved training organization (ATO). SACAA-approved training organizations that have basic RPAS Training on their Operator's Certificate can provide the RPAS training course.
Anyone with or without aviation experience can sign up for a Remote Pilot Licence (RPL). This license focuses on operating a remotely piloted aircraft system (RPAS) and does not require any previous aviation experience.
The requirements below are required :
The applicant must be 18 years or older.
All applicants must have recent medical evaluations on file.
You need to identify an ATO for training.
Theoretical training from other countries will be accepted and confirmed (ASK)
Only submissions that are complete will be accepted.
In order to pass, applicants must take and pass the RPL practical assessment.
All applicants must successfully complete the Radiotelephony Examination.
Achieved a level 4 or higher on the English Language Proficiency (ELP) scale.
Submit all applications to the SACAA.
The course is a balanced mix of theory and practical training based on demonstrating competency. If the course is successfully completed, the provider will apply to SACAA for a Remote Pilot Licence (RPL).
Leggi anche: New Drone Laws in Ohio: All You Need to Know
South African Civil Aviation Authority (SACAA)
The South African Civil Aviation Authority (SACAA) is the primary regulator of drones in South Africa. It is responsible for issuing licenses and permits to operators, as well as enforcing safety regulations and resolving complaints.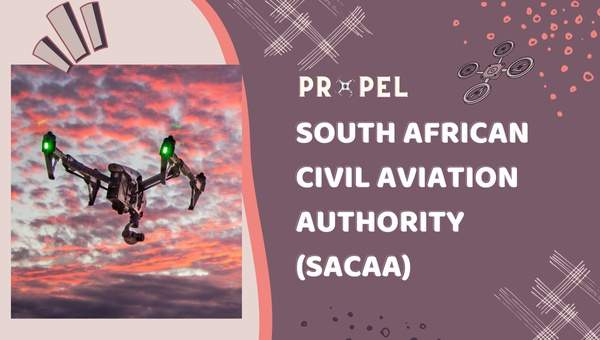 The SACAA has a comprehensive drone regulation framework in place, which includes registration, certification, and licensing requirements for drone operators.
In addition, the SACAA oversees the development of drone-specific airspace management procedures and provides guidance on the safe use of drones.
The SACAA also works closely with other aviation regulators, law enforcement agencies, and stakeholders to ensure drones' safe and efficient integration into the national airspace system.
The SACAA sets and enforces safety standards for all aircraft operating in South Africa, both domestic and international. The SACAA also manages the country's airspace, ensuring that air traffic flows smoothly and safely.
The SACAA also promotes the growth of the aviation industry in South Africa by working with government and industry partners. As a result, the SACAA plays a vital role in ensuring the safety of all those who use South Africa's airspace.
Leggi anche: Updated Drone Laws in North Carolina: Rules, Penalty
No Drone Zones In South Africa
A "No Drone Zone" is an area where drones are not allowed to fly. Generally, these areas are near airports, military bases, and other sensitive locations. Some national parks and other public spaces have also been designated as No Drone Zones.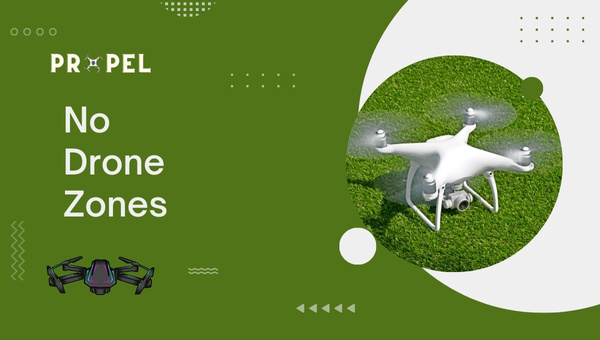 The rules for flying drones in No Drone Zones are typically very strict, and violators can face significant penalties.
In some cases, drones may be confiscated, and their operators may be fined or even imprisoned. Because of the potential risks, it's important to be aware of No Drone Zones before operating a drone.
Flying a drone in a No Drone Zone is not only illegal, but it can also be dangerous. Drones can interfere with aircraft and pose a serious safety hazard.
If you're caught flying a drone in a No Drone Zone, you could face stiff penalties, including a fine or even imprisonment. So if you're planning on flying a drone, make sure you know where the No Drone Zones are.
Conclusione
It is important to be aware of the laws surrounding drones in South Africa so that you do not inadvertently break any rules and find yourself facing a hefty fine.
By taking the time to register your drone and adhere to the general rules, you can enjoy flying your drone safely and legally.
The South African Civil Aviation Authority (SACAA) plays an important role in keeping the skies of South Africa safe and regulated. By following these rules, all pilots can enjoy a safe and enjoyable experience while flying drones in South Africa.
That's all the mandatory requirements for getting your Remote Pilot License from the SACAA. Now that you know what it takes to operate a drone in South Africa, grab your controller and hit the sky!
Good luck and happy flying!