Revisione dettagliata Holy Stone HS200 (2023)
A cura di:
Richard J. Gross
Updated On: Maggio 18, 2023
Welcome to this review of the Holy Stone HS200 drone. The Holy Stone HS200 is a budget-friendly drone that's great for beginners or anyone who wants to enjoy the experience of flying without breaking the bank.
Its features make it easy to control, including altitude hold, one-key takeoff and landing, and a 6-axis gyroscope for stability. It also has a built-in 720p HD camera to capture decent-quality photos and videos.
In this review, I'll dive deeper into the Holy Stone HS200's features, performance, and overall value. So, whether you're a seasoned pilota di droni or just getting started, stick around to see if the HS200 suits you!
Holy Stone HS200 Specifications
| Specifiche | Dettagli |
| --- | --- |
| Tempo di volo | 9 minute on a single battery |
| Gamma | 50~100 meter |
| Macchina fotografica | 2MP 720p HD Camera, FOV 120° |
| Velocità | Non menzionato |
| Dimensione | 320 × 320 × 66 mm |
| Peso | 146 gram |
| Batteria | 3.7 V 650mAh LiPo |
| Tempo di ricarica | 60-90 minutes |
| Caratteristiche avanzate | Headless mode, One Key Return, Wi-Fi Camera Function, Altitude Hold |
Holy Stone HS200 Flight time
A tempo di volo del drone is an important consideration when choosing a drone, as it can impact how long you can fly and capture footage before needing to land and recharge the battery.
With a flight time of around 9 minutes, the HS200 aligns with other budget-friendly drones on the market. While it may not be sufficient for longer flights or more complex aerial maneuvers, it is adequate for basic flying and photography.
It's recommended to purchase additional batteries to extend the flight time and allow longer flights.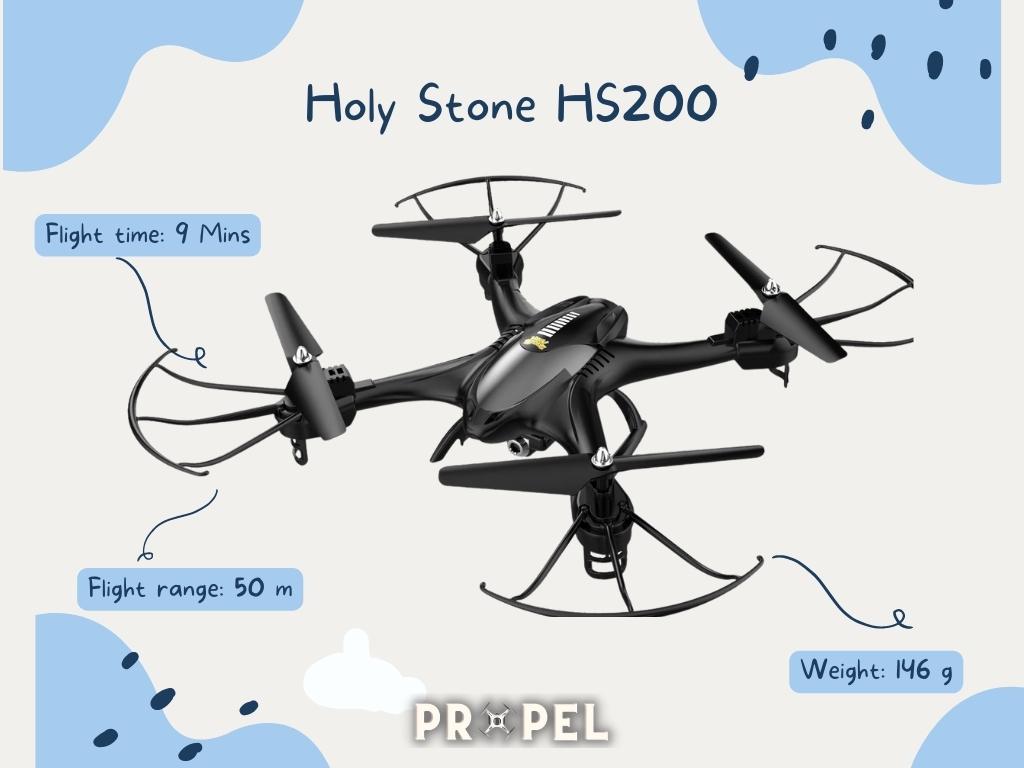 Holy Stone HS200 Flight range
The HS200's flight range of 50 to 100 meters is also typical for drones in its price range. It's essential to remember that environmental factors, such as wind and signal interference, can impact the range, so flying in an open and transparent area is always best.
The HS200 also offers multiple Return-to-Home functions that can be triggered manually or automatically if the drone loses connection with its controller or runs out of battery. Finally, the drone is equipped.
Leggi anche: Gamma di droni: scopri fino a che punto può volare un drone?
Holy Stone HS200 Camera
The HS200's 2MP 720p HD camera is decent for basic aerial photography and videography. While it may not provide the highest quality footage, it is sufficient for capturing casual moments and basic footage.
The camera has a wide field of view of 120 degrees, allowing for a broader perspective and more scenery in the shots. It's worth noting that the camera is not removable or adjustable, so you will be limited to the fixed angle and framing.
Holy Stone HS200 Size and Weight
The HS200 measures 320 × 320 × 66 mm, a compact and portable size. This makes it easy to transport and maneuver, even in more confined spaces. Its small size makes it less intimidating for beginners who may be hesitant to fly a larger drone.
At only 146 grams, the HS200 is one of the lighter drones on the market. This lightweight design makes it easier to transport and maneuver and less impactful in the event of a crash.
However, the lightweight can also impact the stability and handling of the drone. Additionally, it's essential to be aware of any weight restrictions or regulations in your area when flying a drone.
Holy Stone HS200 Battery
The HS200 comes with a 3.7V 650 mAh LiPo battery, which provides around 9 minutes of flight time. While this may not seem like a lot, it's typical for drones in its price range.
It's recommended to purchase additional batteries to extend the flight time and allow for longer flights. It's important to properly care for and maintain the battery, as it can impact the drone's overall performance and flight time.
Leggi anche: Tempo di ricarica della batteria del drone: quanto tempo ci vuole?
Holy Stone HS200 Charging Time
The HS200's battery takes approximately 60-90 minutes to fully charge, which is typical for drones in its price range. It's important to use the included USB charging cable and follow the instructions to charge the battery properly.
Overcharging or improperly charging the battery can lead to damage or reduced performance. Additionally, the battery should be completely discharged before recharging it. This will help increase its life span and performance.
Leggi anche: Guida definitiva alla cura e alla manutenzione delle batterie dei droni
Advanced features of Holy Stone HS200
In addition to its basic flying and photography capabilities, the Pietra Sacra HS200 also has several advanced features. These features enhance the flying and photography experience, making it easier and more fun. Here are some of the HS200's advanced features:
Modalità senza testa: Modalità senza testa is a feature that allows the drone to orient itself according to the pilot's position rather than the direction the drone is facing. This can make it easier for beginners to fly, eliminating the need to keep track of the drone's orientation. With Headless Mode, the drone will always move in the direction that the pilot is pushing the controller stick, regardless of the drone's actual orientation.
Un ritorno chiave: One Key Return is a feature that allows the drone to automatically return to its takeoff point with the push of a button. This is particularly useful if you lose sight of the drone or need to return it quickly in an emergency. With One Key Return, the drone will fly back to its takeoff point and land automatically.
Wi-Fi Camera Function: The HS200 lets you connect the drone to your smartphone or tablet and stream live video footage directly. This can be useful for framing shots and ensuring you capture the footage you want. Additionally, the app allows you to remotely control the drone's camera, adjust settings, and access other features.
Mantenimento dell'altitudine: Altitude Hold is a feature that allows the drone to maintain a stable altitude without the need for constant adjustments. This can be particularly useful for capturing steady footage and taking explicit photos. With Altitude Hold, the drone will automatically adjust its altitude to maintain a steady and stable flight.
Potrebbe piacerti: 10 Best Holy Stone Drones In [Comparison Chart]
Pros and Cons of Holy Stone HS200
The Holy Stone HS200 is a popular drone for recreational flying and aerial photography. As with any product, consider the pros and cons before purchasing. Let's look at some of the key advantages and disadvantages of the Holy Stone HS200.
Pro
Facile da pilotare - The HS200 is designed to be beginner-friendly and comes with a range of features to make flying more accessible, such as altitude hold and modalità headless.
Stabile - Thanks to its 6-axis gyro stabilization system, the HS200 can maintain a stable flight path and stay level in windy conditions.
Conveniente - Compared to many other drones on the market, the HS200 is relatively inexpensive, making it an attractive option for budget-conscious buyers.
Buona fotocamera - The HS200 features a 720p HD camera capable of capturing clear, crisp photos and videos.
Contro
Gamma limitata - The HS200 is only 50 meters, so it may not be suitable for more advanced users who want to fly their drones longer distances.
Limited camera controls - While the HS200's camera is good, it lacks some advanced controls on more droni costosi, such as adjustable aperture or shutter speed.
Nessuna evasione degli ostacoli - The HS200 has no sensors, so users must be careful when flying around obstacles to avoid collisions.
Pensieri finali
The Holy Stone HS200 is an excellent option for beginners and hobbyists who want to explore the world of drones without breaking the bank. Its ease of use, stable flight, and good camera make it an attractive option for those who want to capture aerial footage without spending much money.
We think this product is a solid choice for those just starting with drones or want a budget-friendly option for recreational flying and basic aerial photography. While it may not have all the bells and whistles of more expensive drones, it offers good value for the price and is a great way to get started in the world of drones.