10 Best FPV Drones: Soar to New Heights with Top Picks 2023
Updated On: Julho 16, 2023
I've spent countless hours researching, testing, and flying various First Person View (FPV) drones. Now, I'm here to share my knowledge and help you find the 10 best FPV drones on the market. These fantastic flying machines will let you experience the thrill of soaring through the air, all from the comfort of the ground.
FPV drones are a popular choice for enthusiasts and professionals alike, with applications in drone racing, aerial photography, and simply enjoying the adrenaline rush that comes with high-speed flight. I'll guide you through the top options available, offering insights on essential factors such as performance, ease of use, and reliability.
You'll find a diverse range of FPV drones in this list, from beginner-friendly options to high-performance racing machines. So, whether you're new to the world of FPV or an experienced pilot looking for an upgrade, there's sure to be something here that will perfectly suit your needs. Let's dive in and discover these fantastic flying gadgets!
Defining FPV Drones
When I first got into drone flying, I couldn't help but notice the First Person View (FPV) drones - a whole new world with immersive experiences like never before! FPV drones are essentially remote-controlled quadcopters equipped with cameras that transmit real-time video feed to the pilot's goggles or screen. This allows pilots like myself to view the drone's path as if they were inside the cockpit.
Now, let's break down the key components of an FPV drone system:
drone: Designed for agile flights, FPV drones are constructed with powerful motors and lightweight frames. Stability and responsiveness are crucial, as the pilot needs to perform rapid maneuvers while maintaining control.
FPV Camera: A small, lightweight camera mounted on the front of the drone captures the video feed in real-time. High-quality FPV cameras feature low-latency video transmission, ensuring smooth and accurate flights.
Video Transmitter (VTX): This component is responsible for transmitting the video signal from the camera to the pilot's display. It comes in different output power levels, which determines the range of transmission.
FPV Goggles/Screen: Pilots view the real-time footage on a screen or FPV goggles like the ones I use, providing an immersive experience. These devices come with adjustable resolution, aspect ratio, and field of view (FOV) to match the pilot's preferences.
Remote Controller: This input device allows pilots to steer the drone and adjust its speed. Some controllers also include features like real-time telemetry data, customizable switches, and ergonomic designs for comfortable flights.
With FPV technology rapidly advancing, it's not surprising that it has found applications in various areas. Some common uses of FPV drones include:
Drone Racing: FPV racing is a fast-paced and adrenaline-pumping sport where pilots race their drones against one another. This requires speed, precision, and split-second decision-making - perfect for thrill-seekers!
Freestyle Flying: Just as the name suggests, freestyle flying is all about showcasing my creativity and control. Pilots perform acrobatics and complex maneuvers, often against a picturesque backdrop - a true test of skill!
Fotografia aérea: FPV drones allow photographers and filmmakers to capture unique perspectives and capture dynamic shots. I personally find it invaluable in my work as a content creator.
Inspection and Surveying: From bridge inspections to oil rig surveying, FPV drones have proven to be an efficient tool that allows professionals to access hard-to-reach areas safely.
FPV drones offer limitless possibilities, transforming the way I fly and capture content. With their diverse applications and incredible immersive views, it's no wonder they continue to gain popularity among enthusiasts and professionals alike.
Top 10 FPV Drones
As a seasoned drone enthusiast, I've spent countless hours flying FPV drones and experimenting with various models. I'm excited to share my top 10 FPV drones offering incredible performance and unique features.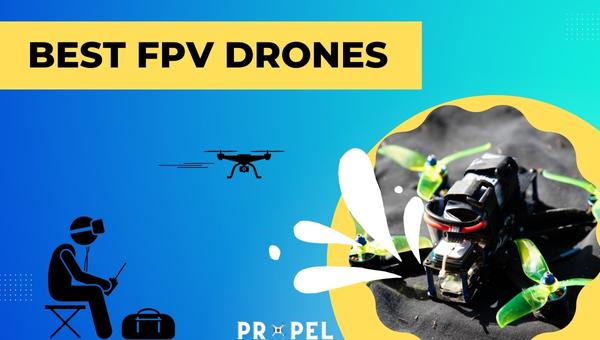 Each of these drones offers exceptional performance and features designed to thrill pilots of all skill levels.
Factors to Consider Before Buying
When looking for the 10 best FPV drones, there are several factors that I've found are important to take into account. To make the decision process easier, I've outlined these factors below:
Orçamento: As with any investment, it's essential to establish your budget beforehand. FPV drones can range from a few hundred dollars to thousands of dollars, depending on their features and quality. Ensure you're aware of the costs involved and how they align with your needs.
Qualidade da câmara: One of the most significant aspects of FPV drones is the quality of the camera. Look for drones that offer high-resolution cameras with smooth image transmission. This will ensure a more immersive and enjoyable FPV experience.
Gama: The operating range of your FPV drone is crucial. Keep in mind that the further your drone flies, the more powerful your transmitter and receiver need to be. Make sure to purchase a drone with a suitable range based on your intended use.
Tempo de voo: FPV drones typically have a flight time of 15-30 minutes, but this can vary depending on factors like battery usage or weight. Pay attention to the flight time, as you may need to invest in extra batteries for longer flight sessions.
GPS and flight stability: GPS-enabled drones can offer a more stable flight by maintaining their position in the air. It's a feature worth considering, especially if you plan to use your drone for photography or videography purposes.
Customization and upgrades: Some FPV drones are more customizable than others, meaning you can replace parts, add accessories, or upgrade features. Consider choosing a drone that allows for future adjustments and modifications to fit your needs.
Fácil de usar: If you're new to FPV drones or looking for a user-friendly option, ensure the drone you select offers a simplified setup and easy-to-use controls.
Evaluating these factors carefully will help you find the best FPV drone for your needs and ensure a satisfying flying experience.
Best FPV Drones for Beginners
Diving into the world of FPV drones might feel intimidating, but there's a variety of beginner-friendly options out there to get you started. In this section, I'll be sharing my top picks for the best FPV drones specifically designed with beginners in mind. These models offer easy-to-use controls, durability, and a more affordable price range.
| modelo de drone | Type of Drone | Key Features |
| --- | --- | --- |
| DJI FPV Combo | Full-size FPV | High-definition video, stable GPS hover, easy-to-use controller |
| EMAX TinyHawk II | Micro FPV | Adjustable camera, durable frame, easy controls, quick charge |
| BetaFPV Meteor65 | Tiny Whoop | Wide FOV camera, carbon fiber frame, customized flight controller |
O DJI FPV Combo is one of my go-to recommendations for beginners. It combines the excitement of FPV flying with the user-friendly features and stability we've come to expect from DJI products. Some highlights include:
High-definition video transmission
Stable GPS-assisted hovering
Easy-to-use controller with customizable settings
Robust build quality for added durability
Another excellent choice is the EMAX TinyHawk II. This small, lightweight drone is perfect for those just getting into FPV flying. Its compact size makes it great for both indoor and outdoor flights, and its 1S or 2S LiPo battery compatibility offers versatility. Here are some key features:
Adjustable camera angle for various flight styles
Durable frame design with propeller guards
Easy handling and beginner-friendly controls
Quick tempo de carga and impressive flight times for its size
For people who prefer to start with a more budget-friendly option, the BetaFPV Meteor65 is worth a look. This tiny drone offers an impressive amount of power for its size and is equipped with some decent specs, making it a popular choice among beginner FPV pilots. Some standout features include:
Camera with a wide field of view (FOV)
Durable carbon fiber frame and solid propeller guards
Easy-to-fly, customized flight controller
1S brand battery for lightweight and efficient flying
Check, 10 melhores DJI Drones com revisão detalhada
Most Affordable FPV Drones
Let's explore some of the most affordable FPV drones available in the market. Budget-conscious buyers will be thrilled to know that they can still enjoy the FPV experience without breaking the bank. Here are my top picks for the most economical drones with FPV capabilities.
Eachine E58: This beginner-friendly drone is easy on the wallet yet doesn't compromise on features. Its foldable design offers a 120° wide-angle 720P HD camera and a built-in Wi-Fi module for real-time FPV transmission. The E58 also has trajectory flight, altitude hold, and modo sem cabeça, making it one of the best budget drones around. Pricing is usually under $100.
Holy Stone HS160: Another outstanding option is the Holy Stone HS160, which is priced at roughly $90. Its foldable design makes it compact and portable, and it has a 720P HD camera with live video transmission of up to 100 meters. With additional features like altitude hold, gravity sensor mode, and customizable flight paths, this drone is an excellent value for the price.
Syma X5SW-V3: Those looking for an even more affordable option should check out the Syma X5SW-V3. Priced at just under $60, this drone is easy to fly, stable, and features a built-in camera with Wi-Fi transmission. The X5SW-V3 is perfect for novice drone enthusiasts with a user-friendly design and headless mode.
When choosing an affordable FPV drone, it's essential to consider various factors such as the built-in camera's resolution, transmission distance, flight time, and additional features that will enhance your experience.
It's also essential to prioritize the budget without sacrificing too much on the overall quality and capabilities of the drone. The options I've listed here are just a few of the many affordable drones available, but I believe these models offer great value and a satisfying FPV experience without a hefty price tag.
Check out The 10 Best Holy Stone Drones
High-End FPV Drones for Professionals
Having had the opportunity to fly a variety of FPV drones, I can't emphasize enough the importance of investing in a high-end drone for professional use. In this section, we'll explore some of the best options available in the market that cater to experienced pilots and professionals.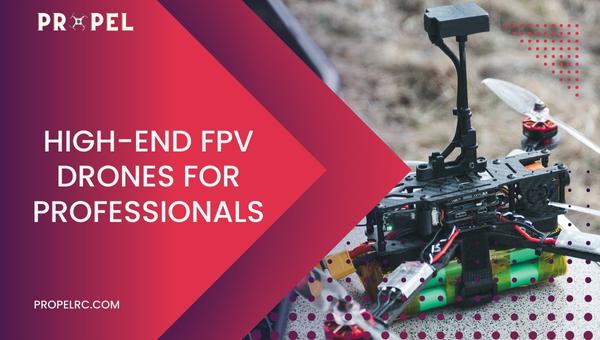 O Drone DJI FPV is an outstanding choice. This hybrid drone combines features of both racing and aerial fotografia drones, making it exceptionally versatile. The unique design offers users:
A top speed of 87 mph
4K/60fps video recording capabilities
A dedicated VR-like FPV Goggle for an immersive experience
For those interested in racing, the TBS Vendetta 2 is another fantastic option. This carbon fiber drone is customizable and designed for durability, fulfilling the need of professional racers. Key highlights include:
Modular design for easy repairs and upgrades
Adjustable FPV camera
Highly responsive flight controls
In the world of cinematic FPV drones, the Cinelifter category deserves attention. Some notable models include the Shendrones e Project399 series, popularly used to capture jaw-dropping footage. These heavy-lift drones often come with the following:
Payload capacities of 200-600 grams
6-8 inch propellers for stability
Longer flight times suited for filming
Understanding that professionals often require unique setups, custom FPV drones are a great alternative. Companies like Rotor Riot e Xhover are known for creating high-quality custom FPV drones tailored to specific needs.
A few things to consider before investing in a high-end FPV drone for professional use are:
Finalidade: Determine whether the drone will be primarily used for racing, filming, or other professional applications.
Orçamento: High-end drones can be pricey, so establish a budget that accommodates both the drone and necessary accessories.
Repairability: Ease of repairs and upgrades is crucial for professionals who rely heavily on their drones for work.
There are numerous options available when it comes to high-end FPV drones for professionals. Conduct thorough research and consult with fellow pilots to select the best drone that meets your requirements and enables you to excel in your field.
FPV Drone Racing
FPV drone racing has taken the world by storm, with participants from all corners of the globe. During these exhilarating events, I've experienced the thrill of zipping through obstacle courses and challenging terrain at top speeds. But what makes FPV drone racing so enthralling, and how can you get started with it?
Safety is paramount when it comes to these high-speed races. Don't forget to invest in a sturdy and reliable drone built to withstand rough landings and crashes, as the courses can sometimes be quite challenging.
To give you a better understanding of what type of drones are suitable for FPV racing, here are some key features to look for:
Carbon fiber frame: Carbon fiber provides a sturdy and durable structure. It's the ideal choice for an FPV racing drone, as it can withstand the extreme speeds and impacts of racing.
Brushless motors: These types of motors provide higher efficiency and more torque than brushed motors. Plus, they can handle the demanding stresses of FPV racing.
Tempo de voo: While racing drones have relatively shorter flight times (generally between 4-7 minutes) due to their powerful performance, you'll want a drone that provides a consistently fast and stable flight for the entirety of the race.
Video transmission: Look for video systems such as 5.8 GHz analog or the newer DJI HD system to ensure low latency and clear image quality during your races.
Numerous FPV drones are available for purchase today, and prices can range from affordable to quite expensive. While the top racing drones may exceed $500, there are budget-friendly options below $200 that are still competitive. I've personally found that deciding on a budget and identifying the specific features you prioritize can help streamline your search.
After finding the ideal FPV racing drone, I suggest practicing on simulators and attending local clubs to become comfortable with your new drone. By gaining experience and learning from more seasoned racers, you can also join the exhilarating world of FPV drone racing.
Essential FPV Drone Accessories
As an experienced drone enthusiast, I've come to appreciate the importance of having the right accessories to enhance my FPV drone flying experience. In this section, I'll detail some of the essential FPV drone accessories that you should consider investing in to make your flying sessions more enjoyable and hassle-free.
Spare Batteries: One of the most crucial accessories that every FPV piloto de drone should have is spare batteries. You don't want to cut your flying sessions short due to a dead battery, so keeping a few charged ones on hand is essential. Moreover, most FPV drones have a flight time ranging from 5 to 20 minutes, which can run out pretty quickly. Many pilots prefer having at least three spare batteries.
FPV Goggles: Another must-have accessory is a good set of FPV goggles. These allow you to experience a truly immersive first-person view while flying your drone. Several options are available at different price ranges, but some popular choices include the Fat Shark Dominator HDO2 and the EMAX Transporter.
High-quality Video Transmitter (VTx): A reliable VTx is essential for smooth video streaming from your drone to your goggles. Some VTx options even come with adjustable power, allowing you to switch between different transmission ranges depending on your flying location.
Antennas: Upgrading the antenna on your drone and goggles can significantly improve video range and signal clarity. Omni-directional antennas like the TBS Triumph and the Lumenier Axii 2 are excellent choices for ensuring stable signal reception in all directions.
Micro SD Cards: Recording and saving your flight footage require a fast and reliable micro SD card. Consider getting a UHS-I Class 10 card with 32GB or more capacity to capture high-quality videos without worrying about running out of storage space.
Hélices: It's not uncommon to break a propeller during a crash or an unexpected collision. Always have spare sets of props available to avoid any downtime due to a broken propeller.
Carrying Case: Traveling with a drone and its accessories requires a sturdy and protective carrying case. A well-designed case will ensure that your gear remains safe from damage while being transported.
Tools: A small toolkit with essential tools like a hex driver, pliers, and a prop wrench is necessary for on-the-go repairs and adjustments.
LiPo Battery Charger: A quality charger that can accommodate multiple batteries is essential for efficient charging and overall battery maintenance.
Investing in these essential FPV drone accessories will not only help you enhance your flying experience but also enable you to handle any unexpected situations. Being prepared with the right gear will make your drone flights more enjoyable and allow you to focus on perfecting your piloting skills.
Tips for FPV Drone Piloting
Mastering FPV drone piloting can be both exciting and challenging. I'm well acquainted with the process, so I've compiled a few must-know tips to help you get more out of your FPV drone flying experience.
1. Learn the basics first: As with any craft, acquiring fundamental skills is essential before attempting advanced maneuvers. Focus on developing a solid foundation in voar de zangão, including takeoff, hovering, and landing. Additionally, familiarize yourself with your drone's various features and controls.
2. Don't rush into FPV: Being comfortable with line-of-sight (LOS) flying before jumping into FPV is crucial. LOS helps you better understand the drone's orientation, making the transition to FPV smoother and safer.
3. Use a simulator: Before taking to the skies, I highly recommend using an FPV simulator to practice without the risk of damaging your drone. Simulators are a cost-effective way to refine your skills and gain confidence before a real-world flight.
4. Understand your equipment: Knowing your drone's components and how they work is vital for a smooth FPV experience. Examples include:
Transmissor de vídeo (VTX)
câmera FPV
Goggles
Antennas
Being familiar with these components helps you troubleshoot any issues that may arise and ensures your equipment is functioning optimally.
5. Choose the right flying environment: Selecting an appropriate location for FPV flying is essential. Check for obstacles, prevailing wind conditions, and potential interference from nearby electronics. Additionally, adhere to local drone flying regulations and avoid flying in restricted areas.
6. Start slow and low: When first using your FPV drone, take it slow and maintain a low altitude. This controlled approach helps you avoid costly crashes and become acquainted with the sensation of FPV flying.
7. Adjust camera tilt: Adjusting the FPV camera's tilt angle is crucial for flying at different speeds. As a beginner, start with a low tilt angle to keep the drone stable and avoid rapid descents. As you gain experience, gradually increase the tilt angle for faster and more aggressive flight.
8. Maintain a safe distance: It's essential to keep some distance between your drone and obstacles, including yourself and other people. This extra space allows for reaction time in case something goes wrong, ensuring safety for everyone involved.
9. Always do a pre-flight check: Before each session, be sure to inspect your drone, including the props, battery, and connection points. Double-check your FPV gear and signal, ensuring everything is working seamlessly.
Following these tips will help you become a proficient FPV drone pilot. With determination and practice, you'll soon unlock the full potential of your FPV drone experience.
Conclusão
It's been quite a journey exploring the world of FPV drones. These drones cater to a variety of pilots, from beginners to professionals.
First, let me summarize the top 3 FPV drones from our list:
DJI FPV Combo: Ideal for beginners, this FPV drone offers incredible video quality and user-friendly controls.
EMAX Tinyhawk II: An excellent choice for indoor flying and budget-conscious pilots, this drone is both durable and fun to fly.
BetaFPV Beta95X V3: A high-performance, versatile drone that caters to advanced pilots, featuring a variety of accessories and customizable options.
Each drone offers its own unique benefits, so it ultimately depends on the pilot's preferences and skill level. Here are some factors to consider when choosing the right FPV drone:
Your budget
Your skill level
The environment in which you'll be flying
The desired video quality and camera options
In FPV drones, technology is rapidly advancing, and there's never been a better time to enter this exciting hobby. Whether you're interested in drone racing, capturing breathtaking aerial footage, or simply enjoying the thrill of flight, there's an FPV drone out there to suit your needs.
Before you make your final decision, I highly recommend researching a bit more on the various models mentioned in this article and seeking the opinions of fellow drone enthusiasts. Embrace the fascinating experience that FPV drone flying has to offer and enjoy the excitement it brings. So pick the FPV drone that appeals most to you, and let your aerial adventures begin!