Actualização das Leis do Drone na Irlanda em 2023: Tudo o que precisa de saber
Updated On: Janeiro 1, 2023
As unmanned aerial vehicles (UAVs), or drones, become increasingly popular, it's important to be aware of the regulations surrounding their use. In this post, we'll look at the drone laws in Ireland governing drones and UAVs.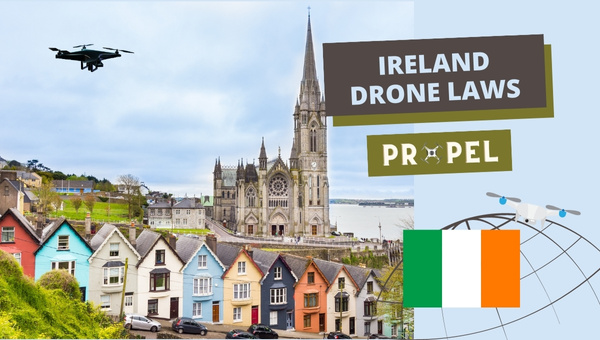 So whether you're a hobbyist or considering using drones for commercial purposes, this post will provide you with all the information you need to stay within the law.
Drones are becoming increasingly popular, both for personal and commercial use. However, there are strict laws in place governing the utilização de zangões in Ireland.
All drone pilots must be registered with the Irish Aviation Authority, and drones must be operated in accordance with the rules set out by the Authority. Anyone who fails to comply with these regulations may be liable for prosecution.
General Drone Laws in Ireland (2023)
The following are the regulations you must adhere to when operating a drone in Ireland: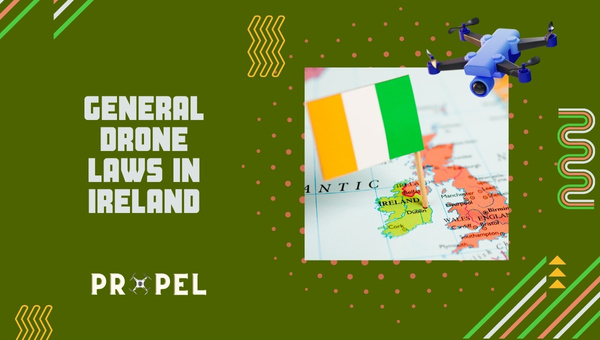 Drones may fly no higher than 50 meters (170 feet) from the ground in the Open category and up to 120 meters (400 feet) high in the Specific category.
The drone must always be within your line of sight, and you should never fly further than 500 meters away.
Keep a safe distance from populated areas when flying.
To ensure the safety of those living near our construction sites, we maintain a buffer zone of one kilometer around all residences.
An isolated structure, person, vehicle, animal, or object must be kept at a distance of 500 meters unless the owner/occupier gives consent.
Never fly close to airports or heliports. For safety, always maintain a distance of at least eight kilometers from airports and three kilometers from heliports.
Não se pode pilotar um zangão durante a noite.
No flying is allowed over, within a certain proximity of, military installations, public utility installations, archaeological sites, or public or private facilities.
Leia também: Drone Laws in Poland: Rules To Follow
Operational Categories in European Union
The European Union has divided drones into three categories based on their weight and intended purpose.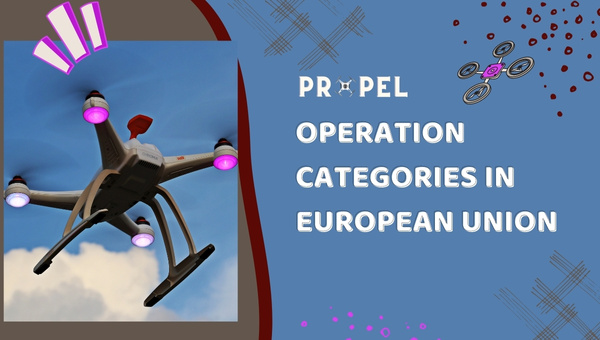 Categoria aberta
Open-category drones are those that can be flown without special authority approval as long they adhere to some general safety requirements.
These include unmanned aerial vehicles (UAVs) that weigh less than 25 kg and aren't being used for commercial purposes. Although a permit isn't necessary to fly these tipos de zangões, pilots must still obey the EASA's set rules and regulations.
More and more people in the European Union are using drones daily for many reasons. Open-category drones have become increasingly popular because they offer many advantages, such as being affordable, easy to use, and versatile.
Not to mention, open-category drones are usually deemed more " user-friendly" than other unmanned craft. Despite the challenges of operating a drone in the EU, it's evident that these aircraft will have a big impact on aviation and transport down the line.
Categoria específica
The specific category is usually seen as more restrictive than the open category. It's worth noting that not every commercial activity is allowed under this latter heading.
For instance, you can't use a specific-category drone to photograph or film people against their will. There are also a number of other restrictions related to the use of these drones, so anyone wanting to operate one should consult with EASA first.
A specific-category drone is one that necessitates explicit permission from the authorities for it to take flight. These drones lie in the weight range of 25kg and 150kg and can be used for commercial purposes. Prior to flying one of these drones, you must first procure a permit from the EASA.
Categoria certificada
A certified category drone is a safe choice for anyone purchasing and operating an unmanned aircraft. The EASA has different certification programs that cover various types of drones, so it's essential to check with the agency before buying or flying one of these devices.
Drones that have been certified-category are held to different safety standards set by the EASA. In order to fly one of these drones for commercial purposes, you must first obtain a permit from the EASA. These types of drones weigh more than 150kg.
Leia também: Novas leis sobre drones na Itália
Irish Aviation Authority (IAA)
O Irish Aviation Authority (IAA) is the national aviation authority for the Republic of Ireland. It is responsible for regulating civil aviation in the country and promoting the development of a safe, efficient, and sustainable aviation sector.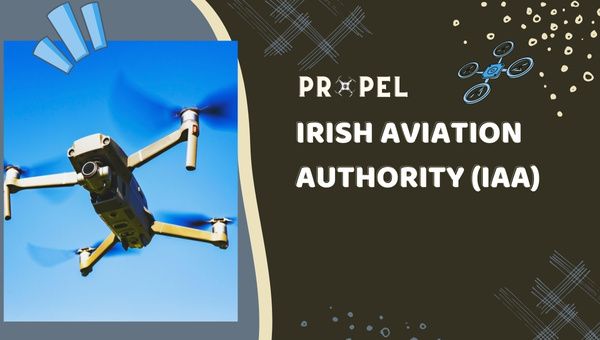 The IAA provides a number of services to the aviation industry, including air traffic control, aeronautical information services, and aviation safety oversight. The IAA also manages drones and drone operators in accordance with Irish law.
In recent years, the IAA has introduced a number of initiatives to support the growth of the drone industry in Ireland, including a registration system for drones and an online portal for drone operators.
Agência para a Segurança da Aviação da União Europeia (EASA)
EASA is a top-notch aviation safety organization that sets and enforces safety standards across Europe's entire aviation industry. Not only do these standards make sure passengers have enjoyable, safe journeys, but they also enhance the skills of pilots and other aviation professionals.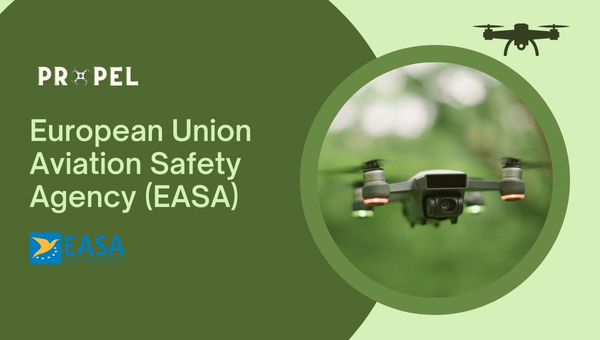 The EASA also has comprehensive regulations for using and operating drones, providing all citizens with an extra layer of safety. In addition, the agency offers pilot courses and certifications designed to ensure those flying drones can do so safely and responsibly.
Overall, the use of drones is increasing in popularity throughout Ireland as authorities work to make sure they're safe to operate. The various categories set by the EASA and IAA help provide a framework for drone pilots to follow while ensuring every flight is conducted with care and caution.
With the right training and experience, operators can enjoy the incredible benefits of flying unmanned aircraft for recreational or commercial purposes.
Leia também: Novas leis sobre drones na Venezuela
Cadastrando-se como Operador de Drone
You must register with the government if your drone weighs over 250 grams or has a camera. Follow this quick and easy guide to register on the IAA's digital platform MySRS. The registration fee for operators is €30, and it lasts for two years.
Account creation on MySRS
First, sign up using your email. Then verify your identity to help us streamline future interactions; you only have to do this once.
Online training
The online training module is free and only takes around 15 minutes to complete. You watch a brief video and then answer 40 straightforward questions. After successful completion, you will be given a "Proof of Online Training" certificate.
You now have to register as a Drone Operator instead of just the drone under the new regulations. Essentially, you become a miniature drone airline! Remember that this doesn't give you permission to fly the drone yet. Depending on factors such as your drone's size or what type of flying you want to do, completing online training may be all that is required from you, or additional training might be necessary, similar to how it works for pilots.
Remote Pilot Competency
If your drone weighs more than a certain amount, or you want to do specific kinds of flying, you will need an extra pilot competency certificate. You can apply for this training on MySRS, but you'll have to go to a designated UAS training organization (DUTO) in order to finish the program.
Drone Operator ID for companies
If your commercial company owns drones, every staff member who flies the drone(s) must have an operator's ID. Additionally, those members should take online training courses and earn pilot competency certificates based on the types of operations being conducted. To get started, have your administrator create a MySRS account.
Verification of a company
In order to get an operator ID number for your company, you must first verify your company through MySRS. Once you log in, fill out and submit the form that states you are a valid company representative wishing to access IAA services.
Registration for Operator ID
After your company is verified, you can then apply and obtain an Operator ID for the company. As an operator, the company is responsible for ensuring that any staff flying the drone have sufficient competencies (this may mean they need to obtain a Remote Pilot Competency).
Leia também: New Drone Laws In New Jersey
Permit for Drone
The process to get a drone permit in Ireland is not complicated. Go to the Civil Aviation Authority's (CAA) site and register your device.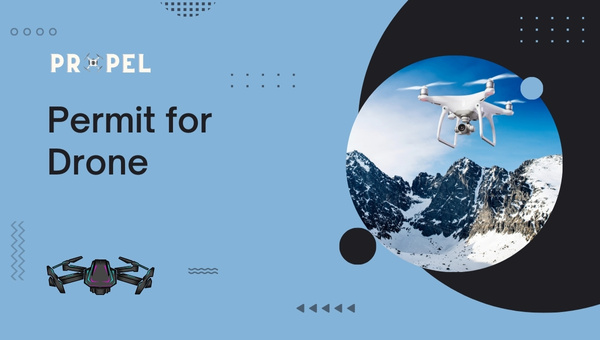 Drones that weigh more than 1kg but aren't bigger than 25kg have to be logged with CAA. Note that light drones must also be registered if flown more than 15 meters off the ground.
If you are 16 years or older, registering online is a breeze. Upon registration, a 5 Euro processing fee must be paid via credit card. Before you attempt to register for a drone permit to fly in Ireland, please confirm that you meet the necessary requirements:
Valid drone insurance policy.
A remote pilot license.
Your personal information and contact details.
List your drone's model, serial number, and type.
Things to Remember If You are a Foreign Operator
If this is your first time flying a drone in an EU country and you are coming from a non-EU country, you MUST register as an Operator. After you register, you will be given an Operator Registration number.
This number MUST be attached to your drone for identification purposes. If you have more than one drone, each must display the same registration number.
You cannot fly in any NO-FLY ZONES, and you must maintain a distance of 8km away or more from airports or heliports. If you have already conducted business in another EU country before entering Ireland, you will not need to register again. You only need to register with the first non-EU country where you conduct flights.
Unless you are a citizen of an EU country, if you want to fly your drone in Ireland, you must have a Remote Pilot Certificate delivered from an EU nation. You can obtain your A1/A3 Certificate by enrolling with the online Remote Pilot School.
Those who want to fly a drone in the 'Open' category under subcategories A1/A3 must complete an online training and exam. You will need to score a 75% or higher to pass, and you are allowed 3 total attempts.
Upon successfully completing your exam, you will be awarded a remote pilot certificate that is valid for 5 years. Always keep your Remote Pilot Certificate on you when operating a drone in Ireland and present it to authorities if requested.
Leia também: Updated Drone Laws in Indonesia
Conclusão
In conclusion, the EASA provides guidelines for drone operators in the European Union. These include regulations related to open-category, specific-category, and certified-category drones.
The agency also has safety requirements that must be followed at all times when operating an unmanned aircraft. It's important to check with the EASA before purchasing or flying a drone, as failure to do so could result in penalties and fines.
At the end of the day, you should always remember to fly safely and responsibly for everyone's sake. Hope this article was helpful. For any questions, feel free to leave them in the comments and share this article.