Melhores Dicas sobre Como Apresentar os Serviços do seu Drone (2023 Actualizado)
Updated On: Novembro 22, 2022
As a drone operator, you likely have a passion for flying and capturing incredible aerial footage. But to make money off of your drones, you need to find clients who are willing to pay for your services. This can be a challenge, especially if you're just starting.
Fortunately, there are some things you can do to make your drone business more attractive to potential clients. In this article, we'll give you some tips on how to pitch your drone services to potential clients so that you can start making money with your drones.
The first step to pitching your services is to make sure you have a good understanding of the services you're offering. You need to be able to explain in detail what your drones can do, as well as the pricing and benefits associated with them. Make sure that your clients understand the features and capabilities of your services so they know exactly what they're paying for.
It's also important to showcase your experience and expertise in the drone industry. Clients want to hire someone who knows the ins and outs of the technology and can provide them with a quality service. Showcase any awards or accolades you've received, as well as any partnerships you have with other drone providers.
In this article, we'll discuss how to make the most of your drone services pitch. We'll discuss how to create a compelling presentation and offer advice on how to answer common questions that potential clients may have. With these tips, you should have no problem getting more clients interested in your drone services.
What qualities define a strong business pitch?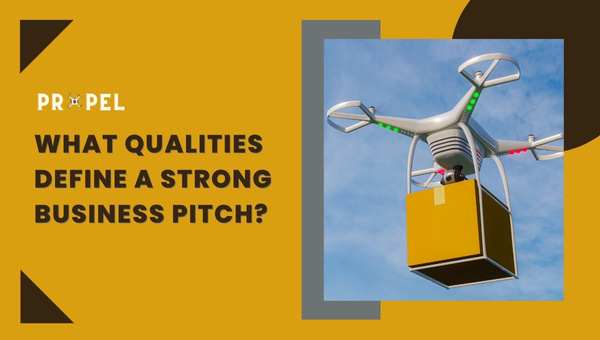 When you're pitching your drone services to potential clients, it's important to remember that you're not just selling a service - you're selling yourself. This means that your pitch needs to be professional, well-organized, and persuasive.
It should also be tailored to your audience - meaning that you should have a different pitch for businesses than you would for individuals, for example.
Short and to-the-point
Your pitch should be short and to the point. This means that you should get straight to the point and avoid any unnecessary details. Potential clients are busy people, so they'll appreciate a pitch that is direct and easy to understand.
Relevant to the client
Your pitch should be relevant to the client. This means that you need to do your research and find out what kind of drone services they might be interested in. For example, if you're pitching to a bens imobiliários company, you might want to focus on your ability to capture aerial footage of properties.
Engaging
Your pitch should be engaging. This means that you need to find a way to capture the client's attention and keep them interested in what you're saying. One way to do this is to use visuals, such as photos or videos of your work.
Actionable
Your pitch should be actionable. This means that you need to include a call to action, such as asking the client to contact you for more information or to set up a meeting.
Elements To Pitch Your Drone Services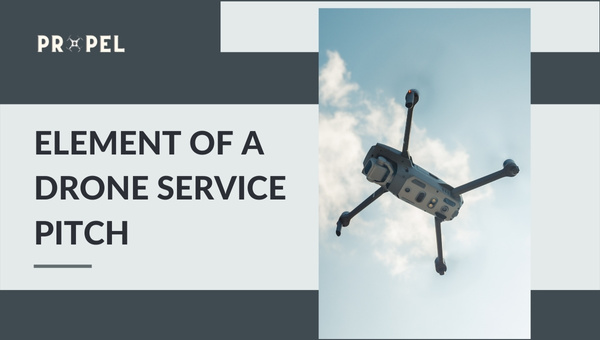 Now that we've gone over what makes a good pitch let's take a look at the specific elements you should include in your pitch for drone services.
1. Find out What your Client Wants?
Before you start pitching your drone services, you need to take some time to research the client and figure out what their needs are. This will help you tailor your pitch so that it's more relevant to them.
2. Highlight the Benefits
When you're outlining the benefits of your drone services, make sure to be clear and concise. Potential clients need to know exactly what they'll get out of working with you.
Explain the benefits they'll get in terms of time and cost savings, enhanced safety, more accurate data collection, improved efficiency, better quality images or videos, and anything else that sets your business apart. Outlining all the potential benefits you can offer will show clients why investing in drone services is a smart choice.
3. Showcase Your Experience
It's important to show potential clients that you have the necessary experience and expertise. Demonstrating your previous successes can be a great way to do this. Provide examples of projects you've completed in the past, and talk about how you used drones to achieve positive results for your customers.
You should also provide proof of any certifications or qualifications you and your team have that make you qualified to provide drone services. Showing off your proven track record will give potential clients reassurance that they're making the right choice when they choose to work with you.
4. Highlight Your Customer Service
The quality of customer service you offer is another key factor for pitching drone services to potential clients. Demonstrate how you take the time to understand their needs and provide tailored solutions that meet their individual requirements.
Show them how you prioritize customer communication, providing fast response times and regular updates. Explain how you use feedback to look for areas of improvement, so customers always feel like they're getting the best service possible.
Good customer service can be just as important to clients as the quality of the drone services you provide, so don't overlook this step when pitching your business.
5. Tell a story
People are more likely to remember a story than they are to a list of facts. When you're pitching your drone services, try to tell a story that will engage the client and illustrate your points.
Use examples of successful projects you have completed in the past or show pictures of the kind of high-quality results your drones can produce. This will help to "show, not tell" what you can do and will make a stronger impression on potential clients.
6. Recommend a plan of action
After you've made your pitch, you need to recommend a plan of action. This could be asking the client to contact you for more information or setting up a meeting. You can also include a call to action in your pitch deck or leave-behind materials.
Be sure to provide clear instructions on what the next step should be, so potential clients know exactly how to proceed.
7. Make sure to follow up
Once you've made your pitch, make sure to follow up with potential clients and answer any questions they might have. This will help keep them interested in your services and show that you're serious about making a deal.
Conclusão
Pitching your drone services to potential clients can be a challenge. But if you keep these tips in mind, you'll be one step closer to making money with your drones. The zangão comercial service industry may be one of the most recent to emerge, but it does not rule out the need for traditional business processes.
The key to being successful in any industry is to understand what your potential clients want and then put together a well-crafted pitch that speaks directly to their needs. With these tips, you should be well on your way to making money with your drones. Thanks for reading!