Comprehensive MJX BUGS B7 Review: Dig Deep into the Drone
Updated On: Novembro 7, 2023
If you're a tech enthusiast like me, the one thing that never fails to pique your interest is the invention of new gadgets. This time around, we've got our hands on an incredible drone - The MJX BUGS B7. In this in-depth review, we'll be looking at every nook and corner of this little piece of tech. So, gear up as I unpack every detail!
The MJX Bugs B7 has created quite a stir in the drone community with its released specs and features. This pocket-sized flyer is expected to compete with some of the bigger brands in terms of performance while offering value for money. Whether you're seeking superior camera quality or enjoying flying drones for leisure, stay tuned as this MJX BUGS B7 review unfolds all that this unique marvel has to offer.
What You'll Reap from This Review
Crystal clear insights about MJX Bugs B7 capabilities.
Deep dive into Bugs B7's camera performance.
Analysis of distinct features.
Understanding how it lines up against other market giants.
Detailed evaluation of overall performance and user experience.
Unveiling the MJX Bugs B7 Review
As a drone enthusiast, I couldn't wait to get my hands on the MJX Bugs B7. I'd heard plenty about its features and its promising performance.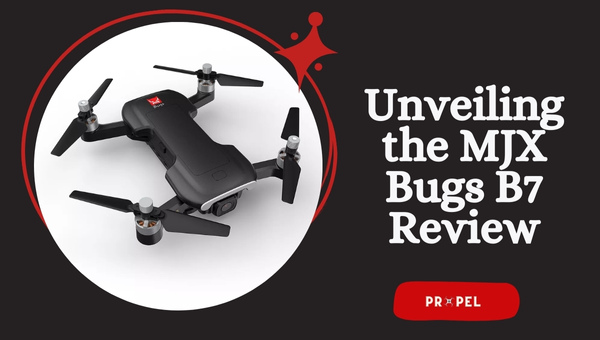 So, upon finally receiving it, I decided to wholeheartedly throw myself into understanding what sets this drone apart.
A Closer Look at the Specifications
| Especificação | Detalhes |
| --- | --- |
| Duração da bateria | Approximately 15 minutes |
| Drone Weight | Under 250 grams |
| Câmara | 4k resolution for video recording |
| GPS/GLONASS | For precise positioning |
| Desenho | Compact and foldable for portability |
| Range (Flight Distance) | Almost 800 meters |
| FPV Range | 300-500 meters on your phone with a 5g WiFi option |
| Image Stabilization | Absent |
| Modos de voo | Auto Return Home, Waypoints, Circle Around, Follow Me |
| Transmissor | Compact controller with LCD display |
| Voltar para casa | On low battery |
Overview of MJX BUGS B7
MJX Bugs B7 is a buzzword in the drone industry these days. The nifty design, remarkable features, and upgraded specifications have this drone trailing the thoughts of every potential drone buyer. What truly makes it stand out? Let's dive into the details.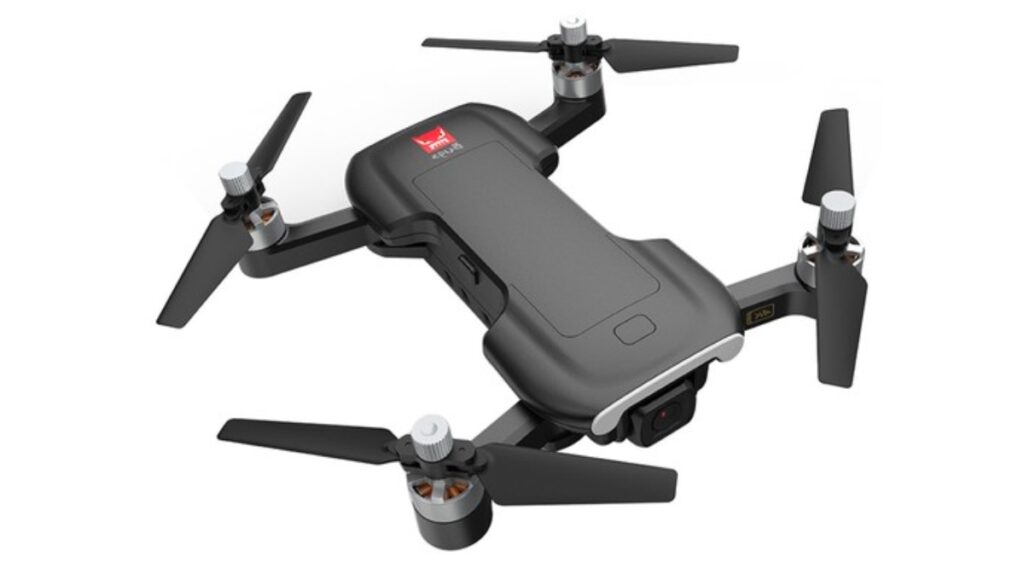 The Key Features
Superior Flight Time: Bearing in mind the coveted position of flight time for any drone enthusiast, MJX Bugs B7 doesn't disappoint! With a breathtaking flight time of approximately 15 minutes, you really get to enjoy your aerial expedition.
Range Power: What's a Foturne class vehicle if it can't go that far? Luckily for you, this masterpiece boasts an impressive almost 800-meter range for the drone itself and between 300-500 meters on your phone with a 5g WiFi option for FPV (First Person View). This is far beyond what its competitors offer.
High-Quality Camera: MJX Bugs B7 has practically redefined video recording with its stellar 4k resolution camera. Your shooting adventures are rest assured to be much more enjoyable than before!
Multiple Flight Modes: To enrich your flying experience, MJX Bugs B7 comes equipped with several striking modes like Auto Return Home, Waypoints, Circling around an object, and Follow Me feature, making your explorations awe-inspiring.
Leia também: Revisão Potensic D58
Specs and Design
While carrying all these enormous features underneath its chassis, I was completely astounded by how efficiently MJX managed to keep things compact. Here is an insight into what this means machine packs:
Lightweight Drone: Weighing under two sticks of butter (under 250 grams), portability is never going to be a concern with this lightweight partner.
Precise Positioning: Attesting the precision MJX Bugs B7 has to offer, it's geared up with GPS and GLONASS, ensuring that your drone is exactly where you want it to be.
Compact and Foldable Design: MJX BUGS B7 is a foldable drone, thereby allowing for easier transportation. This design aspect makes this feature-enriched drone compact even while being heavy in functionality.
Return To Home Feature: The highlight of these specifications - a comforting 'Return to Home' feature. If the battery gets low, your reliable partner here knows its way home!
Transmitter: Equipped with a compact controller paired with an LCD screen displaying important telemetry information, you're always in control.
While the absence of image stabilization may raise eyebrows for some, the assortment of other class-leading features, I believe, outweigh this small miss in an otherwise star-studded missile! Stay tuned as we'll be reviewing more about the incredible MJX BUGS B7.
Leia também: Melhores drones de realidade virtual
Detailed Performance Analysis of MJX BUGS B7
After rigorous testing, it's clear that the MJX BUGS B7 demonstrates impressive performance for its price range. It offers steady and smooth flights, courtesy of its built-in GPS and barometer function.
Moreover, the bateria do drone life is commendable, offering around 15 minutes of flight time, and it comes equipped with advanced features such as a brushless motor and a 4K camera that guarantees clear, high-quality footage.
Flight Performance
As an avid drone fan, I was enthused to try out the MJX BUGS B7. And it did not disappoint in terms of flight performance.
Stability: The first thing that impressed me about the MJX BUGS B7 was its stability. Despite its lightweight design (it weighs under 250 grams), this drone manages to maintain a steady position in various atmospheric conditions, which is particularly impressive.
Speed & Altitude: In terms of speed, the MJX Bugs B7 pleasantly surprised me. It navigates at a swift pace, making it great for those looking to capture fast-moving sequences on camera or enjoy some rapid flying. Besides, this drone can go quite high above the ground - almost 800 meters! This gives you lots of flexibility when deciding what kind of shots you want to take or what areas you'd like to cover.
Modos de voo: There are several flight modes available on this device, including Auto Return Home, Waypoints, Circle Around, and Follow Me. These features make flying this little beast a real delight as they offer ways to automate your flights and focus more on capturing great photos or just enjoying the view.
Leia também: Salário do Piloto de Drone
Qualidade da Câmara
After testing plenty of drones with built-in cameras, I have become somewhat critical when it comes to their image quality. But here's what my experience using the MJX BUGS B7 camera has been like:
Resolution: The camera captures spectacular 4k resolution video recordings—making every captured moment crystal clear and vibrant with natural colors, which most other drones fail to achieve.
Photo Quality: While we're talking about image quality, let's not forget about pictures - they're sharp! You can perfectly distinguish each detail in your shots, which is a great advantage when you're trying to capture the beauty of the landscapes you're flying over.
FPV Range: The FPV range stretches from 300 to 500 meters on your phone with a 5g WiFi option. This feature gives you real-time, smooth/ high-quality footage of your flight, which can be useful for accurately composing your shots while piloting the drone.
Please note that this drone does not provide any image stabilization. Therefore, it may not be suitable for professional photographers or videographers who require seamless and buttery-smooth footage.
Leia também: Best Apps For DJI Drones
Pros And Cons of MJX BUGS B7
If you're like myself, who thrives in the thrill and adrenaline of flying drones, then I bet you'd want a drone that delivers not only an exhilarating experience but also great value for money. One such drone is MJX BUGS B7.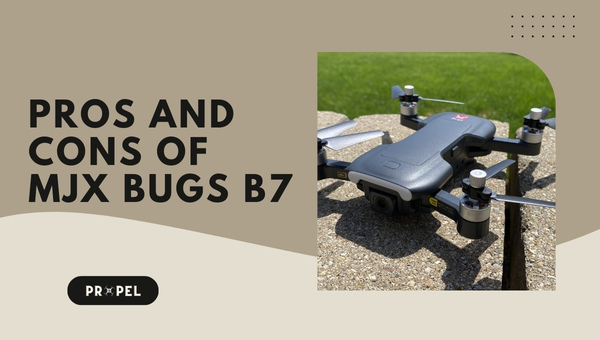 Prós
Long Battery Life: With its battery life lasting roughly 15 minutes, you can get a good amount of range and flight time on one charge. Trust me, there's nothing quite as frustrating as the juice running out just when you are about to capture that breathtaking sunset view from above!
Excellent Weight: It weighs under 250 grams, making it easy to carry around and travel-friendly. When I go hiking or camping, adding this definitely doesn't feel like an additional burden.
Superior Camera Quality: This is a must for any drone enthusiast – high-quality images! The MJX BUGS B7 camera has a 4K resolution for video recording, which can capture stunning views in intricate detail.
Feature-Packed: Packed with features such as Auto Return Home, Waypoints, Circle Around, and Follow Me, among others, this certainly gives me flexibility in control and flight modes, which is very handy when trying new stunts or exploring uncharted areas from up above!
Contras
But no product is without its drawbacks. Here are a few I noticed:
Lack of Image Stabilization: The MJX Bugs B7 unfortunately does not come with image stabilization. From my own experience and testing results, this might result in shaky footage, especially if used in windy conditions or while capturing quick movements.
Return to Home Feature Limitations: While the drone does have an Auto Return feature, which activates when the battery is low, it doesn't guarantee a safe return every time. Obstacles in the path can make it challenging.
Limited FPV Range: The FPV range stands between 300-500 meters on your phone with 5g WiFi. This might limit those wanting an extended First Person View flight experience.
I found that MJX Bugs B7 offers incredible value for its price, and despite some drawbacks, its fascinating features more than compensate for those. And as always, I encourage you to do your own research before making a decision!
Recommendation – Who Should Buy It?
Looking at the stunning features packed with the MJX Bugs B7, one can easily wonder who exactly this drone is designed for. Well, let me break it down for you.
Beginner Drone Enthusiast: Unlike many top-performing drones out there, MJX BUGS B7 strikes a balance between simplicity and performance. With a weight of just under 250 grams and simple flight modes, including Auto Return Home and Follow Me, it's an admirable pick for those just starting their journey into the drone world.
Drone Photographers: If you're on a budget but need to capture jaw-dropping aerial shots, look no further than MJX Bugs B7. This bad boy boasts of a 4K resolution camera, enabling high-quality video recording. One thing to note, though— this particular model does not offer image stabilization, so be mindful when capturing in windier conditions!
Travelers: Owing to its compact and foldable design, this device is highly portable, allowing drone pilots on the move to bring it along effortlessly wherever they venture off. The GPS integration assures precise positioning—even when in remote locations.
To sum up, budding photographers, beginner drone pilots yearning for good quality footage without getting overwhelmed with complex functions, or travelers seeking compactness without compromising on performance will greatly appreciate what the MJX Bugs B7 brings to the table! Just take note of what kind of issues might affect your specific use case before committing nominally valuable bucks on this gem.
Make sure to revise or, depending on where you plan to take off. On our part, we'll continue to delve deep into other exciting goods on the market, ensuring you always get the best recommendations. Keep flying high!
Leia também: Must Know Drone Laws in USA
Listening to Others - Real User Experiences
In the world of drones, it's essential to consider the viewpoints and experiences of actual users. Having spent some time with the MJX Bugs B7, I found various aspects that made this drone stand out. However, it's not just my experience that matters. Here's a compilation of what other drone enthusiasts have to say about the MJX Bugs B7:
Distinguishing Features: One common theme among user reviews is praise for MJX Bugs B7 features. Its compact design, coupled with a fantastic 4K camera, has garnered positive feedback from multiple users.
Battery Life: With approximately 15 minutes of flight time, users found its battery life relatively satisfactory for a drone in its price range.
Camera Performance: Some users pointed out that despite the availability of a 4K resolution camera on the MJX BUGS B7, its performance fell short during windy conditions due to a lack of image stabilization.
Control Range: Reviews vary concerning control range. Some found it satisfactory, with an almost 800-meter flight distance for the drone itself and an FPV range of 300-500 meters on their phone via a 5G WiFi option. Others felt that this could have been improved.
Flight Modes Availability: The availability of varying flight modes such as Auto Return Home, Waypoints, Circle Around, and Follow Me was lauded by many hobbyists as they provide enhanced navigational aid even in complex environments.
Return Home Feature: The auto return home feature received special mention by several users who appreciated how easy it made recovering their drones in case they strayed too far or ran low on juice.
Drones are personalized gadgets, and each user may have a different experience based on how they use them. The MJX Bugs B7 has its strengths and weaknesses, but these user reviews certainly testify that it's worth considering in the arena of budget drones.
To extend your knowledge about drones, I would recommend our article about Best Nano Drones, where you can find information on compact drones perfect for beginners to practice drone piloting.
FAQs
What is special about this particular MJX model?
O MJX Bugs B7 is highly portable with a compact and foldable design. Its special features include GPS and GLONASS for precise positioning, and it comes with a 4k resolution camera for video recording.
Where are some places you can buy an MJX Bugs 7 drone?
You may purchase the MJX Bugs B7 from various online platforms like Amazon and eBay or directly from the manufacturer's website.
Does it come with the necessary accessories, or do we need to buy them separately?
O MJX Bugs B7 comes complete with a compact controller displaying telemetry information; however, image stabilization is not included in its features.
How user-friendly is it for beginners vs experts?
O MJX Bugs B7 has simple controls that make it beginner-friendly, while its advanced GPS functionality and 4K camera offer enough sophistication to please more experienced users.
Conclusão
Being a fervent drone enthusiast, I can confidently assure you that the MJX BUGS B7 is an exceptional choice for those who are into aerial photography. With its 4K resolution camera and compact, foldable design, it allows users to capture stunning shots while ensuring convenience and portability.
Even though it lacks image stabilization, its GPS and GLONASS features offer precise positioning to give you smooth flights every time. Finally, although the flight time of 15 minutes might seem short-lived to some, the range it covers in this span is considerably impressive.
Key Takeaway Points:
The MJX BUGS B7 offers a host of enticing features like a 4K camera and GPS positioning.
Although there's no image stabilization feature available, the drone still excels in offering dynamic shots.
This device comes with an automated Return Home function, which gets activated when the battery runs low.