Unveiling the DJI Mavic Pro Platinum: An In-depth Review
Updated On: Ноябрь 2, 2023
Wondering whether the DJI Mavic Pro Platinum is worth your investment? Are you trying to figure out if this advanced drone can fulfill your aerial photography or recreational flying needs? Look no further, as I'm going to present you with an in-depth analysis of the intriguing DJI Mavic Pro Platinum. With its impressive features, cutting-edge technology, and user-friendly interface, this drone has plenty to offer.
In my comprehensive DJI Mavic Pro Platinum review, I'll delve into all aspects of this incredible device—from its image quality and flight duration to obstacle avoidance capabilities and compact design.
But what makes this review different from others? You'll get insights straight from my personal experience using the drone; no simulated results or ambiguous jargon. The aim here is simple – provide you with a clear picture so that you can make a well-informed decision.
What Will You Discover Here:
A comprehensive review of DJI Mavic Pro Platinum features
Analysis of flight durations
Assessment of image quality
My personal experiences with using the compact design
Helpful reflections on using its various modes like Sport Mode
A brief comparison with other drones, such as Дроны-попугаи
A Brief Introduction to the DJI Mavic Pro Platinum Review
As an avid and meticulous беспилотник enthusiast, I have spent countless hours testing and reviewing various drones. One that has repeatedly caught my attention is the DJI Mavic Pro Platinum, a high-end drone known for its crisp video quality and variety of flight options. So today, I want to share with you my extensive DJI Mavic Pro Platinum review.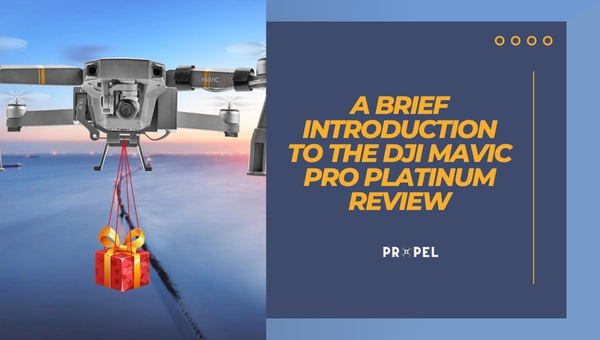 If you are someone who gravitates towards technology's latest advancements or is seeking a reputable drone to kick-start your aerial photography adventure, then this review is just for you.
A Closer Look at the Specifications
Before diving into each specification's details and nuances, here's a quick overview of what the DJI Mavic Pro Platinum brings to the table:
| Спецификация | Подробности |
| --- | --- |
| Video Quality | 60Mbps 4K video recording |
| Дизайн | Compact, folding design |
| Дистанционное управление | Small remote control |
| Уклонение от препятствий | Forward obstacle avoidance |
| Flight Options | Automated flight options |
| Video Quality | Crisp 4K video |
| Still Images | 12MP Raw and JPG stills |
| Flight Time (Including Longer Flight Time) | Up to 28 minutes of flight per charge. On average, about the same on a fully charged battery. |
| Размеры | 3.3 inches x 3.3 inches x 7.8 inches |
| Вес | Approximately 1.6 pounds |
| Still Images | Capture of JPG and Raw format |
| GPS and GLONASS | Satellite support for location accuracy |
| Downward-facing Sensors | Sensors for indoor flight |
| Sport Mode | Increased speed (up to 40mph) |
| Дистанционное управление | Compact remote control with LCD display |
A Dive into the Features of DJI Mavic Pro Platinum
Since its introduction, the DJI Mavic Pro Platinum has elevated the standards of what a drone should offer. But what makes it stand out? Let's dive in and explore some of its impressive features.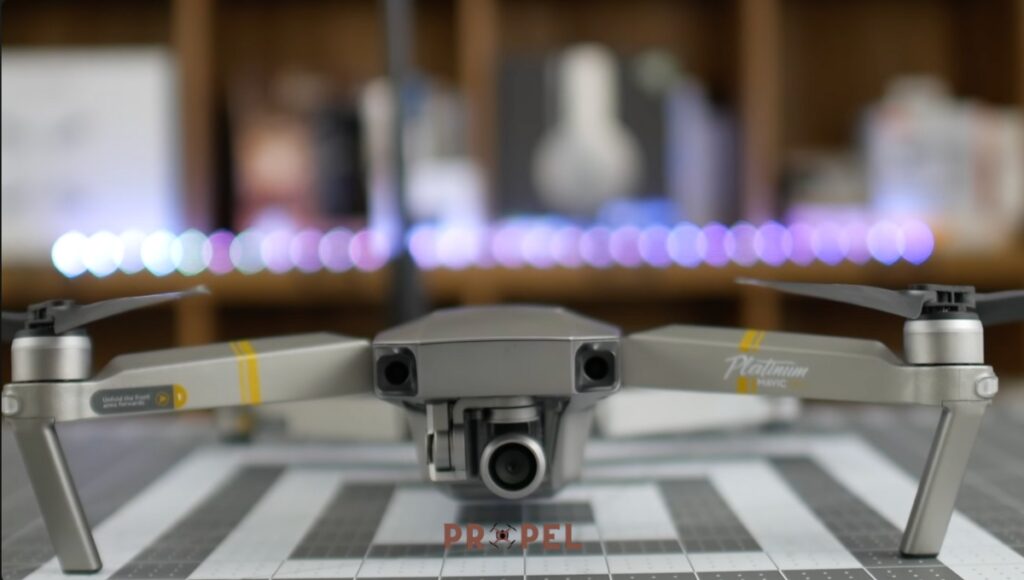 Impressive Flight Time
One of the key highlights of the DJI Mavic Pro Platinum is its flight time. With an average of around 28 minutes per fully charged battery, you get ample time to capture that perfect shot or video that other drones can only dream about.
Up to 28 minutes on a single charge – significantly longer than most competitors offer.
The drone uses Lithium Polymer (LiPo) batteries for energy-efficient operation.
DJI managed to achieve this longer flight time due to numerous technical advancements and energy-efficient design.
The significant flight time sets it apart from many other drones in its class, giving users more flexibility and freedom.
Читайте также: Лучшие дроны на Рождество
Advanced Noise Control
DJI took user experience up a notch with the DJI Mavic Pro Platinum's advanced noise control feature, something drone enthusiasts truly appreciate.
It comes with ESCs (Electronic Speed Controllers) that have sinusoidal drive, offering better performance.
The new FOC modulations improve motor efficiency and reduce noise levels.
The blades' design also contributes to less sound produced during flights.
Not only does this make flying more enjoyable for operators, but it also allows unobtrusive usage in quieter settings without disturbing others around.
Читайте также: What Does A Drone Look Like In The Sky?
Superior Camera Quality
Being a drone with superior camera quality, the DJI Mavic Pro Platinum allows users to capture high-resolution 4K videos and 12 MP RAW or JPEG images.
Crisp 60Mbps 4K video recording capability coupled with built-in image stabilization.
Still, images are equally fantastic, boasting 12MP Raw and JPG stills.
With GPS and GLONASS-based location accuracy, the drone can maintain stable focus even when in motion.
With such outstanding camera specs, it's no surprise that photographers and videographers often lean towards this Pro Platinum model for its top-notch imaging performance.
If you're looking for superior portability without compromising on flight time or user experience, it's hard to overlook the DJI Mavic Pro Platinum. Whether it's for professional use or just casual fun, this drone delivers where it matters.
Читайте также: Arthur Bell Blade 72 Drone Review
Experiencing Flying with DJI Mavic Pro Platinum
Beneath its sleek and compact exterior, the DJI Mavic Pro Platinum is an aerial photography beast. I've spent considerable amounts of time reveling in its features, having had the pleasure of capturing numerous breathtaking 4K videos and 12MP images from high up in the air. Here's my take on what it's like to fly this technological marvel.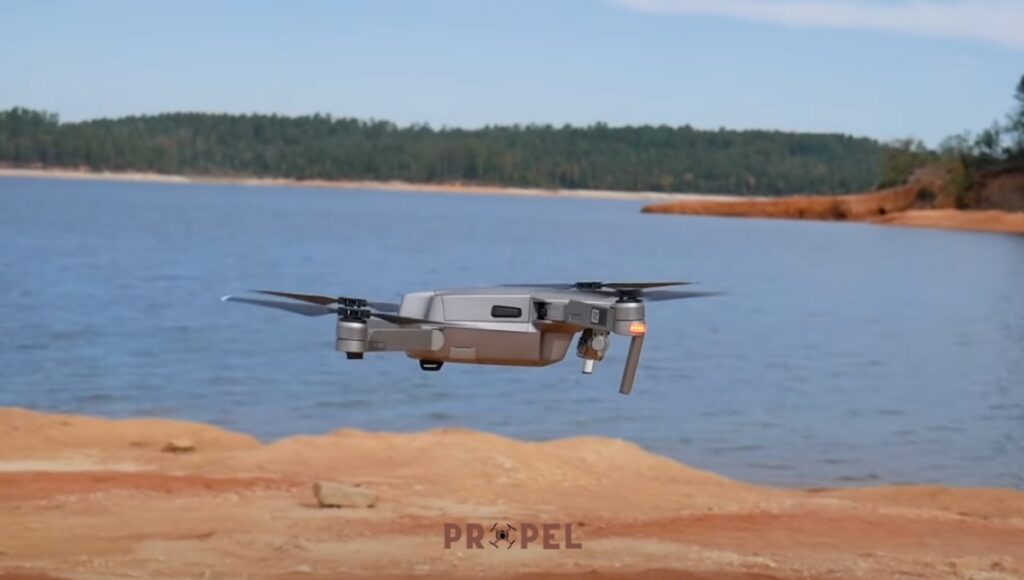 Ease of Use
From the moment I first held the small remote control, I knew that DJI had done an excellent job ensuring user-friendliness and intuitive design. As a drone enthusiast, transitioning to using this model felt almost seamless despite it being different from other drones I've flown.
Beginner-Friendly: My experience with other drones surely played a part in how swiftly I took to flying this drone. However, beginners shouldn't worry – with features like automated flight options and forward obstacle avoidance, even someone picking up a drone controller for the first time would find steering this one relatively simple.
Intuitive Command System: The compact remote control sports an LCD display that provides key flight information at a glance. And let's not forget about its compatibility with smartphone devices for a more immersive flying experience!
Range Performance
Of course, experience isn't all about simplicity of use. An exhilarating part of using a drone is testing how far it can go while still maintaining good operational capabilities.
Signal Strength & Transmission Distance: During my flights with the Mavic Pro Platinum, signal strength has been consistently robust across varying distances thanks to potent interference resistance technology packed within.
GPS Functionality: With dual satellite support from GPS and GLONASS systems aboard the aircraft, making for accurate location tracking, my Mavic has never faltered. I've never had to worry about it venturing beyond the set boundaries or getting lost.
Flying the DJI Mavic Pro Platinum is an experience that can be best described as both intuitive and technologically advanced. Whether you're a newcomer to drones or a seasoned pilot, there's something in this drone for everyone!
Читайте также: Unlock Geofencing on DJI Drones
Price Point – Value for Money?
With so many drone options available in the market, the question that often pops up is - Does a higher price point equate to better quality? Particularly, when it comes to DJI Mavic Pro Platinum, can I justify its cost with its features and performance? And above all, does it offer value for my money?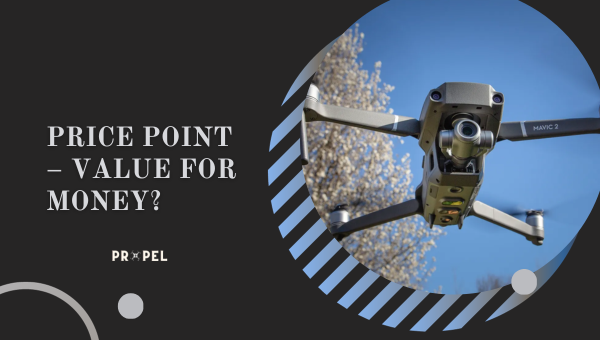 Here's my take on this:
Assessing Worth
In the world of drones, similar to other products or services, cost doesn't always translate into quality. A hefty price tag might not guarantee superior performance. It's essential we understand whether the capabilities of the DJI Mavic Pro Platinum align with its cost.
Unparalleled Video Quality: First off, let's talk about its crown jewel - The 60Mbps 4K video recording. The crisp 4K videos you get out from this beast are truly mesmerizing. But remember to maximize your video-capturing experience also, read Best Apps For DJI Drones.
Next-Gen Design: The compact and folding design lets you easily pack and carry it around on your adventures. This makes it worth considering for those who love traveling.
Enhanced Flight Time: Averaging about 28 minutes on a fully charged battery is impressive compared to many available drones in the market, which offer way less. For a more detailed comparison, do check out our Best Drones Under 250 Grams review.
Excellent Still Images: The camera offers you both raw and JPG shots at a whopping 12 MP resolution, making every shot picture-perfect.
Calling All Speed Demons: If speed thrills you, then look no further, as in sport mode, this drone can zoom up to speeds of 40 mph.
Dual Remote Control: If this already wasn't enticing enough, it comes with a small and compact remote control, which also includes an LCD display.
I think addressing the pricing elephant in the room can be hard without talking about its equivalent performing counterparts. While DJI Mavic Pro Platinum is priced on the higher side, what we must consider is its top-tier features, which outperform many other drones in the same price range. Weighing these considerations will help you understand if this drone is worth your investment.
Just make sure to be informed about global Законы о беспилотниках в Эстонии или Законы о беспилотниках в ОАЭ, wherever you are planning to fly your drone.
The ultimate question of value for money boils down to personal preference and usage. If you are someone who plans on using your drone frequently, valuing high-res imagery, seamless flying experience, and superior build quality, then look no further - The DJI Mavic Pro Platinum offers excellent value for every penny spent.
Pros and Cons of DJI Mavic Pro Platinum
What makes the DJI Mavic Pro Platinum Drone unique? And what might be some points one might need to consider? Let's delve into an honest evaluation based on my personal testing results.
Pros of DJI Mavic Pro Platinum
Video Quality: The DJI Mavic Pro Platinum captures stunningly detailed images thanks to its 60Mbps 4K video recording. Shooting in ultra-high definition gives results that will take your breath away.
Compact Design: Its compact, folding design allows for ultimate portability. Whether you're traveling, hiking, or just out exploring, this drone can comfortably tag along without being burdensome. It's easy to see why it's loved by both professionals and hobbyists alike.
Automated Flight Options: Automated flight options make capturing high-quality aerial footage easier than ever. With a tap of a button, you can perfectly execute complicated maneuvers and shots.
Enhanced Flight Time: The DJI Mavic Pro Platinum offers up to 28 minutes of flight per charge – which is more than the industry average. There was no need for frequent battery changes during testing.
Satellite Support: The inclusion of GPS and GLONASS ensures location accuracy, which enhances safe operation (a feature not seen in many other models).
Cons of DJI Mavic Pro Platinum
While there are many positive features, there are also a few areas where I feel the DJI Mavic Pro Platinum could improve:
Limited Obstacle Avoidance Availability: One point that stood out is that it only has forward obstacle avoidance. This means while the drone can detect obstacles ahead and halt or redirect itself automatically, it may not do so when moving in other directions.
Absent Downward Sensors The lack of downward-facing sensors makes it a bit tricky to maneuver when flying indoors or in areas with several obstructions beneath.
Remote Control Design The remote control is quite small and can sometimes be a little difficult for those of us with larger hands to operate comfortably. I found myself needing to take breaks during longer flight sessions due to the discomfort.
So, there you have it: an honest review of the pros and cons of the DJI Mavic Pro Platinum drone. In general, its stellar performance, image quality, and extended battery life make it an excellent choice for most users. Yet, potential buyers should also note its limitations in obstacle avoidance and indoor flying capabilities before investing.
Recommendation – Who Should Buy It?
With its robust features and performance, the DJI Mavic Pro Platinum appeals to a wide range of users. Whether you're a hobbyist, an adventurous traveler, or a professional videographer needing high-quality aerial footage, this drone ticks all the boxes.
Let's delve into who can really benefit from this model:
Professional Photographers and Videographers: With pristine 4K video quality and 12MP Raw and JPG stills options, I see it as a boon for professionals looking to add an extra dimension to their portfolios.
Adventure Junkies: If you're like me, who loves capturing adventurous moments outdoors, you'd appreciate how convenient the compact folding design is! It enables easy transportation in your backpack. And it's amazing how the drone is small in size but big in performance!
Drone Enthusiasts: Automated flight options and forward obstacle avoidance features add to easy handling. I find this drone user-friendly, even for people new to flying drones.
This list might seem exhaustive, but its applicability goes beyond stated categories!
Also note, if the drone's pricing matches your budget without compromising the quality you expect - then certainly go for this model! However, always remember that skills come with practice and patience, even if you own a high-end drone like the DJI Mavic Pro Platinum.
Читайте также: Зарплата пилота дрона
Customer Reviews – What Others Are Saying
Whenever I review a product, I try to provide an unbiased and detailed rundown of my own experiences. But sometimes, it's equally as important to get viewpoints from other users who have tried and tested the product. This is why we're reviewing the customer responses for the DJI Мавик Про Платина.
Compiling Impressions
The old saying "the customer is always right" holds a lot of weight when it comes to reviews. Let's dive into what real customers have to say about the DJI Mavic Pro Platinum drone. Trust me, these insights could provide you with an alternative perspective.
Video Quality: No surprises here; customers rave about the 4K video quality of this drone. The crispness and clarity are unparalleled, making it perfect for professional use or just capturing stunning visuals for fun.
Ease of Use: Many users noted how user-friendly this drone was right out of the box. The setup was described as intuitive, especially with the helpful guides found on Drone terminology.
Время полета: Real-world usage confirmed DJI's claims regarding flight time. Users report getting close to 28 minutes of solid flight on a fully charged battery; some have even managed more!
Design & Portability: Most customers appreciate its compact folding design, which gives them convenience while traveling or moving around sets.
It doesn't end there, though;
Noise-reduction technology: Something that has drawn praise from numerous customers is its noise-reduction efficacy despite its powerful propeller system.
GPS support: Quite a few users mentioned appreciating the GPS and GLONASS features, confirming the drone's location accuracy.
Sport Mode: Quite a few customers have had fun with the sport mode, praising its increased speed of up to 40mph!
Field Testing: No amount of technical specs can replace anecdotal evidence. One customer noted using DJI's Mavic Pro Platinum for falconry with success. Check out more on the Best drones for falconry.
In all, the overall sentiment about the DJI Mavic Pro Platinum has been overwhelmingly positive. While no product is perfect, and complaints can be found here and there - most negatives were peripheral, like a slightly finicky app interface or wishes for a better gimbal. However, these viewpoints are mostly drowned out by a sea of accolades.
Часто задаваемые вопросы
What are some key factors that set the DJI Mavic Pro Platinum apart from others?
The DJI Mavic Pro Platinum is unique for its compact design, advanced flight options, and exceptional video quality. With 60Mbps, 4K video recording, and up to 28 minutes of flight time per charge, it stands out from the crowd.
Can beginners easily maneuver a DJI Mavic Pro Platinum?
Absolutely! The DJI Mavic Pro Platinum's user-friendly controls and automated flight options make it an excellent choice for beginners. Not to mention, its GPS and GLONASS offer location accuracy, which greatly assists in handling.
Is the photo/video quality good, even in different lighting conditions?
Definitely! The drone delivers crisp 4k video even in varying lighting conditions. Also, it's capable of capturing still images brilliantly both in JPG and Raw formats, offering a range of flexibility.
How durable is the build of a DJI Mavic Pro Platinum?
Constructed with top-notch materials, this drone exhibits great durability. Weighing approximately 1.6 pounds with dimensions of 3.3 inches x3.3 inches x7.8 inches, it promises a robust buildable to withstand challenging surroundings."
Заключение
After spending several hours with this sleek piece of technology, I can safely say that the DJI Mavic Pro Platinum is living up to its name. The stellar video quality, splendid flight time, and superior obstacle avoidance features put it right at the top of my list.
Not to mention, its compact design, coupled with an impressive remote control, makes operation smooth and enjoyable. Whether you're a seasoned pro or just dipping your toes into the realm of drones, this little monster is definitely worth considering.
Key Takeaway Points
Outstanding 4K video recording quality
You can enjoy longer flights due to extended battery life
Its compact size and folding design make it extremely portable
The sport mode offers a thrilling speed boost for adrenaline junkies