EXO Blackhawk 2 Review: A Comprehensive Guide (2023)
Updated On: Ноябрь 2, 2023
If you are anything like me, drone technology's breathtaking advances have probably caught your attention. Recently, my fascination led me to an in-depth EXO Blackhawk 2 Review - a drone that's creating quite a buzz in the drone community. This fantastic piece of technology seems to be rewriting rules in the drone universe.
In this EXO Blackhawk 2 Review, I'll share my personal experience, break down the key features, and explain why it's one of the best drones I've come across. If you're all about brilliant aerial photography or simply curious about the leading-edge drone tech, you're in the right place. I promise you that by the end of this bit, you'll get a better understanding of the EXO Blackhawk 2.
Here's What You Can Expect:
A detailed EXO Blackhawk 2 Assessment
In-depth EXO Blackhawk 2 Impressions
Honest Opinions from the EXO Blackhawk 2 Experience
An EXO Blackhawk 2 Analysis like no other
My EXO Blackhawk 2 thoughts after unboxing and a thorough test
An Overview of EXO Blackhawk 2 Review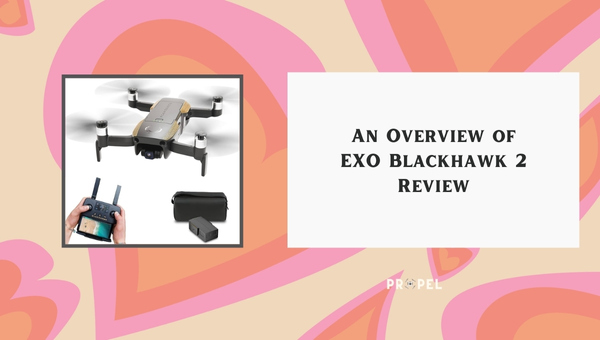 Having personally spent several hours in the field with this remarkable piece of technology, I am excited to share how it has inspired my views on cutting-edge беспилотная технология, especially after my overall EXO Blackhawk 2 review experience.
A Closer Look at the Specifications
Here's a comprehensive table of technical specifications just to show you exactly what the EXO Blackhawk 2 brings to the table:
| Спецификация | Подробности |
| --- | --- |
| Дизайн | Foldable, compact dimensions |
| Вес | Lightweight at 543 grams |
| Время полета | Up to 35 minutes |
| Диапазон передачи | Over 5 miles |
| Камера | 4K video, 12MP photos |
| Стабилизация | 3-axis gimbal for stability |
| Smart Features | Waypoint Fly, Return to Home |
| Compatibility | Works with iOS and Android |
| Gimbal Control | Versatile 3-axis control |
| Temperature Range | Operates from 32°F to 105°F |
| Intelligent Flight | Follow-Me, Gesture Commands, more |
| Аккумулятор | Quick 90-minute charge |
| Battery Compatibility | Supports spare batteries |
Perspective of the EXO Blackhawk 2
As a drone enthusiast, my first introduction to the EXO Blackhawk 2 was a moment I won't forget. It was vibrant, teeming with advanced features and hardware that pushed it beyond what I had come to expect from drones in its class.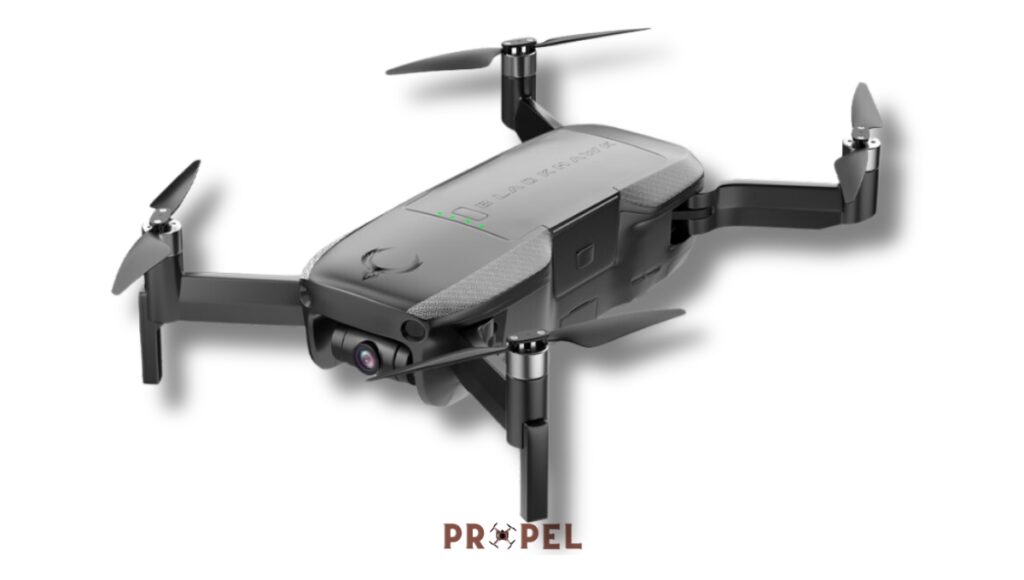 Key Features
So, let's dive straight in and see why it made such an impression.
One of the major selling points of the EXO Blackhawk 2 is undoubtedly its flight time. This drone can stay up in the air for an impressive 35 minutes. That provides ample time for capturing stunning aerial shots or simply enjoying some leisurely exploration in ways that only drones can allow.
Additionally, its 4K video recording capability ensures ultra-high-resolution images to capture memorable moments or create professional-quality content.
The intelligent flight features - be it Gesture Commands or Waypoint Fly - make your flight experience seamless and entertaining.
The 3-axis gimbal maintains stability under diverse conditions, ensuring smooth footage despite wind interference - a feature every cinematographer would appreciate.
Читайте также: Лучшие автономные беспилотники
Технические характеристики
Mastering technical specifications might sound complicated, but bear with me here:
It boasts an expansive transmission range of over five miles, which drastically enhances overall utility.
The device itself is lightweight at just 543 grams with compact dimensions, making it easy for all types of users to handle.
Operating temperatures range from a frigid 32°F right up to a hot climb into the mid-90s—all without affecting performance.
You needn't worry about power either; this drone supports quick charging (90 minutes) and spare batteries, ensuring you're always ready to fly!
Let's also not forget compatibility as well. Be it iOS or Android, this machine has got you covered. The drone is always ready to sync with your devices.
In my opinion, the EXO Blackhawk 2 goes beyond being just a simple drone. It captures moments, tells visual stories, and creates a memorable experience that lasts long after the flight has ended.
Stay tuned for my detailed EXO Blackhawk 2 Experience, where we'll get into every aspect of its performance in real-world conditions. Until then, fly safe, and always remember to check local regulations before you take off!
Читайте также: What Does A Drone Look Like In The Sky?
Detailed Analysis of The EXO Blackhawk 2
Analyzing a drone like the EXO Blackhawk 2 requires taking into account numerous features that together make up the whole flying experience. Here's an in-depth look at some of them:
Design and Build
Delving into the design and build of this model has been an absolute pleasure for me. Starting with its sleek and modern design, the first thing one notices about this drone is how compact and foldable it is. This really comes in handy when you're traveling or just packing your gear up.
Weighing only 543 grams does no compromise on durability - a feature that impressed me greatly during my usage period of this drone - from accidental bumps to rough landings, I've seen firsthand how resilient this gadget can be. It's lightweight but definitely sturdy!
Its aesthetics are particularly commendable as well - matte finish with smooth lines make it quite eye-catching without being overly flashy – a perfect blend! Overall, if you're someone who values both style and substance when choosing your tech gear like me, then you'll unquestionably appreciate what EXO Blackhawk 2 offers here.
Производительность
Performance-wise, too, The EXO Blackhawk 2 doesn't disappoint. It offers up to 35 minutes of flight time, a remarkable feature that extends your fun by twofold, if not more.
I've found its speed and maneuverability to be incredibly impressive. During my flight tests, the response was instantaneous and smooth, making flying this drone not only enjoyable but also an effortless task.
Stability? Oh, don't get me started! The 3-axis gimbal ensures that your footage is as stable as possible, offering enough flexibility to capture great shots even in the most adverse weather conditions. As someone who has seen gimbal quality vary across drones of different price ranges – the 3-axis control on the EXO Blackhawk 2 is definitely a winner!
Its robust performance even extends to its compatibility – whether it's iOS or Android, controlling this drone via your device is hitch-free. And let's not forget Quick Charge! This beast charges fully in just about 90 minutes, meaning less waiting around for me and more up-in-the-air action!
This part of my EXO Blackhawk 2 Review - marvelous performance coupled with killer features at such an unbelievable weight-to-power ratio certainly makes for a drone worth checking out!
Читайте также: What is Headless Mode?
User Experience with The EXO Blackhawk 2
So, you're curious about the user experience with the EXO Blackhawk 2. I get it; any drone enthusiast might be charmed by this amazing device, and let me tell you - rightfully so.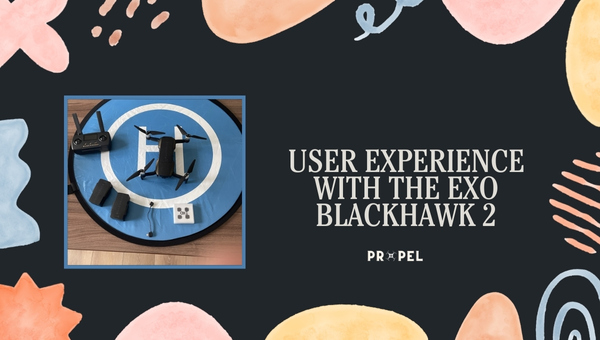 Handling And Maintenance Tips
The EXO Blackhawk 2 is one of those drones that combines performance with ease of use. Though it's lightweight at only 543 grams, don't be misled into thinking that this small package lacks power. But as Peter Parker's uncle (yes, Spider-Man) said: "With great power comes great responsibility." Now I'm not sure he was referring to drone handling and maintenance while saying this but let's take it that way!
Keep your drone clean: Regular cleaning goes a long way. Get rid of sand or dirt that might affect your motors or camera.
Mind your batteries: This drone gives you up to 35 minutes of flight time on a quick 90-minute charge. Remember not to let the battery drain completely before each recharge.
Stay within range: With over five miles in transmission range, it's tempting to test how far your bird can fly, but always maintain line of sight for safety reasons.
Protect the propellers: After all, these are like the wings of your bird! Store and transport them safely when not flying.
Читайте также: Unlock Geofencing on DJI Drones
Common User Feedbacks
Now go digital and know some feedback most users have been sharing online:
Impressive Camera Quality - Don't underestimate its ability due to its compact size! Its 4K video &12 MP photo capability turns out crystal clear footage capturing elements that you might miss.
Увеличенное время полета - It's said to outdistance its competitors with up to 35-minute flight time. The quick recharge is an additional boon.
Ease of Use - Novices and pros alike have shared that the drone's intuitive controls make it a pleasure to operate, while the 3-axis gimbal offers stability that matches those of high-end models.
Users have equated the experience with the EXO Blackhawk 2 as a transformation from being just an observer to a player in their creative process.
Pros And Cons of EXO Blackhawk 2
When it comes to the EXO Blackhawk 2, I've spent a significant amount of time both flying and dissecting its features. Here's my balanced assessment, candidly listing both standout components as well as some areas for improvement that I noticed during my testing sessions.
Плюсы
Design & Weight: The foldable, compact dimensions make this drone portable, and at 543 grams, it's definitely on the lighter side. This gives me more leniency in choosing locations for takeoff and landing.
Flight Time and Range: Up to 35 minutes of flight is quite impressive. The transmission range over 5 miles greatly extends the horizons of what I can explore with aerial photography.
Camera & Stabilization: With the ability to shoot in 4K video and capture 12MP photos, every detail is beautifully captured. Not to forget about the robust stabilization gained from a 3-axis gimbal!
Intelligent Flight Features: Aside from ordinary drone operations, this model supports Waypoint Fly, Return Home functionality, and additional smart features like Follow-Me mode and Gesture Commands.
Battery Life: The quick charging option - just about an hour and a half gets your battery fully juiced up - combined with an extended flight duration, making shooting sessions less worrisome regarding battery life.
Cons
Temperature Operation Limitations: While within normal climatic conditions, there should be no problems - it operates between 32°F and 105°F - this might be limiting in extreme climates.
Compatibility Limitations: It works with iOS and Android—which covers most users—but folks using less popular platforms may have a hard time syncing their devices.
Spare Battery Compatibility: This device supports spare batteries, which is a boon. However, I fell short on specifics of which brands or models are supported, making finding replacements a potentially intricate process.
Читайте также: Best Drones Under 250 Grams
Recommendation – Who Should Buy It
After conducting a comprehensive EXO Blackhawk 2 Review, I have gathered a few pointers that can help to decide who may genuinely benefit from this quadcopter.
Photography Enthusiasts: Equipped with a 4K video camera and the ability to capture stunning 12MP photos, the EXO Blackhawk 2 is suitable for photographers looking for high-quality aerial shots. The drone's advanced gimbal control adds to its appeal due to versatile 3-axis control capabilities.
Long-Range Flyers: For those of you who enjoy exploring vast expanses or need to cover substantial distances during flights, the EXO Blackhawk offers an impressive transmission range of over five miles. Never again would you have to worry about losing signal or control over your device.
Adventurous Spirits: If you often find yourself in different parts in varying weather conditions, the operational temperature range of this drone will be beneficial for your adventurous endeavors. It operates efficiently anywhere between 32°F and 105°F.
Efficiency Lovers: This model could be an excellent choice for users seeking efficient devices as it has a flight time extending up to 35 minutes on just one charge, taking less than two hours!
Auto-Pilots: Personally, I consider smart features like Waypoint Fly and Return Home amongst my favorites as they command quite an aesthetic experience! So if automated flying features make you tick, this might be your next perfect buy!
Compatibility Chasers: Whether you operate an iOS or Android device does not matter here - Blackhawk 2 is compatible with both platforms, ensuring seamless user experience regardless of your preferred operating system.
Those people who often carry their drones along would find their foldable structure favorable due to their compact size, which easily fits into backpacks, ensuring convenience.
Читайте также: Законы о дронах в Пенсильвании
Часто задаваемые вопросы
Are there any pre-flight precautions necessary for using The Exo BlackHawk?
Yes, it is advisable to carry out a routine check-up before the flight, checking things such as propeller stability and battery attachment and ensuring that the GPS signaling is accurate.
Is there significant noise produced by these drones during operation?
The EXO Blackhawk 2 has been designed to minimize noise during operation. Nonetheless, like most drones, some sound is produced primarily by rotating blades; it's hardly anything irritating or overly noticeable.
How does weather affect its flight capabilities?
The drone performs optimally in temperatures ranging from 32°F to 105°F. Adverse weather conditions such as strong rains and winds, can negatively affect performance or even cause damage. Always check weather forecasts before operating your drone.
Would I be able to utilize this drone for professional aerial footage?
Absolutely! The EXO Blackhawk 2 comes with a high-quality 4K video camera, which, together with its versatile gimbal, offers stable and clear footage, making it suitable for professional aerial videography.
Заключение
So, this about wraps up the EXO Blackhawk 2 Review. I've put it to the test, and there's no denying it's an incredibly impressive piece of kit. It has a sleek design, is lightweight, and offers an impressive flight time that outperforms many competitors on the market.
The smart features are a game-changer, allowing even novice pilots to master complex maneuvers. Plus, the quick battery charge and compatibility with spare batteries make it ideal for those long days of shooting.
Key Takeaway Points
Lightweight with superior flight time
Sleek, foldable design
Advanced intelligent flight modes and quick battery charging
Unparalleled compatibility across smartphones