EXO X7 Ranger Plus Review: Unleashing the Power of Next-Gen
Updated On: Ноябрь 2, 2023
In today's thriving drone market, one model that truly stands out from the crowd is the EXO X7 Ranger Plus. This high-end drone combines state-of-the-art technology with exceptional design to provide an unprecedented flying experience. Its impressive specs and user-friendly controls have put this device squarely on my radar.
Over the course of my years in recreational drone piloting, I've had quite a few top-tier drones pass through my hands. Still, none have quite compared to the sheer flight prowess and photographic capabilities of the EXO X7 Ranger Plus. Coupled with its compact, portable design and surprising durability, it has rapidly risen through the ranks to become one of my all-time favorites.
What You'll Discover Here
In-depth analysis of EXO X7 Ranger Plus's features
A comprehensive assessment of its flight performance
Detailed review of camera capabilities
Information about the drone's design and portability aspects
Читайте также: Best Drones Under 250 Grams
Overview of EXO X7 Ranger Plus Review
EXO X7 is not a stranger to drone enthusiasts. Time and again, their products prove to be worthy tech gadgets to have. The particular model that caught my eye recently is the Ranger X7 Exo.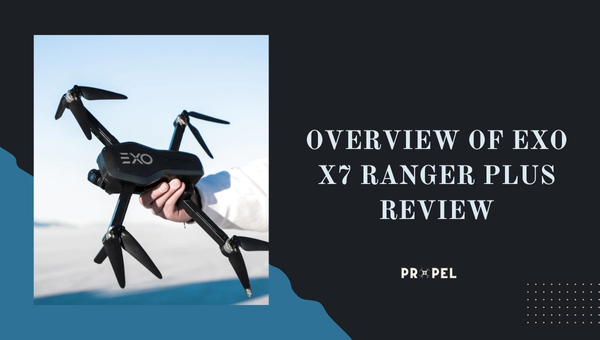 This article is essentially an EXO X7 Ranger Plus Review, where I will talk about everything you need to know about this nifty device.
We'll start with a closer look at its specifications.
A Closer Look at the Specifications
Below are some quick stats of the EXO X7 Ranger Plus for you:
| Спецификация | Подробности |
| --- | --- |
| Drone Dimensions | 8 x 4 x 3 inches |
| Drone Weight | 624g |
| Время полета | Maximum flight time of 25 minutes |
| Max Speed | 25mph |
| Технические характеристики камеры | 2K maximum video resolution |
| Maximum Video Bitrate | 20 Mbps |
| Intelligent Flight Features | Follow-Me Mode, Waypoint Fly, etc. |
| Foldable Design | The drone features a foldable design for portability |
| Operating Temperatures | Temperatures ranging from 32 to 100 degrees Fahrenheit |
| Диапазон передачи | Transmission range of up to1500 feet |
Performance of the EXO X7 Ranger Plus
I have to say, everything about the EXO X7 Ranger Plus leaves a great impression. This little powerhouse of a drone is quite impressive when it comes to flight duration, speed, camera quality, and, most importantly, ease of control.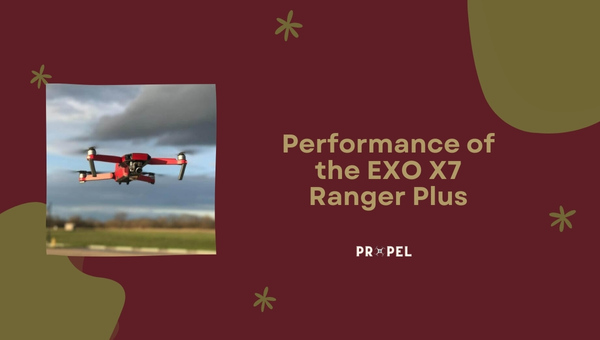 Flight Duration and Speed
Firstly, let's talk about its battery life and speed. The EXO X7 Ranger Plus exhibits a powerful performance in these departments.
With a full battery charge, the drone offers a maximum flight time of 25 minutes. It's worth mentioning this is quite commendable for a drone in this category.
As for the speed? The little monster doesn't disappoint, either! It can reach up to a max speed of 25mph.
Even under temperate conditions (range being between 32 to 100 degrees Fahrenheit), it maintains efficiency without difficulty.
I also like that despite this height and speed, it has an excellent transmission range, ticking up to 1500 feet!
Camera Image Quality & Video Recording
This one's important if you're keen on capturing the skies! What does the EXO X7 Ranger Plus offer?
The built-in camera boasts the ability to record videos at up to 2K resolution. That means your visuals would be pretty detailed!
With an impressive video bitrate maximum limit of approximately 20 Mbps, you'll find video clarity nothing short of stunning.
It's certainly going to aid in getting those cool aerial shots if you're into filmography or even photography!
Ease Of Control
Now, what use would all these features be if our precious machine wasn't easy to maneuver? Luckily, that's not something you should worry about with the Ranger X7 Exo.
The user-friendly controls make the navigation process so intuitive. It didn't take me long to get the hang of it.
Exciting inbuilt flight features like Follow-Me Mode, Waypoint Fly, etc., make for a thrilling flight experience.
Читайте также: Best drones for wedding photography
Standout Features
Let me run you through some of the standout features of the EXO X7 Ranger Plus that make this drone unique.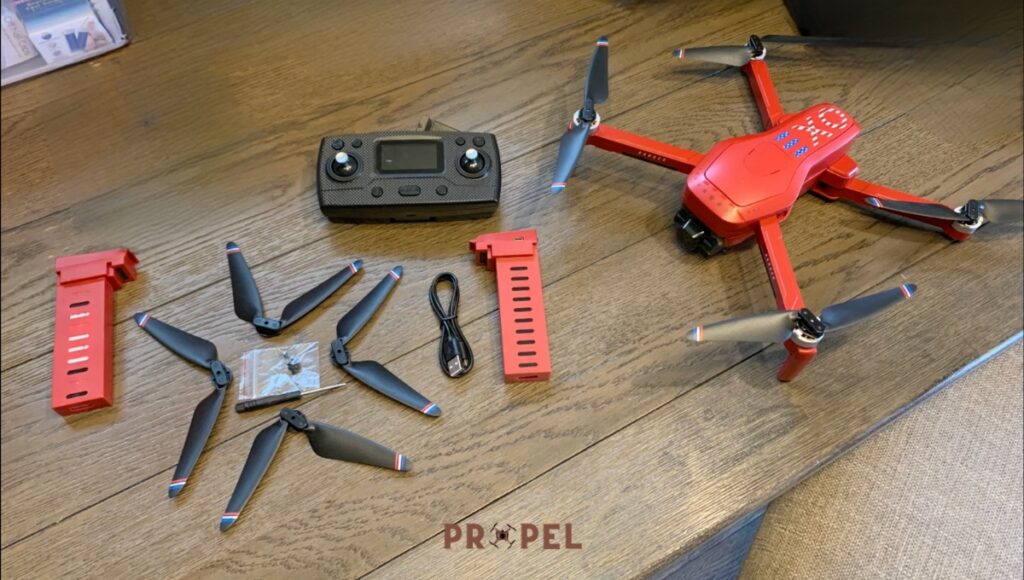 Advanced GPS System
One of the crowning features of the EXO X7 Ranger Plus is its advanced GPS system. With fast and accurate satellite acquisition, this drone offers effortless navigation worth noting:
Accuracy: This little gizmo secures a strong GPS signal within seconds, even in areas with high electromagnetic interference. You can be certain that it will maintain a steady course throughout your flight time.
Return Home Feature: An impressive feature enabled by this advanced GPS system is the 'Return Home' function. If your drone loses connection or battery level drops below safe margins, it automatically returns to its launch point. How cool is that?
Fail-safe System: Emergencies are unavoidable during flights; however, with an intelligent fail-safe system prompted by its superior GPS feature, you get an additional layer of security.
As you can see, the GPS feature ensures not only accuracy during flight but, most importantly, safety and reliability for those moments when anything unexpected occurs.
Читайте также: What is the headless mode?
Бесщеточные двигатели
Another distinct attribute of the EXO X7 Ranger Plus drone lies in its brushless motors.
Noise Reduction: Unlike regular drones, which create quite a racket during flight, these brushless motors produce significantly less noise, making your flying experience more pleasant.
Power Efficiency: Thanks to these top-of-the-line motors in our Ranger X7 Exo unit, they are not just quiet but power-efficient as well. This means longer flights without worrying about frequent battery recharges.
Durability & Maintenance: Brushless motors have fewer parts that wear out compared to their brushed counterparts, which translates into longer lifespan and minimal maintenance.
With these brushless motors, you get a drone that delivers efficient performance, longevity, and is easier on your ears. Well worth the investment if you ask me!
The advanced GPS system and brushless motors are what make the EXO X7 Ranger Plus superior compared to many models within the same price range. In my book, this impressive piece of gadgetry more than justifies its ticket price through its standout features alone.
Читайте также: How to fix gimbal motor overload on a drone?
Pros And Cons of EXO X7 Ranger Plus
Before diving into the specifics of the EXO X7 Ranger Plus drone, it's important to note that every product has a blend of positives and negatives. Here's my personal account expressing the pros and cons borne out of extensive usage and analysis:
Плюсы
Stable And Protracted Flight Time: OBSERVATION- With a notable fly-time of up to 25 minutes, this drone delivers a stable flight experience. It functions at its best even under adverse weather conditions thanks to its robust weight of 624g.
Captivating Footage: The camera specifications are impressive, boasting 2K maximum video resolution with a maximum video bitrate reaching up to 20 Mbps, ensuring high-definition video capture.
Smart Features: The intelligent flight characteristics like Follow-Me mode and Waypoint Fly, among others, are a big plus point.
Detailed Coverage with Extended Range: Sporting an admirable transmission range up to 1500 feet, detailed exploration is never out of reach!
Compact Portable Design: Toting foldable design attributes enhances portability and storage convenience, making it user-friendly for people constantly on the move or having storage constraints.
Suitable For Diverse Climates: Its ability to operate within a wide temperature range (32-100℉) ensures usability across multiple geographies with varying climate needs.
Cons
Possible Portability Issue Due To Weight: Whilst its weight lends stability during flight, at 624g it could be slightly cumbersome for some users to carry around.
Absence Of High-end Professional Camera Specs: Although the drone offers impressive image quality, it lacks professional-grade camera specs as one would discover in other premium drones such as Parrot Anafi.
Limited Speed: A max speed of 25 mph might limit the thrill for some adventure-seeking users who require faster drones.
Recommendation – Who Should Buy the EXO X7 Ranger Plus?
Take a moment to imagine this: you're soaring above beautiful landscapes, capturing stunning images with ease. You have an operator's eye view of the world encased in top-notch resolution. Sounds exciting, right? That's exactly what you get when you bring home an EXO X7 Ranger Plus. But is this drone for everyone? Let's find out.
The EXO X7 Ranger Plus fits perfectly into the lifestyle of:
Photographers: If your portfolio needs that extra 'wow' factor, capture extraordinary angles and views using its robust 2K camera. The enhanced video bitrate of 20Mbps presents a noticeable difference in image quality.
Travel Enthusiasts: With its foldable design and compact dimensions (8x4x3 inches) combined with a weight of just 624 grams, it's easy to carry on all your adventures.
Drone Racing Fans: Its maximum speed of 25mph screams high-performance flying.
Beginners Looking for Easy Handling: This drone boasts intelligent flight features like Follow-Me Mode and Waypoint Fly, offering easier navigation, particularly for beginners.
It's also right for users who need longer flight times, with up to 25 minutes on offer here! The range might impress generously as well - it has a transmission reach of up to 1500 ft.
All-season Flying Enthusiasts might appreciate the operating temperature spectrum, which spans from chilly winters at freezing point (32°F) extending all the way to warm summer days (100°F)
Remember, folks - no matter your skill level or specific requirements, safety always comes first while flying any kind of drone.
If you're passionate about aerial photography or just want to experience flying from a new perspective, the EXO X7 Ranger Plus is definitely worth considering. It combines excellent flight features with brilliant imaging capabilities and significant flying time.
Читайте также: Balance Drone Propellers
Real User Opinions
Let's dive in and explore what real users have to say about the EXO X7 Ranger Plus.
Customer Reviews & Feedback
Overall, the feedback from customers who've purchased the EXO X7 Ranger Plus gives a pretty clear picture of what it's like to own this unit. Below are some of their thoughts:
Performance & Usability: Most users were impressed with its smooth handling and substantial flight time of 25 minutes, claiming that it was easy for beginners to get the hang of flying this drone. The device's ability to reach top speeds of 25mph also drew praise from users.
Camera Quality: Many customers appreciated the 2K maximum video resolution feature that enabled them to capture high-resolution imagery with ease. The maximum video bitrate of 20 Mbps was highly lauded for providing seamless streaming and lag-free gameplay.
Intelligent Flight Features: Reviewers also described how they enjoyed making use of its intelligent flight features - especially in Follow-Me Mode and Waypoint Fly, where they found the most value amidst all its features.
Foldable Design: A notable point that several customers raised was regarding its foldable design, which allows for easy transport and storage when not in use.
Despite these many favorable reviews, a few isolated cases showed some dissatisfaction, primarily around operating temperatures, particularly in areas with lower average temperatures outside the recommended range between 32 to 100 degrees Fahrenheit.
Читайте также: Best Drones for Christmas
Часто задаваемые вопросы
Is the EXO X7 Ranger Plus suitable for beginners?
Indeed, the EXO X7 Ranger Plus is very user-friendly and perfectly suited for novices. The intuitive controls and multiple intelligent flight features, such as Follow-Me Mode, make it a top choice for beginners.
How does it handle wind conditions?
Thanks to its robust design and a maximum speed of 25mph, this drone can handle moderate winds with little difficulty. Remember, though, if you're new to the world of drones navigating wind can a drone fly in strong winds?
Can you use other cameras with this drone besides its original one?
The EXO X7 Ranger Plus comes equipped with a standard 2K camera, but it doesn't readily support third-party cameras. Trust me when I say that its built-in camera is sufficient enough for stunning aerial photography.
What is included in the box?
With every purchase, you'll receive the EXO X7 Ranger Plus drone itself, a remote control, spare propellers, and an instructional manual to get you started. Unboxing your new gadget is always exciting!
Заключение
After thoroughly testing the EXO X7 Ranger Plus drone, I reached a clear conclusion. This is one remarkable machine. The quality of its build, coupled with impressive features such as Follow-Me Mode and Waypoint Fly, left me amazed.
Its flight time of 25 minutes and speed capacity of 25mph are mind-boggling, considering its compactness due to its foldable design. The transmission range of up to 1500 feet without losing any signal strength surpasses many competitors in the market.
But what stole my heart was its capable camera specifications, offering 2K maximum video resolution, ensuring high-quality footage every single time.
Key Takeaway Points
Powerful camera with 2K video resolution.
Outstanding transmission range of up to 1500 feet.
Feature-rich, including Follow-me mode and waypoint fly.
It has an astounding flight time of 25 minutes and an impressive speed limit.