Holy Stone HS440 Review 2023: A Perfect Drone To Start With
Updated On: Июль 23, 2023
Imagine you're preparing for an unforgettable drone-flying experience, and what's in your hands is the Святой камень HS440. You've heard about its stellar features and exceptional performance, but how does it really measure up?
In this in-depth review, we'll pull back the curtain on this popular беспилотник, examining everything from its impressive design to its camera capabilities. Whether you're a seasoned drone enthusiast or a beginner looking for your first quadcopter, understanding all facets of the HS440 will help you make an informed decision.
We'll delve into flight performance, battery life, transmitter quality, and more. By the end of our exploration, you'll have a comprehensive grasp of what this remarkable piece of aerial technology can offer. So buckle up; it's time to discover if the Holy Stone HS440 truly lives up to its reputation.
Key Specifications
Размер: 289 x 195 x 59 mm (Unfolded), 125 x 81 x 59 mm (Folded)
Камера: FOV 112°, HD1920 x 1080P
Flight Distance: 330 футов / 100 м
FPV Distance: 330 feet /100 m
Время полета: 20 мин
Аккумулятор: Lipo 7.22Wh, 3.8V 1900 mAh
Время зарядки: 180 min
Вес: 166g/5.9oz
Operating Frequency: 2.4Ghz
Operating Temperature Range: 32°F to +104°F (0°C to +40°C)
Pros and Cons of Holy Stone HS440
Плюсы
Compact Design
Long Flight Time
Управление жестами
Altitude Hold
Уклонение от препятствий
CONS
Ограниченный диапазон
Lacks GPS
Indoor Flight Recommended
Limited Camera Quality
Нет карданного шарнира
Holy Stone HS440: Aircraft Design
You'll be amazed at the compact and sleek design of the Holy Stone HS440, which effortlessly folds down to fit in the palm of your hand for easy transport and storage.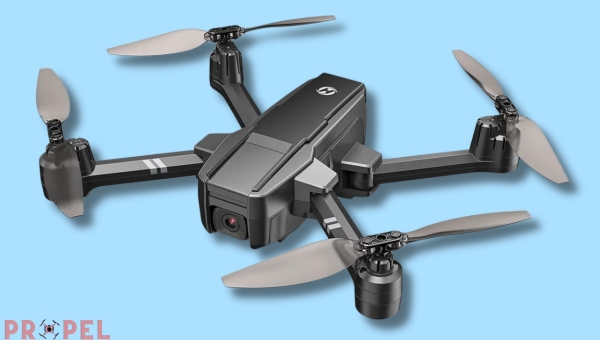 The aircraft's reduced size when folded, measuring a mere 125 x 81 x 59 mm, is a testament to its Compactness Factor that sets it apart from other drones on the market. Its lightweight frame weighing just 166g or approximately 5.9oz, further enhances its portability without compromising on performance.
The Holy Stone HS440 boasts impressive design durability that ensures it can withstand different flying conditions while maintaining top-notch functionality. The robust motor, identified as model number 8620, promises relentless power and stability in flight operations even under challenging circumstances.
This drone's operating temperature range extends between a chilling 32°F to a scorching +104°F (0°C to +40°C), demonstrating its resilience across various weather conditions.
In terms of aesthetics, color variants add an element of personalization to this already remarkable drone. You're not just buying a piece of tech but investing in something that reflects your unique style and sense of belonging within the drone community.
This drone doesn't just stop at being portable and durable; it also incorporates two-speed modes for versatile operation based on your skill level and requirements. Whether you're a beginner getting accustomed to flying or an experienced pilot seeking thrilling speeds, the Holy Stone HS440 caters to all with ease.
Without overstating it, this aircraft clearly showcases thoughtful design coupled with reliable durability, a combo hard to find but indeed present in the Holy Stone HS440.
Holy Stone HS440: Flight Performance
Imagine soaring high in the sky, with your HS440 drone reaching up to a 330 feet flight distance, and the same for FPV! You get this when you take control of the Holy Stone HS440. Its remarkable flight performance will leave you astounded.
One of the key elements that contribute to its superior flight performance is HS440's durability. It is designed to withstand wind resistance levels between 2 and 3 and ensures stable flights even on breezy days. Therefore, you can rest assured knowing your drone won't be easily swayed by unfavorable weather conditions - making it your reliable companion for outdoor adventures.
However, don't let this fool you into thinking it's only meant for the outdoors. The HS440 also excels in indoor usage thanks to its compact design and advanced features like One-Key Take-Off/Landing and Headless Mode. These features make maneuvering through smaller spaces a breeze while ensuring safety.
Further enhancing its flight performance are additional features such as Emergency Stop and Circle Fly mode. With Emergency Stop, you can immediately safeguard against any unforeseen situations during the flight. Meanwhile, Circle Fly mode allows the drone to circle around a specific point - perfect for capturing stunning aerial footage!
You'll also be impressed with its generous 20-minute flight time, longer than many drones on the market today! You can fully immerse yourself in flying without worrying about recharging too soon.
The Holy Stone HS440 truly offers an incredible balance of durability, advanced features, and impressive flight capabilities – a testament to why it's considered one of the top drones available today.
Holy Stone HS440: Camera
Stepping back in time, the camera on your HS440 drone is like an artist's paintbrush, skillfully capturing every detail with a finesse that'd make even Da Vinci envious. This drone features an FPV camera that operates on a 2.4 GHz frequency, ensuring seamless transmission of images and video footage.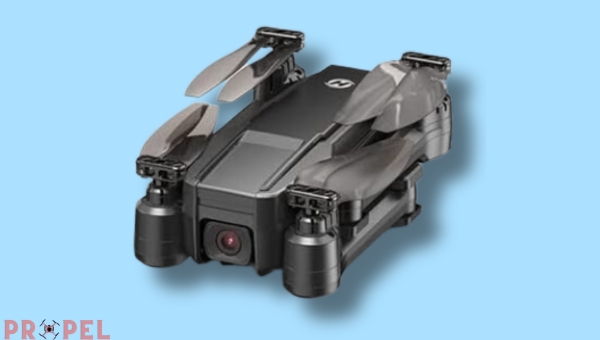 The image quality is fantastic, with a resolution of HD1920 x 1080P when stored in the TF card and HD1280 x 720P when viewed on your mobile phone.
The lens angle offers a FOV of 112°, which might seem restrictive compared to some models out there, but believe us when we say it's more than enough to capture breathtaking vistas or track fast-paced activities from above.
More so, the adjustable range of -90°~0° enhances camera stability by allowing you to tilt it according to your desired perspective for perfect shots.
A noteworthy feature of this Holy Stone HS440 camera is its live view quality at 20fps. This ensures smooth playback without stuttering or lagging effects while maintaining excellent picture clarity and vividness. So, you can be part of the action as if you were right there on-site.
Unfortunately, this model doesn't offer specific night vision features for those who enjoy nocturnal adventures or want to explore night vision capabilities. However, given its high-resolution output, you'll find its performance satisfactory under low-light conditions.
Remember, though, that this model supports up to a 32GB TF Card for storage, which isn't included in the package. So, keep that in mind while planning your aerial photography sessions with this remarkable piece from Holy Stone; an HS440 drone!
Holy Stone HS440: Battery
When it comes to the battery department, don't fret because the HS440's got you covered with its detachable 1.1Ah, 3.8V Lipo battery. It boasts a capacity of 1900 mAh, ensuring longer flight times and enhanced power efficiency during your drone operation.
Here are three key features of this impressive battery:
Quick Charging Time: The HS440's battery has a charging time of just 180 minutes (or three hours). This means less waiting and more flying for you! So, go ahead, and plan those lengthy exploration sessions without worrying about running out of juice.
High Durability: The robust design and build quality ensure that the battery is durable enough to withstand multiple charge cycles. You can trust in its reliability whether you're using your drone frequently or occasionally.
Efficient Power Management: With an energy rating of 7.22Wh, this battery offers efficient power management while ensuring steady performance throughout the flight duration.
With these attributes in mind, it's clear why so many drone enthusiasts feel at home with Holy Stone HS440. It doesn't just meet their needs, it exceeds them.
The Holy Stone HS440's 3.8V detachable Lipo Battery is certainly one of its prime features, setting it apart from other drones in its range by offering unprecedented power efficiency and maintaining excellent durability over time without compromising on performance or reliability.
So gear up for some high-flying adventures knowing that your Holy Stone HS440 is powered by a strong and reliable source, the heart of any great drone experience: the battery. What better way than this to truly belong in the world of droning?
Holy Stone HS440: Transmitter
Navigating your drone is as smooth as silk with the HS440's 2.4 GHz transmitter, offering you seamless control and unbroken connection even at significant distances. The transmitter never backs down when it comes to delivering top-notch performance, ensuring flawless operation, and providing a solid pilot experience unlike any other.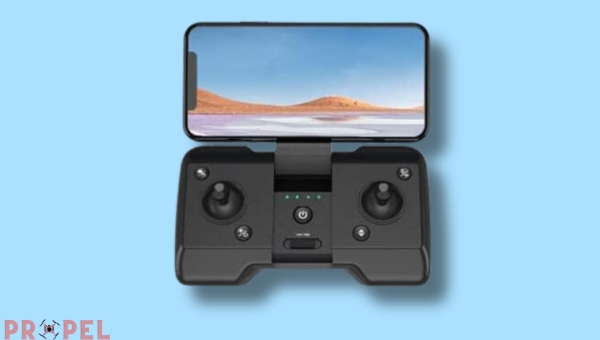 The transmitter range is often a concern for drone enthusiasts, but you can put those worries aside with the HS440. The advanced 2.4 GHz technology extends its reach further than most drones in its class, allowing you to explore vast landscapes from the convenience of your location without worrying about losing connection or control.
You'll be amazed by how responsive this little gadget is! The control responsiveness of the HS440's transmitter stands out remarkably - every command given via its controls translates instantly into action on your drone's end. This means that whether it's twists, turns, or complex maneuvers, your Holy Stone HS440 will respond swiftly and accurately.
Another noteworthy aspect of this device is its transmitter ergonomics; it fits comfortably in hand for extended periods without causing discomfort. Moreover, all buttons and joysticks are conveniently positioned for easy access while operating your drone. Its design prioritizes functionality and user comfortability - something that every drone enthusiast will appreciate.
So confidently take charge using the well-designed and highly efficient Holy Stone HS440 transmitter! With an extensive range, quick response time, and ergonomic design – managing your drone has never been easier or more enjoyable!
What Comes In The Box?
After discussing the Holy Stone HS440 transmitter, let's delve into what you'll find once you open up that box packaging. The anticipation is real as you unbox your new drone and discover all its accessories neatly packed inside.
Drone and Transmitter: Your journey begins with the star of the show - the Holy Stone HS440 drone itself, paired with a high-quality transmitter for seamless operation.
Drone Batteries: The package includes a set of drone batteries to power your device efficiently. Just charge them using the USB charging cable, and prepare for an exciting flight experience.
Extra Propellers: You will also find 4 extra propellers in case any damage occurs during use or if they wear out over time. These props are easy to replace, ensuring that you can keep flying without any prolonged downtime.
In addition to these primary components, critical accessories like a screwdriver for maintenance tasks and an instruction manual are part of the deal too. This detailed instruction manual guides you on how to operate your new gadget effectively while ensuring safe usage at all times.
The thoughtful inclusion of a carrying bag ensures that transporting your drone from one location to another becomes hassle-free without worrying about damaging parts or losing pieces.
As we explore further into what comes in this comprehensive package, it's clear that Holy Stone takes care not only in manufacturing superior drones but also pays attention to providing valuable extras such as additional propellers and convenient carrying solutions, a testament to their dedication towards customer satisfaction.
Therefore, when purchasing this product, rest assured knowing that every necessary gear required for an amazing flying experience has been covered in this well-thought-out package by Holy Stone.
FAQs About The Holy Stone HS440 Drone
What is the price of the Holy Stone HS440 drone?
You're intrigued by the HS440's durability and flight time, aren't you? However, drone maintenance can affect its cost. The price of the Holy Stone HS440 drone varies but is typically around $90-$110.
Does Holy Stone offer a warranty for the HS440 model?
Yes, Holy Stone provides warranty coverage for the HS440 model. You'll need to understand the claiming process and be aware of any warranty limitations. It's important to read their terms carefully for full benefits.
Can I purchase additional or replacement parts for the HS440?
Absolutely! You can buy extra parts for your HS440 that'll make its battery life feel eternal, extend the control range to the moon, and enhance camera quality like a Hollywood director's dream.
Is the Holy Stone HS440 suitable for beginners, or is it more aimed at experienced users?
You'll find the HS440 learning curve manageable as a beginner, thanks to its beginner-friendly features. Yet, its advanced user adaptability ensures that experienced users won't feel left out. It's truly a drone for everyone.
How does the Holy Stone HS440 compare to other drones in the same price range?
Compared to other drones in its price range, the HS440's camera quality is excellent. Its flight time is longer, and it proves durable in comparison. You'll feel a part of the drone community with the HS440.
Заключение
In a nutshell, the Holy Stone HS440 is your knight in shining armor in the drone world. It's incredibly designed with top-notch flight performance and an impressive camera.
The battery life won't leave you high and dry, and the transmitter works like a charm. Everything you need comes right in the box!
So don't wait, grab this medieval marvel of modern technology today for an unparalleled flying experience.