How to Start a Drone Business in 2023: Most Effective Method
Updated On: Сентябрь 7, 2023
In today's world, where emerging markets are growing at a breakneck pace, one sector that has shown unparalleled promise and growth is the drone industry. As the influence and versatility of drones continue to expand across a multitude of sectors like real estate, agriculture, security services, and even entertainment, there's never been a better time to ride this wave and start a drone business right now!
Imagine yourself offering unique services that cater to diverse industries and give you an adrenaline rush! Even more exciting is imagining your drone hovering across fields or capturing breathtaking pictures from unique angles far beyond human reach. Sound thrilling? But both enthusiasm and excitement aren't sufficient to launch a successful venture; it requires strategy, planning, skills & much more.
Join me on this journey as we delve into an interesting step-by-step guide on how to shape your entrepreneurial dreams by launching your very own drone business. With promising returns on investment (ROI) fueling rampant demand in this sector coupled with advancements in technology, buck up! Because the sky's the only limit when it comes to unmanned aerial businesses!
Why Start a Drone Business?
Droning can be more than just a hobby. In today's fast-paced technological landscape, starting a drone business can be one of the most rewarding decisions you make.
From fulfilling the increasing demand for commercial and recreational unmanned aerial services to venturing into an industry with remarkable growth, launching your very own drone business offers diverse opportunities and exciting challenges.
The Scope of the Drone Industry
The applications of drones span multiple industries, thus providing numerous compelling reasons to invest in this booming field. Here are some areas where drones have proven their versatility:
Photography: Drones equipped with high-definition cameras allow photographers to capture unique and visually striking images from unparalleled aerial viewpoints.
Surveying: In both urban planning and construction sectors, drones aid in acquiring accurate geospatial data at record speed.
Logistics & Delivery Services: Whether eCommerce giants or local grocery stores, everyone sees drone technology as an efficient delivery method.
Security Services: Drones equipped with surveillance technology provide highly effective security solutions for homes, public spaces, and commercial buildings.
It's clear that as long as advancements continue within this industry - so too do potential avenues of exploration for budding entrepreneurs contemplating starting their own drone business.
Step-by-step Guide to Starting Your Drone Business
Embarking on an entrepreneurial journey in the drone industry can be exciting and rewarding. With several applications across different sectors, owning a drone business offers a wealth of opportunities.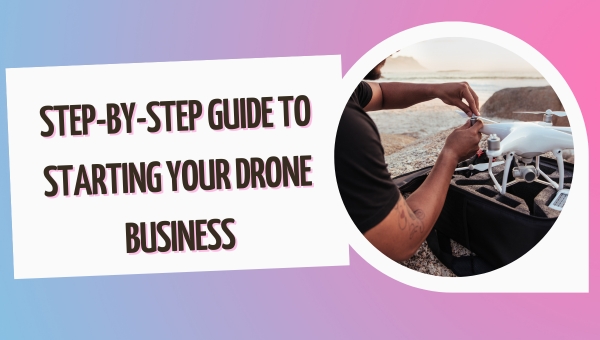 Here, I've broken down the key steps you need to take to launch your drone enterprise successfully.
Understanding Your Market
Before you take off, it's critical to familiarize yourself with your audience and competitors. To do this:
Conduct detailed market research.
Identify who your potential customers are.
Understand their needs and what solutions they're seeking.
Analyze your competitors - learn from their successes and mistakes.
Writing a Detailed Business Plan
A solid business plan is the backbone of any successful venture. It should include:
Your vision for the company.
An executive summary of your plans.
Detailed financial projections for at least three years.
Deciding Your Services
The next thing to consider is what services you'll offer, keeping customer needs and personal skills in mind. This could include:
Get Certified & Licensed
Getting FAA certified is both a legal requirement and an assurance of professionalism for clients. Look up FAA's Part 107 guide for more information on certification requirements, including passing an aeronautical test at an FAA facility.
Gathering Essential Equipment
Depending on your services, different types of drones and accessories are required. This list can typically include drones, remote controllers, batteries, and propellers, among other things that ensure operations run smoothly.
Читайте также: 10 Best Mapping Drones: Drones For 3D Mapping
Setting Up Your Pricing
Pricing structure decisions must take into account many factors like service complexity level or demand, etc. Remember these key points when establishing effective pricing strategies:
Stay competitive – review equivalent service prices from various industry players before fixing yours accordingly; never overprice yet maintain product/service good quality at all times.
Learning Essential Skills
Finally, remember that operating a successful drone business requires more than just piloting skills; knowing how to manage flight situations and safely software proficiency would also be necessary, especially while processing raw data captured by drones during different project applications, which may need additional programming/software management skills.
Ongoing training - seeking ways to consistently improve these sorts skillsets via online courses (like those provided by Udemy), local community courses, or hands-on experience is certainly valuable, thus ensuring steady improvement remains an undeniable part of any businessman's priorities list end-day helping consistently beat competition over time confidently enough!
Once all these steps are taken care of successfully, thus ensuring a solid foundation has been laid down ready, move towards focusing marketing efforts effectively, ensuring maximum profitability is reached without wasting resources unnecessarily, eventually helping build a highly profitable sustainable business forever!
Marketing & Scaling Your Drone Business
When launching your drone business, having top-tier equipment and technical mastery is just half the battle won. Developing and implementing unique marketing strategies that will set you apart from the competition is crucial to scale your venture.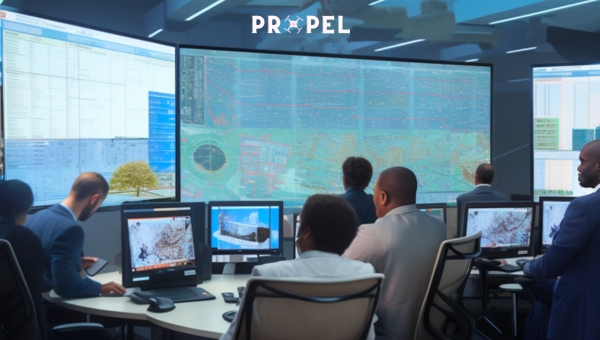 This section will expound on key strategies that can significantly aid in promoting your service offerings, both digitally and traditionally.
Building A Dedicated Website
Creating a professional website could mean all the difference when attracting potential clients. Not only does it serve as a showcase platform for your services, but it also provides essential information about you and your business.
A website helps establish credibility as a legitimate, professionally operated drone service provider.
Adding a blog segment to share knowledgeable content can greatly add value while improving SEO ranking simultaneously.
Implementing SEO Techniques
The online world is vast - do not underestimate its potential! Incorporate proven SEO techniques to maximize visibility across search engines.
Targeting relevant keywords related to drones or aerial photography could help place your site ahead of competitors on search listings.
Frequent updates with quality content can significantly boost rankings, too.
Leveraging Social Media Platforms
With millions of active users across multiple platforms worldwide - do not miss tapping into this fantastic marketing resource!
Posting regular updates of your work and engaging with followers aids in building brand awareness within the local community or even globally.
You could launch attractive campaigns that allure more audience, thus driving customer base growth.
Building Partnerships
Creating partnerships with businesses that could benefit from aerial imagery might open doors for steady income streams, ensuring stability for drone operators.
Reach out proactively to недвижимость agents, construction companies, or agriculture firms, which often require such services regularly.
Such collaborations ensure shared growth and build brand names, further edging out competitors.
Читайте также: 10 лучших советов по маркетингу вашего бизнеса с дронами
Часто задаваемые вопросы
Заключение
Launching your own drone business is an exciting venture, leveraging this futuristic industry's exponential growth and endless possibilities. However, it requires a solid understanding of your market, comprehensive planning, professional certification, investment in quality equipment, and strategic marketing efforts.
The journey to starting a drone business may be filled with challenges, yet it can truly be rewarding if done right. Developing fundamental technical skills while exploring innovative ideas can carve a niche for your business.
Your road to success in the drone industry goes beyond just flying drones; it extends towards inherent entrepreneurial grit, constant learning, effective networking, and, most importantly - pushing boundaries to deliver unique customer experiences. Remember - the sky's not the limit when you're soaring with drones!