Leyes sobre drones en Ucrania: Todo lo que necesita saber (2023 Actualizado)
Updated On: diciembre 20, 2022
In Ukraine, drones have become popularly utilized for a variety of purposes. The military uses them to patrol borders, monitor prohibited airspace, and assist in reconnaissance efforts.
Additionally, they are becoming increasingly popular with law enforcement officials as an efficient method of conducting surveillance operations.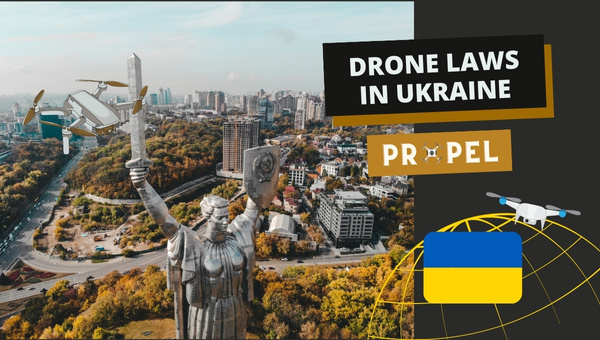 The widespread use of drones is also becoming more commonplace within the civilian population, with many people utilizing them for recreational activities such as aerial photography, racing competitions, and even package delivery services.
The possibilities that drones bring to our lives have made them increasingly popular in the past few years. And so has their regulation in many countries.
Whilst it's tempting to fly a drone whenever and wherever we want, understanding the laws and regulations applicable in each country should be a top priority when choosing to operate a drone.
This guide will cover essential information about drone laws in Ukraine, what activities are allowed, and how you can fly safely while knowing Ukrainian law is being followed.
General Drone Rules and Guidelines to Follow
Suppose you plan on flying an unmanned aircraft with a mass of 20 kg or less. In that case, you must obtain permits or alert the Air Forces units and Integrated Civil-Military ATM System (ICMS) in Ukraine, as well as the State Border Guard Service of Ukraine and civil/military Air Traffic Service (ATS).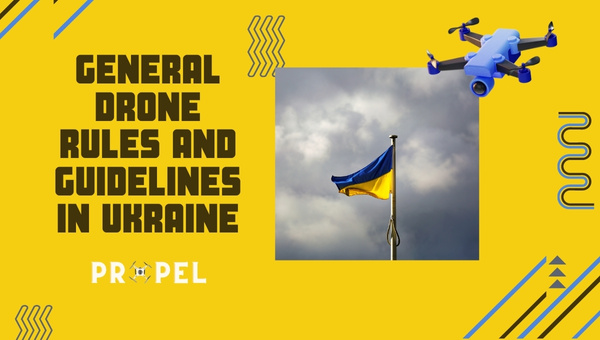 All you have to do is ensure your flight complies with the following requirements.
All flights take place exclusively within Ukrainian borders.
Soaring beyond the boundaries of Ukrainian airspace is only permissible under specific terms and conditions, as outlined in official Regulations governing air travel. Even then, any drone flight must adhere to all current limitations and prohibitions in place.
All flights must maintain a minimum distance of 5 km from the external boundaries of runways in aerodromes and 3 km from those of small aerodromes (with MTOM aircraft below 5700 kg) / heliports unless otherwise agreed with the operator.
Flights must be conducted at least 500 meters away from any manned aircraft.
All flights are conducted through a visual line of sight (VLOS) to ensure full visibility.
Drones are restricted to certain maximum flight altitudes as follows:

Fly 120 meters above the water's surface outside of the Controlled Traffic Region (CTR), Air Free-Flight Zone (AFIZ), Aircraft Takeoff and Landing Area (ATCA), Airport Traffic Control Zone (ATCZ), as well as other designated areas, routes, or special airspace.
If you plan to fly within the confines of CTR, AFIZ, ATCA, or ATCZ at an altitude 50 meters above water level and there is no information regarding specific airspace elements' current status, then take extra caution when navigating these designated zones.
At a horizontal distance of 100 meters or less from any obstacles, you must fly your aircraft 50 meters above static obstacles. You may deviate from this height requirement at the request of the owner of said objects.

Unmanned aircraft have a limited operating speed of up to 160 km/h.
All unmanned aircraft below 20 kg and any operations involving those over 20 kg are conducted within specific zones and routes that follow the necessary applications for airspace usage, permits, and conditions of use.
Likewise, all relevant units must be informed accordingly, such as the Air Forces of the Armed Forces of Ukraine, the State Border Guard Service of Ukraine, ICMS units, and ATS units.
Lea también: Leyes actualizadas de drones en Alemania: reglas a seguir
Pre-flight Instructions for Pilots
Prior to commencing work, the remote pilot should:
Ensure to be in optimal physical and mental health when operating unmanned aircraft (UA) to avoid the risks of diseases or injuries leading to a sudden lack of control.
Familiarize yourself with the UA instruction manual to prepare for any situation.
Keep informed about planned UAS operations, airspace utilization restrictions, and the prevailing conditions of flights.
To ensure a safe and successful UA flight, it is essential to be familiar with your flight zone. Be sure to review all conditions that may interfere or conflict with the operation, such as people, property, vehicles, roads, obstacles, and airfields in your intended flight path area. Additionally, pay close attention to any other elements which could pose a potential threat during UAV operations.
Prior to commencing operational activities, carefully analyze the start time weather conditions and the expected conditions during operation as detailed in your product's manual.
Before operating, inspect the lighting and nearby sources of electromagnetic energy that could adversely affect your equipment, like radio frequency interference or even physical harm.
Ensure that the UA is appropriate for flight and that its total weight, including payload and any other limitations, does not surpass the manufacturer's limits or standards. Additionally, follow all directives from the manufacturer to ensure a safe journey.
Ensure that you are utilizing the most up-to-date geo-awareness data (if such a feature is available) for maximum accuracy.
To ensure a successful mission, it is essential to guarantee that the UA has adequate motor power for its planned operations and any unanticipated events.
Instructions to Follow While Flying
While piloting remotely, the operator must ensure that they:
For the safety of everyone on the ground and in the air, Unmanned Aircraft must be operated with utmost caution. UAs should avoid interference with persons, animals, property, vehicles, airfields, or other airspace users by keeping a safe distance from them at all times.
In order to ensure the safety of Unmanned Aircraft operations, do not attempt any maneuvers that pose a risk and immediately end the flight if there is a potential danger to anyone.
Adhere to the manufacturer's specifications when utilizing Unmanned Aircraft.
To guarantee the safety of our airspace, it is essential that we continuously monitor and observe the area around UA to track any potential aircraft nearby.
Streamline your workflow by managing one UA at a time.
Strictly adhere to the pre-defined airspace usage limitations and prohibitions.
UA must not be utilized to drop any items or transport harmful substances, weapons, explosives, and devices that may be used to commit a criminal act. Exceptions are made for materials and substances employed in agricultural and forestry activities as long as their carriage does not violate existing laws.
Except in instances where they have received the necessary authorizations, airlines must not fly near or inside areas engaged in accident investigations or emergency response operations.
Lea también: Updated Drone Laws in South Carolina
Commercial Use of Drones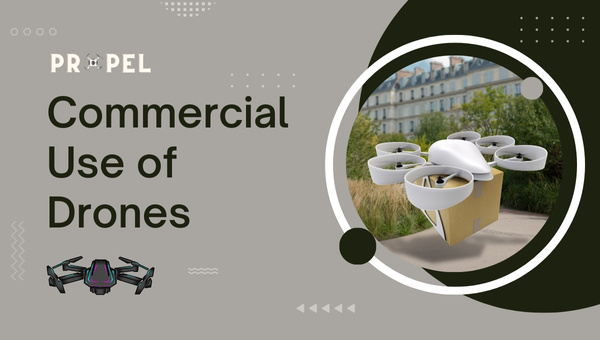 To use a drone for commercial reasons, take pictures or videos within city limits, fly in controlled airspace, or otherwise move past the boundaries of non-commercial utilization of drones; it is essential to communicate with applicable authorities and services as submit an application through UkSATSE for authorization.
Recreational Use of Drones
Generally, suppose your drone's maximum take-off weight (Maximum take-off mass or MTOM) is under 20 kg, and it's used for recreation or athletic activities.
In that case, no special authorization nor registration is needed as long as you observe certain guidelines - such as flying within visible range, not going beyond 120 m at a speed below 160 km/h away from restricted zones, and avoiding populated areas and crowds.
Lea también: Nuevas leyes de drones en Nueva Jersey
No-Drone Zones in Ukraine
No drone zones refer to areas where the use of unmanned aerial vehicles, more commonly referred to as drones, is restricted.
These air spaces can be divided into two categories - those restricted by domestic legislation and those that are regionally restricted due to international agreements or treaties.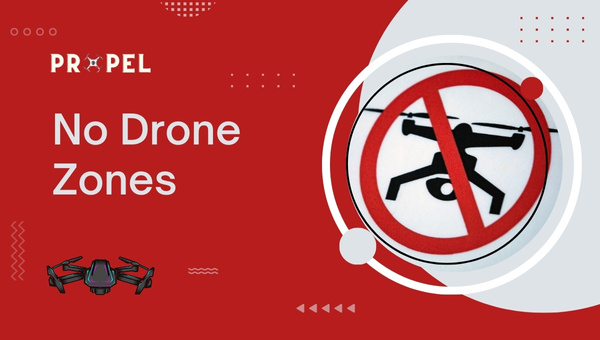 For example, airspace in Ukraine has been made a no-drone zone under an agreement between Russia, Belarus, and Ukraine. In this particular case, drones are not allowed within a certain distance from military facilities, considered enough of a security risk to warrant a restriction on their use.
Regarding domestic legislation, different countries often specify their rules for where drones are allowed to fly. Depending on the regulations, this can include parks, beaches, and even public buildings.
Understanding these guidelines is essential for anyone who wishes to use drones for recreational or commercial purposes. Given below is the list of restricted areas:
Throngs of people gather in outdoor spaces and bustling urban areas,
The National Guard of Ukraine
The State Fiscal Service of Ukraine
The Foreign Intelligence Service of Ukraine
The Department of the State Guard of Ukraine
No drone zones placed by the Ministry of Defense of Ukraine
The Ministry of Infrastructure in Ukraine.
The Department of Interior Affairs of Ukraine
The State Border Guard Service of Ukraine
The National Police of Ukraine
The Security Service of Ukraine
Except for flights permitted by the aforementioned authorities, Ukraine's laws and military formations dictate that certain areas surrounding these objects be marked with warning signs to prohibit unmanned aircraft flight. Thereby ensuring state protection is carried out efficiently in accordance with the rules of law.
The State Aviation Administration of Ukraine (SAAU)
The State Aviation Administration of Ukraine (SAAU) is an important governmental department responsible for overseeing, regulating, and controlling drones and other aircraft within Ukraine.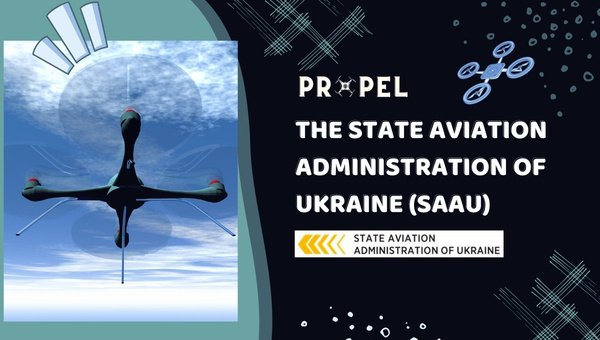 Specifically, they regulate publicly owned and privately owned drones, drone-related businesses, and technologies.
This includes approving aircraft registration certificates, managing accident investigations, issuing safety notifications and advisories, and investigating all incidents related to drones.
The SAAU also establishes flying zones for drones and provides investigative assistance in instances where illegal drones are used or abused.
It's clear that their work is essential in helping keep Ukrainian airspace safe while encouraging the economic benefits of drone innovation.
Lea también: Leyes de drones en Polonia: reglas a seguir
Preguntas frecuentes
Is it legal to operate drones in Ukraine?
Yes, it is legal to operate drones in Ukraine as long as the operator follows all applicable laws and regulations.
How to know about No-Drone Zones?
No-Drone Zones can be found through the State Aviation Administration of Ukraine (SAAU) or other government departments responsible for drone oversight, regulation, and control.
Do I need a license to operate a drone in Ukraine?
Yes, you need a valid license issued by the SAAU to operate a drone in Ukraine legally. The requirements vary depending on the type and purpose of your intended flight.
Conclusión
The rules and regulations governing the use of drones in Ukraine are designed to ensure safety, protect privacy, and promote responsible flying. By familiarizing yourself with these laws, you can enjoy the freedom and unforgettable experience of drone flying while respecting all applicable statutes.
Understanding Ukrainian law is also essential for ensuring that your operations remain compliant with local legislation. When in doubt, seek professional advice or engage a knowledgeable drone pilot for assistance with your flight.
With the right knowledge and guidance, you'll be able to get the most out of your drone flying experience while staying safe and within the law. We hope this article was helpful to you.
Please share your thoughts and experiences in the comments section and spread them to others who can take advantage of its contents.