ZLRC SG906 Pro 2: Best In-Depth Review (2023)
Updated On: octubre 25, 2023
If you're someone like me, passionate about drones and constantly on the lookout for a reliable flying companion, you probably have come across various models and brands. Today, I'm sharing my personal ZLRC SG906 Pro 2 Drone Review; it's one beast of a drone that has got quite the attention of hobbyists lately. We'll explore its features, unique specs, and overall performance and then weigh them against other models in this competitive market.
One of my favorite aspects about this drone is its perfect blend of affordability and luxury in terms of features. The SG906 Pro 2 is not just packed with state-of-the-art functionalities but also comes at a reasonable price tag, which makes it an attractive deal for drone enthusiasts.
What You'll Grasp From This Place?
Comprehensive understanding from our ZLRC SG906 Pro 2 review
In-depth exploration of the SG906 pro's key specifications
Solid comparison between drone SG906 pro versus other models
Highlighting unique benefits as per the beast sg906 pro review
A Quick Overview of ZLRC SG906 Pro 2
Today, I'll be sharing my thoughts about the ZLRC SG906 Pro 2 drone. Packed with impressive features, it has gained popularity among drone enthusiasts and professionals alike.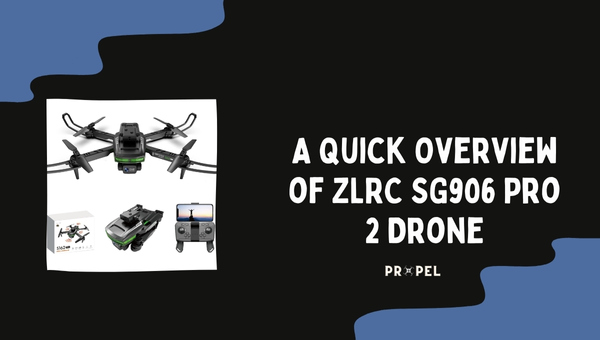 With a remarkable control distance, incredible flight altitude, and lengthy flight time on a fully-charged battery, this flying beast lives up to its reputation.
A Closer Look at the Specifications
| Especificación | Detalles |
| --- | --- |
| Size (LxWxH) Not Folded | 28.3 x 25.3 x 7cm |
| Size (Compact Form) | 17.4 x 8.4 x 7cm |
| Control Distance | 1200 metros |
| Flight Altitude | 800 meters |
| Battery Specs | 3400mAh |
| Flight Duration | 26 minutos |
| Fully Charged Duration | Around 6 hours |
| Max Speed Reached | 40 km/h |
| Camera Quality Fitted In Device | 4K |
| Video Resolution Captured By Device Camera | 2048 × 1080 pixels |
| Satellite System | Utilized By Device GLONASS , GPS |
| Device Weight | 551.8 grams |
| Mando a distancia | WiFi remote control. |
Lea también: How to Store Drones
Overlook of the ZLRC SG906 Pro 2
When it comes to selecting a top-notch drone with advanced features, the ZLRC SG906 Pro 2 often tops the list. Unboxing this beauty is nothing short of thrilling. From its compact size to its robust construction, everything about this drone screams quality!
Design and Features
Right out of the box, my first impression of the SG906 Pro 2 is its exquisite design. With dimensions standing at 28.3 x 25.3 x 7cm when unfolded and 17.4 x 8.4 x 7cm when folded, it gives off an aura of compactness and portability without compromising on structural integrity.
Weighing only at approximately 551 grams, the SG906 pro is not lightweight in terms of capabilities but is indeed light in weight, which is great for transport and flight performance as well.
For those passionate about speed like me, you'll be thrilled to learn that this beast can reach a maximum speed of up to 40 km/h!
In terms of color schemes, I find their simple yet classy combinations appealing to a wide range of demographics - whether you're a teenager looking for your first drone or an adult technological enthusiast wanting some novelty in your gadget line-up.
In-the-box Accessories
Unboxing gadgets always gives me an adrenaline rush! The same was true for me unboxing the ZLRC SG906 Pro 2.
The first thing that captured my attention was its remote control, designed with WiFi capability! An advanced feature that sets it far apart from many models on the market today.
Next up is our very vital power source –a sleek, impeccably designed battery boasting a capacity of our whoppingly impressive 3400mAh, meaning extended flight time of up to 26 minutos on a single charge! Now you can capture more without that nagging worry about limited battery life. But remember, it does take about 6 hours to recharge completely.
Moreover, it comes with the GLONASS and GPS satellite system, which is amazing for positioning and less worrying about accidental crashes.
You also get other handy tools, such as charging equipment and spare parts. They've spared no expense in ensuring you have everything you need to leverage this drone's capabilities fully.
Lea también: Revisión del Ruko F11 Pro
Detailed Feature Breakdown
An in-depth examination of the ZLRC SG906 Pro 2 Review is important for drone enthusiasts and potential buyers. Therefore, breaking down its intricate features into more digestible chunks is what I intend to do in this segment.
Especificaciones de la cámara
To begin with, let's look at the camera, which is an integral part of any drone. The SG906 Pro 2 packs a great camera, but let's dive deeper to see what it brings on board.
High-resolution video: The camera captures videos at a resolution of 2048 × 1080 pixels, essentially giving you 4K footage. This means that your videos would have stunning clarity and detail.
Vari-angle shooting: Its unique structure allows you to adjust the angle of the lens, giving you flexibility when it comes to taking creative shots.
Ideal for aerial photography: With such powerful photo features, this drone is perfect for photographers who want to add a new dynamic angle to their portfolio. Its ability to hover steadily in windy conditions means you will get clear still images almost every time.
I cannot stress enough how excellent these camera specifications are on the SG906 Pro 2. It makes me excited just thinking about all the innovative shots one could take!
Lea también: Photogrammetry vs Lidar
Flight Performance
Next up, we assess how well this drone performs in flight. With regard to:
Tiempo de vuelo: A full charge grants the SG906 Pro 2 a maximum flying time of approximately 26 minutes - way above average, I must say!
Control range: The control range extends up to an impressive distance of 1200 meters, allowing explorative pilots plenty of space for adventure.
Maximum speed: With a top speed reaching up to around 40km/h, the drone is fast enough to follow moving items or capture breathtaking footage at high velocity.
Stability: Thanks to its modern design, this drone sails with unexpected ease and peace even in slightly windy conditions.
Control Options
Lastly, we have to touch on its control options, which have been significantly upgraded from its predecessor, the original SG906 Pro.
GPS-controlled flight patterns: The SG906 Pro 2 makes use of GPS for an enhanced flight experience. With precise positioning provided by the GLONASS satellite system, you can draw a path on your phone screen and watch your drone motionlessly follow that path!
App-controlled options: Have total control of your drone through the WiFi remote control. It allows you to steer your drone effortlessly while also providing a direct live video feed from your drone.
Safety features: There's also an auto 'return home' feature that gets activated if you lose connection or if battery levels get too low.
Lea también: Serialized Number on DJI Drones.
Pros and Cons of ZLRC SG906 Pro 2
As I venture into the world of drones, exploring different models and testing out their features, I've learned a thing or two about what makes a drone good, bad, or exceptional. Some drones are made for speed, while others are built for stability; some models focus on vast distance range while others stress on camera quality.
The ZLRC SG906 Pro 2 caught my eye recently due to its advanced technology and user-friendly nature. I'll share what I discovered about this drone's strengths as well as its weaknesses.
Advantages of ZLRC SG906 Pro 2
One major plus point when looking at the SG906 Pro 2 is undoubtedly its size; with dimensions measuring just 28.3 x 25.3 x 7cm when unfolded and shrinking to a compact 17.4 x 8.4 x 7cm when packed away, it's incredibly portable and easy to transport.
Its control distance is impressive too, reaching up to 1200 metros, more than sufficient for most users' needs in outdoor aerial photography or casual flying hobbyists alike. Its flight altitude is also noteworthy, standing at a staggering 800 meters, allowing you to get some fantastic high-angle shots.
The battery life of 3400mAh allows the drone to have a commendable flight time of approximately 26 minutos, giving you plenty of time in the air before having to land it safely for a recharge.
Perhaps one of this drone's most endearing features is its camera quality, with exclusive capabilities in shooting 4K video resolution. At an excellent quality setting of 2048 × 1080 pixels, any pictures and videos recorded using this unit are bound to be crystal clear with vivid colors.
From my observations so far, it seems the ZLRC SG906 Pro has more advantages than disadvantages.
Lea también: Crítica del Parrot Anafi
Disadvantages of ZLRC SG906 Pro 2
However, even the most renowned gadgets have a few drawbacks, and the same goes for the ZLRC SG906 Pro 2. One such issue could be its slightly unattractive flight speed, which peaks at around 40 km/h, making it less suitable for drone racers.
Additionally, the relatively long charging time of approximately 6 hours might not appeal to those who are impatient or want to use their drone often without much downtime.
En weight of the drone also sits on the heavier side at 551.8 grams, which might feel a little chunky in comparison to other models on the market.
A point I'd raise is that it operates with a WiFi remote control, which can sometimes limit its performance if you're in an area with an unstable internet connection.
After spending a considerable amount of time with the ZLRC SG906 Pro 2, pouring over its features and performance, I am more than ready to share my thoughts on this popular drone. Whether you're interested in aerial photography or want an exciting gadget for your next outdoor adventure, sit back, relax, and enjoy this comprehensive ZLRC SG906 Pro 2 review.
Comparison to Other Drones in the Market
When I first got my hands on the ZLRC SG906 Pro 2, I was expecting much of the same as what I had seen from other drones on the market.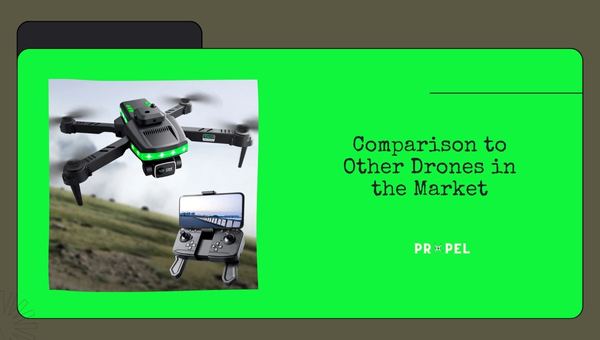 However, I was pleasantly surprised to find that it held its own against some of the top competition out there. Below is a closer look at how it compares to other leading drones in terms of features.
Top Competitors
Firstly, let's identify who are the closest competitors to this model and how they match up based on their features.
Parrot Anafi: Weighing a little over 300 grams and boasting a maximum flight time of 25 minutes, this competitor falls slightly short when compared side by side with our SG906 pro, which boasts an impressive flight time of 26 minutes. Although both models possess high-quality cameras capable of streaming in stunning 4K resolution, Anafi misses out due in part to its lesser weight limit, which stands at about half when compared with our SG906 pro 2's weight limit at roughly 552 grams. For more details, have a look at my previous breakdown of the Crítica del Parrot Anafi article.
Potensic D80: Clocking an amazing distance range that falls just under 1200 metros, one would be hard-pressed not to take notice of this beast amongst drones. Similarities could be drawn between these two contenders, seeing as they share virtually similar speed capacity hovering around 40 km/h,; our pick for today edges ahead courtesy of its slightly superior battery rating pitched against Potensic's rather conservative battery score standing around 1800mAh as opposed to our beast sg906 pro featuring an astounding 3400mAh powerhouse guaranteeing extended periods doing your favorite soar through the skies.
Snaptain SP600: Championing a rather conservative flight altitude capped at 90 meters, it stood no competition in comparison to our SG906 pro's mind-boggling flight altitude of over 800 meters. With video resolution pegged at 720p HD alongside its inferior control distance portfolio capped at roughly 200 meters remote range, in my expert opinion, this is no match for our drone sg906 pro model boasting values soaring anywhere between 800 - 1200 meters. I've done a deep dive into the Snaptain SP600's features in Revisión de Snaptain SP600.
Lea también: Revisión de Snaptain SP600
Recommendation – Who Should Buy It?
Before you make a decision to purchase the ZLRC SG906 Pro 2 drone, it's crucial to understand who can get the most benefit from this model. The truth is, while some drones cater more to hobbyists or cinematographers, the ZLRC SG906 Pro 2 truly balances the spectrum.
Professional Photographers/Videographers: With its 4K camera and video resolution of up to 2048 × 1080 pixels, this beast is simply a perfect tool for professionals in photography and videography. Especially when you consider its ability to fly at an altitude of up to 800 meters with a control distance of an impressive 1200 meters.
Adventure Enthusiasts: For all those thrill-seekers out there who love experiencing their adventures from thrilling new perspectives, this drone is for you. Along with its excellent flight time of up to 26 minutes and maximum speed of around 40 km/h, exploring landscapes from above has never been easier or more exciting.
Tech-Savvy Hobbyists: If you're that tech enthusiast with enthusiasm for the latest gadgets, then look no further. With a GLONASS & GPS satellite system integrated, a folding design for easy transport and WiFi remote control, it's definitely a must-have.
Beginner-to-intermediate Pilots: Because of its ease-of-use and reliable performance features, such as being equipped with a sturdy battery that lasts about six hours on average before needing recharging, it can be considered ideal for first-time users or intermediate pilots looking forward to honing their skills.
Lea también: Revisión de Potensic D80
User Experience
Let me take you through the various features and characteristics that contribute to the user experience of the ZLRC SG906 Pro 2.
User Reviews & Ratings
From hands-on experience, I can confirm that this drone lives up to its 'Beast' moniker. But don't just take my word for it; let's delve into what other users are saying about their SG906 pro two experiences.
Flight Performance
Users generally rave about the impressive flight performance of this drone, sg906 pro. With a staggering control distance of 1200 meters and a maximum flight altitude that goes up to a whopping 800 meters, it's no surprise that outdoor enthusiasts are particularly fond of this beast, the SG906 Pro.
Duración de la batería: One feature that consistently receives high praise is battery life. The drone comes with a spectacular 3400mAh battery, offering an extensive flight time of approximately 26 minutes.
Velocidad: Another commendation from users is for its speed. Reaching a maximum speed of roughly 40 km/hour, you could literally race with the winds!
Calidad de la cámara
When it came to camera quality on their Zlrc sg906 pro two reviews, users were increasingly pleased by the exceptional clarity and stability.
Camera functionality: The onboard camera offers 4K resolution, capturing stunning images with video resolution pegged at 2048 × 1080 pixels.
Most reviews pointed at its low light performance being slightly less ideal than other conditions. However, considering its price point and overall performance in good lighting conditions, this minor shortcoming doesn't affect its reputation in any significant way.
Ease of Use
Many users have highlighted the intuitional nature of the drone's controls, commending its user-friendly design. The WiFi remote control provided is easy to understand and operate.
Peso: Consumers also appreciate the drone's portability, facilitated by its foldable design and lightweight construction of 551.8 grams.
However, a few reviews have pointed at a somewhat complicated procedure for calibration during setup for their SG906 pro 2, though they agree that after overcoming this hurdle, everything else falls smoothly into place.
Lea también: Revisión de Hubsan Zino Pro Plus
Preguntas frecuentes
Are spare parts easily available for the ZLRC SG906 Pro 2 Drone?
Absolutely! Spare parts for the drone are readily accessible, making servicing and maintenance a breeze.
What is the maximum controllable distance?
The SG906 Pro 2 commands an impressive control distance of up to 1200 meters.
Are there any safety features included in the drone's software?
Certainly! The drone features an array of safety mechanisms, including GPS and GLONASS satellite systems for precise navigation and positioning.
How does GPS work on this model?
The ZLRC SG906 Pro 2 utilizes both GPS and GLONASS. These systems work harmoniously to provide accurate location data, enabling complete control over flight paths, even at its maximum altitude of 800 meters.
Conclusión
This ZLRC SG906 Pro 2 review has been an enlightening journey for me. The sheer power, speed, and precision of this drone left me in awe. It's undoubtedly one of the best drones I've ever had the pleasure of operating.
Its considerable flight altitude and distance, coupled with a reasonable flight period and rapid tiempo de carga, make it an excellent choice for anyone seeking high-performance aerial photography equipment.
The SG906 Pro 2 floored me with its advanced satellite system that ensured accurate tracking throughout my flight expeditions. At no point did I feel this drone was out of control or that my command wasn't being obeyed instantly?