Contixo F21 Drone Review: The Ultimate Guide (2023)
Updated On: octobre 21, 2023
In a market flooded with drones at every corner, making the perfect purchase can feel like anything but a walk in the park. Trust me, I've been there. However, I'm here to help you navigate this jungle and provide you with an in-depth Contixo F21 review to make things slightly easier for you!
From my very first flight session with this drone, I came to appreciate its camera lens featuring an FOV of 60 degrees. If capturing high-quality pictures and videos is your thing, then join me on this exciting journey as we explore more about its remarkable features together.
If pulsating power and efficiency packed within sleek design excite you as they do me - let's cut right to the chase: The F21 Contixo drone is amazing! This piece of technology defines not only versatility but also portability. Ready for some geeky fun? Buckle up! We're about to take off!
A Quick Overview of Contixo F21 Drone Review
As an avid drone enthusiast, I recently had the pleasure of testing out the Contixo F21 drone. And boy, was it a delight! To sum up my Contixo F21 Drone review: It's a high-quality hobby-grade quadcopter with sterling specifications that stood up purely to my expectations.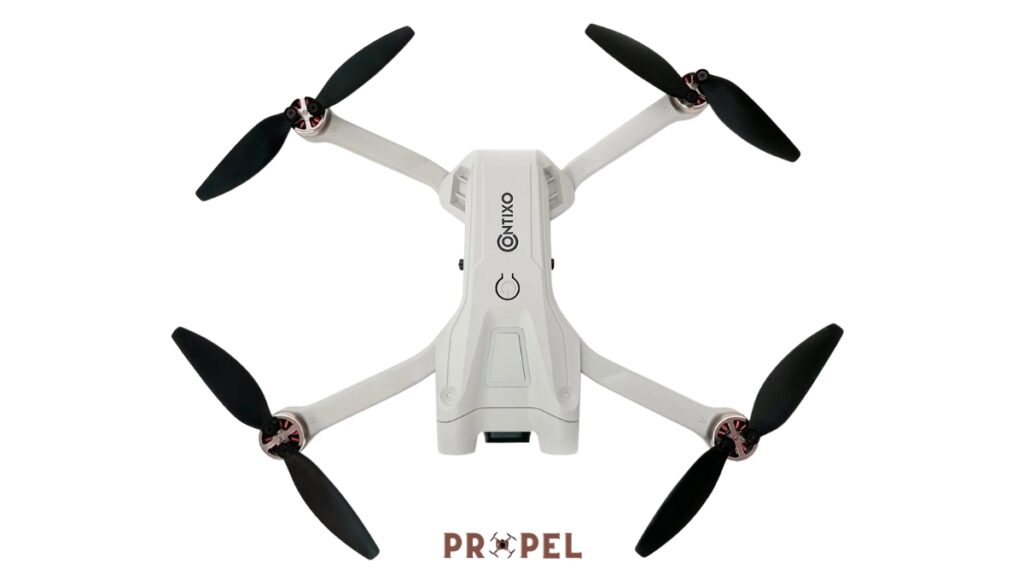 Easy to fly, sturdy, and well-built - it's evident that they've engineered it with the end-user experience in mind. But let me not just tell you about it – let me show you all these facts.
A Closer Look at the Specifications
Here's a quick rundown on what makes this model so exceptional:
| Spécifications | Détail |
| --- | --- |
| Camera Lens | FOV 60° |
| Adjustable Camera Angle | 90° to 15° |
| Camera Resolution | 1920 x 1080 |
| Control Frequency | 2.4 GHz |
| Drone Battery | 3.7V 1300mAh Li-Po |
| Moteurs sans balais | 1503 for enhanced performance |
| Plage de vol | Up to 500 feet for extensive exploration |
| Wireless Camera | 2.4 GHz for real-time video transmission |
| Video Transmission Range | Up to 160 feet for FPV (First Person View) |
| Temps de vol | Up to 16 minutes per battery |
| Temps de charge | Approximately 90 minutes for a full charge |
Design & Build Quality
Upon first laying eyes on the Contixo F21, I was nothing short of impressed. This stunning drone seamlessly blends impeccable design with reliable build quality, resulting in a perfect symphony of aesthetic appeal and performance functionality.
Before we delve into the details, let's quickly peruse through some key highlights:
Aesthetic Design: The Contixo F21 dons an impressive, sleek, streamlined appearance that undoubtedly warrants a second glance.
Structural Build Quality: It's not just all about looks. Beyond its dazzling exterior lies a robust and highly durable structure crafted from premium materials.
Now, let's take a closer look at these attributes:
Aesthetic Design
Le aesthetic design of the Contixo F21 Drone is worth applauding. It steals the show with its matte black finish that exudes an air of elegance and sophistication. The propellers are neatly tucked away when folded up, enhancing portability while protecting them from potential damage during transit.
Its foldable design takes convenience up a notch, making it suitable for outdoor adventures while ensuring an easy fit in backpacks or hand luggage. Once unfolded for flight, its sleek profile cuts through the air, creating mesmerizing designs in flight paths while promising exhilarating moments ahead.
Structural Build Quality
Coming over to the structural build quality, I found it to be top-notch, showcasing sturdy construction built to withstand contingencies. Amongst its range of noteworthy features like control frequency and high-resolution camera is its brushless motors (1503), which means improved performance under various conditions.
The use of 3.7V 1300mAh Li-Po batteries guarantees impressive flight times lasting up to 16 minutes per full charge, which typically takes around 90 minutes.
What won me over completely was the inclusion of the Glonass positioning system, which is often found in higher-end models only. This ensures accurate flight precision, addressing both beginners' and professionals' navigation needs.
Performance Analysis
Before I review the Contixo F21 drone, it's important to remember these two critical elements: flight and camera performance. I'll examine each aspect in detail to provide you with a complete understanding of what this drone has to offer.
Flight Performance
When it comes to drones, flight performance plays a crucial role. Remember that stability, agility, and speed dictate how smoothly your drone responds and adapts mid-air.
Stability: The Contixo F21 drone ensures stable flights even under challenging wind conditions with its 1503 Brushless Motors. You'd be surprised by its ability to retain position steadfastly amidst strong winds thanks not only to the motors but also to the Glonass positioning system, contributing greatly to accurate flight precision.
Agility: With a control frequency of 2.4 GHz and a maximum range of approximately 500 feet, this drone is agile enough for speedy maneuvers and aerial tricks without any lag between your commands and the drone's movement.
Vitesse: Those into racing drones or using them for fast-paced action videography will find the F21 context fitting their needs quite adequately. Its top speed is yet unreported officially, but real-world users have found it elegant enough for their needs.
Lire aussi : Drones Fly Away
Camera Performance
The vital component that turns flying devices into useful tools or entertainment gadgets is, indeed, their camera capabilities.
Image Quality: The camera offers a resolution of 1920 x 1080, which may seem modest compared with some high-end competitors, yet the image quality remains crisp with vibrant colors.
Video Resolution: Video shoots come across as clear and thoroughly enjoyable due largely to the FOV (Field of View) 60° lens. Interestingly, the angle is adjustable between -90° and +15°.
Stabilisation: Although mechanical gimbal isn't part of the package for the F21, the drone makes up for it with astonishingly steady video shooting, in no mean part due to its in-flight stability.
When you're exploring a landscape or covering an event via your Contixo F21 drone, these features make your work effortless and quality-rich.
Lire aussi : Meilleurs drones pour la photogrammétrie
User-Friendliness
When it comes to drones, especially for those who are just starting in the drone world, user-friendliness is paramount. The Contixo F21 doesn't disappoint in this regard. There are two main aspects that I want to cover concerning how user-friendly the F21 Contixo drone is: its usability for beginners and the experience of using its corresponding drone app.
Usability for Beginners
It's important to highlight that the Contixo F21 is designed with beginners in mind:
Ease of Operation: As a beginner, there can be a lot to get your head around when you first start flying a drone. With this in mind, the Contixo f21 has been created to be easy to use right out of the box. It has an intuitive controller design that makes flight controls simple, even if it's your first flight ever!
Responsiveness: Another critical aspect is how responsive the drone is to commands from the controller. The context f21 review* shows that its reactiveness on inputs from remote is precise, making it great for learners.
Lire aussi: Les meilleurs drones
Drone App Experience
An often overlooked aspect when evaluating drones' user-friendliness but equally important nonetheless is their respective apps:
Utility: A good app can essentially add features and capabilities to your drone beyond what comes with just using a controller.
The Contixo F21 utilizes an app that communicates wirelessly at 2.4 GHz frequency. This allows real-time video transmission along with controlling camera functions like adjusting angles and snapping photos or recording videos.
User Interaction: Not all apps are created equal when it comes down to ease of use, resulting in poor user experience. However, once again, based on multiple Contixo f21 reviews, their proprietary mobile application stands out positively, being sleek yet feature-packed. It has a user-friendly interface that lets you monitor your drone's status, adjust settings, and even view real-time video during flights, all with ease.
Pros And Cons of Contixo F21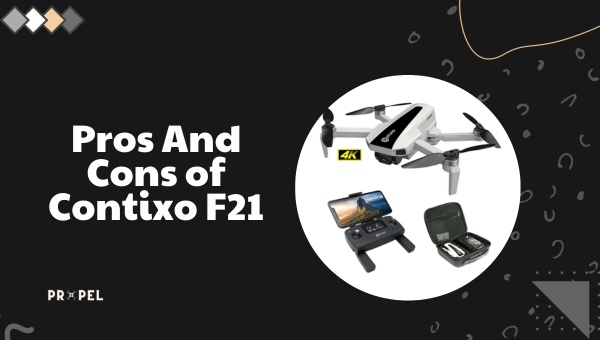 Having had the opportunity to take the F21 Contixo drone for a spin, I've gathered a comprehensive list of advantages and drawbacks to provide an honest perspective. This way, you'll have all the knowledge necessary to make an informed decision without any regret.
Pros:
Powerful Performance: With 1503 brushless motors, the Contixo f21 drone offers an enhanced performance that facilitates fascinating flight experiences.
High-Quality Camera: With a camera resolution of 1920 x 1080 and an adjustable angle from -90° to15°, this drone delivers top-tier photography for all your adventure documentation needs.
Reliable Battery Life: Each battery promises up to 16 minutes of flight time. Considering it takes only approximately 90 minutes for a full battery charge, you can enjoy extended periods of exciting exploration.
Impressive Flight Range: The ability to fly up to 500 feet allows extensive exploration. Whether you're filming nature or tracking your jog through the park, this range is incredibly handy.
Clever Designing: One of the best features of Contixo f21 is its foldable design, which makes it convenient and highly portable for outdoor adventures.
Cons:
Limited Video Transmission Range: Although FPV (First Person View) capability comes with this drone, its range is limited at about 160 feet, which might prove wanting in some scenarios.
Control Frequency Interference: The control frequency operates at regular conditions like most drones; however, there could be interference in areas with many other signals acting on a similar frequency.
You may also want to check tips on how to choose drones that perfectly meet your expectations in our Les meilleurs drones autonomes guide. Don't forget to read various exciting drone reviews like Revue Autel Evo Nano, among others!
Recommendation – Who Should Buy It?
When it comes to the versatile Contixo F21 drone, I believe it's a fantastic choice for a variety of users. Its impressive features make it a model that can offer immense value to just about anyone with an interest in drones.
Here's who I think can truly benefit from this model:
Drone Enthusiasts: If you're keen on exploring drone technology and want something that combines top-notch performance with ease of use, this might be your dream come true. With its stunning camera resolution and extensive flight range, the Contixo F21 allows you to capture breathtaking panoramic views, which makes those ordinary flights extraordinarily scenic.
Photographers/Videographers: The adjustable camera angle allows photographers and videographers precise control over their shots. If aerial photography is what fascinates you or is part of your profession, then the Contixo F21, according to my Contixo F21 review, definitely deserves your attention.
Outdoor Adventure Lovers: Its foldable design means that it's highly portable. You can easily carry it along on hiking socks or camping trips for some spectacular aerial footage in the wild.
Beginners: Despite its plethora of advanced features, the F21 Contixo drone is surprisingly beginner-friendly. It also comes equipped with several beginner-friendly features, such as a return home function or stable hover that assists during flight.
FAQ
How durable is the construction material used in making the drone?
The Contixo F21 drone uses robust and high-quality materials, ensuring durability and resistance even against rough handling.
How does it perform under gusty winds?
Thanks to the powerful 1503 brushless motors, this drone maintains stable flight even under gusty winds. Its precision positioning system further aids flight stability.
What makes it stand out from other drones available at similar price segments?
The standout features of the F21 Contixo drone include its impressive camera resolution of 1920 x 1080, adjustable camera angle, long flight time of up to 16 minutes per battery, and sleek, foldable design for portability.
Conclusion
After looking closely at the Contixo F21 drone, I am left thoroughly impressed. The drone's sleek, foldable design, coupled with its impressive camera resolution, offers quite a competitive package for avid drone enthusiasts. The extensive flight range and the video transmission range are advantageous for far-flung explorations while capturing stunning visuals.
The brushless motors enhance performance, giving you a smooth and streamlined flight experience. The powerful battery extends the fun up to 16 minutes per charge, giving you plenty of airtime to experiment with your flying skills while also capturing your favorite moments in high-resolution clarity. It's all really simple to operate with its Glonass positioning system, ensuring accurate flight precision.