Updated Drone Laws In Turkey In 2023: Rules You Must Know
Updated On: Dezembro 22, 2022
The use of drones in Turkey has become much more popular over the past few years, as these aerial vehicles are being used for civilian, governmental, and military applications.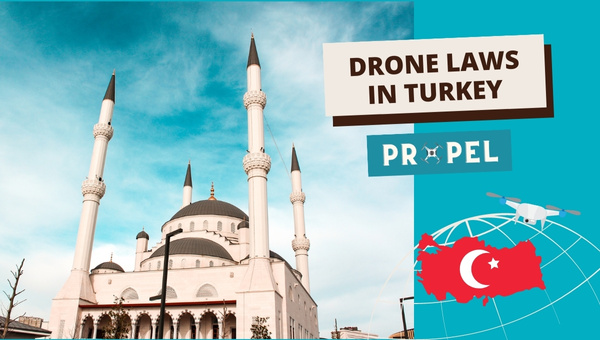 The Turkish government has used drones for surveillance purposes and for delivering small packages in some parts of the country.
Civilians take advantage of drones to document events such as large protests and rallies and capture stunning aerial footage of nature or landmarks.
Drones have become increasingly popular lately, and it's no wonder why – they provide a plethora of opportunities for recreational and commercial operations. But, if you want to fly in Turkey, you should be aware that there are rules governing the usage of drones here.
In this blog post, we'll explore the various drone laws in Turkey so you can get up-to-date information on what's legal or illegal when flying here.
Leia também: New Drone Laws In The USA
General Drone Laws in Turkey (2023)
DGSAA, the Turkish agency supervising drones for safety and security, has offered internet users an abundance of information about flying a drone either recreationally or professionally.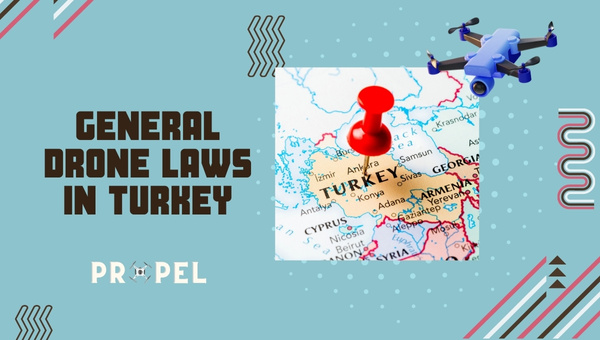 To make it easier to access this useful knowledge, here are some often sought-after highlights:
In Turkey, it is permissible to purchase and operate drones in accordance with the law.
If you intend to bring Unmanned Aerial Vehicles (UAVs) into Turkey, it is mandatory to submit a Letter of Application at the customs office for clearance.
Model aircraft and UAVs under 4 kg, with speeds of 50 km/h or lower and flight heights below 100m, don't need any regulation. You can fly them as you'd like in open areas, either recreationally or competitively.
For pilots hoping to fly an Unmanned Aircraft System (UAS) weighing 500 grams or more in Turkish airspace, registration and authorization from the General Directorate of Civil Aviation are mandatory.
Never operate a drone while under the influence of drugs or alcohol.
To safeguard vital infrastructure, it is strictly forbidden to fly over them.
Maintaining a clear view of your drone is essential.
It is important to fly drones away from densely populated areas unless permission is granted.
For the safety of yourself and others, avoid getting in the flight path of any manned aircraft.
Remain safe from airports and helipads for your safety and the security of those around you.
Avoid flying over military bases, prisons, and correctional facilities to stay safe.
Leia também: Updated Drone Laws in South Carolina
Recreational Rules for Drones In Turkey
If you're a recreational drone pilot in Turkey looking to take to the skies for pleasure, here are some important notes you'll need. To ensure a successful outcome, take the necessary steps detailed above and further outlined below.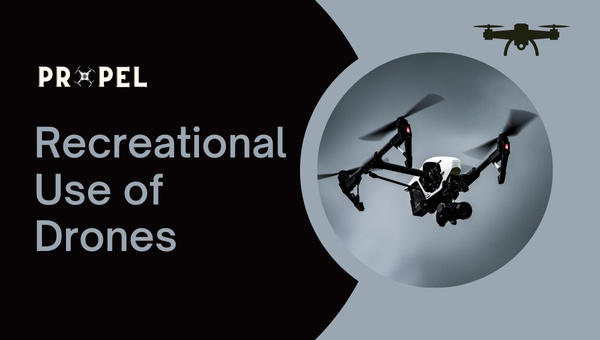 When flying your drone, adhere to the restriction of not surpassing a height of 120 meters (400 feet) from ground level.
UAVs that weigh less than 25 kilograms don't require a government-issued permit, other than for commercial use, they can be used recreationally or in sports events.
As noted above, it is compulsory to register and acquire flying authorization prior to taking off.
Rules for Foreign Operators in Turkey
If you're looking to operate unmanned aerial vehicles (UAVs) in Turkey, you'll need to adhere to the "SHT-IHA Instructions." Here's what it entails: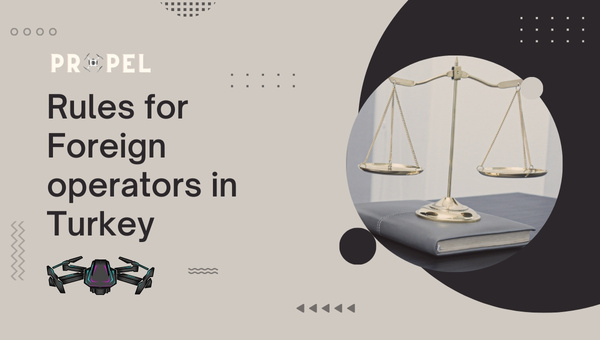 International operators, actuators, and pilots wishing to fly UAVs in Turkish airspace must submit a Flight Permit Request Form via diplomatic channels 20 weeks prior to their first flight day. This form can be located on the General Directorate of Civil Aviation website.
Unfortunately, if you're not a Turkish citizen, you won't be able to register your UAV in Turkey. Even without the registration number, though, feel free to fill out the FR.23 application form and leave that section blank.
Mandatory insurance is vital for drone operation. Thus it's mandatory to insure your aircraft and submit documentation of such to the General Directorate. In order to identify how much coverage you require for your drone, please consult relevant legislation online.
Following affirmations from civil and military authorities regarding the applications, these areas will be advertised by NOTAM to all airspace users. Negative feedback or disapproval issued by the institutions or our General Directorate will result in a prohibition of flight within those regions.
Flight authorization necessitates strict adherence to the procedures laid out in the Turkish AIP and other operators/pilot/party regulations.
All flights by the Turkish Republic are supervised by a licensed pilot with an IHA2 certification, as outlined by our General Directorate.
Prior to any flight in a special permit area (denoted by the red zone on maps), an involved risk analysis must be conducted for safety reasons.
Leia também: O que é o teste TRUST para pilotos de drones recreativos?
Guidelines for Customs
If you're traveling to Turkey with a UAV with an MTOW (maximum takeoff weight) of 500g or more, customs could seize your drone and request a technical conformity form (FR.03).
Such documents can be acquired from the Directorate General of Civil Aviation upon submission of the Unmanned Aerial Vehicle Importation Technical Conformity Application and Control Form FR.03– which is available in the Forms section on DGCA's official website homepage.
In addition to the flight permit form, please submit any criminal records directly to our General Directorate. If you are traveling with a UAV that has an MTOW of 500g or less, it is exempt from national regulation and does not require technical conformity.
For this reason, the General Directorate holds no responsibility for the entry of such small UAVs into our nation's customs area.
General Directorate of State Airports Authority Turkey
The General Directorate of State Airports Authority Turkey is a government institution dedicated to maintaining aviation safety and security in the country.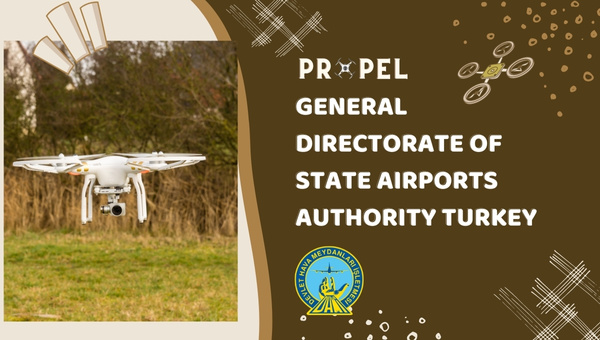 Their primary responsibility is overseeing logistics and regulations that ensure the safe operation of drones, aircraft, airports, and other aviation-related infrastructure.
The institution also works closely with public and private entities to develop safety protocols for drones and researchers to create more efficient, reliable, and secure drones.
In addition to drones, the General Directorate puts measures into place for airports such as managing personnel, ensuring flights take off on time, ensuring proper passenger handling procedures are followed, conducting security screenings for travelers, establishing emergency response plans for airport personnel in the event of a disaster or terrorist attack.
Ultimately, their ultimate mission is to ensure that the country's aviation system runs safely.
Leia também: O que é o teste TRUST para pilotos de drones recreativos?
No Drone Zones In Turkey
No Drone zones are specific areas to which the flying of drones or unmanned aircraft systems is restricted or prohibited. These zones are enforced for security, privacy, and safety reasons.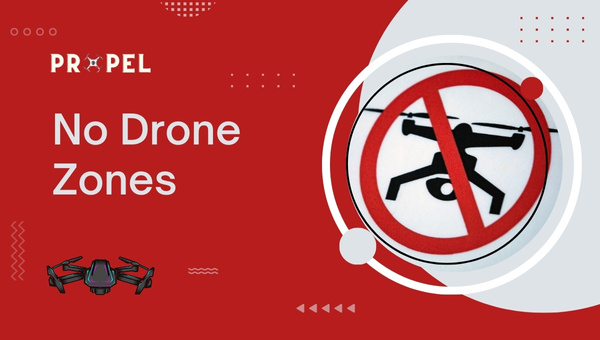 Turkey has recently implemented strict rules regarding the use of drones to protect its citizens from any potential hazards related to unmanned aircraft.
A 'No Drone Zone' is officially established within five kilometers of Turkey's military installations and nine kilometers of Turkey's sensitive areas such as airports.
Turkey's parliament has made it illegal for anyone to fly drones over certain zones, with violators facing up to a year in prison or a hefty fine.
The government has also set several requirements that must be taken into consideration when flying drones, such as registering the device and making sure it is not operated near people or near animals.
Turkey's No Drone Zones are designed to ensure the safety of citizens while allowing them to experience the wonders of drone ownership.
Leia também: Best Guide To All Types Of Drones & Their Uses
FAQs
Is it legal to fly a drone in turkey?
Yes, flying a drone in Turkey is legal, provided that you have obtained the necessary permissions from the Directorate General of Civil Aviation.
Do I need insurance for my drone?
In order to ensure their safe operation, all drones must be insured before flying within Turkish airspace. This can be done through private companies or via the Directorate General of Civil Aviation.
Do I need to register my drone in turkey?
Yes, all drones must be registered with the Directorate General of Civil Aviation prior to their launch. This can be done online or through a physical application.
How to know about No Drone Zones?
No Drone Zone locations can be found on the Directorate General of Civil Aviation website and by contacting your local Regional Air Traffic Control Center.
What happens if I fly a drone in a restricted area?
It is important to note that all drones must be operated within visual line of sight at all times; failure to do so will immediately suspend the drone's flight privileges.
Conclusão
The use of drones in Turkey has increased dramatically over the past few years, and with it has come a set of laws to ensure public safety. Knowing and abiding by these laws is important for anyone hoping to operate a drone in Turkish airspace, both recreationally and commercially.
With the right information and precautionary measures, you can safely fly your drone in Turkey without any legal consequences. The Directorate General of Civil Aviation is committed to providing a safe and secure flying environment for all citizens in Turkey.
They have implemented strict No Drone Zone regulations and requirements for drone registration and insurance to ensure the safety of all persons involved. By doing so, they will help create a safer atmosphere for everyone in Turkey.
We sincerely hope this article has been informative and useful for you. Please feel free to leave a comment and share.