Toutes les nouvelles lois sur les drones en Croatie (2023 Mis à jour)
Updated On: février 25, 2023
In Croatia, drones have become increasingly popular and are used for various purposes. From aerial photography to scientific research, drones can be invaluable tools for getting the job done efficiently and effectively.
The Croatian government is also taking steps to regulate the use of drones by setting out specific rules for their operation to ensure safety and security in the country's airspace.
Moreover, Croatia has witnessed significant investment in drone technology to develop better systems and leverage its advantages for both private and public sectors.
With the innovation that this new technology offers, there is no doubt that drone usage will only continue to increase in Croatia in the years ahead. As drones' ubiquity continues to skyrocket for commercial applications, so does the need to stay up-to-date on developing regulations.
In this blog post, we'll cover everything you need to know about drone laws in Croatia, from registration requirements to no-fly zones, as well as best practices for staying within the law while having fun.
General Drone Rules to Follow in Croatia (2023)
All drone operators in Croatia must register their drones. Once registered, you must abide by the rules and regulations that come with it.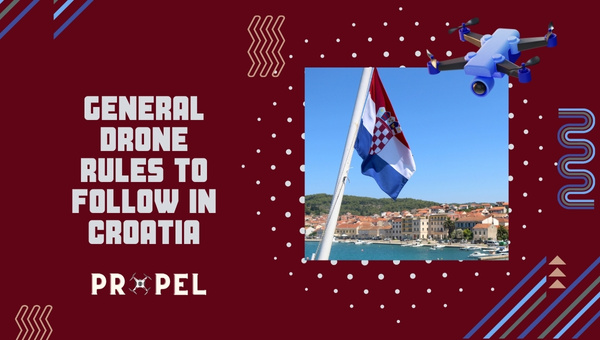 The CCAA permits drones to ascend to 50 meters, or 170 feet, above the ground in the Open category and as high as 120 meters, or 400 feet, if categorized under Specific. Additionally, CCAA may grant exemptions for operators of specific category drones that allow them to reach even higher altitudes.
Drone operators must have a direct line of sight with their devices while flying, ensuring they remain within 500 meters at all times.
Maintain a safe distance from residential or public areas when operating your drone.
Residential areas are surrounded by a safety buffer zone of one kilometer to reduce the risk of danger and harm.
Unless the owner/person has provided their agreement, a distance of 500 meters must be kept from isolated buildings, individuals, vehicles, animals, or structures.
Keep a minimum distance of eight kilometers from airports and three kilometers away from heliports when flying.
Flying a drone at night is strictly forbidden under any circumstances.
It is strictly prohibited to fly over, near, or within military facilities, public utility installations, archaeological sites, and private/public properties.
Lire aussi : All New Drone Laws in Hong Kong
Enregistrement des pilotes de drones
In accordance with EU Regulation 2019/947, UAS Operators must register their drones before taking them to the skies. The Remote Pilot in charge will ensure they follow their operator's instructions while maintaining full responsibility for any action taken during operation.
Generally, a solo flight in the OPEN category is managed by one person fulfilling both roles. This regulation guarantees that all participants have an enjoyable and secure journey.
If you meet the OPEN category criteria, registration is mandatory for all unmanned aerial systems (UAS) operators that weigh more than 250g and have an operational speed of at least 90km/h. Moreover, these UAS must be equipped with either a camera or microphone.
Without question, all operators must register within the designated category.
It is critical to remember that legal entities must register their operations in the home country where they mainly work, and registration can only be done within a particular Member State. This process cannot be neglected as it is an essential part of doing business with other countries.
The UAS operator registration process is quite straightforward; all you have to do is fill out the online form. Once your number has been registered, it will remain valid for an entire year before needing renewal once more. But if you choose not to renew and instead opt out permanently, that's totally up to you.
If you keep your registration updated, the same number will remain in effect for as long as necessary.
Lire aussi : How to Get Your Pilot License Faster
Commercial Drone Laws in Croatia
To successfully operate Drone Services commercially in Croatia, here are some essential guidelines to bear in mind.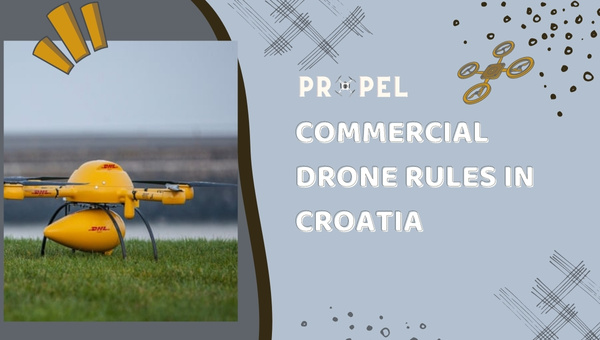 If you wish to operate a drone commercially, you must be at least 18 years of age.
As a drone pilot, you must acquire the necessary license and register your device(s) with official organizations. The registration process includes inquiries regarding both your drones and personal/professional information.
If you obtain permission, you will have the opportunity to soar above towns and cities up to 120 meters in height. However, it is essential that law enforcement be notified at least 24 hours before your flight, and all other recreational drone regulations must be adhered to.
Depending on the weight of your drone, you need to acquire different types of licenses.
For drones under 1.5 kg in weight, a License 1A is necessary
For those less than 7kg, you will need License 1B
If it weighs no more than 25 kg, then getting License 2 is obligatory.
Therefore, as the mass increases, so does the complexity of obtaining proper documentation.
Completing a license requires two primary steps:
Theoretical instruction from an accredited educational facility and practical application.
In order to meet the qualification for a practical training session in the same facility, at least 15 flights must be taken outside of urban areas with a combined flight time totaling 5 or more hours.
Lire aussi : 10 meilleurs drones commerciaux
Catégories d'opérations dans l'Union européenne
Based on their individual function, the European Union has broken down drones into three classifications, each of which requires unique compliance with their respective regulations.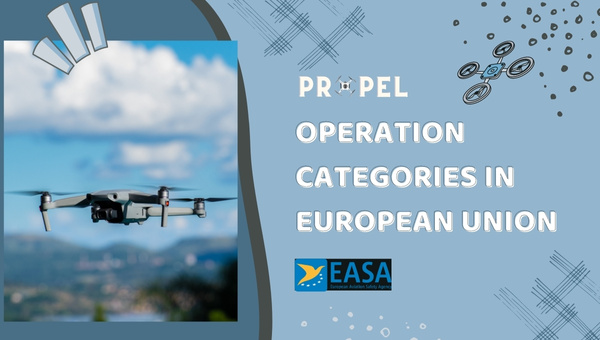 Catégorie ouverte
If you're looking to take off without the difficulty of obtaining special permission, then think about purchasing an "open" category drone. Operators must follow AESA safety regulations strictly, as these drones are not for commercial use and can't exceed 25 kg in weight.
The best part is that you don't need prior approval before flying; however, this does not mean carelessness should be overlooked, either.
Open-category drones are becoming increasingly popular across the European Union, and it is clear why. Not only do they come at a great cost for both hobbyists and entrepreneurs alike, but they also offer an array of advantages that have made them indispensable.
These UAVs provide limitless possibilities, from recreational activities to commercial operations, making them an unparalleled choice in the market today.
Drones are simpler to handle than any other kind of unmanned aerial vehicle and will certainly revolutionize the entire industry surrounding aviation and transportation. Even though drones confront a few restrictions in Europe, it is clear that these aerodynamic contraptions are going to be an important aspect of our transport system from this point forward.
Catégorie spécifique
In contrast to the unrestricted open category, the specific one is commonly considered more restrictive, and not all commercial activities are permitted. To give an example, you must secure explicit permission from those involved if you wish to take photos or video footage with a drone.
To avoid any risk of breaching rules during operation, it's highly advisable that someone speaks with EASA beforehand for further information on various restrictions governing use in this area.
If you are looking for a reliable aerial solution, Lowest Price Drones is your answer. Their lightweight models have the capability to lift 25kg-150kg and require an EASA permit prior to taking off - fortunately, it's just a straightforward process that provides the necessary authorization swiftly. If your business needs drones for commercial use, this is certainly worth considering.
Catégorie certifiée
If you want to operate a certified-category drone, speaking with the European Union's aviation regulator (EASA) and ensuring your unmanned aircraft is heavier than 150kg is an absolute necessity.
Once approved by EASA, those drones can now be used commercially with the authorization that meets all safety standards set by EASA for everyone involved.
Agence européenne de la sécurité aérienne (AESA)
Established in 2002, the European Union Aviation Safety Agency (EASA) is an influential governing body that sets and enforces aviation safety standards throughout the entirety of Europe.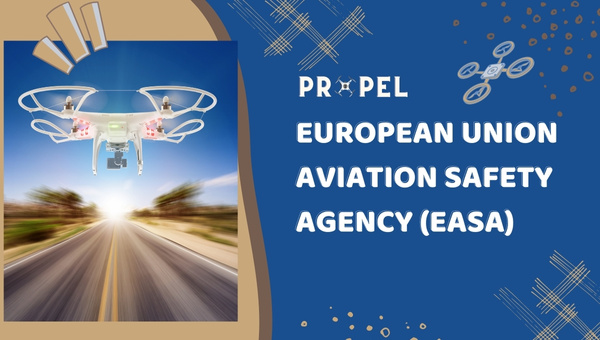 As part of its mission, EASA endeavors to guarantee a high level of protection for air travel while simultaneously fostering chances for growth and innovation regarding airspace usage.
Focused mainly on aerospace safety, EASA also enforces regulations for many drones – in particular, those utilized commercially, such as those used to take images or deliver cargo.
EASA's importance in upholding international standards concerning drones is indisputable since the use of commercial drones has heightened drastically.
As such, a special certification from EASA must be acquired to ensure that sensitive matters like privacy, airspace regulations, and national security are taken into account when utilizing these unmanned aircraft.
Lire aussi : Updated Drone Laws in Jamaica
Croatian Civil Aviation Agency (CCAA)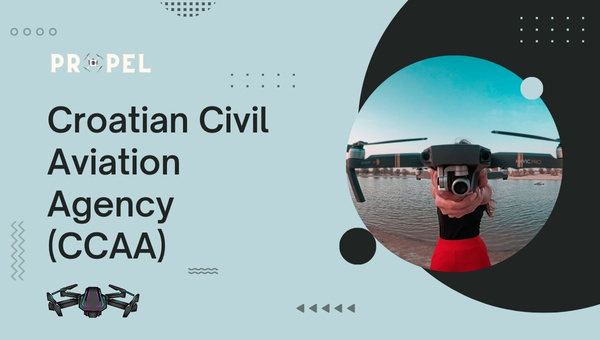 The Croatian Civil Aviation Agency (CCAA) is a state body responsible for the regulation, supervision, and planning of civil aviation activities in the Republic of Croatia.
The CCAA implements safety measures based on international standards and closely follows the development of national air transport regulations by cooperating with all relevant government bodies.
They strive to develop civil aviation both domestically and abroad while ensuring all citizens are served equitably. They manage airports, airspace coordination, aircraft registration, environment protection, aerodrome certification, and licensing procedures.
With their knowledgeable expertise and dedication to providing quality service, it's no wonder why CCAA is considered a leading authority in civil aviation management throughout Croatia.
Lire aussi : All Drone Laws in the United Kingdom
Zones interdites aux drones
No drone zones are Safety Zones that have been established to protect citizens from potentially hazardous situations created by drone usage.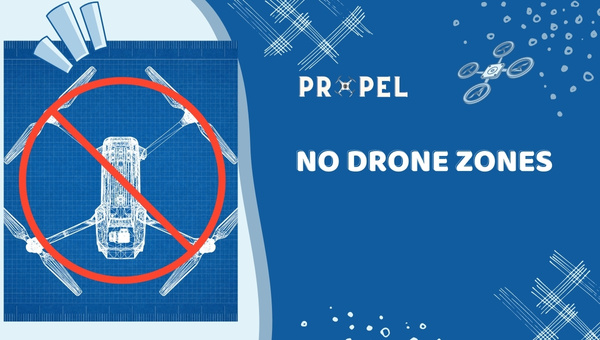 These zones typically restrict the use of unmanned aircraft systems, or UASs, in activities such as commercial photography, construction surveillance, and law enforcement operations.
They were created to promote safety and respect for these areas while allowing drone operators to enjoy the recreational aspects of flying their devices.
Established no drone zones may prevent potential conflicts between members of the public who are enjoying their environment and those operating drones for personal gain or enjoyment.
By providing a safe space for citizens unaffiliated with flying drones, no drone zone regulations ensure the peace of mind that comes from knowing one's environment is free from intrusive aerial crafts.
Lire aussi : All Drone Laws in South Dakota
Know about no-drone zones
It's important to know where no drone zones are before operating your UAS. Currently, some countries have established regulations that require you to stay at least a certain distance away from airports, military bases, and other sensitive locations when flying a drone.
AirMap is an app that can help you know the safety rules of any location. It offers up-to-date information about airspace restrictions for both commercial and recreational operators in more than 40 countries worldwide.
FAQ
Is the operation of drones permitted in Croatia?
Yes, the operation of drones is permitted in Croatia. However, it is important to note that all drone operators must abide by the regulations and guidelines set forth by Croatian Civil Aviation Agency (CCAA).
Are there any no-drone zones I should be aware of?
Yes, there are certain areas known as 'no-drone zones' where flying a drone is prohibited or heavily restricted due to safety concerns.
What kind of certification do I need to operate a commercial drone?
In order to operate a commercial drone in Croatia, you must acquire an 'Operational Certificate' from the European Aviation Safety Agency (EASA). This certification is required for all commercial operations in EU countries.
Conclusion
Clearly, managing and maintaining safe airspace for unmanned aerial systems (UAS) in Croatia is of utmost importance. It is essential that all drone operators adhere to the applicable regulations and obtain the necessary licenses before attempting any commercial operations.
Furthermore, it is absolutely vital to register with the appropriate authorities and provide full disclosure regarding your drones and personal/professional information. Hopefully, these guidelines have provided insight into how one can successfully operate Drone Services commercially in Croatia.
Adhering to the standard drone rules and regulations is an easy way to ensure you remain compliant with the law.
We hope this article was beneficial to you; please share your thoughts and feedback with us in the comments section.