DJI Ryze Tello: A Complete Detailed Review (2023)
A cura di:
Richard J. Gross
Updated On: Luglio 22, 2023
Did you know that the drone market is expected to surpass $22.5 billion by this year? If you're looking to delve into this rapidly growing world of unmanned aerial technology, the DJI Ryze Tello might be your perfect entry point.
This compact and affordable drone boasts a number of impressive features that make it stand out from its competitors. In this review, we'll look in-depth at Tello's aircraft design, flight performance, camera capabilities, and battery life.
We've got all the details you need to determine if this drone fits your needs and desires as a budding pilot or experienced flyer searching for something new. Read on, and let's explore together what makes the DJI Ryze Tello an intriguing option in today's bustling drone market.
Key Specifications
Durata del volo: 13 min
Max Flight Height: 30 m
Gamma: 100 m
Fotocamera: 5MP (2592x1936), FOV: 82,6°, HD720P30
Velocità: 8 m/s
Size: 98×92,5×41 mm
Peso: 80 g
Batteria: 1.1Ah/3.8V Detachable Battery (Micro USB Charging Port)
Built-in Functions: Range Finder, Barometer, LED, Vision System, 2.4 GHz 802.11n Wi-Fi, 720p Live View
Modes: Bounce mode, 8D flips, Throw & Go, Up & Away
DJI Ryze Tello: Aircraft Design
You'll be amazed by the DJI Ryze Tello's compact and lightweight design, weighing in at just 80 g with propellers and battery included, making it super easy to carry around.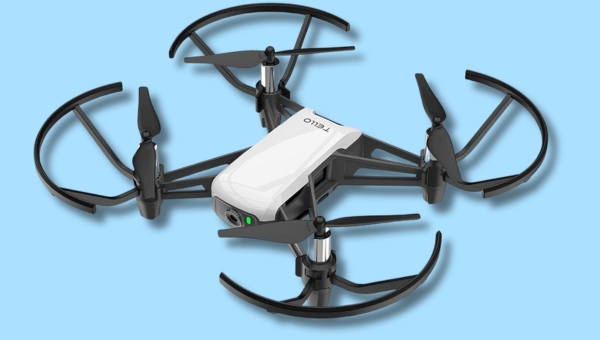 The drone's dimensions of 98×92.5×41 mm further enhance its portability, ensuring you can take your flight adventures anywhere you please.
Let's talk about propeller efficiency - an integral aspect of a drone's performance. The Tello sports three-inch propellers, which offer impressive lift and maneuverability during flights. Their size is perfectly balanced with the overall structure of the drone, providing excellent flight stability even in windy conditions.
Design aesthetics are another noteworthy feature. With its sleek contouring and minimalistic approach to design elements, the Tello exudes a sense of sophistication that catches your eye instantly. Its clean lines and modern appearance set it apart from other drones in its class.
A durability evaluation reveals that this drone is built to last despite its lightweight. It comes equipped with a range finder, barometer, LED, and vision system, all carefully nestled within a sturdy frame able to withstand impacts from minor crashes or bumps.
So there you have it! The DJI Ryze Tello stands out as a portable powerhouse designed for efficient flight performance while maintaining an appealing aesthetic value.
DJI Ryze Tello: Flight Performance
Imagine soaring through the sky at a maximum speed of 8 m/s, reaching dizzying heights of up to 30m, and all this for an impressive flight time of 13 minutes. Isn't that thrilling? You can expect This sort of performance from the DJI Ryze Tello.
The drone's stability control is top-notch, ensuring smooth flights even in slightly windy conditions. With your Tello in the air, you'll feel like part of a community that values precision and control.
Here's a quick look at some key flight performance aspects:
| Aspect | Dettaglio | Experience |
| --- | --- | --- |
| Stability Control | Excellent Stability | Smooth Flights |
| Modalità di volo | Bounce mode, Throw & Go etc. | Versatile Flying |
| Altitude Handling | Maximum height: 30 m | Dizzying Heights |
Tello's different flight modes offer various ways to explore and have fun. Whether it's performing flips or bouncing up and down, there's never a dull moment with this little gem.
One feature that stands out is its altitude handling capability. It can climb up to heights of about 30 meters without losing control or compromising on aerial footage quality. This makes it perfect for those stunning overhead shots that make us feel part of something bigger than ourselves.
With such impressive features and powerful performance, owning a DJI Ryze Tello feels like being admitted into an exclusive club where fun seamlessly meets functionality.
DJI Ryze Tello: Camera
When it comes to capturing breathtaking aerial visuals, your Tello's 5MP camera doesn't disappoint. With a resolution of 2592x1936, you'll get sharp, vivid images that bring your flights to life. The image quality is superb for its class, with photos showcasing rich colors and fine details.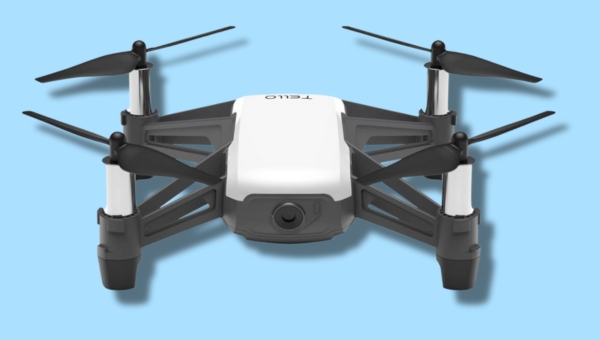 Shooting videos? No worries! Your Tello can record in HD at 720p30, giving you clear and smooth footage for your aerial shots. This makes it ideal for various applications, whether you're filming landscapes or documenting an outdoor event. You'll appreciate the Electronic Image Stabilization (EIS), which helps reduce blur and ensures steady footage even when the drone is buffeted by wind.
What sets Tello apart is its live-streaming capabilities. You can share your flight experiences in real time with friends or on social media platforms right from the app itself! This functionality adds a fun interactive element to flying your drone.
So let's not forget: your Tello isn't just about zippy performance in the air - it's also a capable aerial photographer that delivers impressive results. Whether snapping stills or shooting videos, this little marvel gives you eye-catching imagery every time you fly.
DJI Ryze Tello: Battery
Think about the joy of soaring through the sky, unhindered and free. That's what you get with your drone's detachable 1.1Ah/3.8V battery, providing consistent power for longer flight times. It's like having an extra gas tank during a road trip, when others are forced to pull over and recharge, you're still up there in the air exploring new horizons.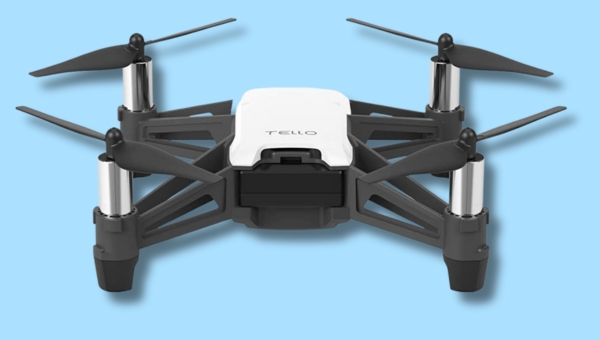 Let's delve into charging time, nobody wants to be grounded for too long between flights. Your DJI Ryze Tello doesn't disappoint here; its efficient battery design ensures minimal downtime to maximize your exploration time. And speaking of efficiency, this is where the true value of your drone's power source shines through; it's not just about how long a battery lasts but also how well it uses that energy.
As for battery lifespan, rest assured that your DJI Ryze Tello has been built to last. With proper maintenance and routine charges, this drone keeps going strong flight after flight - letting you focus on mastering aerial acrobatics or capturing stunning vistas without worrying about power loss mid-flight.
So keep flying high with DJI Ryze Tello - a clear testament to excellent engineering and smart power management that goes beyond mere specs on paper. This little powerhouse will always have your back when it comes to exciting airborne adventures!
Pros of DJI Ryze Tello
Facile da usare: With its intuitive interface, even beginners can quickly learn to operate this drone.
Affordable: Priced reasonably, it offers a good entry-level experience for drone enthusiasts.
Quality Components: As a DJI product, it uses high-quality components that ensure durability and reliability.
Programmable: It offers Scratch programming capabilities, which can be a fun way to learn to code while playing with a drone.
Impressive Flight Time: For a drone of its size, Tello's 13-minute flight time is notable.
Indoor Flight: Its small size and stability controls make it suitable for both indoor and outdoor flights.
Cons of DJI Ryze Tello
No GPS: Tello does not come with built-in GPS, which can limit its outdoor usability.
Raggio limitato: Its flight range is relatively short (approximately 100 meters), which can limit the user's ability to explore.
No 4K Video: It does not support 4K video recording, a feature available in many other drones in the market.
Wind Performance: The drone's lightweight design may struggle in windy conditions.
Absence of Gimbal: Tello lacks a gimbal, which means its video capture may not be as stable as other drones with this feature.
Limited Flight Modes: It lacks some advanced flight modes like follow-me or waypoint navigation, which are common in other drones.
Conclusione
You'll find the DJI Ryze Tello's design sleek and practical. Its flight performance is exceptional. The camera offers crisp, clear imagery. And let's not forget about the battery - it's reliable and long-lasting.
This drone truly stands out in functionality and features, making it a top choice for beginners and veteran flyers. Without a doubt, the Tello is worth every penny!