Leggi sui droni in Lettonia nel 2023: Norme e regolamenti, sanzioni
A cura di:
Richard J. Gross
Aggiornato il: Dicembre 26, 2022
Drones in Latvia are an increasingly popular technology that provides a unique and accessible form of aerial photography.
As drones become smaller and more affordable, Latvian businesses and individuals are finding new ways to use the technology to their advantage. In this article, we will discuss drone laws in Latvia.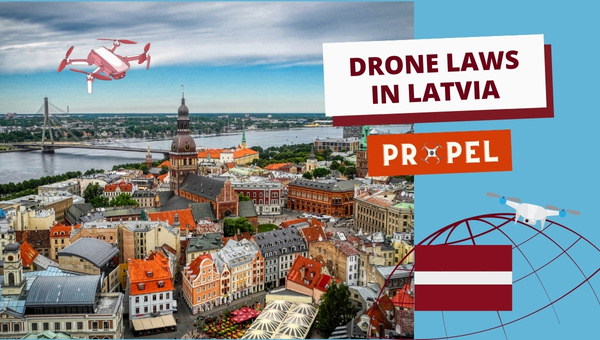 Whether it is an outdoor event photographer capturing sweeping landscapes or a real estate agent showing potential customers a bird's eye view of the property, drones offer unparalleled views and photographs with ease.
Drone laws vary greatly from country to country, and when it comes to flying drones in Latvia, the legal issues surrounding this rapidly growing industry can be complicated.
If you're wondering what regulations are currently in place for operating a drone in Latvia, look no further. In this post, we'll discuss all the necessary regulations for anyone looking to fly their drone in Latvia, from proper registration guidelines with the Latvian Civil Aviation Agency (LCAA) to how air space restrictions impact your experience.
So whether you're an experienced pilot or just getting started with drones, understanding these rules is essential for staying safe and enjoying your time while visiting Latvia.
Leggi anche: Leggi aggiornate sui droni in South Carolina
General Drone Rules to Follow in Latvia (2023)
Flying a drone in Latvia requires full compliance with certain regulations, so be sure to read the following rules and register your device before taking off: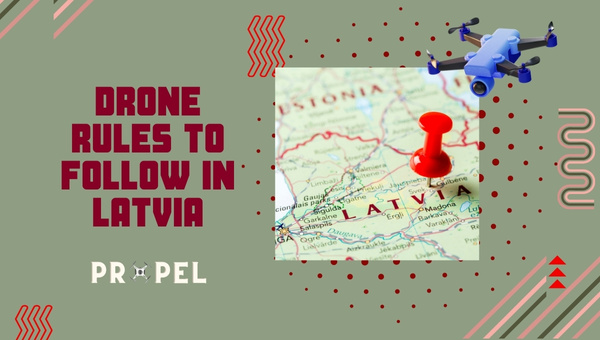 Drones have a maximum altitude of 50 meters (170 feet) in the Open category and up to 120 meters (400 feet) for the Specific one. Still, operators may be granted exemptions from CAA if they fly drones under a Specific category.
Maintaining direct visual contact with the drone is essential and must not be operated from a distance of 500 meters or further.
Steer clear of flying your drone too near residential zones or heavily populated places.
To ensure the safety of all residential areas, it is essential to maintain a one-kilometer buffer zone around them.
It is essential to maintain a distance of 500 meters from any individual or object, such as buildings, people, vehicles, animals, and structures - unless permission is granted by the person/owner.
For enhanced protection, steer clear of flying close to airports and heliports. Maintain a least distance of eight kilometers from airports and three kilometers from heliports.
Flying a drone during the night is strictly prohibited at all times.
Flying is strictly prohibited above, surrounding, or near any military facilities, power supply stations, historical sites, and public or private premises.
Operating unmanned aircraft under the influence of alcohol or drugs is strictly forbidden.
Leggi anche: Drones Without Propellers: Mechanism, Pros & Cons
Categorie di operazioni nell'Unione Europea
To ensure the safe operation of drones, the European Union has divided them into three categories with individual regulations and requirements for each.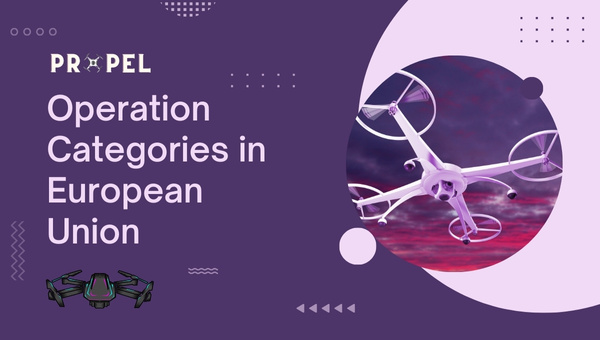 Categoria aperta
If your drone falls into the "open" category, you are authorized to take flight so long as it meets EASA regulations and safety requirements. All aircraft weighing 25 kilograms or less that have not been designed for commercial purposes fall within this open category of drones.
Though no permit is necessary for these situations, be sure to always adhere to all guidelines established by the European Union's Aviation Safety Agency (EASA).
The European Union has recently experienced a surge in the production of open-category drones due to their various benefits. These cost-efficient and widely accessible products can be used for both professional and recreational activities.
From a more user-friendly perspective, drones have the potential to revolutionize aviation and transportation. Despite some issues related to their use in Europe, it is evident that these aircraft will be an indispensable part of future transport systems.
Categoria specifica
If you're interested in utilizing a drone for specific activities, understand that certain restrictions must be kept in mind before getting started. For instance, obtaining permission from any individuals photographed or filmed must be granted prior to operation.
To guarantee compliance with legal regulations and laws, contact the EASA for more details on the limitations of your category-specific unmanned aircraft system as well as guidance on its usage.
If you're in the market for a drone, keep in mind that those with weights between 25kg and 150kg must receive clearance from regulatory authorities before they can take flight.
Lowest Price Drones affirms these drones are reserved strictly for commercial use; therefore if you want to fly one of them, obtaining an EASA permit is essential prior to taking off.
Categoria certificata
Before using any class of drone for commercial purposes, it is essential to stick to the safety guidelines set up by EASA--the European Union's aviation regulator.
They have designed several certification programs for various types of drones, and you must obtain an accepted permit from the dominating body if your model weighs more than 150kg in order to operate legitimately and securely.
Leggi anche: I 10 migliori consigli per il marketing della vostra attività con i droni
Registrazione dei piloti di droni
In agreement with EU 2019/947, it is compulsory to register the Unmanned Aerial System (UAS) operator - not the UAS itself. The Remote Pilot managing the flight controls will be held responsible for guaranteeing its safety and security during operations.
At the same time, the UAS Operator can ensure that everything runs according to plan by offering guidance on how best to carry out each task.
Ultimately, all activities conducted utilizing a drone(s) are fully accountable to whoever or whatever business entity owns them. As an OPEN-category individual, they must simultaneously play the role of pilot and operator.
UAS operators who qualify under the Categoria OPEN are required to register their drones if they have a weight of more than 250g and an operational speed at or above 90km/h, in addition to being equipped with either a camera or microphone.
Without exception, all operators must register in the Categoria specifica.
It is vital to remember that companies must officially register their business activities in the state where they predominantly work. This registration process must occur within a single Member State.
The UAS operator registration process is simple; follow the online directives to get started. Your number will remain valid for an entire year, and you'll only need to renew it each subsequent year unless you decide not to register any longer. If you stay active in the program, your existing registration number will remain valid.
Special Rules and Requirements in Latvia
When operating a drone in Latvia, it is essential to observe the specific regulations that must be followed: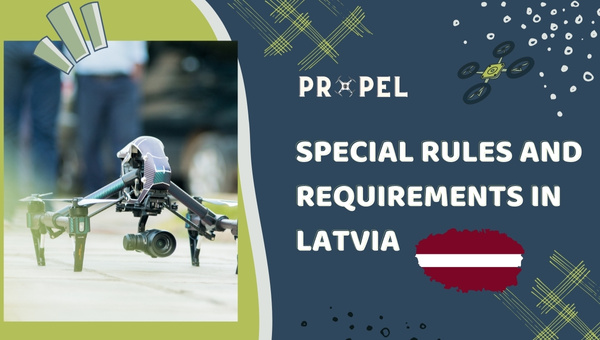 Latvia has mandated that anyone desiring to pilot a drone must be at least 18.
The use of metal propellers for drones is strictly forbidden in Latvia.
As a requirement, all drones must have the owner's contact information (name, address, and phone number) visibly displayed on them.
For the duration of their flight, drone operators must make themselves immediately identifiable by wearing a hat, brightly-colored shirt, or other similar clothing items.
Latvia mandates that all drones must be equipped with a failsafe mechanism in order to land autonomously should the radio link fail.
When operating a drone, liability insurance must also be acquired. The minimum limits of coverage depend on your machine's weight, with drones between 250 and 1500 grams requiring €150,000 worth, 1501 to 5000-gram machines needing €500,000, and those surpassing 5 kilograms necessitating up to 1 million euros in protection.
Unmanned aircraft are restricted to a weight of no more than 25 kilograms.
In Latvia, there are certain temporary regulations that must be followed while flying a drone.
Drone operators younger than 18 are only allowed to fly drones under 0.5 kg (1.1 lbs) with adult supervision present.
Drone operators must acquire insurance if their device surpasses 1.5 kilograms (3.3 pounds).
Operators must be easily identifiable by wearing highly visible clothing while they are flying drones.
A drone is only allowed to ascend up to a maximum height of 120 meters.
If your drone is lighter than 25 kg, you can fly it without a permit away from populated areas and airports. If the weight is below 1.5 kilograms, then flying within populated locations is also okay—permits are not required. However, if these criteria do not apply to you or the project requires additional use of airspace, getting authorization from a civil aviation agency should be obtained beforehand for the lawful operation of drones.
Drone operations are absolutely prohibited above certain government structures, including prisons, military installations, the Bank of Latvia, police stations, the Ministry of Foreign Affairs building, the Council of Ministers' headquarters, and the Parliament, as well as throughout the night.
Leggi anche: 10 Best Drones Under $1000
Commercial Drone Rules to Follow in Latvia
Operating a commercial drone in Latvia is authorized and must be done with adherence to the following regulations. If a drone is used for commercial purposes in connection with a business activity, then to keep your business running safely and legally, take note of these guidelines: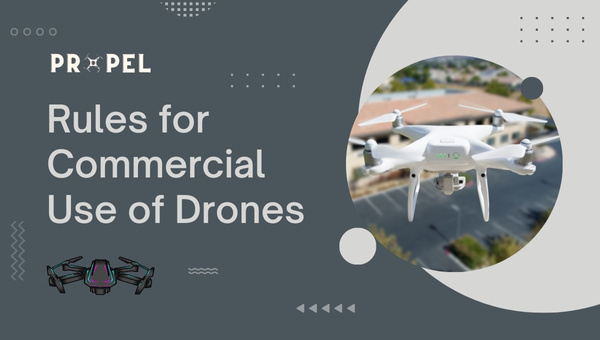 To guarantee compliance with the law, you must adhere to Regulation No. 737, which outlines regulations for unmanned aircraft and flying devices not classified as aircraft.
You must utilize a drone with an effective landing system that can be activated in case of loss of control.
Remember to include your name, address, and phone number on your drone for identification purposes.
If your drone weighs in at over 1.5 kg, taking out liability insurance and supplemental third-party coverage is recommended for maximum safety against unforeseen risks.
Ensure that you have a clear, uninterrupted vision of your drone at all times.
It is imperative that you keep a safe distance between your drone and all people, animals, and property at all times.
To ensure the safety of others, if your drone weighs more than 250g, it is imperative that you keep a minimum distance of 50 meters from people, property, and public events.
For your safety and security, maintain a safe distance from areas containing sensitive infrastructure such as prisons, military locations, ports, etc.
If you are minor, having an adult oversee your flight arrangements is critical. 
To remain in compliance, stay below 120 meters altitude.
Donning vivid attire is essential to ensure that others easily see you.
Operating in the dark or any other area with restricted visibility is strictly forbidden.
Failure to adhere to the law will result in an individual penalty of up to 300 EUR and a business penalty of up to 1,000 EUR.
Civil Aviation Authority of The Republic of Latvia (CAA)
The Civil Aviation Authority of The Republic of Latvia (CAA) is the public institution responsible for all aspects of aviation safety and security.
As an authority, the CAA ensures that the aerospace industry remains compliant with all associated regulations, provides support to those navigating the process of acquiring a pilot license or operating a drone on Latvian territory, and sets forth consistent procedures related to aircraft maintenance and airspace management.
Additionally, they inform companies and individuals about the technology available to help them operate safely in Latvian airspace and provide guidance on troubleshooting complex problems during flight operations, especially regarding drones.
In short, CAA seeks to ensure that flying in Latvian airspace, whether by traditional airplanes or unmanned air systems, remains as safe as possible.
Agenzia dell'Unione europea per la sicurezza aerea (EASA)
The European Union Aviation Safety Agency (EASA) is an independent, specialized agency of the European Union (EU) established in 2002. EASA's mission is to promote the highest common safety standards in aviation while ensuring a high level of environmental protection.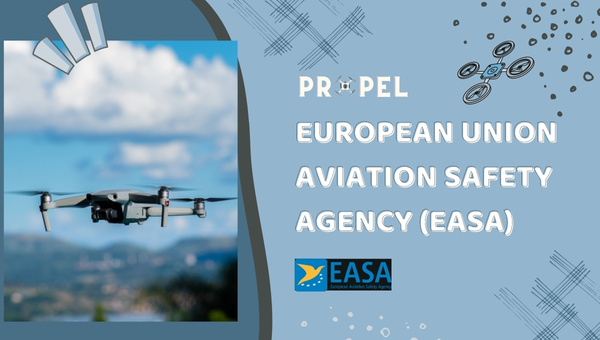 EASA undertakes activities related to civil aviation safety, aircraft certification, and drone safety regulations. In particular, they are responsible for developing technical requirements and guidance related to Unmanned Aircraft Systems (UAS/Drones).
Their regulations are implemented across all EU member states, thus promoting a safe environment for commercial and private pilots alike. The EASA's efforts have resulted in a decline in aviation-related accidents, making it a global leader in aircraft security and reliability.
Leggi anche: Agenzia dell'Unione europea per la sicurezza aerea (EASA)
No Drone Zones in Latvia
Latvia is committed to protecting the safety of its citizens and air travel from a potential threat posed by reckless drone flyers. To achieve this, Latvia has designated special no-drone zones where drones are not permitted to fly under any circumstances so as to minimize airspace disruption and endangerment.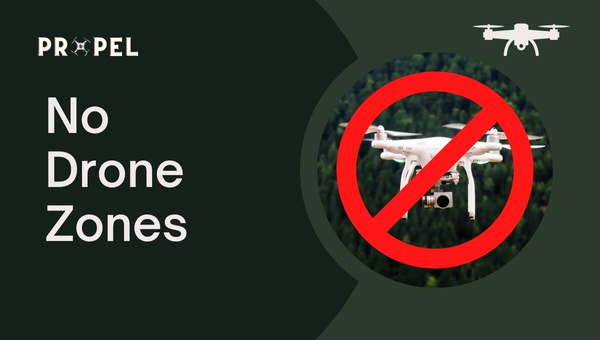 In essence, these no-drone zones seek to provide Latvia with a safer living environment for all its inhabitants where air travel will remain stable, and protection from potentially dangerous intrusions is maintained.
By adhering to Latvia's no-drone zones, members of the public can ensure that their travels are conducted safely and peacefully in order to make Latvia an even more wonderful place.
Know about Restricted areas to fly a drone in Latvia
Latvia's Civil Aviation Agency has compiled a comprehensive list of its no-drone zones, which can be accessed online. This list provides the precise geographic coordinates of each zone, as well as detailed information regarding access restrictions and applicable laws.
For those attending public events, it is recommended to check with event organizers beforehand in case any additional regulations apply. Furthermore, drone operators should also make sure to familiarize themselves with local laws and regulations prior to flying in order to ensure they remain compliant and safe while operating their equipment.
Domande frequenti
Is it legal to fly a drone in Latvia?
Yes, flying a drone in Latvia is legal, provided that you comply with all relevant laws and regulations.
Do I need permission to fly a drone in Latvia?
If you are flying your drone for commercial purposes, you must acquire permission from the Civil Aviation Agency of The Republic of Latvia (CAA).
Are there any restrictions on where I can fly my drone?
Yes, there are areas designated as no-drone zones in order to protect public safety. Pilots should always familiarize themselves with the list of restricted locations prior to flying.
Conclusione
Overall, Latvia has set various rules and regulations for recreational and commercial drone use. Businesses must register in the SPECIFIC category with the civil aviation agency.
At the same time, individuals must be at least 18 years old, easily identifiable by wearing highly visible clothing, and have insurance if their device surpasses 1.5 kilograms (3.3 pounds).
All of these regulations are essential to ensure safety throughout Latvian airspace and should be followed carefully. Drones are an incredibly fun and versatile technology, but it is essential to be mindful of the rules and regulations when flying a drone in any country.
It is important that all operators take these registration requirements seriously. Failure to do so can result in significant monetary fines. Be sure to familiarize yourself with the laws before taking off, as safety is always a priority.
Follow these guidelines, and you'll be able to enjoy your time with drones in Latvia. Hope this article was helpful to you. If you have any questions or suggestions, please don't hesitate to let us know in the comments.