DJI Air 2s: Detailed Review With Pros and Cons (2023)
Updated On: January 4, 2023
The DJI Air 2s is the latest offering from drone giant DJI. It's a powerful, feature-packed quadcopter that promises to take your aerial photography and videography to the next level. This drone has been so popular with professionals and hobbyists alike.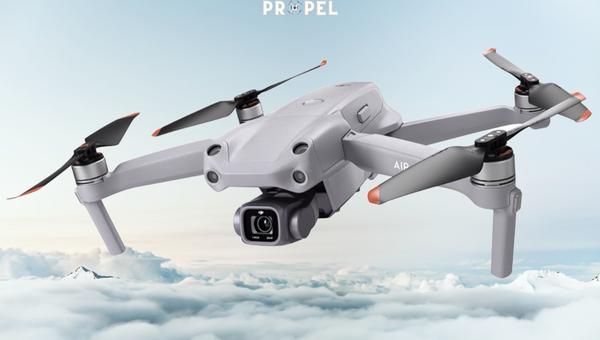 The Air 2s boasts an array of features that make it one of the best drones on the market today. The three-axis gimbal has buttery smooth footage at all times and stunningly crisp images and videos every time you fly.
For those who need even more professional grade than what's offered by the Air 2s, there is also an optional ProRes RAW recording mode as well as H265 10bit color coding, which allows users to capture vibrant colors in their footage regardless of lighting conditions or the angle they are shooting from.
In terms of safety features, users will be glad to know that the Air 2S comes equipped with multiple sensors allowing for more accurate positioning during flights.
DJI Air 2s Specifications
| Specs | Details |
| --- | --- |
| Flight time | 31 minutes |
| Range | 12 km |
| Camera | 1" CMOS Effective Pixels: 20 MP; 2.4μm Pixel Size, FOV: 88°1" CMOS,5.4K: 5472×3078 @ 24/25/30 fps |
| Speed | 19 m/s |
| Dimension | Folded:180×97×77 mm, Unfolded:183×253×77 mm |
| Weight | 595 g |
| Battery | 3750 mAh / 3500 mAh, 11.04 V / 11.55 V |
| Charing time | 1 hour 40 minutes |
| Advanced features | Spotlight 2.0, Active track 4.0, Point of interest 3.0, O3 transmission, Automatic Dependent Surveillance-Broadcast (ADS-B), Advanced Pilot Assistance Systems (APAS 4.0), Return to home |
Flight time
The DJI Air 2s offers an incredibly impressive flight time of 31 minutes, making it a great choice for any aspiring drone pilot.
With its powerful battery and sophisticated motors, the Air 2s can stay in the air longer than most other drones on the market, allowing pilots to capture stunning aerial footage without worrying about running out of power.
This makes it the perfect drone for longer missions or even just leisurely exploration. Whichever the case, pilots can rest assured that their DJI Air 2s will stay in the air for long enough to capture those perfect shots.
Range
The DJI Air 2s drone is a powerful and versatile device with an impressive maximum flight range of up to 12 kilometers.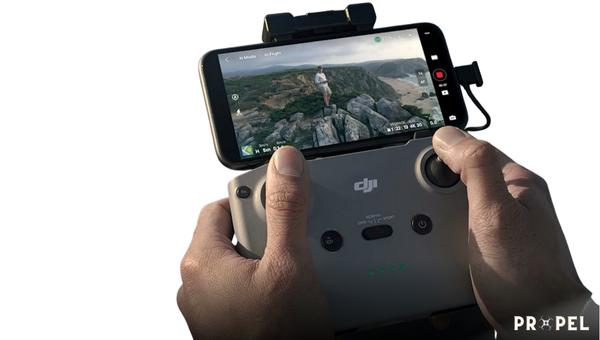 This means users can take their drone further and capture more stunning photos and videos from previously unreachable heights and angles.
With this range, drones can reach places otherwise only accessible through planes or cars -- making it ideal for photographers and videographers who need to capture footage in hard-to-reach places.
Additionally, the range is great for recreational users who may want to explore their surroundings from a new perspective.
So whether you're looking to capture professional-grade media or simple snapshots of your backyard, the DJI Air 2s will get you there and back safely.
Camera
The camera on the DJI Air 2s is nothing short of impressive. It has a 1" CMOS sensor with 20 megapixels, as well as a 2.4μm pixel size. This gives it incredibly sharp and clear images, even when zoomed in significantly.
The field of view is an expansive 88°, allowing you to capture more of your environment in every shot. And if you want to get even more detailed, the 5.4K footage is stunning, with resolutions up to 5472x3078 at 24/25/30 fps. If you're looking for a drone that can take amazing photos and videos, the DJI Air 2s won't disappoint.
The camera also allows for advanced editing capabilities, including custom exposure settings and QuickShots. This gives you the ability to create videos with professional-grade quality, even if you're a beginner. With the DJI Air 2s, your photos and videos will be sure to stand out from the rest.
Speed
The DJI Air 2s is a top-notch drone that sets itself apart from the competition with its impressive speed. Clocking in at 19 meters per second, it can easily zip past other drones and easily capture stunning aerial shots.
This level of speed makes it perfect for capturing fast-paced action or quickly maneuvering around obstacles. So whatever you're trying to capture, the DJI Air 2s will get it done quickly and efficiently. This makes it ideal for any type of mission.
The DJI Air 2s is a powerful and versatile drone with impressive features, making it the perfect choice for any aspiring drone pilot.
Dimension and Weight
The DJI Air 2s is a powerful drone and has impressive dimensions and weight. Its folded size is only 180×97×77 mm, making it very compact and easy to transport.
When unfolded, the drone measures 183×253×77 mm, which gives it plenty of room to maneuver in the air. In addition, its total weight is 595 g, making it light and portable while retaining the power of a larger drone.
The DJI Air 2s size and weight make it ideal for novice pilots to fly and experienced professionals who need to transport their drones easily. The small form factor ensures that the aircraft can be transported anywhere without taking up too much space.
Furthermore, the light weight makes flying easier and safer in windy conditions. All of these qualities make the DJI Air 2s a great choice for anyone looking for a powerful yet easy-to-use drone.
Battery
The battery of the DJI Air 2s is a 3750 mAh, 11.04 V battery that powers this drone for up to 31 minutes of flight time – enough for you to take stunning aerial sequences and photos from the sky! The battery is very easy to swap out and has an extended life cycle compared to other standard batteries.
It also includes smart-charging technology, which prevents overcharging and undercharging and increases flight efficiency for longer flying times.
The battery temperature sensor ensures optimal performance during flights in colder environments, while its rapid recharge rate allows users to quickly get back up in the air after changing out.
Read Also: Drone Battery Charging Time: How Long It Takes?
Charging time
The Charging time of the DJI Air 2s is quite reasonable, with a charge time of just 1 hour and 40 minutes. This fast charging time means you won't have to wait hours for your drone to be ready to use again, which is perfect for when you're in a rush to get outside and fly.
It's also worth noting that if you do choose to use the optional external charger, you can include up to four Intelligent Flight Batteries and charge them simultaneously in only 2 hours.
The DJI Air 2S is a great drone for those who need a fast charging time for their camera or video footage-taking drone. This fast charging time means you can be sure to get the shots you need and not wait for long periods.
Advanced Features of DJI Air 2s
Several advanced features make the DJI Air 2s stand out from other drones. Some of them are: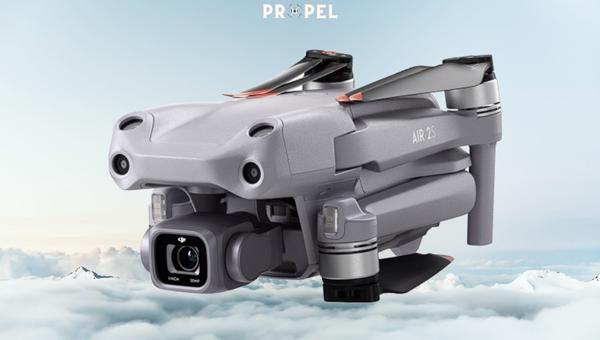 Return to home
The Return to the Home feature of the DJI Air 2s is an advanced safety measure that allows users to easily get their drone back in case it loses connection or runs out of battery power.
This feature works by having the drone automatically return to its takeoff point when it detects a loss in signal or when the battery gets too low. The Return to Home feature also allows users to adjust the drone's altitude and speed to ensure a safe landing.
This system works by using various sensors such as GPS, ultrasonic, and vision sensors to detect and recognize objects. This feature makes the DJI Air 2s great for those who want an extra layer of safety when flying their drone.
Spotlight 2.0
Spotlight 2.0 is one of the advanced features of the DJI Air 2s drone, enabling the user to lock their camera onto a moving subject while in flight.
It uses AI-driven technology and advanced algorithms to track the subject at all times, keeping them in focus even when they move or fly away from the camera's view.
This feature is perfect for getting that perfect shot when capturing action in motion, which is perfect for capturing action in motion. So it won't be a worry when shooting a moving object. Therefore, users can rest assured that they will get the perfect shot.
Active track 4.0
Active track 4.0 is the latest technology from DJI in their Air 2s drone series. It is an advanced automated tracking system that helps users take stunning, professional-quality aerial photography shots.
The system intelligently tracks and follows a subject of interest, keeping it in the frame at all times for optimum shots. Thanks to its precision and smoothness, users can now take perfect pictures and videos without having to worry about manually controlling the drone's movements.
The Active Track 4.0 system also includes several shooting modes, including Trace, Profile, Spotlight, and Point of Interest, to help capture the best angles for the perfect shot.
Point of interest 3.0
Point of Interest 3.0 (POI 3.0) is a new feature exclusive to the DJI Air 2S drone that allows users to capture amazing aerial shots easily.
The POI 3.0 system allows for high customization and control, allowing users to create stunning cinematic shots without having to be a professional photographer.
With the POI 3.0 system, users can select their flight path in advance, set an unlimited number of waypoints along the route, and even customize how quickly they fly through each point of interest. The Air 2S is one of the few drones on the market that offers this level of customization.
O3 transmission
The DJI Air 2s features a revolutionary O3 transmission system that allows for an ultra-low latency of 120 milliseconds. This low latency enables real-time video streaming with smooth image quality for the best possible drone flight experience.
The O3 transmission also provides a wider video transmission range, allowing you to fly farther without worrying about signal interference.
Additionally, the O3 transmission can automatically switch between 2.4GHz and 5.8GHz frequencies to maintain a strong signal connection even when flying in areas with lots of interference. This ensures that you will always be able to stay connected and have access to your drone's camera feed.
Automatic Dependent Surveillance-Broadcast (ADS-B)
Automatic Dependent Surveillance-Broadcast (ADS-B) has been made available in the new DJI Air 2s drone.
This technology is especially useful for aircraft, as it allows them to obtain positional information from other ADS-B-equipped aircraft. It also helps with identifying and safely tracking aircraft, as it broadcasts signals that can be detected by other aircraft.
This broadcast includes information such as the aircraft's identification, position, altitude, airspeed, and other data. Integrating ADS-B in the DJI Air 2s helps ensure that unmanned aircraft stay away from restricted airspace, such as airports and military bases.
It also allows the Air 2s drone to be used in situations where manned aircraft are required, such as search and rescue operations. Furthermore, the integration of this technology means that pilots can see and avoid other drones in their vicinity more easily than before.
Read Also: 10 Best Autonomous Drones | Updated List
Advanced Pilot Assistance Systems (APAS 4.0)
Problem: Flying a drone can be intimidating, especially for novice pilots. It takes skill and practice to fly a drone safely and accurately.
Agitate: Even experienced pilots can find it difficult to maneuver their drones in tight spaces or around obstacles without crashing into them.
Solution: The DJI Air 2s comes with Advanced Pilot Assistance Systems (APAS 4.0), making flying easier.
This system uses advanced sensors and algorithms to detect nearby obstacles and automatically adjust your drone's flight path, allowing you to focus on capturing stunning aerial footage instead of worrying about potential collisions.
With APAS 4.0, even beginner pilots can easily fly their drones through complex environments, making it the perfect choice for any aspiring drone pilot.
Read Also: 30 Major Pros and Cons of Drones | Updated
Pros and Cons of DJI Air 2s
Consider several pros and cons before purchasing a DJI Air 2s.
Pros
Excellent camera quality with a 1" CMOS sensor and 20 MP resolution, allowing for clear and detailed images
Superb 4k video recording capabilities with up to 6K 30fps resolution
Great range
CONS
Charging time is a bit more hectic
Alternatives of DJI Air 2s
Many alternatives to DJI Air 2s offer similar features, such as the Autel Evo II Pro, the Mavic 2 Pro from DJI, and the Skydio 2.
Autel Evo 2 pro
The Autel Evo 2 Pro is a great alternative to the DJI Air 2s. It has an 8K camera with a 48MP sensor, 4-axis mechanical image stabilization, and advanced obstacle avoidance tech that allows it to see obstacles in 3D. Additionally, the Autel Evo II Pro can fly at up to 45mph and has a range of up to 6.2 miles.
Mavic 2 Pro
The Mavic 2 Pro from DJI is another great alternative to the Air 2s. It features an impressive 24MP camera with a 1-inch CMOS sensor and 4K video recording capabilities. Additionally, the Mavic 2 has obstacle avoidance, as well as a maximum speed of 45 mph and a range of up to 8 miles.
Skydio 2
The Skydio 2 is another good alternative to the Air 2s. The Skydio features artificial intelligence technology that allows it to fly autonomously while avoiding obstacles.
Additionally, the drone has an impressive 4K camera and can fly up to 36mph with a range of up to 3.5 miles. It also has obstacle-avoidance technology and 16GB of onboard storage.
Summary
In conclusion, the DJI Air 2s is an amazing drone that offers incredible features and capabilities. Its easy-to-use interface makes it suitable for all levels of drone users, while its powerful motors make it capable of capturing stunning aerial videos and photos.
The obstacle avoidance system ensures you'll never worry about crashing your drone again, and the Smart Return Home feature will ensure a safe return to home if something goes wrong during the flight.
We have comprehensively reviewed the DJI Air 2s, highlighting its features and specs. Take a look at our review today to see what this drone can offer you! Hope you like the Article.
Thank you!