Drone Laws in Canada, Penalty, Limit (2023 Updated)
Updated On: December 24, 2022
Canada is no stranger to the use of drones. In recent years, drones have become increasingly popular across the country for air transportation and surveillance purposes.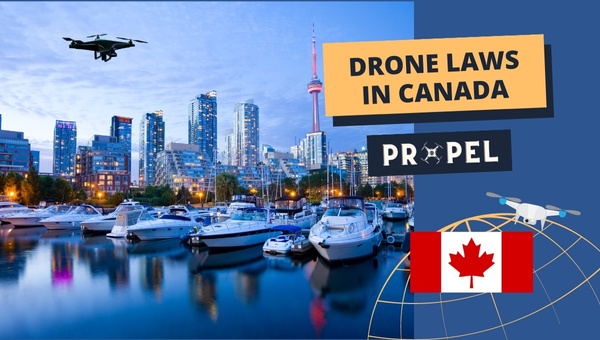 The government has put forth regulations for drone use in order to create a balance between public safety and efficiency.
Businesses are also beginning to invest in drones for commercial operations, from delivering parcels and goods to performing construction work and farm inspections.
As more people are flying drones, concerns about safety and regulations have been on the rise. And in many countries, including Canada, these laws can be complex and confusing.
In this blog post, we'll look at what drone laws look like in Canada, so you know how to stay safe and legal when piloting your drone.
In this article, we'll discuss everything related to drone laws in Canada, including permitted flight heights and required registration for specific unmanned aerial vehicle (UAV) models.
General Drone Laws in Canada (2023)
The new regulations are now in effect for those controlling Remotely Piloted Aircraft Systems (RPAS), or "drones," which weigh up to 25 kilograms and are operated within the drone pilot's line of sight. These rules apply to any models that fall between 250g - 25kg.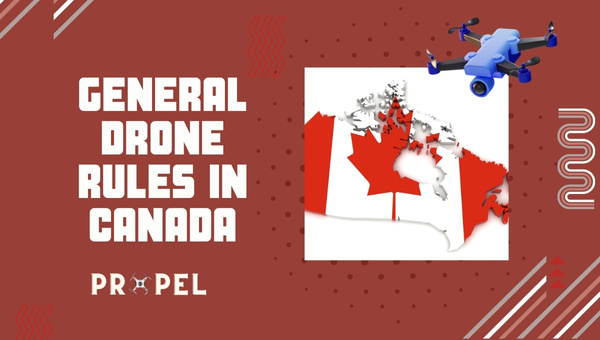 Micro-drones are unmanned aerial vehicles that weigh less than 250 g, not including the weight of their remote control. However, any additional accessories like cameras or safety cages attached to or carried by a micro-drone will be taken into account in its total weight calculation.
If you are a pilot for microdrones, you need not register your drone or obtain a valid certification in order to fly. However, be aware that reckless and negligent use of drones can jeopardize the safety of others and aviation security, so please exercise caution when operating your.
There is no set of rules when it comes to piloting a micro drone; however, as the operator, you are expected to be prudent and use your discretion in finding potential risks associated with flying.
It's important that you take all necessary precautions to ensure that there are no hazardous outcomes during flight operations. In order to maintain the highest standards, it is recommended that you always:
It is essential to keep the drone within your viewable area at all times.
To protect the integrity of our skies, kindly refrain from flying your drone higher than 400 feet in altitude.
To ensure the safety of those around you, always maintain a safe distance between your drone and any bystanders when operating it.
Maintain a safe distance from aerodromes, airports, and heliports when operating your drone for an optimal flying experience.
Steer clear of flying near sensitive infrastructure to ensure the safety of everyone involved.
For your own safety, it is essential to stay clear of aircraft at all times.
Prior to launching your drone, make sure you perform a thorough pre-flight inspection for optimal performance.
To ensure that your connection to the remote controller remains uninterrupted, fly your drone in close proximity.
Steer clear of advertised events.
To stay clear of financial penalties, abide by these regulations to ensure you're flying with the utmost care and attention.
The Aeronautics Act and Canadian Aviation Regulations classify micro-drones as aircraft, thus requiring authorization prior to entering any of the following zones:
Class F Special Use Restricted Airspace
Areas with a NOTAM issued for Forest Fire Aircraft Operating Restrictions
Any spaces where Section 5.1 of the Aeronautics Act limits all aircraft use.
If your drone is heavier than 25 kilograms or you are flying outside of the regulations, it is essential to acquire specific authorization from Transport Canada before taking off.
Read Also: Best Guide To Establish a Professional Drone Program
Penalties for Violating Drone Rules in Canada
Transport Canada and the Royal Canadian Mounted Police (RCMP) are cracking down on those who disregard the new rules, with hefty penalties for violators. Individuals or corporations can face severe legal consequences such as fines or even jail time if they are found guilty of any of these violations: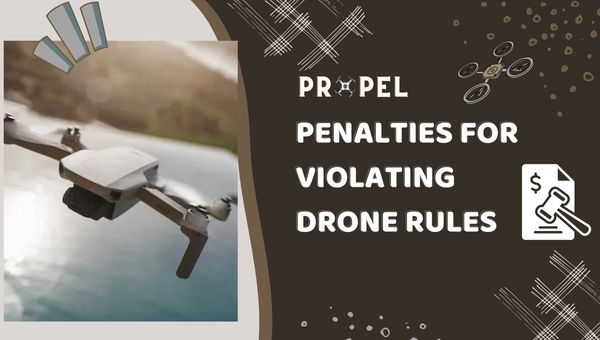 Endangering aircraft and people
Flying without a drone pilot certificate
Operating unmarked or unregistered drones
Pilot Certifications
To operate a drone between 250 g and 25 kg, all pilots must obtain their very own Drone Pilot Certificate. To be eligible to fly basic operations, it is required that pilots possess a Pilot Certificate - Basic Operations.
Pilots who want to operate advanced drones must secure a Pilot Certificate – Advanced Operations and pass the Small Advanced Exam and an in-person flight review. The latter is specifically designed to evaluate a pilot's capacity to operate their drone securely.
Registration of Drones in Canada
If you are flying a drone between 250 g and 25 kg, it must be registered with Transport Canada. Any pilot who wishes to operate a drone must affix their registration number onto the device before take-off.
Safety Limits for Drones in Canada
If you want to fly a drone, you must know the safety limits attached to that particular unmanned aerial vehicle.
The RPAS Safety Assurance outlines all of those restrictions for users before they take off - and these are the same standards declared by its manufacturer in accordance with Transport Canada regulations.
Plus, if you plan to conduct advanced operations with your drone, you must obtain an RPAS Safety Assurance first.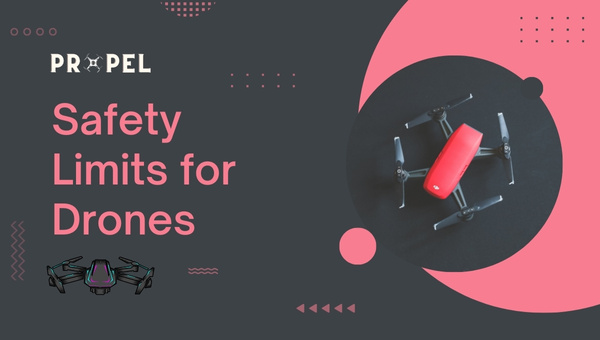 Have a Liability Insurance
Transport Canada recommends purchasing liability insurance for any drones you use, but it is not a necessity. Additionally, standard home insurance policies do not cover unmanned aerial vehicle (UAV) utilization.
Public liability insurance is highly recommended to protect yourself and your assets if something unexpected happens while flying.
Read Also: New Drone Laws In New Jersey
Rules for Recreational Use of Drones in Canada
Canadian drone laws don't unambiguously differentiate recreational and commercial use, rather, they delineate between "Basic" and "Advanced" operations.
To make it easier to understand these rules, we've broken them down specifically for basic operations and listed them below.
All drone operations must abide by the following rules:
Transport Canada mandates that all drones between 250 g and 25 kg in weight must be registered with them before any flying takes place.
To comply, pilots must inscribe their registration number on the drone prior to takeoff.
It is a requirement for all drone pilots who operate drones weighing between 250 g and 25 kg to obtain a valid Drone Pilot Certificate.
Maintain a clear line of sight with your drone for optimal safety and control.
Ensure that your drone is operated safely and responsibly by keeping it under 122 meters (400 feet) in the sky.
Soar away from onlookers, maintaining a safe 30-meter distance for everyday flight maneuvers.
Avoid flying when there are emergency operations or public events occurring in the area.
To ensure your safety and the safety of others, it is highly advised that you avoid flying within 5.6 kilometers (3 nautical miles) of airports or 1.9 kilometers (1 nautical mile) from heliports at all times.
Keep your drone clear of other aircraft and fly it to a remote area.
Avoid flying close to airplanes, helicopters, as well as other unmanned aerial vehicles
Always show respect for the privacy of those around you.
Basic Operations
If you fulfill the conditions below, then you're in compliance with Basic operations for flying an unmanned aerial vehicle (UAV) or drone:
Fly it more than 30 meters away from people
Never have it ascended over any bystanders
Keep it at least 3 nautical miles removed from a certified airport or military aerodrome
Be no closer to a heliport than 1 nautical mile
If you fail to fulfill any one of these criteria, your operations become classified as advanced.
As an example, if you fly your drone farther than 30 meters (100 feet) away from bystanders in controlled airspace, it is deemed as advanced. Even though the safety of those around is not compromised by being within a limited zone, this operation can still be complex due to its closeness to permeated areas.
To guarantee optimal operations within the basic category, please adhere to these instructions:
Before you take a flight for the first time, be sure to register your drone with Transport Canada.
Make sure to prominently display your drone's registration number for easy identification.
Take the Small Basic Exam to qualify for drone piloting privileges.
You must be ready to show your Pilot Certificate – Basic Operations and registration documents.
Privacy regulations for Recreational use in Canada
As a recreational drone operator, it is critical that you have an understanding of the rules and regulations before taking to the sky. Please keep in mind these important privacy guidelines when operating your drone:
As an operator, it is your responsibility to be mindful of the personal data that your drone may collect. Personal data could range from someone's name and photo to even a license plate number, all of which must be treated with utmost respect and care.
Limit the amount of information you store. Don't save any unnecessary personal details, and if you capture private data without permission, take steps to ensure it's untraceable. Blur faces or license plates when taking photos, as an example.
Make sure you get consent; before you start filming your flight and potentially capturing personal data, make sure the people in front of the camera are aware and have given their permission.
Safeguard your data with care; if any recordings you store contain personal information, ensure that only you can access it by taking the necessary precautions.
Always be open and honest with your drone use, and if anyone is concerned about privacy violations, make sure to reply appropriately.
Read Also: 10 Best Tips For Marketing Your Drone Business
Commercial Drone Rules in Canada
If you don't meet any of the criteria for basic operations when it comes to your drone use in Canada, then that operation is automatically classified as advanced.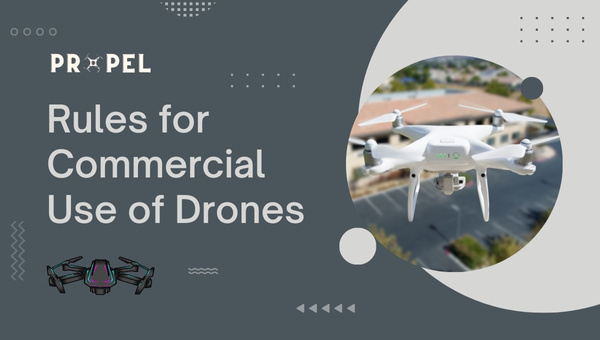 To make sure you understand exactly what's needed of you for such an operation, we've broken down all relevant rules and regulations below just for advanced operations.
When any of these conditions are met, you can be sure that your operations fall under the category of "advanced operations" :
If you desire to fly your drone in regulated airspace.
When you're looking to operate a drone above bystanders.
If you're looking to fly a drone within 100 feet of people, make sure that the distance is measured horizontally.
If you intend to fly a drone within 3 nautical miles of an airfield or military aerodrome
If you're looking to fly your drone within one nautical mile of a licensed heliport.
To perform advanced procedures correctly, you must adhere to the following regulations:
Before you take to the skies with your drone, ensure that it is properly registered with Transport Canada.
Ensure your drone is labeled with its registration number for identification and legal compliance.
Be sure to have a valid Safety Declaration in place before flying.
In order to be eligible to pilot a drone, you must first pass the Small Advanced Exam.
Passing a flight review with an experienced flight reviewer is mandatory.
To legally pilot your drone, you must always have your Pilot Certificate, Advanced Operations, and registration documents on hand.
In order to fly in regulated airspace, you must obtain approval from NAV CANADA or the Department of National Defence. To secure permission, apply for an RPAS Flight Authorization with NAV CANADA.
Always fly your drone within its designated parameters.
Only drones that meet the necessary safety requirements should be used.
You are not required to possess a Pilot Certificate for Basic Operations if you already have a Pilot Certificate for Advanced Operations, allowing for the execution of basic operations.
Read Also: Drone Laws in Virginia, Rules, Penalties
Privacy Regulations for Commercial Use in Canada
Canadian organizations must adhere to the Personal Information Protection and Electronic Documents Act (PIPEDA) when using drones for business purposes.
As mandated by PIPEDA, it is essential that you acquire consent prior to collecting, utilizing, or sharing any personal information. For consent to be legally sound and binding, all parties must have a comprehensive understanding of the matter.
Your business should always handle people's private information with dignity and professionalism. That means you must make it crystal clear why you are collecting their personal details and provide them access to that same data at any given time. It falls on you to secure and manage any personal data within your organization.
Exceptions for PIPEDA
If you are an organization located in Alberta, British Columbia, or Quebec and collecting personal information for not-for-profit organizations, journalism, art & books production, or academic research purposes, then PIPEDA does not apply to your operations.
Despite that fact, other provincial privacy laws still have legal jurisdiction over such activities and thus must be considered when performing the aforementioned tasks.
No Drone Zones in Canada
In Canada, Transport Canada Civil Aviation has established no-fly or 'no drone' zones in certain locations. These areas are designated to protect public safety and to prevent interference with sensitive sites like airports.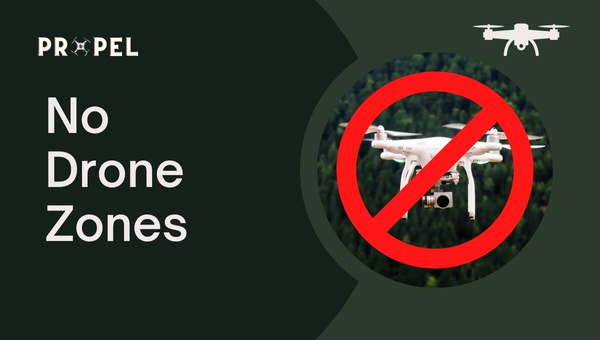 It is important for all drone operators to familiarize themselves with the rules and regulations before flying a drone in Canada, including where not to fly.
Transport Canada Civil Aviation is committed to providing Canadians with safe, reliable air services, and by maintaining no-drone zones, they are helping ensure the integrity of Canadian airspace.
How to know about No Drone Zones in Canada?
Transport Canada Civil Aviation provides a comprehensive list of no-drone zones for Canadian drone operators on its website. This list includes military and restricted airspace, emergency response operations, parks, and wildlife areas, busy airports, as well as some provincial and municipal sites.
Before flying your drone anywhere in Canada, it is important to make sure you are aware of the applicable regulations, including any no-fly zones that may be in place in the area. Doing so will help keep both you and those around you safe while enjoying the hobby of flying a drone.
Read Also: Updated Drone Laws in Germany: Rules To Follow
Transport Canada Civil Aviation
Transport Canada Civil Aviation is responsible for regulating all forms of transportation in Canada, including drones. Drones must adhere to strict guidelines, including obtaining a Special Flight Operations Certificate prior to taking flight and adhering to altitude restrictions and other safety regulations.
Transport Canada ensures pilots maintain necessary qualifications, oversee product testing, certify equipment is airworthy, promote educational standards in hangars, and control private planes flying outside prescribed routes.
They also hold the authority to make emergency airspace closures when unsafe flying conditions have been identified or after medical incidents apparent during private plane operation.
With each rule intended for protecting Canadians on the ground and in the air, Transport Canada's integral role in aviation operations provides us with an extra layer of security whenever we board a plane.
FAQs
Is it permissible under Canadian law to operate a drone?
Yes, it is permissible to operate a drone under Canadian law, provided that you comply with the safety regulations set by Transport Canada Civil Aviation and obtain any necessary permissions from NAV CANADA or the Department of National Defence.
Do I need a Pilot Certificate for Basic Operations to fly my drone?
No, if you already have a Pilot Certificate for Advanced Operations, you do not need to obtain an additional certificate.
What happens if I violate privacy laws while operating my drone?
Violating another person's privacy can be considered a criminal offense and may result in legal repercussions such as voyeurism, mischief, creating public disturbances, and noncompliance with state or local laws.
Conclusion
It is important for all drone operators in Canada to take the time to familiarize themselves with drone laws in Canada. Proper registration, certification, authorization, consent, and privacy are all vital components of safe and responsible drone operations.
In conclusion, drone laws in Canada are evolving to keep up with the rapid changes in technology. Regulations and standards are being updated constantly to ensure that drones have a safe, secure, and responsible environment to fly in a while still allowing companies to achieve their goals.
It is important for users of drones to stay up-to-date on changing regulations as well as understand the local rules and restrictions before flying any drone.
With proper education and understanding, drone users can help continue to foster an environment where everyone can benefit from this ever-changing technology.
I hope you found this article helpful. If something is unclear, or if you have additional questions, please comment.