Drone Laws in Egypt, Penalties, Registrations (2023 Updated)
Updated On: January 28, 2023
Drones are becoming an increasingly powerful presence in the skies of Egypt. The development of unmanned aerial systems began to gain traction in the country several years ago. Drones are responsible for various tasks, including surveillance activities, deliveries, mapping, etc.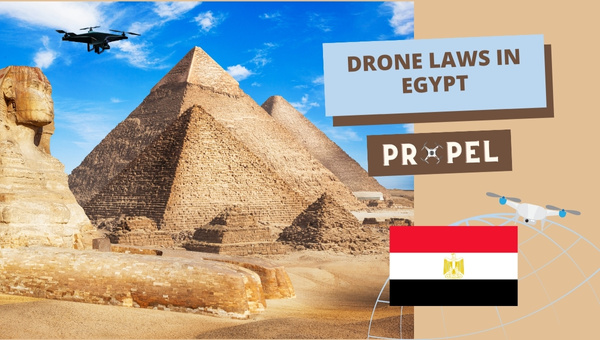 In this blog post, we'll discuss drone laws in Egypt, including what is legal and illegal regarding their use so you can fly confidently during your next visit.
Working with partners from around the world, the Egyptian government is focused on creating a safe way to use these unique technology tools to create economic opportunities while ensuring the safety and security of citizens. This effort has increased productivity while providing better access to goods and services in remote areas.
Additionally, it has opened up possibilities for reducing human risk by replacing dangerous jobs with automated drone operations. As Egypt takes great strides towards its goals related to using drone technology innovatively, other countries will inevitably be watching their progress closely.
This article will explore the current laws affecting drones within this country and their implications for both users and manufacturers.
Read Also: All Drone Laws in Austria
General Drone Rules to Follow in Egypt (2023)
If you're looking to operate a drone in Egypt, essential regulations must be followed.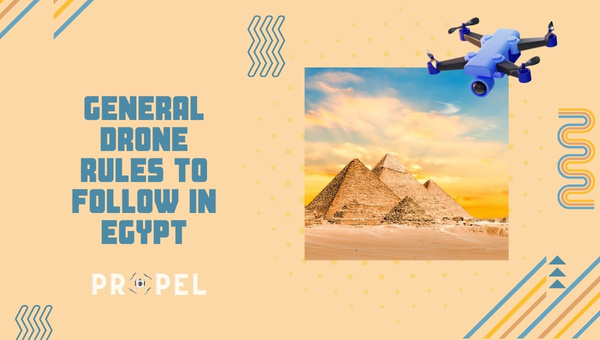 To ensure compliance with the law and remain safe during your flight, it is essential to familiarize yourself with local laws regarding drones and airspace before taking off.
To legally pilot your drone in Egypt, you must first obtain the explicit permission of their Civil Aviation Authority.
Always ensure that you maintain a safe height to avoid endangering people when flying your drone.
Respect the privacy of others when you're piloting a drone.
Steer clear of piloting your drone above airports or in places where planes usually fly. Furthermore, make sure to only operate the drone during daylight hours and under preferable atmospheric conditions.
When you operate your drone, steer clear of regally-sensitive regions, like government or military compounds. Not only are drones outlawed in these areas, but any camera-equipped unmanned aerial vehicle is strictly forbidden too.
Only take your drone out during the day with favorable weather conditions, ensuring that visibility is never an issue.
It is imperative to keep drones below 400 feet when operating in the air.
Always ensure you can keep your drone in full view.
Maintain a minimum distance of 5.5 miles (9 kilometers) away from all airfields and airports while flying.
Avoid traversing in areas with high security or restricted airspace, especially military and governmental facilities.
Pilots must be prepared to intervene manually at any point during an automatic flight maneuver in order for it to be authorized.
Read Also: All New Drone Laws in Minnesota
Penalties For Breaking Drone Laws in Egypt
In 2017, Egypt issued a restrictive law banning the use and trading of drones. Unless you obtain permission from the Ministry of Defense, importing, producing, selling, collecting, and keeping any drones is unlawful.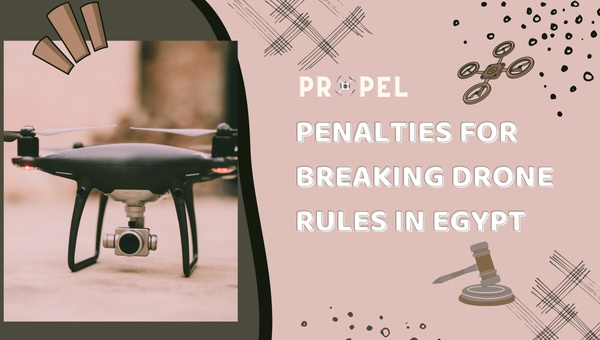 This stringent rule has been put in place to protect citizens and businesses from the potential danger posed by these unmanned aerial vehicles.
Any individual who breaches or contravenes the law will be punished with a penalty between LE 5,000-50,000 and/or can have imprisonment for up to seven years. The military court is responsible for enforcing all laws accordingly.
Egyptian Civil Aviation Authority (ECAA)
The Egyptian Civil Aviation Authority (ECAA) is the governing body responsible for overseeing all aviation operations in Egypt. The ECAA works to ensure all entities involved in air traffic activities, such as airlines, government agencies, and airports, comply with international regulatory requirements related to air safety and security.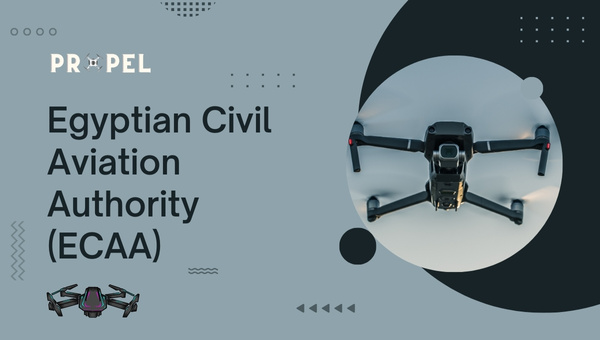 Through its commitment and dedication to the highest safety and efficiency standards, the ECAA has established itself as a standard bearer for civil aviation authorities worldwide.
From supporting workers within the industry through training and certification programs to investing in modern technology advancements while promoting more sustainable practices among its members and customers, the ECAA continues to be at the forefront of facilitating safe air travel.
Read Also: Updated Drone Laws In South Africa
No Drone Zones
A 'No drone Zone' is an area where the usage of drones or unmanned aerial vehicles (UAVs) is strictly limited or prohibited. Originating in Egypt, where these zones were implemented to protect cultural monuments from photography by drones and other technologies, the concept of a No Drone Zone has now been adopted by various countries around the world.
Depending on local laws, a No Drone Zone may refer to areas where commercial drone use is prohibited, such as public parks and national forests, or higher restriction areas, such as airports with their 5-mile no-fly radius and military bases.
In all cases, restricted usage of UAVs in certain areas can help maintain safety and sightliness across public locations.
Knowing about No-Drone Zones
You can find information about No Drone Zones in your area by checking the local aviation authority websites for official regulations and restrictions.
Additionally, many countries have also implemented drone-specific maps that indicate no-fly zones or restricted areas where unmanned aerial vehicles are prohibited. These maps may include airports, prisons, hospitals, military bases, government buildings, and more.
Finally, it would be best if you always were sure to research any potential risks when flying your drone in public areas like parks or tourist attractions. Depending on the laws of a particular country or region, some activities that are permitted in one place might be illegal in another.
Read Also: All New Drone Laws in Missouri
FAQs
Is it permissible to operate drones in Egypt according to the law?
Drones are permitted in Egypt. However, all operators must obtain permission from the Ministry of Defense before operating. Failure to do so may result in a penalty and/or imprisonment.
What is the role of the Egyptian Civil Aviation Authority (ECAA)?
The ECAA oversees all aviation operations in Egypt and ensures entities comply with international regulatory requirements related to air safety and security.
Conclusion
The development of unmanned aerial systems is becoming increasingly popular in Egypt, with the government taking action to ensure their safe and responsible use. By following these regulations, you can fly your drone safely and responsibly in this country.
In addition to adhering to the laws outlined in this article, it's also important to understand the potential risks associated with using drones in unfamiliar areas or controlled airspace.
With that in mind, make sure you do your research before leaving home so you can enjoy a successful drone flight adventure without any hassle.
By understanding local regulations on drones, users can make sure they operate them safely while enjoying all the benefits and advantages of this innovative technology. We hope this article has been useful to you. If you have any further questions or would like to make a suggestion, we invite you to leave a comment below.