New Drone Laws in France (2023 Updated)
Updated On: December 21, 2022
The use of drones in France has been growing in recent years, with businesses and governmental entities utilizing versatile unmanned aircraft for a number of purposes.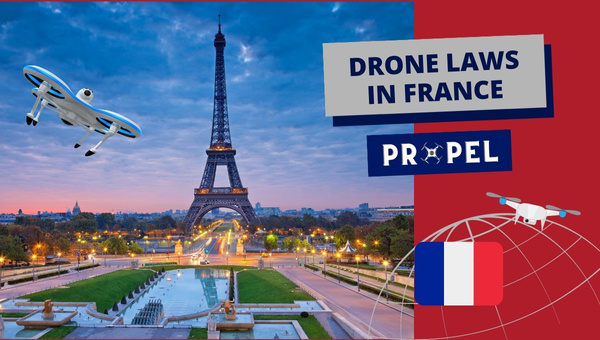 While commercial drone services remain heavily regulated, private individuals are increasingly turning to them for hobbies like photography, videography, and racing.
France is a country that enjoys the freedom of technology and has rapidly adopted drones as one of its favorite technologies. From videographers to delivery companies, the rising popularity of drone usage in France has caught the attention of government officials.
As a result, the French government has now implemented laws and regulations regarding how people can use drones within their airspace, ensuring they stay legal and within proper boundaries while still benefiting from this exciting technology.
In this blog post, we'll go over everything you need to know about drone laws in France, including what types can be flown and where it's legal to fly them.
Drone Rules To Follow in France (2023)
If you fly any of the listed unmanned aircraft, you are exempt from registering your drone under new EU regulations.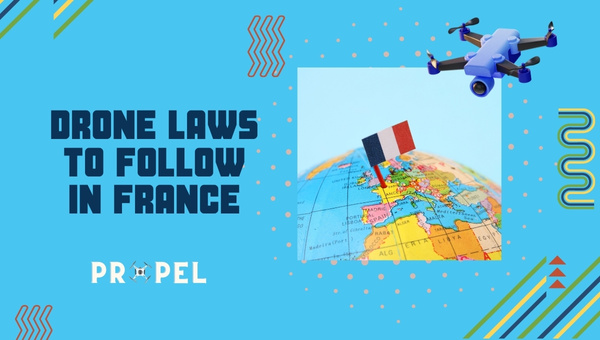 A drone weighing less than 250 grams and not possessing a camera or any other device capable of gathering personal information can be operated without a pilot.
Directive 2009/48/EC categorizes any unmanned aircraft as a toy, allowing it to be flown without legislation.
Model aircraft with a lift-off weight of not greater than 1 kg can be controlled using the control line.
If you're a Drone operator based in France, registration is mandatory and comes with an affordable fee. Choose from either 30€ for one year, 75€ for three years, or 100€ for five years.
Once you have registered, it is essential that you adhere to the following regulations.
Drones may soar to heights of up to 50 meters (170 feet) in the Open category and even higher, at 120 meters (400 feet), when it comes to the Specific category. Fortunately, exemptions can be granted by The Department of Civil Aviation for specific operators with drones falling into this latter bracket.
Visibility of the drone should always be maintained, and it must not venture more than 500 meters away from its point of origin.
Steer clear of congested regions and populated areas when flying.
To ensure the safety of residential areas, maintain a minimum distance buffer zone of one kilometer.
It is mandatory to maintain a distance of 500 meters from isolated buildings, people, vehicles, animals, and structures unless the owner or occupant grants explicit permission.
To ensure your safety, steer clear of any airspace within eight kilometers of airports and three kilometers away from heliports.
It is strictly forbidden to fly a drone at night under any circumstances.
Flying is strictly prohibited in the vicinity of military facilities, public utility sites, archaeological areas, and other kinds of private or public establishments.
Remote ID for Drones
As of June 29th, 2020, any drone weighing 800 grams or more must come equipped with a signaling device that transmits its unique identification and flight data like coordinates, speed, and course via radio signal at specified intervals using WIFI technology.
Also Read: Drone Laws in Ukraine: All You Need To Know
Rules For Commercial Use of Drones
If you want to fly a drone commercially in France, make sure you abide by the regulations listed, and don't forget to get approval from the French FCAA first. Follow the given regulations: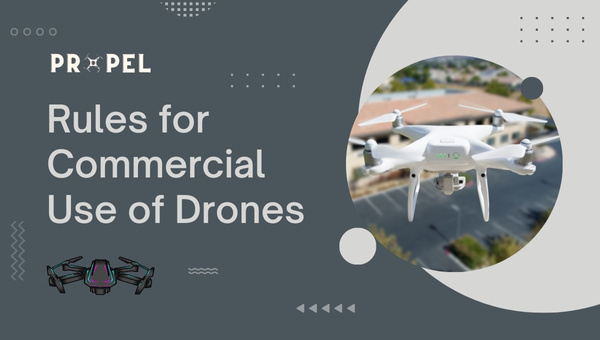 If you want to become a commercial drone pilot in France, it's essential that you obey its regulations. To do so, passing French theory and practical tests is mandatory, along with acquiring the correct permits required by law.
To fly your drone above the maximum elevation of 150 meters (492 feet), you must first obtain special approval from the appropriate authorities.
Although there is no cap on the flight distance, you can only operate the aircraft as long it remains in your line of sight. If you want to fly beyond that limit, then authorization from a higher-up must be secured first.
There is no restriction on the weight of a drone during take-off.
Obtaining a license is essential for droning operations.
Unless authorized, only carry out operations during the daytime hours.
While labeling specifications are not legally binding, they are strongly recommended. However, liability insurance for drones is a must, regardless of the circumstances.
Rules For The Recreational Use of Drones
For hobbyists who are looking to fly drones weighing more than 500 g, the transition period ending on 1.1.2023 requires the passing of an online theoretical knowledge examination to do so.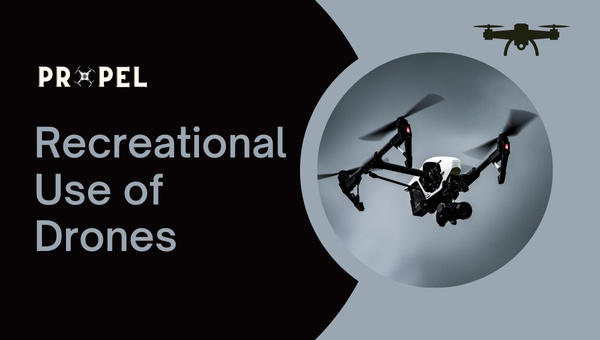 After this date has passed, anyone flying a drone weighing over 250 g will need to complete and pass this exam to continue their aerial activities.
When operating an Unmanned Aircraft System (UAS), the operator must adhere to subcategory conditions and weight limitations and abide by general 'open' category requirements, such as maintaining a visual line of sight and maximum height. Additionally, all valid airspace restrictions must be observed at all times.
In France, private drone flying is authorized, provided you adhere to the following regulations. No need for special authorization either:
Drone pilots who fly for fun or recreational purposes do not have to undergo any training if their drone is under 800 grams in weight.
To fly a drone over 800g recreationally, aspiring pilots must go through rigorous training to ensure proper use of the remotely piloted aircraft.
To fulfill proper training requirements, applicants may take (1) The DGAC's Fox AlphaTango course or (2) a program provided by FFAM and UFOLEP that is accepted as equivalent by the DGAC.
Drones must remain at a maximum altitude of 150m/492ft; any flights above this height will require special permission.
Liability coverage for drones is an absolute necessity.
French Civil Aviation Authority (FCAA)
The French Civil Aviation Authority (FCAA) is the agency responsible for drones and other aircraft in France. The FCAA's most important mandate is to ensure aviation safety and stability within the nation.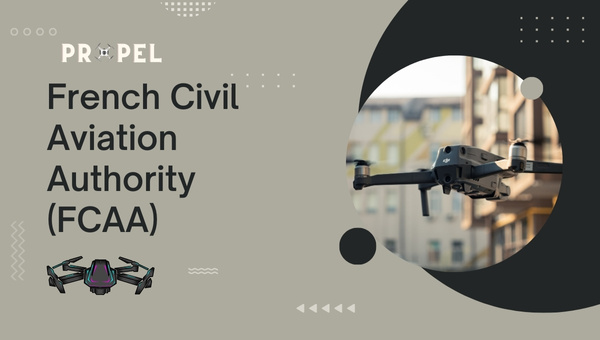 It is also tasked with oversight over drones and unmanned aerial vehicles, which require special compliance with France's ever-evolving rules and regulations.
The authority has professionals who specialize in drones overseeing all aspects of their operation, from design to commercial use. Additionally, the organization regulates airshows, aerobatic displays, and public events related to drone flying activity.
Finally, it sets up flight limitations, such as no flying above certain heights or over many cities, in order to keep passengers safe as drones share airspace with more conventional aircraft. The FCAA helps ensure that drones are used safely and responsibly throughout France.
Also Read: Updated Drone Laws in Germany: Rules To Follow
European Union Aviation Safety Agency (EASA)
The European Union Aviation Safety Agency (EASA) is a regulatory body responsible for ensuring the safety of drones and other aircraft in the European Union.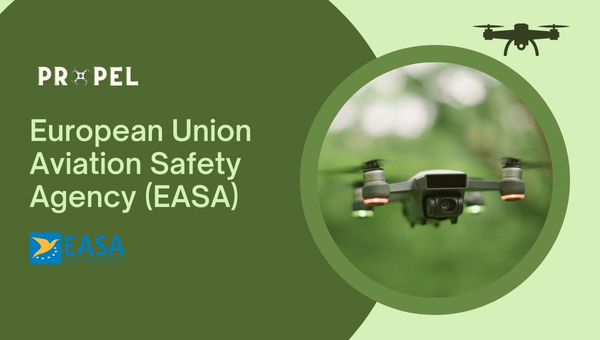 Established in 2002, the EASA oversees drones designed for commercial use or private operation, covering design, manufacture, operation, and maintenance areas.
With an aim to establish rigorous safety standards and harmonization of drones across Europe, EASA puts drones through a series of tests to ensure they snugly adhere to the European Aviation Safety Standards.
In addition, the organization provides guidance on potential risks posed by drones as well as oversight over drones used in industrial applications such as mapping and surveillance operations.
The EASA works hard to protect lives and property while furthering technological advancements in order to make drones safe, reliable, and accessible.
Operation Categories in European Union
With three distinct classes of drones operated throughout the European Union, each with its own set of policies and regulations to abide by, someone seeking to utilize a drone must take extra care.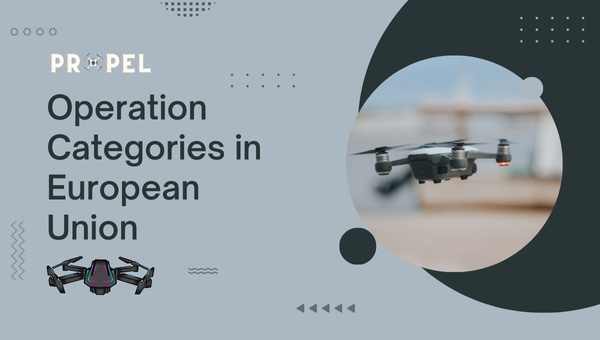 Open category
If your drone is classified under the open category, you can fly without any special authorization - as long as it conforms to basic safety standards.
Open-category drones are those that weigh 25kg or less and aren't used for profit. Keep in mind that even though a permit isn't necessary, regulations set by EASA still apply.
Recently, open-category drones have become a hit across the European Union for their affordability and convenience. Not only are they great fun to use recreationally, but their extensive usability makes them ideal for commercial usage as well.
Drones are simpler to use than other unmanned aircraft systems and stand ready to revolutionize the world of aviation and transportation. Despite certain obstacles connected with drone usage in Europe, it is evident that these vehicles will be essential for future transport needs.
Also Read: New Drone Laws In New Jersey
Specific category
If you're operating a drone in a specific category, restrictions may be broader than what is applicable to those working with open-category drones.
To ensure your commercial activities are compliant, getting permission before photographing or filming people is best. Additionally, EASA can provide further guidance on other regulations that apply when using a specific-category drone, so you stay within the law.
Any drone that surpasses the 25kg to 150kg limit needs permission from governing authorities before it can take flight. These drones are only approved for commercial use, and if you plan on piloting one of these powerful machines, then you must acquire a permit through EASA first.
Certified category
If you're considering utilizing a drone for commercial purposes, it must first be certified by EASA-- the European Union's aviation regulator.
Qualifying drones weighing less than 150kg are eligible for certification, and those operating them must obtain an approved permit from the agency to get airborne. Obtaining these certifications is essential as they guarantee safety compliance and adherence to strict regulations enforced by EASA.
No Drone Zones in France
France has recently increased its awareness of safety surrounding the use of drones. As a result, France has created no drone zones in several parts of the country for security reasons.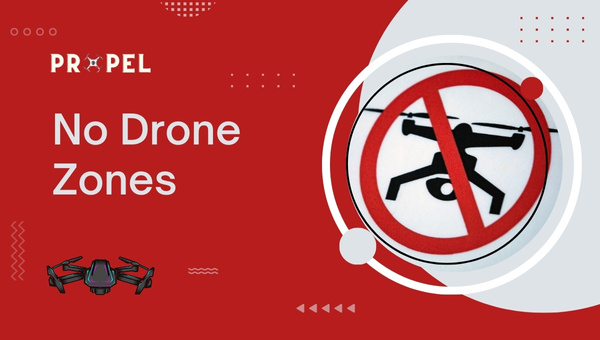 These include airports and France's many iconic tourist sites like the Eiffel Tower and Louvre Museum, among others.
For France, these are necessary steps to ensure the airspace is regulated and secure from any potential dangers that may come from drones.
This proactive approach to drone usage establishes France as an example of modern security measures, balancing technology with responsible regulations.
Also Read: Drone Laws in Poland: Rules To Follow
FAQs
Is it legal to operate drones in France?
Yes, it is legal to operate drones in France as long as the operator follows all regulations set forth by EASA.
What are the drone weight restrictions?
The weight restrictions for drones vary depending on the category of operation. Open-category drones must weigh 25kg or less, while specific and certified category drones must weigh 150kg or less.
Is it necessary to get permission to use a drone commercially?
Yes, if you plan on using a drone for commercial purposes, you must acquire an approved permit from EASA before piloting your drone.
Do I need to abide by no-fly zones?
Yes, drone operators must always be aware of any no-fly zones in France and other areas they are using their drones. These restrictions are in place for security reasons, and it is important that they are followed.
Conclusion
Drones are an awesome technology to have, but it is important that you understand the laws and regulations of your country or state before flying.
The French government has taken steps to ensure that everyone who uses drones in France stays safe and responsible through a series of laws and regulations, including registration requirements and distance limits.
Following these laws allows you to fly responsibly and enjoy all the amazing benefits this technology provides. The information provided in this blog post should help you better understand how drone laws work in France so that you can make sure your flights are legal and safe.
If you have any questions or concerns, please leave them in the comments, and we'll be more than happy to help.