Toutes les lois sur les drones en Autriche (2023 mis à jour)
Mis à jour le : 28 janvier 2023
Drones are becoming increasingly commonplace in the skies of Austria. Major cities, such as Vienna and Salzburg, have seen an explosion in drone flights recently. Many recreational flyers use drones to explore nature close to a bird's eye view.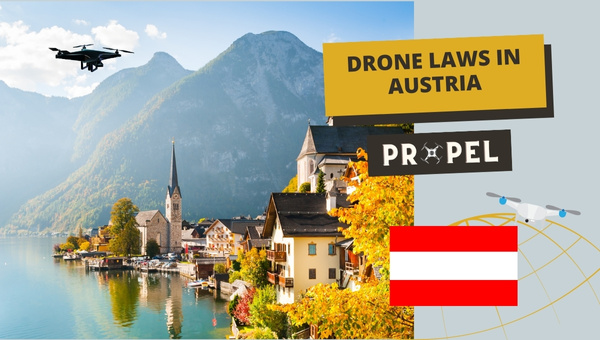 For commercial operators, drones have created more professional opportunities for photography and videography, construction and engineering tasks, transportation, and other services.
Drones have also been used for educational purposes by students and researchers who hope to gain further insight into topics like ecology and climate change.
Drones in Austria provide fascinating experiences that can yield invaluable data and serve essential functions in the country's beautiful landscapes.
Drone enthusiasts must consider multiple aspects when engaging with their devices, including safety regulations, airspace restrictions, and permitted operations, depending on where they fly.
In this blog post, we will discuss all the Drone Laws in Austria while exploring its breathtaking sights from above.
Lire aussi All Drone Laws in Louisiana
General Drone Rules to Follow in Austria
Austrian drone operators must register each of their drones and carefully follow the laws related to them.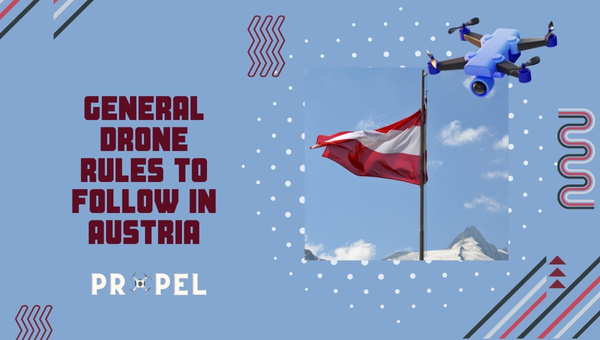 A drone pilot must be no younger than 16 years of age.
Obtaining liability insurance is a necessity for all drone operators.
Except in exceptional scenarios where special authorization has been granted, flying over congregations of people (like at festivals, sporting events, concerts, etc.) is strictly prohibited.
Without express authorization, it is strictly prohibited to fly near any airport.
Only Austro Control has the authority to allocate a pilot an aviation permit.
Despite the approval of your operating license, you may need additional aviation-related permissions under the 2014 Air Traffic Rules for certain areas.
In the Open category, drones may be flown up to a staggering altitude of 50 meters (170 feet) above ground or sea level. If you require additional height for your operations, there is also a Specific category with an upper limit of 120 meters (400 feet). The Civil Aviation Authority can even provide exemptions to certain drone operators as necessary.
It is essential to remain visually aware of the drone at all times and always keep a distance of no more than 500 meters.
For the safety of everyone, it is vital that you avoid flying in proximity to residential areas or any area with a high population density.
To guarantee the protection of our residential areas, it is crucial to maintain a 1 kilometer buffer zone always.
Individuals must remain 500 meters away from any isolated property, occupants, vehicles, creatures, or structures without permission.
When operating an aircraft, be sure to keep a safe distance of 8 kilometers from airports and three kilometers from heliports.
It is strictly prohibited to fly a drone after dark.
It is strictly prohibited to fly over, within, or close to any military sites, public utility areas, archaeological locations, and all other private and/or government establishments.
Austria has implemented stringent regulations for unmanned aircraft systems since 2014, so you should make sure that your drone meets the criteria before taking it into the nation.
Weight and desired flight elevation are major factors in categorizing a drone. Understanding these rules is essential to ensure safe and legal flying when visiting Austria with a UAS.
Lire aussi All Drone Laws in Connecticut
Drone Permit in Austria
In Austria, drones are classified according to the amount of kinetic energy they possess, including their speed and weight.
Anyone piloting any of the following is obligated to establish a drone operator profile:
Drones weighing more than 250g
Drones below that weight but equipped with technology capable of transmitting kinetic energy greater than 80 joules when impacting humans (referred to as "high-speed" models)
Drones are designed with sensors and are able to collect personal information.
Operators must be registered before utilizing any hardware with a camera, save for those gadgets that meet the specifications of the EU Toy Directive.
Enregistrement des pilotes de drones
In compliance with EU Regulation 2019/947, all UAS operators must register before piloting their drones. Furthermore, the Remote Pilot in charge of the drone must follow every direction the operator gives and take full responsibility for any flight they carry out.
In the OPEN category, solo flights normally require a single individual to fill both roles - pilot and observer. These rules guarantee a secure experience for all involved parties during each flight.
If you meet the OPEN category, registration is essential for unmanned aerial systems (UAS) that boast a weight of more than 250g and operate at or above 90km/h with either an attached camera or microphone.
Every operator must register without exception in the SPECIFIC category.
It is essential to remember that any legal entities must register their operations within the nation they primarily operate in, and registration must be carried out exclusively within a single Member State.
Starting on your UAS operator registration journey is a breeze; go through the online procedure. Once registered, your number will remain valid for one year and must be renewed annually by following the same process unless you don't wish to register any longer.
To guarantee the consistent activation of your number, ensure you keep up with your current status in this system.
Drone Registration
With ease, any drone operator can register online and receive a unique registration number which must be displayed on all drones employed. This can be conveniently done by simply labeling the aircraft.
Individual device registration is completely unnecessary since a one-time sign-up via the operator of the machines is sufficient to authorize them for 3 years with an affordable fee of 32.40 euros.
Drone Insurance Requirement
If you are flying a drone in Austria, you must insure yourself under the Aviation Act's requirements. To be able to do so, your insurance must cover at least 750,000 SDRs (Special Drawing Rights).
Keep in mind that other European Union countries may have additional demands for coverage that go beyond what is stated here.
Lire aussi All New Drone Laws in Haiti
Catégories d'opérations dans l'Union européenne
The European Union has carefully divided drones into three categories with distinct regulations that should be stringently followed.
Catégorie ouverte
If you're eager to take flight without the burden of acquiring special authorization, then contemplate obtaining an "open" category drone. Adherence to EASA safety regulations is essential since these devices are non-commercial and cannot exceed 25 kg in weight.
The best part is that you won't require prior approval before operating, but don't let this fool you into thinking ignorance or negligence should be neglected.
In recent times, the European Union has witnessed an unbelievable spike in open-category drones owing to their extensive advantages.
Unmanned aerial vehicles are durable as well as cost-effective - which makes them not only a great choice for hobbyists but also for enterprises and businesses seeking commercial operations.
The wide range of uses these drones provide makes them extremely sought after; whether it's recreational activities or more serious business applications, they can offer all that and much more.
Flying drones is easier to manage compared to other aerial vehicles and will revolutionize both aviation and transportation. Although certain restrictions impede their use in the EU, it's clear that these innovative devices will become a major component of our society's transport system.
Catégorie spécifique
Unlike the more unrestricted open category, specific commercial activities have predetermined limitations. For instance, if you wish to use a drone for taking pictures or filming people, it is essential that you seek permission from those involved first.
To avoid any potential legal issues during operation, we highly recommend consulting EASA beforehand to gain a deeper understanding of the various restrictions put in place within this context.
If you're searching for drones to use commercially, Lowest Price Drones is your best option. Their models weigh anywhere from 25kg-150kg and come with an EASA permit that can be acquired quickly, granting the authorization necessary for takeoff in no time.
Catégorie certifiée
To legally operate a certified-category drone, speaking with the European Union's aviation regulator (EASA) and having your unmanned aircraft weighing more than 150kg is necessary.
Being granted approval by EASA will then provide these drones with the capability for commercial use. Having this authorization ensures that these drones can comply with any safety standards established by EASA, guaranteeing protection for all users.
Lire aussi Lois sur les drones en Espagne : Tout ce qu'il faut savoir
Agence européenne de la sécurité aérienne (AESA)
The European Union Aviation Safety Agency (EASA) is an authoritative body that was created in 2002 to manage aviation safety standards and policies across European airspace.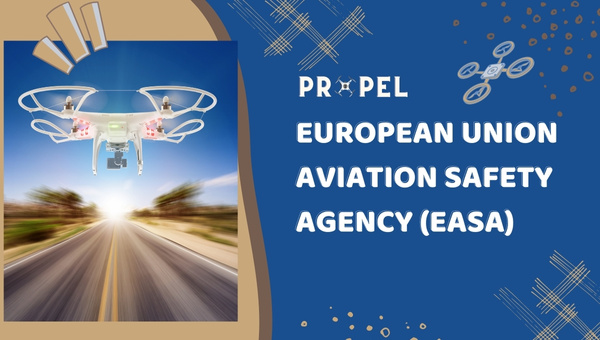 Its mission is twofold: it seeks not only to ensure high levels of safety but also to create pathways for future innovation, development, and growth in the air travel industry.
EASA's main focus is ensuring aviation safety. However, they also ensure that many drones adhere to certain regulations, especially those employed for commercial or industrial use like photography and cargo delivery.
The European Aviation Safety Agency (EASA) must be credited for its exceptional efforts in maintaining a set of international standards and certifications specifically designed to protect commercial circumstances, including privacy, airspace use, and national security.
Commercial drones have become commonplace due to the agency's regulations; they are now used more than ever before.
Austro Control (AC) / DroneSpace
Austro Control (AC) is an independent aviation service provider and the national supervisory body for all methods of air traffic management in Austria. AC is also responsible for issuing documents such as flight certificates, navigational authorizations, certificates of approval, and permits, among other related services.
Their activities are founded on strict and preventive safety guidelines for air navigation, ensuring that all Austrian airspace users comply with internationally agreed standards and regulations.
AC has become a leader in Europe's aviation industry by providing quality services to airlines, aeronautical institutions, and business and private operators traveling or located in Austria or its neighboring countries.
Lire aussi All Drone Laws in the United Kingdom
No Drone Zones in Austria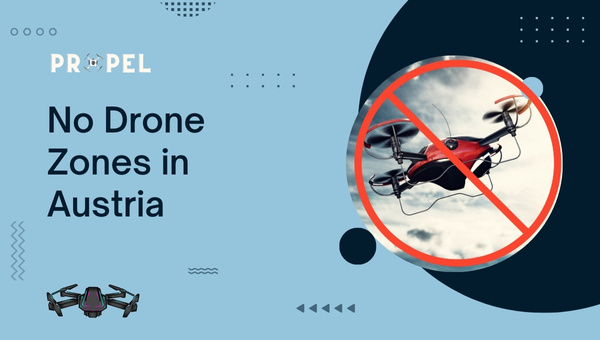 No Drone Zones are areas designated by a local, state, or national government as areas excluding the use of drones. No recreational or commercial drone operations are allowed in certain areas, either permanently or temporarily.
These zones are put in place to protect airports, military installations, and high population-density areas from potential hazards posed by careless drone operations. Drone pilots must remain aware of No Drone Zones, even when using the latest navigation technologies when flying in their area.
By respecting these restrictions, they can help ensure safety for all airspace users while upholding responsible airborne usage.
Know about no-drone zones
To learn about applicable no-drone zones in your area, you should consult the local or national aviation authority for advice. They can provide up-to-date information on any current restrictions and guidelines. Additionally, many popular navigation apps contain no-fly zone data, so pilots can easily know where they cannot fly their drones.
You should also contact Austro Control if there is an urgent need for flight authorization in one of the no-drone zones. Depending on the circumstances and safety considerations, they may approve temporary exceptions after careful consideration and risk assessment.
Lire aussi All New Drone Laws in Kansa
FAQ
Is it allowable to operate a drone in Austria?
Yes, it is permissible to operate a drone in Austria as long as you comply with the rules and regulations of Austro Control.
Are there any restrictions on where I can fly my drone?
Yes, certain areas are off-limits due to safety or security considerations. You should always consult the local aviation authority or navigation apps for information on no-fly zones in your area.
Do I need Austro Control's permission to fly my drone in Austria?
Yes, you will need authorization from Austro Control before operating a drone in Austrian airspace. Depending on the situation, exceptions may be granted after careful risk assessment.
Conclusion
Pilots flying drones in Austria need to familiarize themselves with the country's regulations and comply with them. To ensure the safe and legal operation of unmanned aircraft systems in Austrian airspace, drone operators must register their drones and obtain a registration number which must be displayed on the aircraft.
Drone pilots also need to have adequate insurance coverage for their operations. Austro Control is a leader in Europe's aviation industry, providing quality services and expertise to ensure safe and secure flying operations.
By complying with their rules and regulations, drone pilots can remain aware of any applicable no-fly zones while enjoying the benefits of responsible drone usage in Austria.
Following the rules can help you enjoy flying drones in Austria without worries. We sincerely hope this article was of use to you. For any additional recommendations or inquiries, please leave a comment below.