Toutes les lois sur les drones aux Maldives (2023 Updated)
Updated On: janvier 31, 2023
With its stunning beaches, exotic wildlife, and sapphire waters, the Maldives is a dream destination for many travelers. But now there's another addition to the paradise experience, which is drones. From aerial photography to exploring below sea level, drones are changing how people interact with nature in the Maldives.
From sharing epic shots of pristine turquoise lagoons and lush tropical foliage on social media to expeditions beneath the surface that reveal hidden gems only drone footage can capture, these unmanned aerial vehicles have opened a new window into this extraordinary corner of the world.
Drones have become an increasingly popular pastime for people in the Maldives. In order to ensure public safety and security, the country has implemented laws and regulations regarding how these devices should be used.
This blog post will provide a comprehensive overview of drone laws in Maldives and explain why adhering to these guidelines is important before taking your device out for a flight.
If you've been eager to explore aerial photography or get into drone racing while vacationing in the country's tropical island paradise, go through this article.
General Drone Rules to Follow in Maldives (2023)
Here are some essential guidelines to observe to ensure a safe and enjoyable drone-flying experience in the Maldives.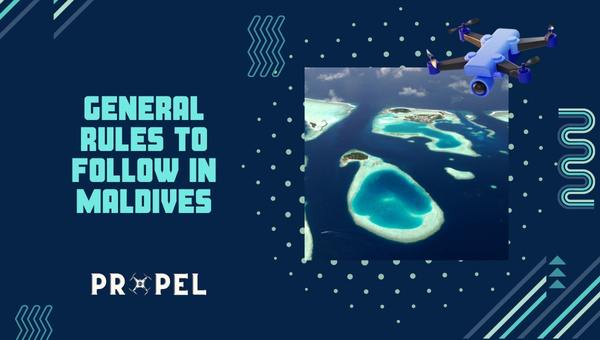 Based on our studies and understanding of drone laws in Maldives, these general regulations are the best way to ensure your flight is compliant with all applicable regulations.
To operate a drone in the Maldives, you must obtain approval from the Maldives National Defense Force (MNDF) and a permit from the MCAA.
Ensure that you only fly your drone during the day and in optimal weather conditions for a safe and enjoyable experience.
Permanently abide by the rule that drones should never soar higher than 400 feet above terrain.
Never fly a drone in the vicinity of people.
To avoid potential issues with local authorities, please steer clear of military installations, power plants, and other areas that could raise suspicion.
Clear any airspace close to airports or where aircraft are actively in use.
In the Maldives, drone-flying space is quite restrictive due to its seaplane ports scattered across numerous islands. As a result, there are only limited areas that permit drones.
Drone Authorisation
Currently, all drone operations require careful review and must adhere to specific procedures.
Before recreational video or photography operations, approval should be obtained from the hotel or local island council.
For commercial video/photography endeavors, however, authorization must first be granted by the National Centre for Arts. Simply fill out their tailored application form and email it to [email protected] in order to get started.
Getting approval from the Maldives National Defence Force (MNDF)
To gain permission from the Maldives National Defence Force, please fill out their application form and email it to [email protected] as soon as possible. This step may be completed at the same time you complete any other prior steps.
Get approval from the CAA
Before using your drone, approval must be secured from the hotel/island and MNDF. Once approved, please apply to the CAA using this application form and send it to [email protected] accompanied by a copy of your permit from MNDF.
For safety reasons, ensure that all operations stay below 400 feet.
Lire aussi Toutes les lois sur les drones en Autriche
No Drone Zones In Maldives
No Drone Zones are particularly important for places like the Maldives, a low-lying country of thousands of islands spread across a vast ocean.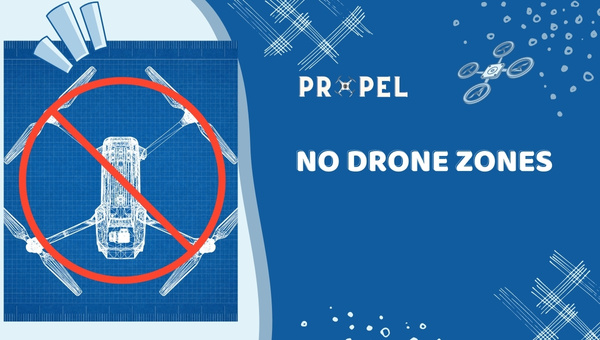 To protect this beautiful geography from disturbance from human interference and to preserve wildlife habitats, Maldivian governments have identified various drone-free zones around the archipelago.
These zones have been implemented so that potentially destructive processes caused by drones, such as noise pollution and disruption to fragile ecological systems, are minimized.
Furthermore, any visitor caught flying drones in a no-drone zone without proper permission can face hefty fines or even jail time. This policy allows the Maldives to retain its stunning beauty while keeping its inhabitants safe.
Knowing About the No-Drone Zones
No-drone zones in the Maldives are regularly updated and published on the MNDF, CAA, and NCA websites for easy access. The zones include airports, military bases, power plants, and many other sensitive locations.
To ensure that you do not unintentionally breach any laws or regulations while flying your drone in the Maldives, it is essential to take a few moments to check these websites before taking off.
Maldives Civil Aviation Authority (MCAA)
The Maldives Civil Aviation Authority (MCAA) is the leading aviation regulatory body in the country and works to ensure safe, efficient, and environmentally friendly air transport services are provided.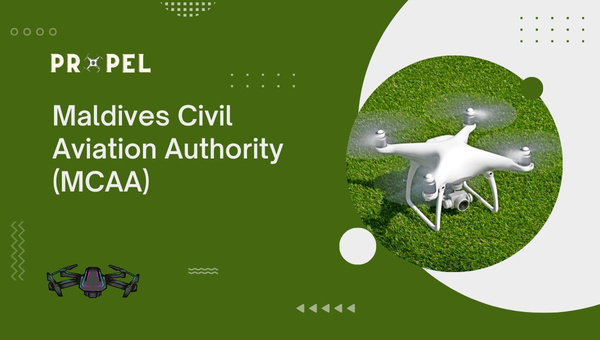 The MCAA oversees the operations of aircraft, develops legislation and regulation, approves safety standards, licenses pilots, certifies airports, and investigates any air accidents that occur within the country.
It also works closely with both domestic and international partners to promote harmony among civil aviation stakeholders in order to foster a safe and secure space for flights in the airspace over the Maldives.
Given its responsibilities to guarantee security for all flights that navigate between airports located within the country, the MCAA plays an important role in promoting stability throughout the region by ensuring the continuity of flights to other countries in times of emergency.
Lire aussi Drone Laws in Egypt, Penalties, Registrations
FAQ
Are drones lawfully legal in Maldives?
Yes, drones are legally allowed in the Maldives. However, permission must be obtained before operating them.
Do I need to register my drone before flying to the Maldives?
No, you do not need to register your drone before flying in the Maldives. However, getting approval from the relevant authorities, such as the hotel or local island council, the National Centre for Arts, and Maldives National Defence Force (MNDF) is important.
Are there any no-drone zones where I cannot fly my drone?
Yes, there are several no-drone zones identified by the government of Maldives.
Conclusion
Flying drones in the Maldives can be an incredibly rewarding experience, but it is essential to be aware of all existing laws and regulations before taking off.
Check the no-drone zones regularly published on the MNDF, CAA, and NCA websites, and always obtain necessary authorizations from all relevant parties before engaging in drone operations.
Taking these precautions will ensure you have a great time flying your drone in the Maldivian islands and help preserve the country's fragile and stunning environment.
By following these guidelines and securing all necessary permits before operating your drone, you can enjoy a safe and fun flying experience without causing any disturbance or harm to the beautiful environment of the Maldives.
We hope this article has helped you prepare for a successful flight in the Maldives. If you have any questions or thoughts, please leave a comment below.