Autel EVO 2 Detailed Review (2023)
A cura di:
Richard J. Gross
Updated On: Ottobre 24, 2023
If you're contemplating investing in a new drone and enjoying exceptional aerial photography, this Autel EVO 2 review could well be the deciding factor. Offering all the intricacies and specifications of the device, we'll delve into why this innovative gadget can be worth every penny.
The Autel EVO 2 boasts remarkable flight capabilities, groundbreaking camera technology, and durability that is sure to make an impression. From multirotor enthusiasts to drone film producers — whoever you are and regardless of your purpose — understanding what makes each model unique is crucial.
Believe me when I assert that with a flight time of 40 minutes - nonstop - that's right — nonstop!, not even the wind factored in! Additionally, it carries an awe-inspiring maximum flight distance of a staggering 25 km (no wind), thus making it stand out among its peers. Oh Yes! The tantalizing exploration possibilities alone explain why this Autel EVO 2 review will hook your interest further as we dive deeper into its other compelling features.
Overview of Autel EVO 2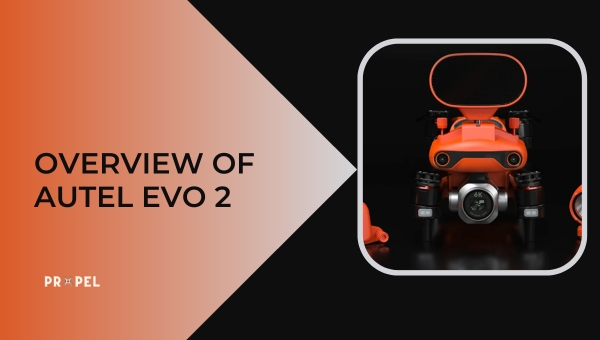 When it comes to drones, the Autel EVO 2 has stood out as a remarkable advancement in technology. The capabilities of this drone are astonishing, and its user-friendly features make it an excellent choice for both professionals and beginners alike. Let's dive into the specifics of what makes this drone so special.
A Closer Look at the Specifications
Here's a detailed look at the specifications:
| Specifiche | Dettaglio |
| --- | --- |
| Peso al decollo | 1127g |
| Max Flight Time | 40 minutes (no wind) |
| Max Flight Distance | 25km (no wind) |
| Camera Sensor | 1/2" CMOS, 48MP effective pixels |
| Max Video Resolution | 8K at 7680*4320 p25/p24 |
| Cardanica | Three-axis stabilization |
| Transmission Distance | 9km FCC, 5km CE |
| Remote Controller Battery Life | 3 ore |
| Intelligent Flight Battery Capacity | 7100mAh |
| max Charging Power for Battery | 93W |
| SD Storage | Standard-32GB,Max Support-256GB |
| Sensing System | Omnidirectional with various detection ranges |
| Operating Temperature Range | -10℃ ~40℃ |
Features and Performance
When I first got my hands on the Autel EVO 2, I was really excited about the features and performance this drone promised. And let me tell you, it did not disappoint. From its camera performance to flight time and speed, as well as its advanced features, every bit of it is worth exploring.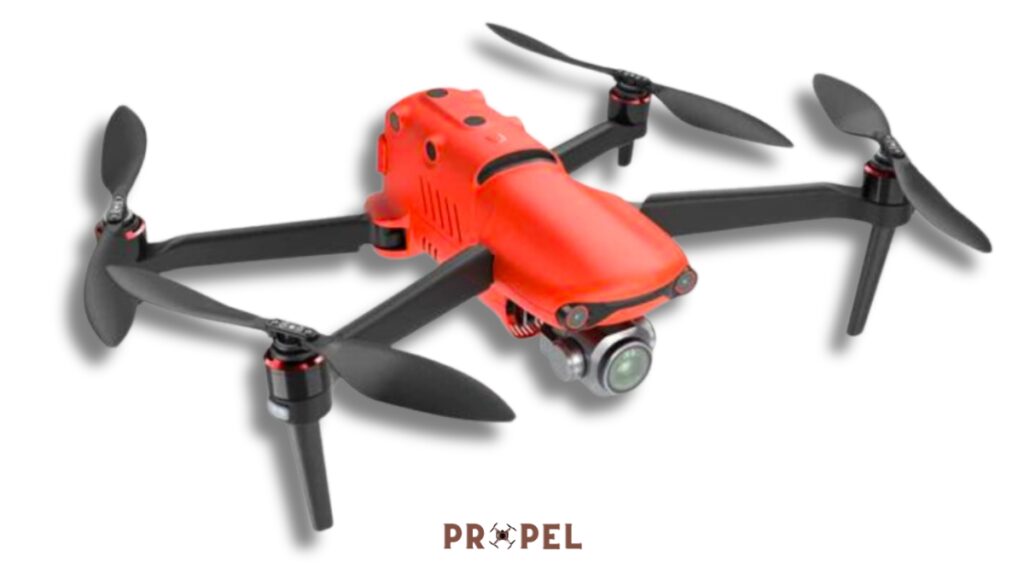 Camera Performance
The Autel EVO 2 comes equipped with a powerful 1/2" CMOS sensor and an effective pixel count of a whopping 48MP. With a max video resolution of up to 8K at 7680*4320 p25/p24, I found that the picture quality it rendered was astounding.
Strengths:
Crisp and clear imaging, even at high altitudes,
Versatile video resolutions
Detailed photo capture due to high pixels
Weaknesses:
I struggled a bit while controlling the focus in dynamic environments
The color quality slightly deteriorates under low lighting conditions
Honestly speaking, this drone's minor weaknesses barely affect the overall camera performance. The imaging experience you gain with this piece of machinery outweighs them.
Leggi anche: Autel EVO Lite Plus Review: An In-Depth Look
Tempo di volo e velocità
One thing that sets the Autel EVO 2 apart from many other drones on the market is its ability to stay in flight for up to 40 minutes without any wind resistance. This amazing characteristic allows for prolonged shooting sessions, which is ideal for those keen on capturing breathtaking landscape views or interested in aerial photography.
Flight Time Details:
Max flight time (without wind resistance): approximately 40 minuti
Remote controller battery life: around 3 ore
Intelligent Flight Battery capacity: solid 7100mAh
User Experience
When talking about the Autel EVO 2, one can't ignore the significance of the user experience it provides. In today's world, a drone's value lies not just in its technical specs but also in how easy and intuitive it is for people to use. The ease of use and controller setup are two key aspects that significantly affect user experience.
Ease-of-Use
There might be a scoop of wariness when getting your hands on the Autel EVO 2 initially, especially if you're a beginner stepping into the drone world. But surprisingly, this beast is designed with such simplicity that it goes down well both with novices and pros alike.
Operating this drone is as easy as one-two-three. From the takeoff to gyration in mid-air until it lands - all movements are seamless and hassle-free. Whether you're climbing up to its max altitude or swooping right down for some low-angle shots, navigation feels smooth as butter with no jerky interruptions at all, where you can learn more about how drones work.
One prime example of its well-thought design for beginners is in-flight safety assurance through its multiple sensors and geofencing abilities that keep it safe from colliding with obstacles or entering no-fly zones.
For professionals looking for complex maneuvers or precise control over framing shots, don't underestimate this, buddy! With advanced flight modes like waypoint navigation tripod tracking mode along with adjustable settings for gimbal speed/direction –it leaves no stone unturned to exceed your expectations.
Controller Setup
The beauty of my Autel EVO 2 journey begins right at setting up its controller correctly –a task that usually intimidates many, but I found it pretty straightforward on this beast. With buttons and toggles positioned logically, the controller sports an ergonomic design that provides a comfortable grip.
When I first turned it on, connecting it with my drone was merely a couple of seconds game –Thanks to its auto-bind feature—rescuing me from the typical hassle of manual linking every time I fly.
I love how the central LCD screen is detailed; providing flight data in just one glance without needing to connect your smartphone tells me that Autel placed convenience first with EVO 2.
Two customizable buttons are add-ons I appreciated, allowing me to set up shortcuts for frequently used functions like switching between flight modes or controlling propeller speed. This efficient control arrangement helps minimize operation complexity, which in turn makes flying the Autel Evo 2 absolutely delightful.
Absolutely fantastic, isn't it? For those planning to venture into the drone world or looking for an upgrade from previous models, keeping user experience as a priority –I'd certainly recommend giving Autel EVO 2 a spin!
Pros And Cons of Autel EVO 2 Review
For those of you who are looking to dive into the world of drones, the Autel EVO 2 stands as an enticing prospect out there. But just like anything else in life, this model comes with its share of pros and cons. Here, I am spotlighting both its shiny features and some chinks in its armor based on personal testing results.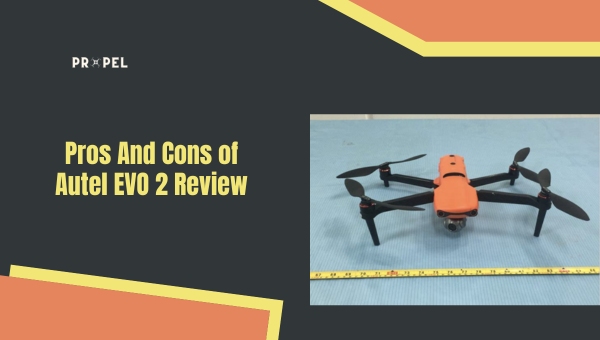 Pro
Impressive Flight Time: The Autel EVO 2 trumps many competitors when it comes to flight time. With a maximum flight duration of 40 minutes (with no wind), you have ample time to capture stunning visuals from high above.
High-Quality Camera: The camera sports a half-inch CMOS sensor, capable of dishing out crisp visuals with an effective resolution of up to 48 megapixels.
Superb video resolution: It offers max video resolution in 8k at dazzlingly sharp 7680*4320 p25/p24.
Sturdy Three-axis gimbal stabilization: It allows for smooth transitions and stable shots even when gusts hit the drone.
Remarkable Max Flight Distance: Able to cover distances up to a whopping 25 kilometers (no wind conditions), getting incredible landscapes in frame won't be any hassle!
Omni-Directional Sensing System: This system enables the drone to have several detection ranges.
Contro
Hefty weight: Weighing hefty at about 1127 g on takeoff weight is quite daunting and can limit the portability factor.
Non-favorable operating temperatures: The codes strictly adhere to an operating temperature range of -10℃ ~ 40℃. Using it beyond these limits may cause mishaps.
Limited Remote controller battery life: At just 3 hrs, the battery life can be a damper for extended drone flights.
Max Takeoff Altitude: The max takeoff altitude of Autel Evo 2 is limited to 7000m, which can prove insufficient for some high-altitude enthusiasts.
Sizeable Charging Power Requirement: A whopping 93W power is required to charge the flight battery.
From my review of the Autel EVO 2, it's clear that there are both benefits and drawbacks that potential buyers should take into account. It has certainly got some really standout features, but you may also have to deal with some limitations, according to personal preference and requirements.
Leggi anche: Autel EVO 2 Pro In-Depth Review
Value for Money
When it comes to shelling out your hard-earned money on a tech product like a drone, you really want to make sure you're getting the best value for your investment. I believe the Autel EVO 2 not only satisfies this expectation but surpasses it with an impressive array of features that set it apart from its peers.
Price & Comparison with Peers
Here, we take a closer look at how the Autel EVO 2 stacks up against other drones in its class when it comes to pricing and feature offerings.
Prezzi: The Autel EVO 2 is positioned in the mid-to-high range segment when compared to its competitors. It's important to remember, though, that price is only one part of the equation. What truly matters - especially for drones - is what you get for your money, which brings us to our next point.
Camera Quality and Features: Featuring a 1/2" CMOS sensor capable of capturing visuals in stunning 48MP resolution along with maximal video resolution up high at 8K, Autel EVO 2 appears as a top player in this part. Not too many drones offer such specs.
Flight Experience: The Autel Evo greatly impresses here as well – offering flight times of up to 40 minutes without wind conditions, along with an amazing max flight distance of up to 25 kilometers.
Additional Features: This device supports an omnidirectional sensing system that ranges considerably across various detection ranges. In addition, this hi-tech model offers smooth control owing to its remote controller battery life extending up to three whopping hours!
Now that I have taken you through some key specific features and comparison points, let's delve into some further details about how the drone fares against particular competitors.
Leggi anche: Gas Powered Drones
Comparing the Evo 2 Against Other Drones
When up against the DJI Mavic Air 2 (which has been receiving rave reviews in various drone forums), I find the Evo outshines it with a better camera sensor, superior maximum takeoff weight capacity, and a much broader operating temperature range.
Doing an Autel Evo 2 review would be incomplete without comparing it to its sibling, the Autel Evo II Dual. The noticeable difference comes down to camera capabilities. While both have comparable performance and features, the Dual incorporates an added thermal imaging camera, which can prove invaluable for thermography applications like mechanical inspections or chasing down wildlife under cover of darkness.
Domande frequenti
Are spare parts readily available for the Autel EVO 2?
Yes, spare parts for the Autel Evo 2 are widely available through various online and physical stores.
How does Autel EVO 2 hold up under different weather conditions?
With a robust structure and operating temperature range of -10℃ to 40℃, the Autel EVO 2 performs exceptionally well under varying weather conditions.
Are there any software issues reported?
A: Some users have reported minor geofencing issues, but it is typically resolved by updating the drone's firmware. If you're interested in knowing more about how geofencing works on drones, you can read it here: Geofencing sui droni.
Conclusione
After extensive testing and analysis, I can confidently say that the Autel EVO 2 has exceeded my expectations in almost every way. With its astonishing flight time of 40 minutes, a maximum flight distance of 25 km, three-axis gimbal stabilization, and an exceptional camera that boasts a resolution as high as 8K, this drone is undoubtedly one of the best on the market.
It's user-friendly and offers many features for both professional and amateur users. Add to this its robust design and build quality, the Autel EVO 2 is definitely worth considering for those aiming to upgrade their drone game.