Best Sites To Sell Drone Footage In 2023: Make Money Now
Updated On: March 20, 2023
Do you have a drone? If so, what are your thoughts on selling Drone footage that it captures? With drones becoming more and more popular in recent years, many people are turning to them as a means of making money.
There is, however, quite a bit to know about before you sell drone footage. Here are some things that every drone user should be aware of when considering whether or not they want to pursue this line of work.
One of the biggest things to remember is that there are legalities to consider. Most countries have laws in place about how high a drone can fly without being too close to airports, buildings, and so on.
Before you sell any footage, make sure that your country's laws allow it! There may also be other rules where you live that need to be followed. For example, some cities have rules about not flying drones at night or being too close to certain buildings.
Much like with any job, you need to make sure that you are safe while doing what you do! Whether it is a drone pilot or someone working in an office building all day, every day, safety should always come first over anything else on your mind.
You will also need insurance just in case your equipment gets damaged during filming sessions, so keep in mind when whether or not this line of work is for you.
In this article, we'll look at the different ways of selling drone footage as well as some tips on pricing, marketing strategies, and legal considerations when doing business in this industry. With the right approach, anyone can start making money from their aerial shots!
Understand the Rules and Regulations for Selling Drone Footage
Before selling drone footage, it's important to understand the rules and regulations in your area. Different countries and regions have their own laws regarding drones and commercial use for aerial photography.
If you're operating a drone for business purposes, you may need to apply for a special license or obtain permission from the local authorities. Make sure you do your research and find out what the laws are in your area.
Best Kinds of Drone Footage to Sell
There are numerous types of videos that you can shoot on your drones, but some are better than others. Here is a list of the types that you might want to consider:
Nature Videography
If you live near a national park or in any other beautiful and natural part of the world, then the chances are that there is a demand for nature videos. These could be anything from time-lapse footage to long video recordings taken when hiking on trails.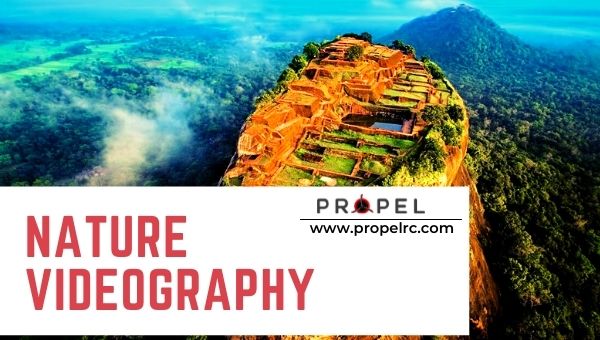 As these places tend to see fewer visitors than cities and towns, it's likely that people will want something different, with drones providing an additional angle that can't really be achieved through other means, such as helicopters.
There are also many companies that use this type of footage for marketing purposes, so if you're interested, then consider yourself lucky!
Also Read: How to Find a Lost Drone? New & Easiest Methods (2023)
Unique Infrastructure
Another great kind of footage to sell would be anything that is unique or out-of-the-ordinary. Think about the kinds of buildings and structures in your area; chances are there's something interesting nearby that could provide a wonderful backdrop for videos! This can include construction sites, if you're lucky enough to live near one, as well as sports stadiums.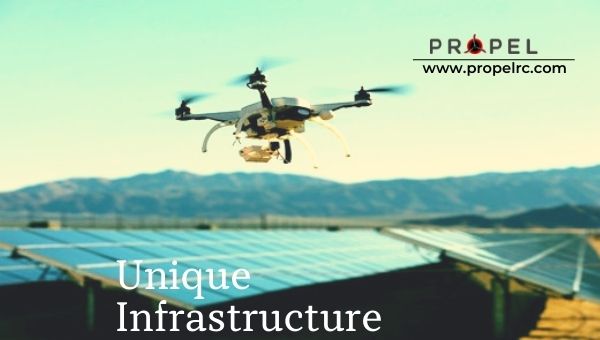 If you happen to fly over any public areas, then consider whether or not they might make an excellent subject matter. Remember, though, try not to record people without their permission (this includes video)! It may also be worth looking into "history" channels online who want old building photos/videos; these could help boost revenue too!
Landscapes
People are fascinated by the world around them, so it's no surprise that many want to record their travels. Landscape footage can be shot in numerous ways depending on what you're looking for, including time-lapse videos or long recordings.
If traveling abroad, then people will also likely pay more if they know they're getting great views of famous landmarks!
Sports Events
As drones tend to capture events from a different view, many sports channels would love to get their hands on some unique content that is not normally available online through traditional cameras.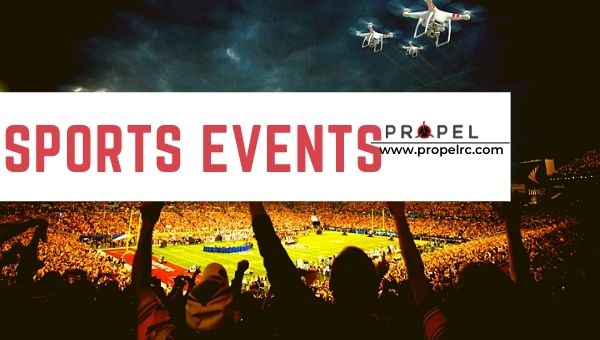 This could include anything from football matches and basketball games right up to motocross circuits with jumps; whatever your specialty may be, there is most probably someone who wants something similar nearby too! Keep in mind, though, that if you want to shoot events, then it's important to make sure that the relevant people know beforehand (e.g., authorities such as referees).
Also Read: The 11 Best Propel Drones To Buy (November 2022)
Places Where You Can Sell Your Drone Footage
Remember that selling drone footage is not as easy as it sounds! You will need some kind of plan to get started, and there are a few ways that this can be done.
First, consider the places where your skills would come in handy such as real estate companies or construction sites that want aerial shots of their work so they can show off what they have done.
If these types of clients aren't available nearby, then look at local events and festivals which require photos/videos from above or even weddings if you don't mind taking on another line of work.
The possibilities really are endless when it comes to selling footage, but whatever path you choose, make sure that safety is always considered first!
There are numerous stock websites where you can easily sell your drone footage for a good price; these websites will help you to showcase your photos and videos to potential customers online. Some of the most popular websites include:
Storyblocks 
Shutterstock
Gettyimages
Pond5
Drone Stock
Storyblocks is an online marketplace for selling stock drone footage and images. It's a great option if you want to reach a wide range of potential buyers without having to create your own website.
Storyblocks is a library of high-quality content that provides users with access to millions of ready-to-use stock photos, videos, illustrations, audio clips, and more. With Storyblocks' easy-to-use platform and library of content, it's never been easier to create stunning visuals for any project.
Whether you're creating a website, a video game, or something else entirely, Storyblocks has the content to get it done.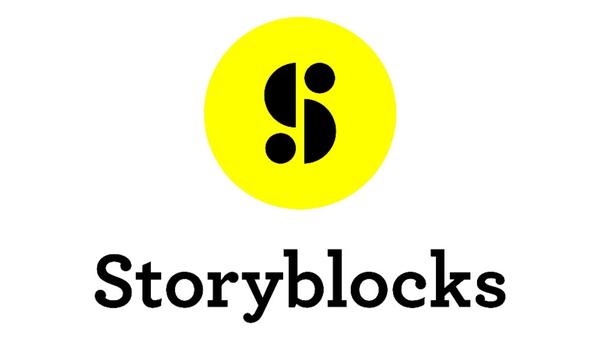 Storyblocks' library is constantly growing and offers content from some of the world's best creators. With over ten thousand new pieces of content added every month, it's easy to find the perfect piece for any project. Plus, Storyblocks' intuitive search and tagging system make it simple to find exactly what you need in no time.
Storyblocks also offers a range of helpful tools designed to help users get the most out of their content. From image editing tools that allow users to customize images to royalty-free music libraries, Storyblocks provides everything needed to make a project shine.
Whether you're a professional or an amateur creative, Storyblocks has content that can help bring any idea to life. With its high-quality visuals and wide range of helpful tools and features, it's never been easier to create amazing visual projects. So don't wait any longer – get started with Storyblocks today and bring your ideas to life!
Pricing is based on the type of license (standard or extended) and what kind of media you're selling. Storyblocks also offers special deals and discounts from time to time.
Shutterstock is a popular choice for selling stock footage. It offers images, videos, illustrations, and music tracks with the option to purchase on-demand or subscribe for unlimited downloads.
Selling drone footage on Shutterstock is easy – just sign up for an account and upload your content. Before submitting any clips, be sure to check Shutterstock's guidelines to make sure your content meets the requirements.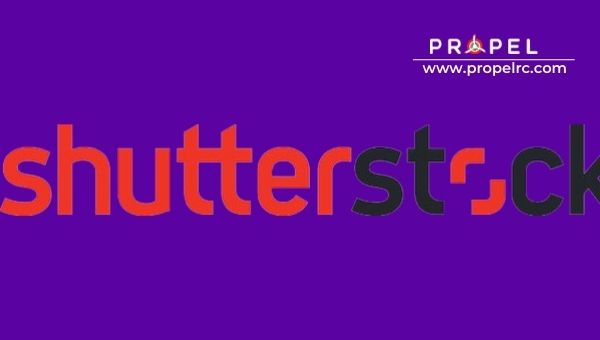 Once you've uploaded your footage, Shutterstock will review it and provide feedback on how to improve it. It takes about 2-3 days for videos to be approved or rejected. If accepted, your clips will be available for sale in its library of over 200 million royalty-free images and videos.
Shutterstock operates on a subscription-based pricing model with different plans available. The Standard plan costs $249/month and gives you access to all of Shutterstock's content, including drone footage. For the Enterprise plan, you'll need to contact Shutterstock directly for a quote.
So if you're looking to sell drone footage and imagery, Shutterstock is a great option. With its huge library of content and easy-to-use platform, it's easy to get started selling your aerial shots today!
Getty Images is a premier stock photography agency that provides some of the most iconic, unique, and eye-catching images worldwide. Whether you're looking for a stunning landscape photo, a portrait of a famous celebrity, or a cutting-edge image of the latest technology trend, Getty Images has you covered.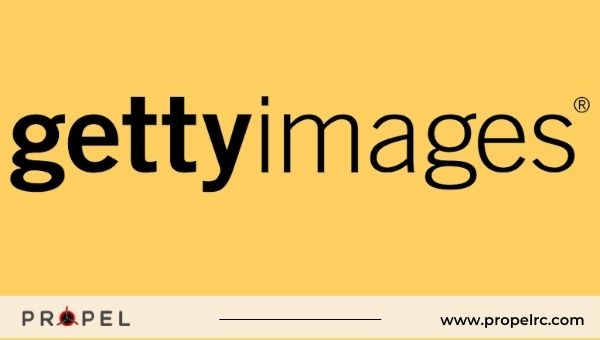 Getty Images also offers aerial photography and footage for sale. With its wide range of content and easy-to-use platform, it's simple to upload your drone footage and start selling it in no time. Additionally, Getty Images works with some of the world's top media companies and provides a high level of exposure for your content.
Getty Images operates on a subscription-based pricing model where customers can choose between three different plans depending on their needs. It also offers discounts to those who subscribe for extended periods as well as special deals from time to time.
Whether you're a professional photographer looking for an agency to represent your work or just someone wanting to sell drone footage and images, Getty images is a perfect choice. With its huge library of content and straightforward pricing plans, it's easy to get started selling your aerial shots on the platform today!
They accept content from professionals and amateurs alike (with a small fee per download), but you can also sign up as an affiliate which allows you to earn up to 40% commissions per sale. Gettyimages is one of the most famously used stock websites in the world and a good choice for new sellers.
Read: Best Holy Stone Dones In 2023
Pond5 is a popular choice for selling footage and images. It offers 4K resolution videos, photos, music, sound effects, and special visual effects all in one place. Whether you're an independent filmmaker or a professional photographer, Pond5 has something to offer everyone.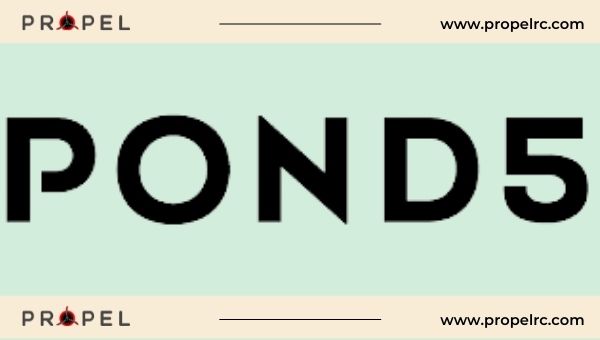 For those looking to sell drone footage, Pond5 is the perfect platform. It's easy to upload your content and start selling it in no time. Additionally, Pond5 provides a variety of helpful tools and features to help you market and promote your work. And once someone buys your content, you can get paid within a few days.
Pond5 operates on a credit-based pricing system with different subscription plans available. The monthly Footage Plus plan costs $199/month, while the yearly plan costs $999/month.
Each plan includes a certain number of credits that can be used for downloads. With Pond5, you can easily track your sales and earnings with their built-in analytics tool.
Overall, Pond5 is an excellent marketplace to upload and sell media content quickly and conveniently.
Drone Stock
Drone Stock is a website dedicated exclusively to drone footage. This makes it an ideal platform for professional drone operators, filmmakers, and videographers who are looking to monetize their work. It's easy to upload your content on the site and start selling it right away.
It was specifically designed with aerial photography in mind and offered numerous features that make it easy to upload, manage, and market your footage. Drone Stock also offers an intuitive search system that makes it easy for people to find the content they need.
The advantages of using Drone Stock include the ability to set your own prices, manage multiple accounts and projects, track sales performance in real-time, access all major payment systems, and receive exposure on a growing platform. All of this makes it easier than ever for users to make money with their footage while giving buyers a great selection of drone video.
Not only does Drone Stock offer a great platform for buying and selling drone footage, but it also allows users to customize the look and feel of their profile page. This allows for more personalization and helps create an individualized look that reflects the user's style or brand.
On top of all this, Drone Stock also provides helpful tips and advice on how to get the most out of your drone footage. From shooting techniques to aerial safety guidelines, there's a wealth of information available that'll help users take their footage to the next level.
Also Read: What is Headless Mode and How they Work on Drone?
Building Your Own Website
Whilst there are many stock websites where you can sell your drone footage, building your own website is an excellent way to earn passive income.
Once it's up and running, all that you need to do is upload new content when needed and then let the money come rolling in! You can also start your website with WordPress; WordPress is one of the most user-friendly and widely used CMS (content management system) platforms on the Internet.
It offers a great platform for building both simple and complex websites that are easy to manage from any device, plus it has an excellent affiliate program that you can join as a publisher if you want to try and make some passive income.
Conclusion
When it comes to drone footage, there are a lot of considerations that need to be made before you go ahead and start filming. If you plan everything in advance and follow industry standards, then it should be a lot easier for you to sell any footage that you capture.
We hope that you found this blog post helpful and that it provided some guidance for future buyers and sellers of drone footage. The important thing is to sell your product as soon as possible; otherwise, someone else might beat you to the punch!
Your audience will thank you - don't make them wait too long before getting what they want.
On the contrary, if you sell your product quickly, then they will be more than happy to give you some positive reviews.
This is not only good for your ego, but it's also great free advertising that can help boost future sales - so sell, sell, sell! If you have any questions about selling drone footage or anything else at all, please leave a comment below, and we will get back to you as soon as possible.