3DR Solo vs DJI Phantom 3: Full Detailed Comparison (2023)
Updated On: December 31, 2021
Drone pilots, today we're going to be talking about 3DR Solo vs DJI Phantom 3. We'll compare the pros and cons of each drone in hopes that you will decide which is right for you! 
The Phantom 3 is one of the most affordable and user-friendly drones on the market today. The Solo, however, with its GoPro compatibility, makes it a great choice for aerial videography. Let's look at how these two compare side by side in a number of categories before we go into more depth.
The DJI Phantom 3 and the 3DR Solo are both excellent drones. They each have their own features that make them stand out from one another. For example, the DJI Phantom 3 has a built-in camera, while the 3DR Solo does not.
The flight range of the DJI is about 2 miles less than that of the 3DR Solo though both can be flown up to 1 mile away without any issues or interference with other electronics nearby. There are more differences between these two drones, but those were some notable ones for comparison purposes.
So when it comes down to purchasing your next drone, there are a lot of things you need to consider: what is your budget? What features do you want in a drone? Do you have any previous experience with drones? If so, how much time can you dedicate to flying them per week?
All these questions come into play when deciding on a new drone purchase. So let's break down the comparison between these two drones based on different criteria later on in this article.
There are numerous points to discuss when buying a drone, and both the drones mentioned above are the best of what they offer; hence you need to be extra considerate of the features and specifications.
Let's Compare 3DR Solo vs DJI Phantom 3
Let's begin the detailed comparison of 3DR Solo vs DJI Phantom 3 on the Basis of all their Features.
Design
The design of both drones is excellent. The built quality and their look make them a perfect choice for drone lovers. The 3DR Solo comes with a rather bigger build, while the DJI Phantom 3 has a smaller built. Most people roam around the solid, stealthy look of the Solo.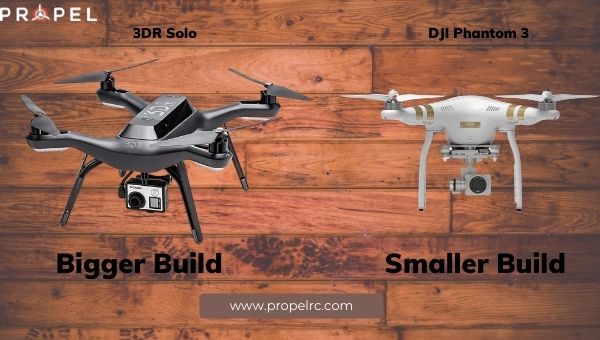 Sure, the black is attractive, but it also helps to stand out against white clouds when used by pilots or spotters. The Solo drone is much like a truck, huge and clearly visible, but the truck is just cool to look at. However, DJI Phantom 3 comes in a sleek appearance. The look of a drone is not much of an importance when other features are in play.
The DJI Phantom 3 is available in white, while the 3DR Solo can be availed in black, red, or blue color schemes. The new color option for the 3dr Solo makes it easier to track when using a GoPro camera mounted on it visually.
Well, looks are subjective, and this depends on your personal preference of what you want from a drone. So if looks matter to you, make sure you consider all the features carefully before making a purchase decision as there is no clear winner here.
Camera Quality
The difference between these two drones mainly lies in their cameras and capabilities related to photography/videography. Drones have been termed "flying cameras" due to their feature that allows pilots to capture quality photos and videos from a good aerial viewpoint.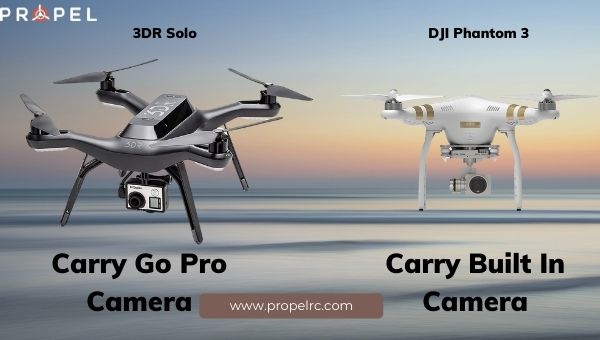 The 3DR Solo can carry a GoPro camera up in the air, which gives you high-quality zoomed-in video footage or images of any location. The DJI Phantom, on the other hand, comes with its own built-in camera that allows it to take photos and record videos just like any action camera out there would do.
3dR Solo is compatible with 3D Robotics gimbals, while Phantom has a proprietary Zenmuse gimbal. GoPro gimbals are not complicated in design, nor do they have excessive mechanical parts, so they can be easily enjoyed by professionals as well as casual users who want to purchase drones for their personal use.
The Phantom 3 has an amazing video quality, thanks to its 12MP camera (4k capable), but if you are looking for something better than a GoPro, this might not be what you have been looking for since the Phantom only supports GoPro cameras.
On the other hand, 3DR Solo can be used with any action sports camera, including Contour+, Drift, or Sony AS15/AS100 models, which make it more versatile in comparison to DJI Phantom 3.
According to users who have tested both drones, they revealed that the overall video quality of 3DR Solo was excellent and was worth the price.
A GoPro camera mounted on a drone is not the only thing that captures images. The pilot also plays a vital role in terms of capturing quality videos and images. This means you need to understand the basics of drone flying so that you can take both photos from above and record videos while hovering nearby objects smoothly.
It is better to have some previous experience in controlling drones before considering the 3DR Solo or DJI Phantom for your next purchase. Even though these two drones are easy to fly, they will be more fun when operated by pilots with previous experience in drone driving.
Weight
Unlike DJI Phantom 3, the 3DR Solo is a drone that allows installing a GoPro camera on it. This means you will need to install the camera and its gimbal first before flying. The weight of both drones is almost similar, and they fall around 3 pounds (1.35kg).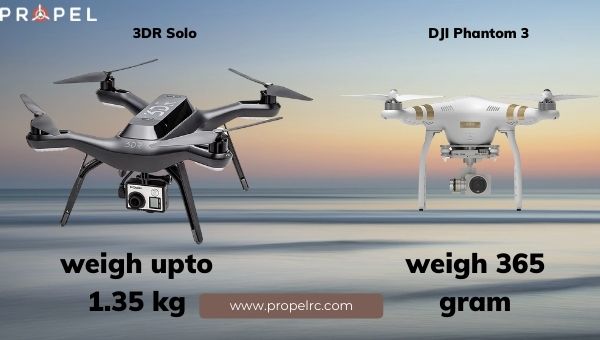 Although this might not sound like much, you should be fully aware that some states or countries have prohibited people from using drones that weigh more than 0.55 pounds (250 grams) without permission as such drones can cause significant damage if dropped from a height of 100 feet (30 meters).
Solo has an open platform which means you can easily attach third-party hardware and software to use with the drone. It supports computer autopilot control so that you can use it with your own robotic arm or simple land survey equipment.
The DJI Phantom, on the other hand, has a complete flight system that is not compatible with any third-party hardware and software. So, if you are looking to attach specialized equipment to your drone for professional purposes, then 3DR Solo might be an ideal choice in comparison to DJI Phantom.
Range of Transmission
Both drones have a built-in WiFi transmitter which allows pilots to view the live video feed from their smartphones or tablets wirelessly at a distance of 0.62 miles (1km) away when flying indoors, while the outdoors range varies according to weather conditions and interference from surrounding objects.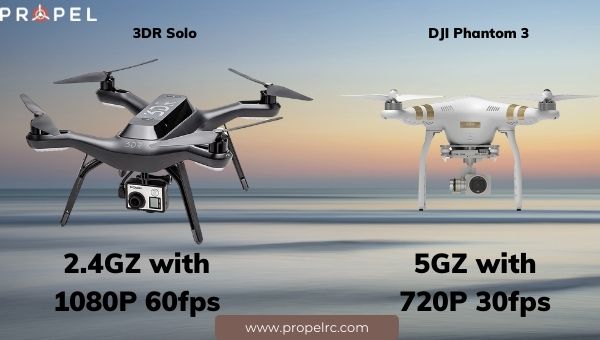 The DJI phantom uses Lightbridge technology that comes with a 5GHz signal to give you HD 720p resolution at 30fps. This, however, reduces the range of transmission in comparison to 3DR Solo, which uses a 2.4GHz signal with a 1080p resolution that gives you 720p video footage at 60fps.
Flight Time
The flight time of both drones is almost the same since they fall around 20-22 minutes when operated outdoors by professional flyers without any wind interference.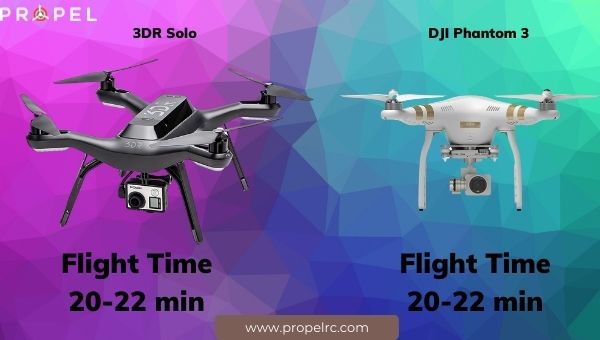 However, if you are not experienced enough in controlling drones, then you should consider staying away from these two devices because most beginners will find it difficult to control them outdoors as well as indoors where there is a risk of collision with walls or surrounding objects.
Battery
The DJI Phantom uses a Li-Po 4S 14.8V 4480mAh 45C battery, while 3DR Solo comes with a larger Lithium-ion 5200mAh 25C battery that is capable of lasting for an hour or more as compared to the 22 minutes flight time offered by DJI's battery.
However, it is important to note that both batteries should be handled with care as they can explode if damaged. The DJI phantom takes around 1 hour and 15 minutes to get charged completely, while 3DR Solo requires about 2 hours.
You can use a standard 5200mAh charger for your Solo battery, or you might need to purchase the $99.99 3DR smart batteries if you own a solo drone because regular chargers will not be compatible with its batteries.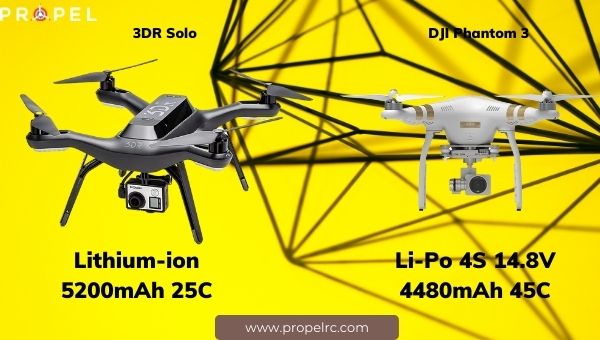 If you take into consideration the price of both drones, then it is understandable that they offer such different flight times. However, I would recommend buying spare batteries so that you can enjoy longer flights without worrying about recharging the device every now and then.
GPS
Both drones make use of a GPS system to help them fly stably and to return to their starting point in case you lose connection with your device.
While the Phantom 3 makes use of an advanced GLONASS/GPS system, Solo uses a basic type of GPS system that requires additional equipment if you want it to have an indoor positioning feature or follow me features that other drones offer as standard.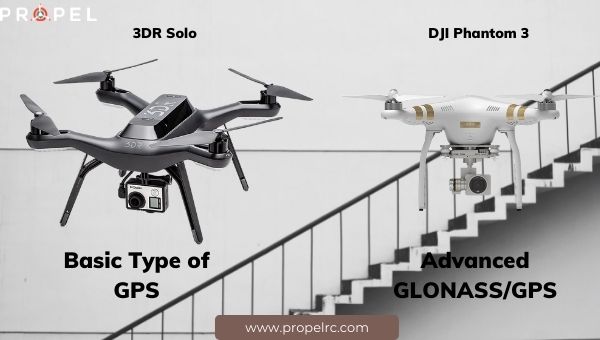 This means that both drones will provide similar stability when flying outdoors, although they might not be able to hold their position indoors without any additional equipment.
However, it should be noted that most high-end drones come fitted with a GPS system, while entry-level devices do not have this feature. You can consider buying Solo if you are looking for a drone that is more affordable.
Control System
Both drones have a dedicated controller that comes packed with features such as automatic take-off and landing options, a return home button, a gimbal dial to adjust the rotation of the camera, and a return control system that allows you to instruct your drone to come back or follow you from a distance using GPS signals.
However, Phantom 3 has some additional features such as WiFi connectivity so that pilots can view their live videos by connecting their smartphones through an app, while Solo users should download the CGO3+ app for the same purpose.
In addition, Solo also has two dedicated buttons located on its controller that allow pilots to launch its autonomous flight modes, including Cable cam mode where users can establish fixed routes from point A to B while controlling the camera wirelessly and Follow Me mode where you can instruct your drone to follow you automatically while capturing photos or videos through its gimbal.
Overall, both drones offer similar features that will allow pilots of all skill levels to capture professional-grade footage.
Dimensions
The DJI Phantom 3 measures 16 x 8 x 12 inches, while the 3DR Solo measures 10.2 x 7.4 x 2.6 inches. This means that both devices are rough of the same size, although I would let you decide which one is more suitable.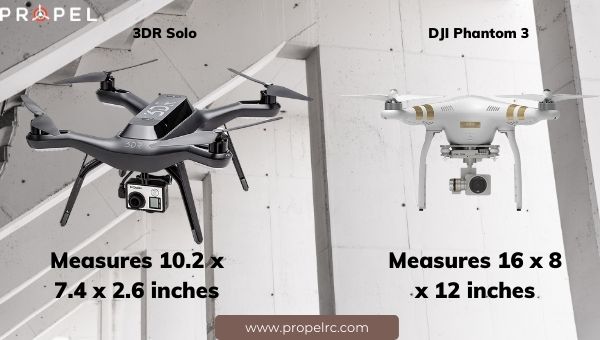 They come packed with different features that will determine whether you can operate them outdoors or not. You have to consider the dimensions of the drones because the size of the drone will decide the places that your drone can go to.
Flight Modes
The 3DR Solo drone comes with a 'Cable cam' mode and a 'follow me' feature where it can track you while capturing photos and videos. It can also be instructed to fly in circles if you want to capture 360-degree footage of any desired location, although this might not be available on the cheaper models.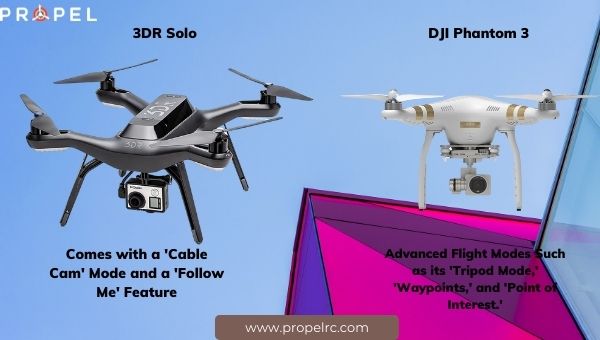 DJI's Phantom 3 makes use of more advanced flight modes such as its 'tripod mode,' 'waypoints,' and 'point of interest.' These features will help users capture smooth professional-grade footage if they are able to operate them properly.
Tripod mode slows down the flying speed to give pilots enough time to take high-quality pictures, whereas waypoints allow users to create routes by tapping their desired locations on a map, and the drone will fly to those locations on its own.
Point of interest gives users the ability to instruct their drones to orbit around a particular object such as a tree or a building while they control the camera movements from outside your drone's field of view.
Pilot Community
Both devices make use of light bridge technology, which allows pilots to enjoy both 720p and 1080p live video feeds using any iOS and Android device with an internet connection regardless of it is 2.4 GHz or 5 GHz.
This means that you can stream your videos directly into your smartphone or tablet without having to disconnect from your remote controller first, although Phantom 3 features WiFi connectivity that allows you to broadcast wireless HD footage right away you don't want to connect your mobile device.
Mobile App
Both drones feature apps that can be downloaded for free from the app store. The main purpose of these apps is to allow you to see your recorded footage using your mobile device, although Phantom 3 allows pilots to control their drone's flight modes through their devices as well.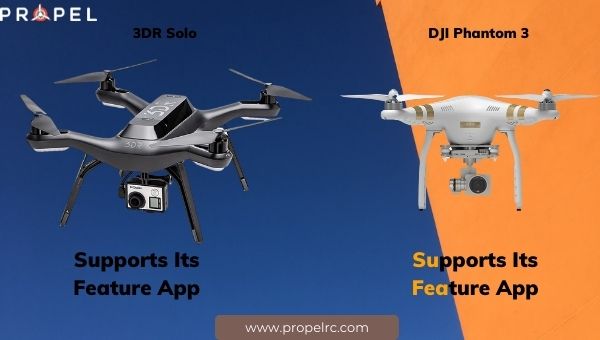 Both apps are well designed, but I would give the upper hand to Phantom 3 because users can broadcast wireless HD footage directly into their smartphones or tablets right away, which makes it easy for them to share their videos on social media almost instantly.
Pricing
The 3DR Solo will cost you around $720, whereas the DJI Phantom ranges around $800. This means that you will get either of these drones according to your budget, as each one has its unique features and advantages.
I can conclude by saying that both devices are excellent for those who want to capture professional-grade footage from the skies, but it all comes down to personal preference.
Conclusion
I think that 3DR Solo is better than DJI Phantom 3 because first if first, it's cheaper and more affordable, and second, they have the same functions like follow me mode and cable cam mode. But 3dr Solo is worse because it has a low battery problem, and DJI Phantom 3 doesn't have the same problem.
Even though they may look different but both devices are excellent for those who want to capture professional-grade footage from the skies. I think that 3DR Solo is a cheaper option with almost the same features.
If you're on a budget, then 3DR Solo is a great alternative to consider, whereas if you can afford a little extra cash, then Phantom 3 will be a good choice as well.
A new app makes the Phantom 3 capable of some serious aerial maneuvers, making it more accessible for beginners or those looking to expand their drone's capabilities. 
Both these drones are an investment in your passion as they allow you to capture some breath-taking footage from the skies. It is all up to you and your needs; whichever drone fits your needs well, you should go for it.
Which drone do you prefer more? 3DR Solo or DJI Phantom 3? Leave a comment!