DJI Mavic 3 An In-Depth Review (2023): Is it worth buying?
Updated On: April 17, 2023
Are you looking for the perfect drone to take your photography and videography skills to the next level? Then look no further than the DJI Mavic 3. This powerful little drone offers a wealth of features that make it an ideal choice for both hobbyists and professionals alike.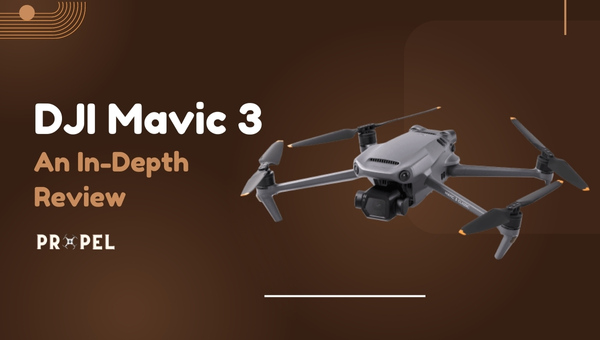 From its impressive camera capabilities, advanced obstacle avoidance system, long battery life, and intuitive controls, there's something here for everyone. In this review, we'll take a closer look at all these features, and more so you can decide if the DJI Mavic 3 is right for you.
With its compact size and foldable design, you can easily store it in your bag or pocket when not in use. Additionally, the intelligent obstacle avoidance technology helps ensure flight safety by detecting potential hazards, such as trees or buildings, ahead of time - giving peace of mind when shooting outdoors.
DJI Mavic 3 Specifications
| Specs | Details |
| --- | --- |
| Flight time | 46 minutes |
| Range | 15 km |
| Camera | 4/3 CMOS, Effective pixels: 20 MP, FOV: 84°,5.1K: 5120×2700@24/25/30/48/50fps |
| Speed | 21 m/s |
| Dimension | Folded 221×96.3×90.3 mm, Unfolded 347.5×283×107.7 mm |
| Weight | 895 g |
| Battery | 5000 mAh, Voltage15.4 V |
| Charging time | 65 W, 60 minutes to charge full |
| Remote control | 5.725-5.850 GHz, <26 dBm (FCC), <23 dBm (SRRC), <14 dBm (CE) |
| Advanced features | Active track 5.0, O3+ transmission, Adnavced return to home, Omnidirectional Obstacle Sensing, APAS 5.0, Waypoint, Master shots. |
Flight time
The flight time of the DJI Mavic 3 has been greatly improved over its predecessor. With a maximum flight time of 46 minutes, it is now one of the longest-lasting drones available today.
This is almost twice as long as some of its competitors, allowing you to stay in the air without worrying about running out of battery quickly.
This also makes it great for long-range missions or extended filming sessions. So no matter your mission, the Mavic 3 has you covered. With such a long flight time, you can explore far from home without worrying about running low on battery.
Range
The DJI Mavic 3 is a truly impressive drone, and its range is one of its strongest features. With a maximum range of 15 km, the Mavic 3 allows for longer flights and more exploration than ever before. This opens up new possibilities for drone photography, filmmaking, surveying, mapping, search and rescue operations, and more.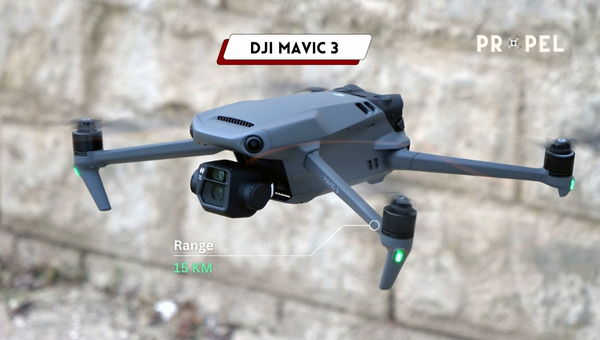 Additionally, with a powerful transmission system, pilots can feel confident that they'll receive clear video feeds from their drone, even if it's flying far away.
So the user can get a clear view of the drone even when it's miles away. The range of the Mavic 3 is impressive and makes it one of the most reliable drones available on the market today.
Camera
The DJI Mavic 3 camera is impressive, with a 4/3 CMOS sensor and effective pixels of 20 megapixels. It has an 84° field of view, which allows you to capture vast landscapes and get creative with your shots.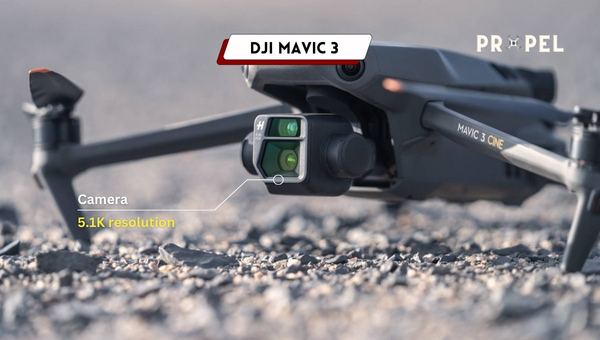 The 5.1K resolution allows for a high-resolution capture of 5120x2700 at frame rates of 24/25/30/48/50fps. This makes the Mavic 3 great for shooting slow-motion videos.
Additionally, the camera supports several recording formats, including MOV and MP4 - giving you plenty of options for capturing your footage.
The camera also features an HDR video mode, which helps to reduce overexposure and provides you with better detail in your footage.
Speed
The DJI Mavic 3 has an impressive speed of 21 m/s, which makes it one of the most agile and efficient drones in its class. This impressive speed allows you to capture footage that would otherwise be impossible with a traditional drone.
With maximum airspeed, you can quickly reach your intended destination or easily perform complex maneuvers. The drone also has a fast and responsive controller, allowing you to easily maneuver the drone in any direction.
Plus, thanks to its lightweight design, the DJI Mavic 3 can fly at maximum speed without sacrificing flight time or battery life.
The speed capabilities of the Mavic 3 make it perfect for capturing professional-grade footage in a hurry, which makes it the ideal choice for videographers, filmmakers, or anyone who needs to capture fast-paced footage.
Dimension and weight
The DJI Mavic 3 is a lightweight and compact drone that packs a lot of punch in its small size. The drone measures 221×96.3×90.3 mm when folded, making it highly portable and easily storable in even the smallest backpacks or carrying cases.
When unfolded for flight, the drone expands to 347.5×283×107.7 mm. The drone has an impressive weight of 895 g, which makes it one of the lightest models in DJI's lineup and ensures that it can remain airborne for longer periods without draining the battery too quickly.
Battery
The DJI Mavic 3 battery is an impressive technology, offering a huge 5000mAh capacity with 15.4V of voltage. This high-powered battery allows users to easily fly for long distances without worrying about running out of power.
With its efficient design, this battery will also deliver powerful performance for an extended time in the air allowing users to get the most out of their drone.
It has been designed to be lightweight yet strong enough to handle tough flying conditions and features advanced safety features such as low-temperature protection and overcharge protection that help keep you from damaging your valuable drone hardware when you least expect it.
The Mavic 3's tremendous energy capacity provides sufficient energy for aerial photography, videography, and more complex tasks like obstacle avoidance or advanced tracking modes for professional outputs at all times - no wonder it is one of the top-rated drones on the market right now.
Charging time
The charging time of the DJI Mavic 3 is incredibly fast and efficient. With a 65W charger, you can completely charge up the drone in as little as 60 minutes. This is a very short time compared to other drones, which often require several hours to get full power.
The 65W charger also provides plenty of juice to keep the drone going for extended periods, giving you more flight time and allowing you to take more photos or videos on each outing.
Furthermore, USB-C Quick Charge support can quickly top up your battery while out on location without waiting for a long recharge cycle.
Remote control
The remote control for the DJI Mavic 3 is an incredibly sophisticated technology capable of a smooth and seamless operation within the 5.725-5.850 GHz frequency range. What's more, it offers optimal performance at 26 dBm (FCC), 23 dBm (SRRC), and 14 dBm (CE).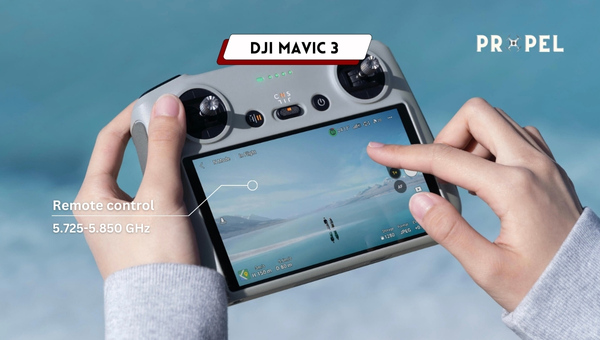 By far, this product is one of the most responsive remote controllers on the market today, with fast response times and excellent accuracy. Whether you are just getting into aerial photography or have been doing it for years, you can count on this reliable tool to get the job done right every time.
Advanced Features of DJI Mavic 3
Several advanced features of the DJI Mavic 3 make it stand out from other drones.
Active track 5.0
Active Track 5.0 is the latest innovation from DJI, designed to make flying and capturing aerial footage easier than ever before. This advanced feature allows users to select a subject and have their Mavic 3 drone autonomously track it without the need for manual control.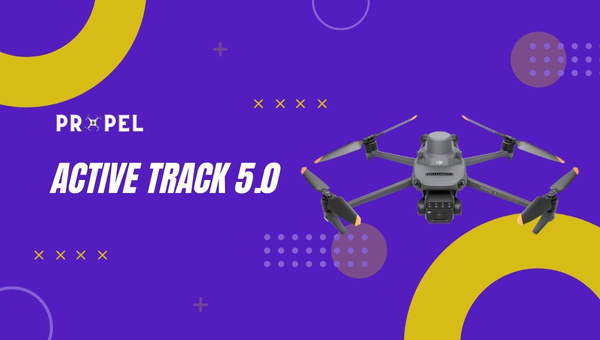 Using AI-based computer vision technology, the drone can detect, identify, and stay focused on the subject, automatically adjusting its flight path to keep them in the frame. This feature makes it easier to capture stunning aerial footage while freeing users up to focus on the creative aspects of filming.
So if you're looking for a drone that can keep up with your fast-paced outdoor adventures, the DJI Mavic 3 equipped with Active Track 5.0 is an ideal choice.
O3+ transmission
The DJI Mavic 3 is the newest drone in the Mavic range and features an exciting new O3+ transmission system. This technology offers cutting-edge video streaming and improved connection speeds, allowing users to experience a smooth, seamless flying experience.
The O3+ transmission system also enables longer flight times and greater distances of up to 4 miles (6 km) for the Mavic 3 compared to previous models. Furthermore, it offers access to more reliable connection links that can penetrate through buildings and other obstacles better than before.
This is great news for drone pilots who want to fly their drones in cities and other urban environments. So, if you're looking for an advanced drone that can deliver an immersive flying experience, then the Mavic 3 is worth considering.
Advanced return to home
The Advanced Return to Home feature in the DJI Mavic 3 is an incredibly useful tool for ensuring safety and preventing drone loss from any unexpected circumstances like power failure, communication loss, or navigation interference.
When activated, this feature will autonomously fly the drone back to its original take-off point and automatically land the drone. This feature can be enabled manually by pressing a button on the controller or by setting a virtual fence through automation.
It also comes with added security measures like an emergency stop button should you need to abort the return flight while in progress.
Omnidirectional Obstacle Sensing
The DJI Mavic 3's Omnidirectional Obstacle Sensing offers a variety of groundbreaking safety features. It uses six directions of obstacle sensing to help keep you safe from all angles, providing better coverage than previous Mavic models.
This system utilizes five vision and two infrared sensors to detect obstacles up to 49 feet away, allowing for smoother and more reliable obstacle avoidance. Additionally, the advanced onboard computer calculates the safest route around obstacles, enabling you to fly confidently in any situation.
The sensors also provide better tracking performance when flying close to objects, making it easier to capture stunning footage while avoiding potential collisions.
APAS 5.0
Enter DJI Mavic 3 with APAS 5.0 technology! This powerful drone offers an advanced obstacle avoidance system that allows it to detect obstacles in its path and automatically adjust its flight route accordingly.
It also has a 4K camera capable of capturing stunning photos and videos and up to 31 minutes of flight time per charge. With all these features combined, the DJI Mavic 3 is perfect for anyone who wants to take their aerial photography game to the next level.
Waypoint
Waypointing technology is a must-have for any serious drone user. It allows you to easily create and follow a predetermined flight plan for your drone without needing constant manual control.
The DJI Mavic 3 has an exceptional waypoint system that makes it easy to create complex preprogrammed routes with multiple waypoints.
You can adjust the height, speed, and direction of each waypoint as well as designate pauses at certain points in the flight to allow for focusing on tasks such as photography or video recording.
With this technology, you can focus on capturing amazing aerial footage without worrying about manually controlling your drone.
Master shots
Regarding the DJI Mavic 3, mastering shots is one of its major selling points. With its Foldable and Powerful design, this drone can capture amazing shots with remarkable stability.
The camera on the Mavic 3 is equipped with a 1/2-inch CMOS sensor, allowing you to take clear and crisp footage and photos.
The 3-axis gimbal gives you stable footage, even in windy conditions. You can also use its "intelligent shot" modes, such as ActiveTrack 3.0 and QuickShots to easily get creative shots.
With the Mavic 3, you will be able to shoot beautiful master shots with ease. This drone is a great choice for anyone looking to capture stunning aerial footage.
Pros and Cons of DJI Mavic 3
There are many benefits to owning the DJI Mavic 3. some of them are:
Pros
Advanced obstacle avoidance sensors to help you fly with confidence and safety
The foldable design makes it easy to take the drone almost anywhere.
Compact size fits comfortably in a backpack or small bag.
Long battery life means you can get plenty of filming done without needing to recharge frequently
CONS
It takes practice to get the hang of flying and getting good-quality shots.
The DJI Fly App is necessary for controlling the drone, but it can be confusing to use at times.
No 4K video recording is available on this model.
Alternatives of DJI Mavic 3
There are several alternatives to the DJI Mavic 3 available in the market. These include:
This drone has an 8K camera resolution, 4K video recording, and a powerful gimbal system that can produce stable footage even in strong winds. It has a maximum flight time of 40 minutes and a maximum range of 6.2 miles.
The Anafi is a small, lightweight drone with a 21-megapixel camera that can record 4K videos. It has a battery life of 25 minutes and can travel up to 1 mile from its controller. So, if you are looking for a cheaper alternative to the DJI Mavic 3, this could be the right choice.
Yuneec Mantis Q
This foldable quadcopter has a flight time of 33 minutes and can travel up to 1.2 miles away from its controller. It has a 13-megapixel camera that can record 4K videos at 30fps. This is an attractive choice for budget-conscious drone users.
Summary
The DJI Mavic 3 is a fantastic all-around drone and a must-have for anyone looking for a powerful, feature-rich, and reliable quadcopter. With its impressive camera quality, long battery life, and unique design, the Mavic 3 is perfect for beginners and experienced drone pilots.
Whether you're shooting photos or videos, capturing memories, or exploring new places, the Mavic 3 will surely provide you with an enjoyable and rewarding flying experience.
That's all about the DJI Mavic 3 review. Hope this article has helped you understand the features and benefits of this amazing drone.
Thanks for reading! Happy Flying!