Updated Drone Laws in Arkansas In 2023
Updated On: January 5, 2023
The use of drones in Arkansas is on the rise as more and more residents look for ways to capture stunning aerial footage for personal and business purposes.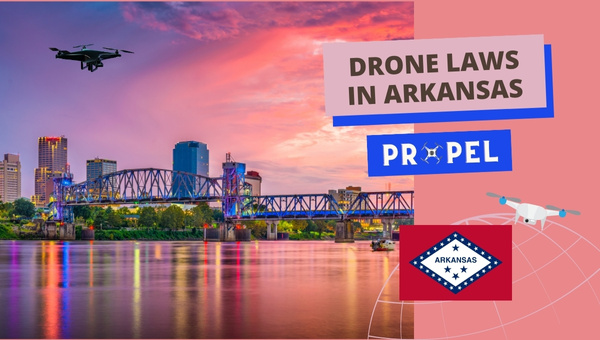 Technology has made it easier to operate drones with a wide range of features that provide amazing photography and videography opportunities.
From farmers using them to monitor their crops to students creating films, drone use is quickly becoming part of daily life in the Natural State.
Through accurate navigation, drones can efficiently inspect complex structures such as pipelines, cell towers, and power lines, all while protecting the safety of workers who would have been required to climb or traverse hazardous environments.
Drone technology has brought a lot of opportunities for fun, exploration, and convenience to people all over the world. But with its increased popularity comes certain legal considerations that must be considered.
You must be familiar with the current laws surrounding drones in Arkansas so as not to run afoul of any regulations.
In this blog post, we will outline these various drone laws in Arkansas so that you can do so confidently, knowing your aircraft is legal and safe when you take flight.
General Drone Rules in Arkansas (2023)
In Arkansas, a few general laws apply to all drones, regardless of their purpose. These laws are in place to ensure the safety of everyone on the ground and in the air. Here are some general drone laws to keep in mind while flying a drone: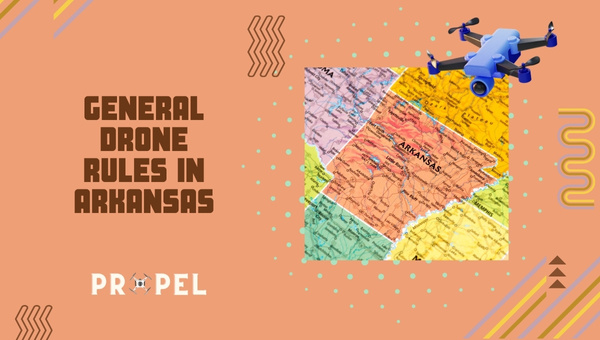 In Arkansas, fly a drone only for recreational enjoyment.
Ensure that you abide by the security standards of a certified FAA Community-Based Organization (CBO) for optimal safety.
To ensure a safe flight, it is important to keep your drone within sight or use an observer situated next to the pilot and communicate directly.
Ensure unimpeded flight for manned aircraft, and fly at or below 400' within controlled airspace (Class B, C, D, E) with prior authorization via LAANC or DroneZone.
When flying in Class G (uncontrolled) airspace, maintain an altitude of no more than 400 feet.
Pass the Recreational UAS Safety Test (TRUST) and record your successful completion.
Make sure you're up-to-date with your registration, mark all drones heavier than 0.55 lbs (250 grams) with their respective registration numbers on the exterior, and have proof of their registration handy. The FAA does not require recreational flyers to register or label drone models that weigh less than 0.55 lbs (250 grams).
Exercise caution while operating your drone. Do not obstruct emergency response or law enforcement operations.
Fly sober; it's illegal to fly under the influence of drugs or alcohol.
Be aware that certain areas, like critical infrastructure and residential neighborhoods, are off-limits for flying drones.
Drone pilots should be aware that if they go against these safety requirements and fly their drones carelessly or recklessly, they can face severe criminal and civil penalties.
Read Also: Al New Drone Laws in Alaska
The FAA (Federal Aviation Administration)
The FAA, or Federal Aviation Administration, is the governing body that monitors and regulates national airspace. They are charged with protecting the safety and effectiveness of drones, aircraft, and other flying machines for private and commercial use.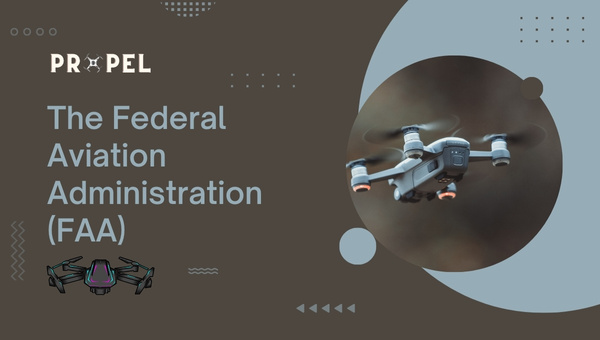 As drones have become more popular in recent years, so has the FAA's role, as they are responsible for setting rules around drones operating in public areas.
The FAA's current initiatives focus on integrating drones into the existing air transportation framework while ensuring safe and responsible drone usage.
They aim to have a comprehensive safety system that protects all national airspace users. With its many advances in flight patterns and technology, the FAA plays a large role in evolving the aviation industry daily.
FAA's Part 107 Regulations
In June 2016, the FAA released its Part 107 regulations, which govern the operation of small drones (under 55 pounds) in the National Airspace System.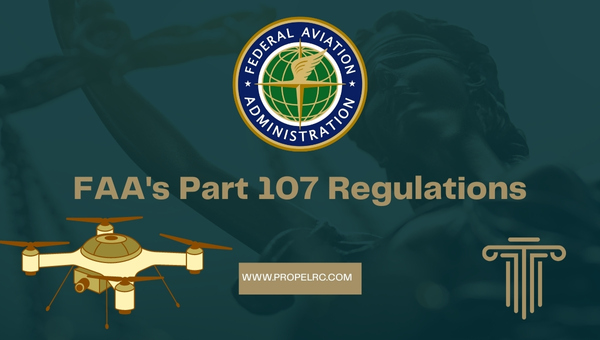 The regulations require drone operators to obtain a remote pilot certificate from the FAA and to register their drones with the agency.
In addition, the regulations impose restrictions on where and how drones can be flown. For example, drones must be kept within the visual line of sight of the operator at all times, and they cannot be flown over crowds of people or near airports.
FAA's Remote Pilot License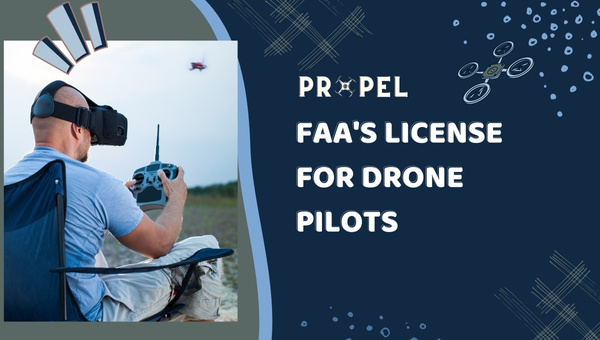 To operate a drone commercially in the United States, you must obtain a remote pilot license from the FAA. The process for obtaining a license is relatively simple.
First, you must pass an aeronautical knowledge test at an FAA-approved testing center. Next, you must submit a completed application to the FAA. Once your application has been processed, you will be issued a temporary remote pilot certificate.
Finally, you must take an online safety course and pass a recurrent aeronautical knowledge test every 24 months to keep your remote pilot license active.
Register Your Drone With FAA
All drones that are operated commercially in the United States must be registered with the FAA. The registration process is simple and only takes a few minutes.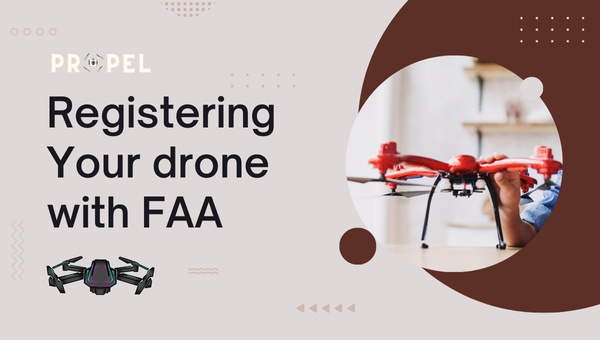 First, you must create an account on the FAA's registration website. Next, you will need to provide your contact information and the make and model of your drone. Finally, you will need to pay a $5 registration fee.
Once your drone is registered, you will be issued a Certificate of Aircraft Registration and a unique registration number that must be displayed on your drone at all times.
The UAS Commission
The Unnamed Aircraft Systems (UAS) Commission was established to bring together representatives from industry, state and local governments, and other stakeholders to identify and prioritize the best ways to open up U.S. airspace for UAS operations safely.
The commission is tasked with examining key policy questions related to the integration of UAS into the national airspace system by providing information and recommendations on all dimensions of this issue, including technical, economic, legal, privacy, security, and safety-related matters.
Read Also: All Drone Laws In The Netherlands: Rules To Follow
Offenses and Penalties for Breaking Drone Laws in Arkansas
Operating a drone in violation of the FAA's Part 107 regulations can result in civil and criminal penalties.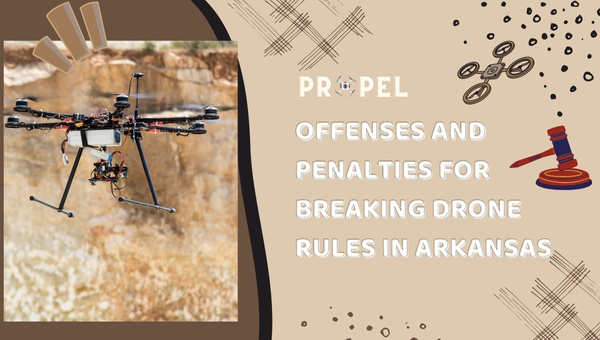 Criminal charges
The most serious offense is flying a drone in a way that endangers the life of another person. This offense can result in a fine and imprisonment for up to a few years. Other offenses that can result in criminal charges include:
Flying a drone without a remote pilot license
Flying a drone without registering it with the FAA
Interfering with the operation of a government drone
Hacking into a drone's control system
Civil penalties
In addition to criminal penalties, the FAA can also impose civil penalties on drone operators who violate Part 107 regulations. Civil penalties can cost you heavy fines and imprisonment.
In addition, drone operators who operate their drones recklessly or carelessly may be liable for damages if they cause an accident.
Violations of state and local laws
In addition to federal regulations, drones are also subject to state and local laws. These laws can vary considerably from one jurisdiction to another, so it's important to be familiar with the laws in your area.
Read Also: Drone Laws In Norway: All You Need To Know
No Drone Zones in Arkansas
No Drone Zones refer to areas where the use of Unmanned Aerial Vehicles (UAVs), often referred to as drones, is prohibited.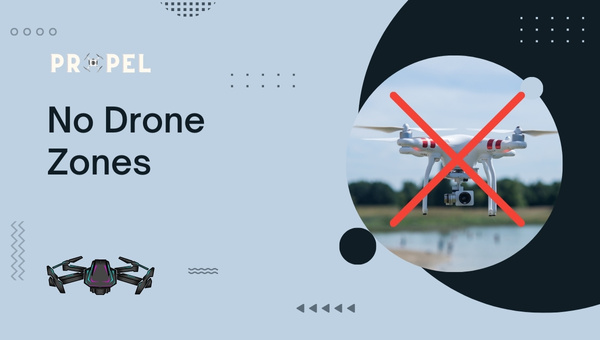 These zones were established by the Federal Aviation Administration (FAA) to protect public safety and national security while allowing the continued use of UAVs within certain regulations.
Arkansas is a state that takes extra safety measures when it comes to air travel, creating designated no-drone zones to ensure the safety of its citizens.
These no-drone zones are located near airports, military bases, and capitols that outline regions of Arkansas where drones are restricted.
Arkansas has created these rules to provide superior security for those who live and visit Arkansas and abide by the standards set forward by Arkansas legislators.
Those caught flying drones in the designated no-drone zones face fines or other potential penalties, so familiarize yourself with Arkansas's laws before launching a drone.
How to know about no drone zones?
The best way to know about no drone zones is to check the FAA's website for your area. The FAA publishes up-to-date information on the locations of no-drone zones and any changes that may have been made since they were first established.
You can also check with your local government to see if there are additional restrictions or regulations regarding drones in your area. This is especially important if you plan to fly a drone close to an airport, military base, or other sensitive areas.
Read Also: All New Drone Laws in Missouri
B4UFLY App
A B4UFLY app is a useful tool for drone pilots of all levels. Developed by the Federal Aviation Administration (FAA), it provides users with an easy way to understand where and when it is safe to fly their drones.
The B4UFLY app gives pilots the most up-to-date information on major airports, special use airspace, No Drone Zones, and local laws related to flying unmanned aircraft systems (UAS).
With intuitive features such as map overlays, searchable databases, checklists, and push notifications, the B4UFLY app can help make any pilot's flight experience more enjoyable and, more importantly, safer.
FAQs
Is it permissible to operate drones in Arkansas?
Yes, drones are allowed to be operated in Arkansas. However, drone operators must abide by all federal, state, and local laws when operating their drones.
Are there laws regarding flying drones over people?
Yes, the FAA prohibits flying a drone directly over people who aren't involved in the operation of the drone or don't have permission from those involved to do so. This rule applies to both commercial and recreational drone operators.
Conclusion
Arkansas has taken extra steps to ensure public safety, so familiarize yourself with Arkansas's no-drone zones before operating in the air. The FAA also provides helpful tools such as the B4UFLY app, which can make flying drones in any part of the country much easier and safer.
Drones are a great way to capture stunning aerial footage, but it's important to remember that they must be operated safely and in accordance with the law.
Before taking a flight, ensure you understand all the rules and regulations regarding drones in Arkansas so you can fly confidently and legally.
By being aware of the various laws surrounding drone use in Arkansas, you can ensure a safe and enjoyable experience for everyone involved. We hope this article helped to clear some things up for you. If you have any questions, please leave them in the comments.