New Drone Laws in Australia (Updated 2023)
Updated On: December 23, 2022
Australia has embraced the potential of drone technology, with the innovative use and deployment of this tech seen across many different industries. From farming to land surveying, drones are making life easier and more efficient.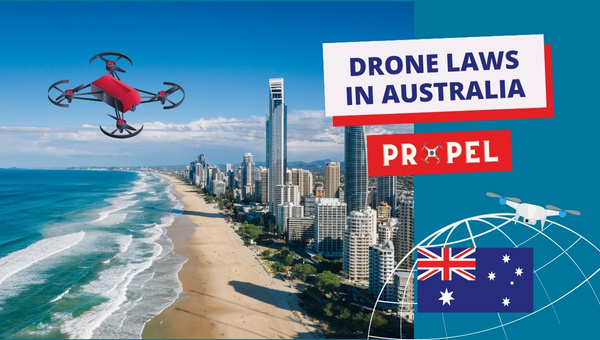 Even pioneering initiatives like using drones to deliver vaccine supplies to remote villages in Ukraine are being explored. Adoption differentiates Australia from other countries, as the nation is outpacing those who have yet to get on board with the use of these aerial robots.
As drone technology continues to develop, the complex laws and regulations governing its operations in Australia become increasingly important for recreational pilots to understand.
With numerous changes over recent years, including new restrictions on airspace access, it can be challenging to keep up with the latest information available.
As an overview of some of these rules and regulations, this blog post will explain drone laws in Australia and provide helpful tips on following them safely.
General Drone Laws to Follow in Australia (2023)
Whether you are a first-time drone pilot or an experienced one, it is essential to familiarise yourself with all applicable rules before taking off.
Flying your drone above 120 meters (400 feet) is strictly prohibited.
It is essential that you maintain a safe distance of 30 meters or more between your drone and any other individuals.
For safety purposes, flying only one drone at a time is imperative.
Make sure to keep your drone in sight at all times. This means not relying on any kind of device, screen, or headset - you should always be able to see the drone with your own two eyes.
It is prohibited to fly above people or populated areas, such as beaches, parks, events, and sports ovals where an event is in progress.
Show consideration for people's personal privacy and refrain from capturing them on camera or video without their permission this could be a violation of the law.
For drones that weigh over 250 grams, fly a minimum of 5.5 kilometers away from anything classified as a controlled airport - these typically include control towers.
It is your responsibility to ensure that you fly your drone in a way that does not risk any aircraft, people, or property.
For safety reasons, it is essential to only fly during the daytime and refrain from navigating through clouds or fog.
If you are operating a drone, it is essential that you avoid flying near any areas that may affect public safety or where emergency operations are taking place. This would include scenarios such as car accidents, police activities, firefighting initiatives, and rescue missions.
If you are near a landing area or aerodrome without an air traffic control tower, your drone must remain under 5.5 kilometers away. Should you be made aware of any manned aircraft in the vicinity, it is critically essential that you take immediate action by swiftly and safely maneuvering away from them and landing your drone as soon as possible.
If you plan to fly your drone for or at work (for commercial purposes), additional regulations must be followed. Obtaining a Remote Pilot License (RePL) is likely necessary unless you fall within the excluded category of operators.
Commercial Drone Rules in Australia
To legally fly a drone for professional or commercial purposes, you must follow some rules. If you wish to fly a drone, it's obligatory for you to have the proper accreditation.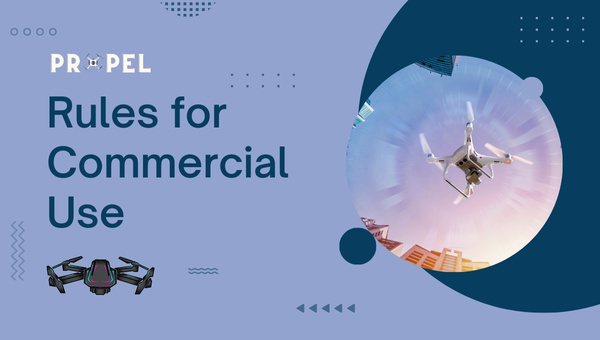 Drones weighing 2 kg or less can be flown freely over your land without requiring a Remote Pilot License (RePL).
However, if you are operating drones of more than 2kg and not exceeding 25kg in weight, then an individual or business must possess both a RePL and Remotely Piloted Aircraft Operator's Certificate (ReOC) in order to operate them legally.
Also Read: Updated Drone Laws In Turkey: Rules You Must Know
Age criteria
Whether you want to fly a drone for entertaining or recreational purposes, there is no age limit. However, suppose you intend on flying the drone commercially or working with an employer. In that case, we require that you are at least 16 years old in order to register your device and receive operator accreditation.
For operating RPA weighing less than 2 kg
Suppose you're piloting a Remotely Piloted Aircraft (RPA) under 2kg in weight. In that case, you can fly it for and at work with the prerequisites of following standard operating conditions, notifying CASA of your intention to fly, and keeping the required records.
If you wish to take a commercial flight outside these regulations, obtaining an official Remote Pilot License (RePL) is essential.
For operating RPA weighing over 2kg
If you are the owner or leaseholder of land, you can take to the skies with a Remotely Piloted Aircraft (RPA) weighing 2-25kg, free of charge. For RPAs that weigh 25-150kgs.
However, it is mandatory for users to possess a valid remote pilot license (RePL) and register their RPA with CASA before utilizing them above their own property.
Before getting a drone pilot license
Before you can obtain your license, it is essential to finish the mandatory training provided through a certified training provider. If you plan on utilizing your RPA for any form of commercial operations, there are additional regulations that must be followed.
You may additionally require getting a permit or accreditation to formally register your RPA.
You must restrict your RPA's altitude to no more than 120m (400ft) above the ground.
Keep your RPA at least 30m away from other people.
If your RPA (Remotely Piloted Aircraft) has a mass beyond 100g, you must remain at least 5.5 km away from any controlled airport with an operational control tower.
If you're positioned near an aerodrome with no air control tower, you can fly your RPA within a range of 5.5 km; however, if other manned aircraft enter the vicinity, then be sure to land your drone without delay for safety reasons.
You are forbidden from flying over or around people or in any populated area.
To ensure safety and regulations are followed, your RPA must always remain in sight.
Before you fly your RPA, it is essential to get approval from the appropriate authority if you plan on flying over or near an area related to public safety and/or emergency operations.
It is imperative that you utilize your RPA in a manner that does not present any danger to other aircraft, individuals, or property.
Respect the privacy of others. Do not capture images or recordings without explicit permission this may contravene other laws.
It is essential to only operate one RPA at a time.
Flying your RPA is only permissible during the day and must not be conducted through clouds or fog.
Registration For Commercial Drones in Australia
To ensure the safety of drone users, registration is mandatory for any remotely piloted aircraft (RPA) being operated professionally or as part of a job.
If you're looking to keep a drone and not fly it, or if your purpose for flying the drone is recreational in nature, such as model aircraft flown at CASA-approved airfields, then registration of your device may no longer be necessary.
However, commercial repair personnel and manufacturers must still maintain records of their operations. Registering is a swift and effortless process online, and your registration will remain valid for an entire year.
Also Read: Updated Drone Laws In Denmark: All You Need To Know
Registration Requirements
Before you fly any remotely piloted aircraft (RPA), whether for business or your job, make sure you register it first. Don't let a drone take off without registration.
All drones you fly to offer any service, no matter the weight, require this standard. This applies to pursuits such as:
If you are offering aerial photography or videography services
If you need to survey industrial machines, construction locations, or infrastructure with your drone.
If you aim to use your drone for monitoring, surveillance, or security tasks.
If you seek to utilize your drone for research and development objectives.
Organizing any aerial operations for your employer or company using a drone.
To register a drone, you must be at least 16 years of age. Even if your purpose is recreational, an RPA Operator Accreditation is necessary unless you have secured a Remote Pilot Licence (RePL).
Thus, if the use of drones is related to business or part of your job duties, then it's important to attain this accreditation in order to take advantage of its benefits.
If you're in the business of flying drones, registering any drone that weighs 500 grams or less is free. If your commercial drone surpasses this weight by even a gram, registration fees totaling $40 per device will apply.
You must register. However, in special cases, you may be qualified to ask for a refund of the remotely piloted aircraft (RPA) registration fee.
Civil Aviation Safety Authority of Australia (CASA)
The Civil Aviation Safety Authority of Australia (CASA) is the key regulator responsible for the safety and security of civil air transport in Australia.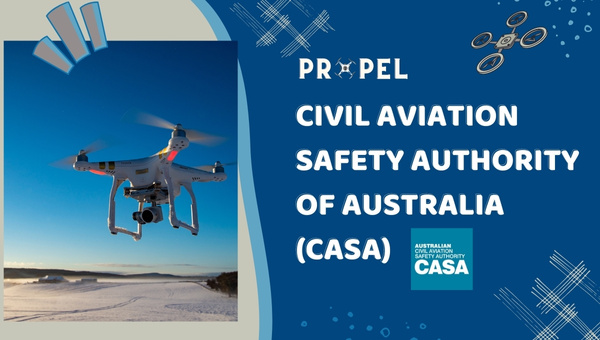 From drones used by businesses or hobbyists to commercial aircraft operating in our airspace, CASA ensures that aviation activities are conducted safely and professionally.
All drones require registration with CASA in order to be operated legally, with clear requirements such as maintaining a safe distance from vehicles or people and allowing airspace access to manned aircraft.
When drones are flown responsibly, it keeps you safe and maintains a harmonious relationship between drones and manned aircraft. Ultimately, this helps ensure the safety of everyone flying in Australian sovereign airspace.
Also Read: Drone Laws in South Korea
No Drone Zones in Australia
In Australia, no drone zones are defined airspaces that prohibit unmanned aerial vehicles (UAVs) from flying. Commonly referred to as drones, UAVs are becoming increasingly popular for both personal and commercial use.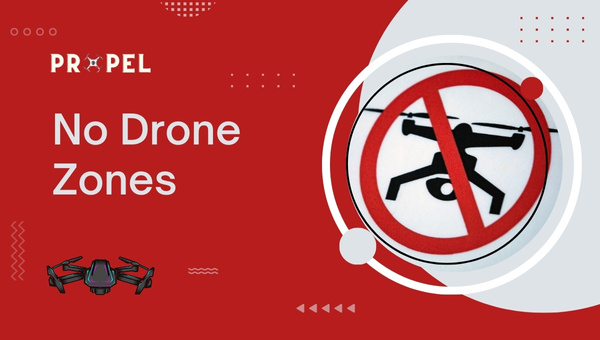 No drone zones serve to protect populations from potentially dangerous scenarios that can occur due to the unregulated flight of these vehicles, such as illegal surveillance or interference with manned aircraft operations.
Such areas include military facilities, prisons, airports, and other populated regions. To ensure the safety of those within no drone zones, strictly enforced penalties exist should a violation occur.
FAQs
Are Australian airspace regulations allowing for the lawful operation of drones?
Yes, CASA is the governing body responsible for regulating drone use in Australia. Their regulations are designed to ensure that drone operations are conducted safely and legally.
How to know about no drone zones?
No drone zones can be found on CASA's interactive no drone zone map. This resource provides information on prohibited airspaces in Australia where drones are not allowed to fly. The map also outlines the applicable penalties for any violations of these areas.
What is the minimum age to register a drone in Australia?
The minimum age requirement for registering a drone in Australia is 16 years old. All drones must be registered with CASA before they can be flown legally in Australian airspace.
Conclusion
The Australian government has implemented regulations and laws to ensure the safe operation of drones in all areas. Following these guidelines will help you maximize your enjoyment of flying drones while also abiding by the law.
If you are considering taking up drone operations for commercial purposes, it is important that you obtain a Remote Pilot License (RePL) beforehand.
Doing so will enable you to understand the safety precautions and rules that must be followed at all times. As drone technology continues to advance, it is important to stay up-to-date on any changes or new regulations published by the Australian government.
To ensure your drone flight experience is safe and fun, follow the guidelines we have provided in this article. We hope you found it helpful. Please comment if anything else could be added to further information.