Drone Laws in South Korea (2023 Updated)
Updated On: December 21, 2022
South Korea is pushing boundaries when it comes to drone technology. Reports suggest that the country already has thousands of drones in its arsenal, with plans to increase that number in years to come significantly.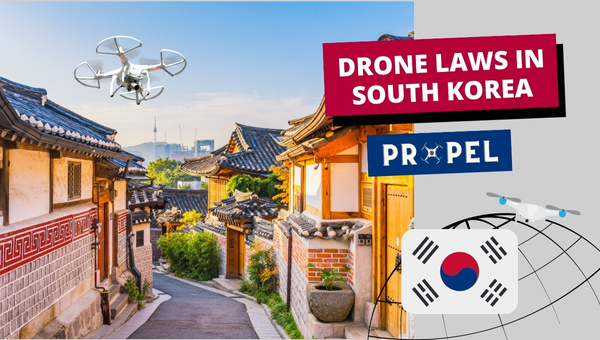 Drones are used for various purposes, including surveillance and reconnaissance, transport of light payloads, and search-and-rescue operations for stranded individuals.
These innovative capabilities underscore South Korea's commitment to advancing how unmanned aerial vehicles are used worldwide.
In an age of rapidly advancing technology, it's no surprise that drones have become increasingly common in South Korea. But with any new technology or activity comes a certain set of rules.
When it comes to drone flying in South Korea, there are plenty of important guidelines that all pilots should understand before taking off, including drone laws in South Korea.
This blog post will explain the key regulations & drone Laws in South Korea that you need to know about before embarking on your aerial adventure in South Korea.
General Drone Rules to Follow in South Korea
Knowing the rules for flying a drone in South Korea is essential. So, here are what you need to know: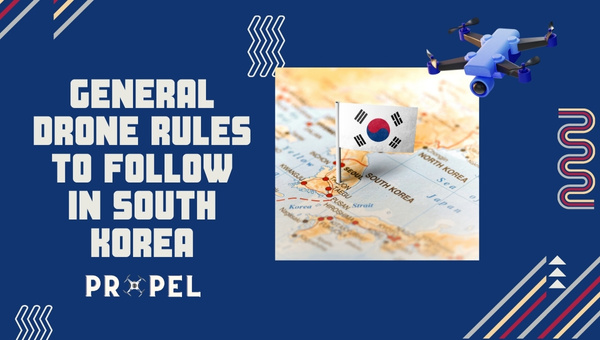 It is illegal to fly a drone more than 150 meters (492 feet) in the air.
Keep your aerial vehicle away from airports and other areas where aircraft are active a minimum of 5.5 kilometers is necessary for safety regulations to be followed.
Daylight and favorable weather are prerequisites for flying; these conditions must be met before taking off.
For the safety of others and their privacy, kindly avoid flying your drone over people or large gatherings while operating.
Flying is prohibited during periods of poor visibility or when yellow dust lingers in the air.
Always keep your drone within sight, and never let it venture out of view.
It is strictly prohibited to soar over Seoul Plaza, military stations, governmental buildings, power plants, and other national security places.
Under the jurisdiction of the Ministry of National Defense, aerial photography using an unmanned aircraft requires prior authorization.
The law strictly prohibits releasing and dropping any items that could potentially risk people's lives or property with a drone.
The Aviation Administration strictly prohibits flying in a way that could potentially jeopardize the lives or property of those in heavily-trafficked areas, such as residential and commercial zones or other congested spaces.
The absolute prohibition of flying any aircraft while under the influence of alcohol or drugs is essential for safety.
Suppose you collect or transmit personal data through a drone, and it results in the violation of another person's rights as well as their freedom. In that case, severe legal repercussions are possible under laws like Personal Information Protection Act.
Registration and Experience Requirements
In order to lawfully fly any drone that is greater than 250 grams, registration with the proper governing authorities is required. All drones weighing between 250 grams and 2 kilograms must pass a mandatory online course before use.
To fly a drone that weighs between 2 and 7 kilograms, operators must pass an intensive written exam and have six hours of piloting experience.
If you wish to flyweights greater than 25 kilograms, you must have at least 20 hours of flight experience and pass a comprehensive test.
Insurance Requirements
If you need to register your drone in South Korea, it is mandatory that you purchase drone insurance with a coverage amount of at least KRW 150,000,000.
Also Read: Drone Laws in Ukraine: All You Need To Know
Drone License
Although you don't necessarily need a drone license to fly your unmanned aerial vehicle in the United States, if you plan on using the device for commercial reasons, then it is required that you obtain a pilot's license.
In addition, there are several other precautions and regulations that must be taken into consideration before taking off:
All drones exceeding a weight of 250 g must be officially registered.
All drones below 2 Kg, yet heavier than 250 g, are mandated to undertake an online course.
Drone pilots who own drones weighing between 2 Kg and 7 Kg must take a written test and have at least 6 hours of drone flying experience before they are allowed to operate.
In order to be approved for anything above 25 Kg, you must have at least 20 hours of flight time and pass additional examinations.
No Drone Zones
In South Korea, a no-drone zone is an area in which drones are forbidden from flying due to the high risk of accidents or possible harm. This can include crowded areas, airports, and military bases.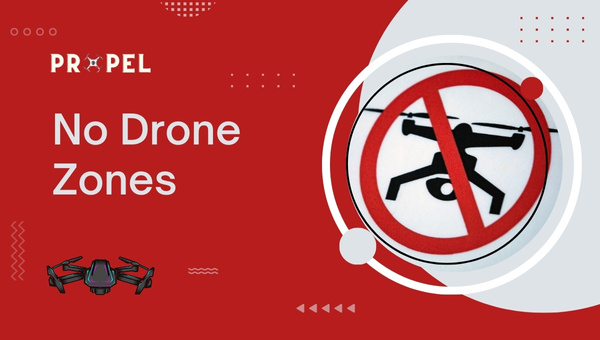 In some cases, permission must be obtained from local authorities before drones can legally fly within these designated zones or for take-off and landing.
Furthermore, it is necessary that a valid Certificate of Authorization (COA) be included with your application - this document must outline the purpose as well as all pertinent details surrounding a planned flight.
Ultimately, if caught without legal authorization when inside a no-drone zone, penalties will be imposed. Therefore, it is essential to stay aware of local regulations and contact relevant authorities when planning any aerial activity in South Korea.
Restricted Places To Fly A Drone in South Korea
You must fly your drone within a 9.3 km radius of an aerodrome to keep it away from what is known as a "control area."
A no-fly zone has been established in the airspace over downtown Seoul near the demarcation line. Flying is strictly prohibited within this area to preserve national defense.
Operating a drone at an altitude higher than 150m is strictly prohibited by law.
Operating a drone in an area with significant population density or where crowds are likely to congregate (e.g., sports stadiums and festivals) is strictly off-limits.
If an aircraft crashes, the potential for harm to passengers is high. To fly in areas where it's not allowed without consequence, you must first obtain approval from the local Aviation Administration or Ministry of National Defense after they have reviewed any safety risks associated with that airspace.
If this permission isn't granted, certain flying actions are strictly prohibited.
Also Read: New Drone Laws in France
Commercial Drone Laws in South Korea
Soaring through the skies of South Korea with a commercial drone is now possible, but be sure to obey these regulations.
Obtaining authorization from the South Korean Aviation Authority is mandatory.
To utilize an unmanned aerial vehicle (UAV) for commercial purposes, businesses must apply for a registration to operate within regulations.
Drone operators must ensure their devices do not exceed a maximum height of 150m/492ft or require prior authorization. Beyond this threshold, any elevation requires special permission from the relevant authority.
When flying, there is no defined limit on how far away the aircraft can be flown. However, operators must always maintain a visual line-of-sight of their craft unless they have received authorization to fly beyond this boundary.
The take-off weight is unrestricted, providing limitless opportunities.
Unless you have received explicit authorization, operations must only be conducted during daylight hours.
Unlike other forms of transportation, no labeling requirements exist for drones. However, it is highly recommended that you obtain liability insurance to protect yourself and your property in the event of an accident or unforeseen occurrence.
Securing authorization and licensing can be an arduous task. The KOCA has the necessary details, so please reach out to them for more information.
Recreational Drone rules in South Korea
Private drone flying is welcome in South Korea, yet it must be done according to the stipulations detailed here.
No prior authorization is necessary.
Drone operators must adhere to a maximum height of 150m / 492ft; exceeding that altitude requires special permission.
There is no maximum distance when flying an aircraft, but it must remain within the operator's field of vision at all times unless authorization for a flight beyond the line of sight has been granted.
Take-off weight has no restrictions; it is unrestricted.
Unless authorized, operations should be carried out during daylight hours.
Liability insurance is not mandated for drones, yet it's highly encouraged that drone operators obtain coverage.
Adhere to the general regulations mentioned above, yet be sure to look for potential modifications.
Also Read: Updated Drone Laws in South Carolina
South Korea Office of Civil Aviation (KOCA)
The South Korea Office of Civil Aviation (KOCA) is the government organization responsible for providing a safe and secure air environment for drones and other aircraft.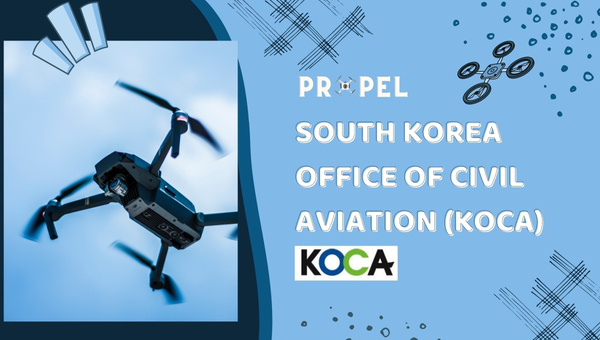 Their mission is to promote the safe operation of drones in an efficient, secure, and professional manner while ensuring the safety of citizens, the protection of national airspace, and environmental sustainability.
KOCA also works to develop policies regulating drones' use for commercial activities such as delivery services. This should ensure drones are used responsibly without interfering with other forms of transport and protect citizens from any potential danger drones may pose.
In addition to their commercial regulation role, KOCA works closely with local governments and organizations to educate drone operators on proper operation techniques to prevent accidents or injury.
FAQs
Is it legal to fly drones in South Korea?
It is absolutely legal to fly those devices as long as certain rules are followed. The local legislation in place incorporates some basic regulations that pilots must respect in order to operate drones without worrying about consequences.
Do I need liability insurance for my drone?
Yes, liability insurance is mandated for commercial drones in South Korea; however, it's highly recommended that operators obtain coverage to protect recreational drones against potential accidents or unforeseen occurrences.
Do I need to register my drone?
Yes, all recreational and commercial drones must be registered with KOCA before operating in South Korea. Additionally, pilots must have valid identification available when flying.
Conclusion
Drones in South Korea are becoming increasingly popular, both commercially and recreationally. It's important to understand the regulations put in place by KOCA before flying a drone.
Whether you're using your aircraft for recreational or commercial purposes, exercise caution while operating near airports and adhere to all safety regulations.
Respect other people's privacy when capturing photos or videos, and always obey no-fly zones that are marked on maps or announced online. Finally, make sure to register your drone with KOCA so you can take advantage of their airspace restrictions.
In conclusion, flying a drone in South Korea can be an exciting activity - but it must be done responsibly and legally. Make sure you understand the laws and regulations of drone flying before taking off, as this will help to ensure that your flight is safe and enjoyable.
Remember, safety always comes first. With the right knowledge under your belt, you'll be soaring through the skies in no time at all. Hope this article has proved useful to you. Please don't hesitate to leave a comment below.