Drone Laws in Japan, Penalty, Registration (2023 Updated)
Updated On: December 31, 2022
Drones are becoming more and more prevalent each day. People use them for various reasons, such as photography, recreation, and even business endeavors.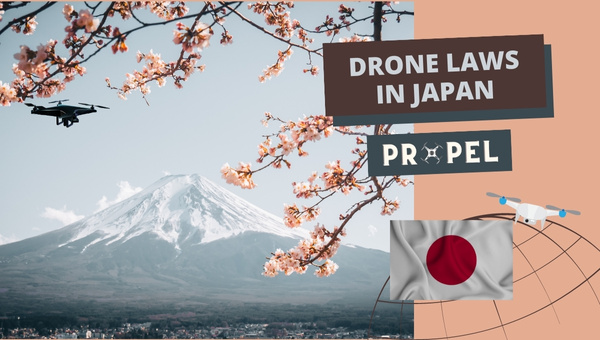 Some countries have specific laws in place regulating the use of drones, while others are still in the process of drafting legislation.
A lot has been said about the drone laws in Japan. Some say they are too strict, while others find them reasonable. What everyone can agree on, however, is that there is a lot of confusion surrounding what is and isn't allowed.
In this post, we'll take a closer look at the current drone laws in Japan and try to clear some of that up. So, if you're thinking of flying your drone in Japan, going through this article will help you.
Can you Legally Fly a Drone in Japan?
The use of drones in Japan is allowed by the JCAB. However, there are several restrictive regulations that users must follow. You can fly a drone in Japan as long as you follow certain regulations.
Any drone flown in Japan needs to follow the rules and regulations put forth by JCAB. There are also strict rules governing airspace that drones may not enter, such as near airports and other military installations.
Read Also: Drone Laws in Serbia, Guidelines, Penalties
General Drone Rules in Japan (2023)
Flying drones in Japan can be a bit confusing, especially since the rules and regulations are constantly changing. So, whether you're a tourist looking to fly your drone in Japan or a resident who wants to know more about the restrictions, read on for general drone laws in japan.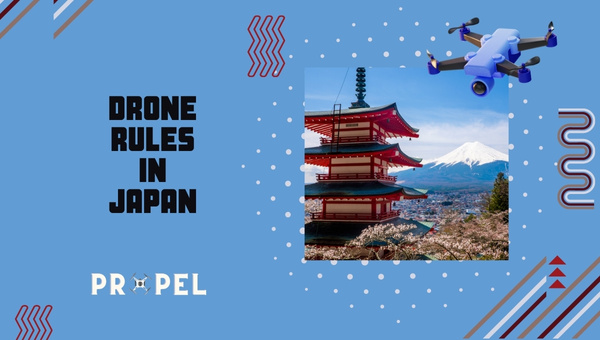 Never operate UA/Drones while under the influence of alcohol or drugs.
Maintain a 30-meter or greater operating distance between UA/Drones and people or land/water surfaces.
Perform preflight actions, then fly and operate UA/Drones.
Operate unmanned aircraft/drones in order to prevent potential collisions with airplanes and other drones.
UA/Drones should not be flown above areas where large crowds have gathered.
Do not use UA/Drones in a way that could be considered careless or reckless.
Operate UA/Drones during the daytime hours.
Operate UA/Drones within Visual Line of Sight (VLOS). To ensure safe operation, always maintain visual contact with your drone.
Never take hazardous materials, like explosives, on UA/Drone.
Do not drop any objects while you are using drones.
If you intend to fly a UA/Droneat night or for dropping objects, you must obtain approval from the Regional Civil Aviation Bureau in advance.
The requirements indicated in "Airspace in which Flights are Prohibited" and "Operational Limitations" do not apply to public organization rescue operations during accidents or disasters. It's an exception for part of the rules.
At least 10 days before flying a UA/Drone, you must apply to the Ministry of Land Infrastructure, Transport, and Tourism for approval in Japanese.
Penalties for Breaking Drone Laws in Japan
If the aforementioned rules are violated, the UAV operator will be subject to a fine of up to 500,000 yen.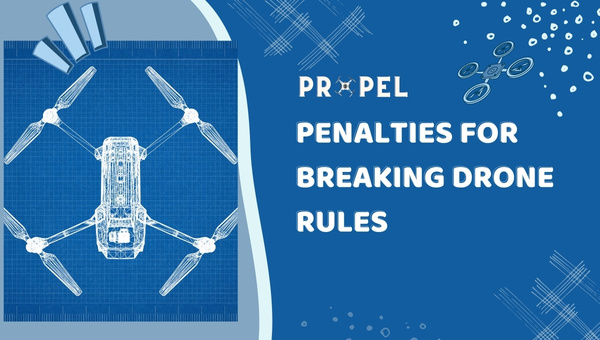 If a drone operator is caught flying their UAV under the influence of drugs and alcohol, they are liable for imprisonment of up to one year or fines reaching 300,000 yen.
Read Also: Drone Laws in Canada, Penalty, Limit
Restricted Airspaces
Individuals who want to use drones in the following areas must first get approval from the Minister of Land, Infrastructure, Transport, and Tourism.
Airspace around airports includes airspaces above the approach surface, horizontal surface, transitional surface, extended approach surface, conical surface, and outer horizontal surface. As of September 18, 2019, Airspace below the approach surface, transitional surface, and above the airport premises is added to a no-fly zone at the following airports; New Chitose Airport, Narita International Airport, Tokyo International Airport, Chubu International Airport, Kansai International Airport, Osaka International Airport, Fukuoka Airport, Naha Airport.
Airspace that is 150m or more above ground level.
In areas above those with high population density, as defined and published by the Ministry of Internal Affairs and Communications.
Important Notices for UAVs or Drones
On June 20, 2022, the registration of Unmanned Aircraft became mandatory. After June 20, 2022, no unregistered unmanned aircraft weighing 100 g or more will be allowed to fly.
Please take the time to register your Unmanned Aircraft. Furthermore, Unmanned Aircraft that weigh 100 grams or more will be under the jurisdiction of the Civil Aeronautics Act as of June 20, 2022. This includes getting flight permission for the aircraft's proposed route.
The aircraft must have a remote ID function and show a registration number on the Unmanned Aircraft. RID equipment sends identification info about an unmanned aircraft via radio waves during flight, so you can figure out if it's registered and guarantee safe skies.
Read Also: New Drone Laws in Italy
Rules for Recreational Uses
You can fly a UA/Drone for recreational use as long as you abide by the following rules:
You need explicit permission to fly in the airspace near airports, above 150m, or in districts with a high population density.
Drones must stay below 150m / 492ft, or special permission is needed to fly higher.
Unless you have received explicit permission, your drone must always remain within your line of sight.
There is no specified weight limit for take-off.
You don't need a license, and you must still apply to the Japanese Ministry of Land, Infrastructure, Transport, and Tourism if you want to fly a drone.
You must have prior approval to operate at night.
Japan Civil Aviation Bureau (JCAB)
The Japan Civil Aviation Bureau (JCAB) is the Japanese government agency responsible for aviation regulation and safety. The bureau is headquartered in Tokyo and reports to the Ministry of Land, Infrastructure, Transport, and Tourism.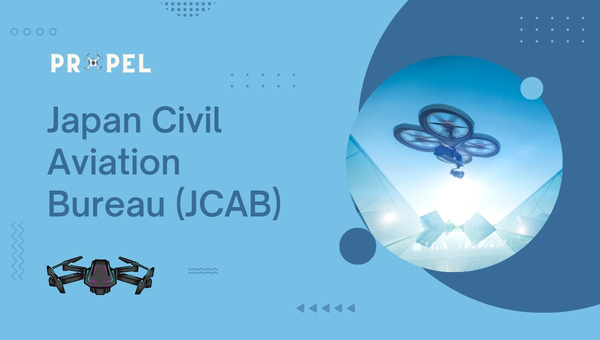 JCAB sets safety regulations for all types of civil aviation operations within Japan's airspace. It also issues licenses to pilots and aircraft operators, inspects airports and aircraft, conducts air traffic control services, monitors airworthiness standards for Japanese-registered aircraft, investigates accidents or incidents related to civil aviation operations, administers.
Flight Information Region Tokyo, provides an emergency response system during emergencies related to civil aviation operations in Japan, and collects statistics on flight safety and other matters.
JCAB has played a major role in ensuring safe and efficient aviation services for many years. The bureau strives to improve the safety of all Japanese citizens who utilize aircraft for travel, business, or recreational purposes.
The bureau also promotes the development of the aviation industry in Japan and works to improve the efficiency of air transportation.
Read Also: Every Drone Laws in Hungary
Ministry of Land, Infrastructure, Transport, and Tourism (MLIT)
The Japanese Ministry of Land, Infrastructure, Transport, and Tourism (MLIT) is a government ministry. The MLIT is an important organization when it comes to regulating the aviation industry in Japan.
It works with various agencies to ensure safety and promote efficient air transportation. This Ministry is responsible for one-third of all the laws and orders in Japan. It employs more people than any other Japanese ministry and is the second-largest executive agency of the Japanese government after the Ministry of Defense.
The ministry has control over four external agencies, for example, the Japan Coast Guard and the Japan Tourism Agency. The ministry is also responsible for regulating drones and other aircraft. In recent years, the ministry has been working to develop new regulations for drones in order to ensure their safe use in populated areas.
The ministry is also working to promote the use of drones for various commercial applications, such as delivery and surveying. Drones are already being used extensively in other countries, and Japan is working to catch up.
The MLIT was formed on January 6, 2001, as a result of the merger of the Ministry of Transport, the Ministry of Construction, and the Hokkaido Development Agency. On January 8, 2008, the ministry changed its English name from "Ministry of Land, Infrastructure, and Transport."
On October 1st, 2008, the Japan Tourism Agency was created in order to investigate marine accidents. The Aviation and Railway Accident Investigation Committee was also merged into this organization in order to form the Transport Safety Committee.
Read Also: New Drone Laws in Pennsylvania
No Drone Zones in Japan
No Drone Zones are areas where drones are not allowed to fly. There are several reasons why these zones exist, including safety, security, and privacy concerns. Drones can pose a serious safety hazard if they collide with airplanes or other aircraft.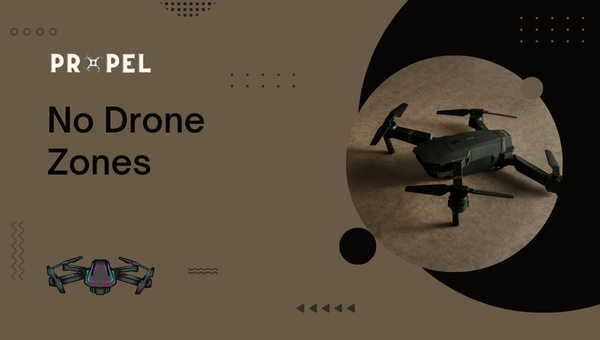 They can also be used to spy on people or to deliver illegal contraband into secure areas. As a result, No Drone Zones are established to protect the public from these potential dangers.
In many cases, these zones are clearly marked with signs or banners. However, it is always important to check for local restrictions before flying a drone in any area.
How to know about no drone zones in Japan?
You can find out about no drone zones in Japan by looking online. The Japanese Ministry of Land, Infrastructure, Transport, and Tourism (MLIT) website provides a list of areas that are designated as No Drone Zones. Additionally, there are several mobile apps available that provide detailed information on No Drone Zones in Japan.
It is important to always check these resources before flying your drone anywhere in the country. Finally, it is also recommended that you familiarize yourself with the laws and regulations set forth by the JCAB concerning drone use in Japan.
Read Also: All New Drone Laws in Montana
Conclusion
In conclusion, drone laws in Japan can be complex and restrictive. If you plan on flying a drone in Japan, it's important to understand the regulations and get permission from the relevant authorities before doing so.
Following all applicable regulations is essential for maintaining safety for yourself, your property, and those around you. Failure to do so could result in fines or criminal charges.
However, by following these regulations and obtaining any necessary permits, you can legally fly your drone in Japan with confidence, knowing that you won't get into trouble with the law.
We hope this article has cleared up some of the confusion surrounding drone regulations in Japan so you can better understand what's allowed and what isn't. If you have any further questions about flying drones in Japan, feel free to leave a comment below.