Drone Laws in North Dakota (2023 Updated)
Updated On: January 5, 2023
Drones have become a booming industry in North Dakota, and their presence is quickly becoming normal. These autonomous machines are not just used for military operations but can certainly accomplish that.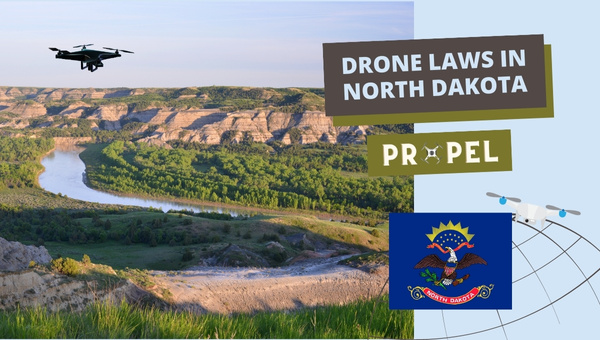 Drones have also been used for other civilian pursuits such as agriculture, disaster relief, structural inspections, and surveying large tracts of land. Their popularity has grown due to their low cost and lethal accuracy in delivering goods.
As drones become increasingly popular, the laws and regulations surrounding them have changed drastically over the past few years.
Whether you're an experienced drone operator or just looking to get your feet wet in this exciting hobby, understanding the laws of your area is essential to keep yourself and others safe while enjoying all that drones offer.
This blog post will dive into the rules, and drone Laws in North Dakota, so that anyone interested in flying a drone within North Dakota can do so with confidence and knowledge.
General Drone Rules in North Dakota (2023)
No matter the mission, all drone pilots residing in North Dakota are obligated to adhere to and abide by particular laws and regulations.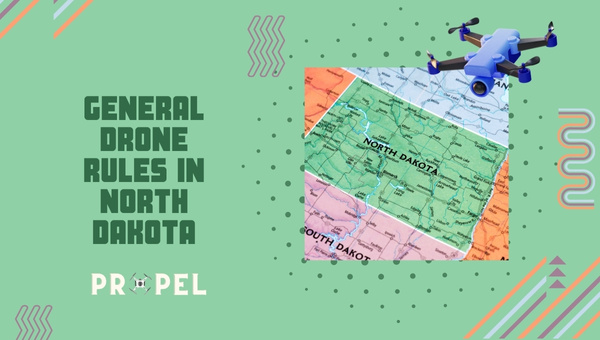 In North Dakota, drones fly exclusively for recreational purposes.
To ensure your well-being sky-high, strictly adhere to the directives of Federal Aviation Administration (FAA) approved Community-Based Organizations (CBOs).
To guarantee your drone is always within view, it's best to have a visual observer accompany the pilot and stay in direct contact with them.
Always prioritize crewed aircraft and guarantee they are not hindered in their path.
Before takeoff in regulated airspace (Class B, C, D, and E), get approval through LAANC or DroneZone if you plan on flying at 400' or lower.
To guarantee protection and adherence to regulations, fly no higher than 400 feet in Class G airspace.
Make sure you take and pass the TRUST Recreational UAS Safety Test, and keep your results as a record.
All drones that weigh over 0.55 lbs (250 grams) must comply with FAA regulations, which include being externally marked with their registration number and having proof of registration on you while flying. However, recreational flyers who use smaller drones will be exempt from these requirements as they do not need to register or mark the drone in any way.
It is paramount that all safety regulations are followed at all times when flying a drone. Under no circumstances should you fly the device if under the influence of drugs or alcohol, nor must it be operated near emergency response or law enforcement operations in progress. Maintaining a safe distance from critical infrastructure facilities is also essential for your and others' security.
Steer clear of any legal issues by being mindful that disregarding the safety regulations or recklessly operating your drone could bring about serious consequences. Depending on the severity, these may include civil penalties and even criminal prosecution.
Read Also: New Drone Laws in Maryland, Penalty, Registration
Commercial Drone Rules in North Dakota
If you have a small drone that weighs less than 55 pounds, the Federal Aviation Administration (FAA) Part 107 regulations allow you to fly it for commercial and professional purposes.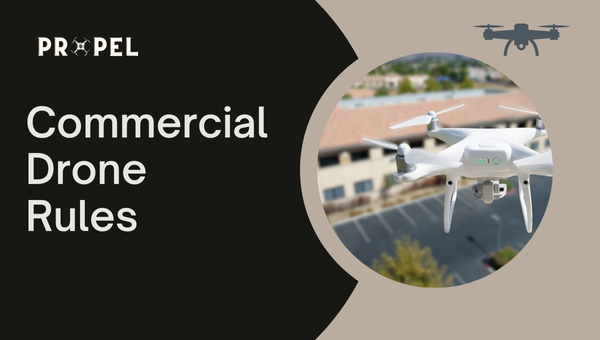 When operating a drone in North Dakota, it is important to know that the FAA Part 107 has authorized its commercial operations.
However, before you begin your flight journey, make sure you check into any special requirements and restrictions placed by the state of North Dakota. Doing this will ensure full compliance with all local regulations and laws
Penalties For Breaking Drone Laws in North Dakota
If you are discovered to have breached any regulations while flying a drone, the consequences can be dire.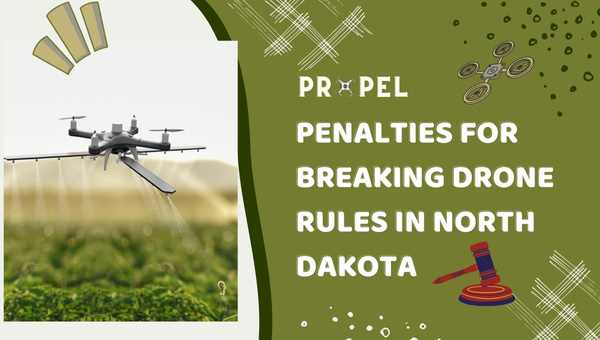 Loss of drone privileges
Drone laws are serious and should not be taken lightly - if broken, and the consequences can range from hefty fines of a few hundred dollars to thousands or even incarceration for more severe violations.
Furthermore, violators of drone laws may face a ruthless penalty: the loss of their drones and being barred from flying them in the foreseeable future.
Possible jail time
For more serious offenses, jail time is a likely possibility. Generally, this applies to those who recklessly endanger others by flying their drones in close proximity to airports or other heavily populated areas.
Fines
Violations of drone regulations are typically punished with steep fines - from hundreds to thousands of dollars, dependent on the severity of the mistake.
Loss of drone
In certain instances, offenders of drone laws may have their drones taken away to stop them from using them unlawfully or in an unsafe way.
Banned from flying
Violators may be barred from operating drones altogether as a deterrent for unlawful drone activity. Such restrictions could be permanent or temporary, depending on the severity of the offense. In this way, authorities can help prevent future irresponsible actions.
Read Also: New Drone Laws In Russia: Rules, Penalty
The Federal Aviation Administration (FAA)
The Federal Aviation Administration (FAA) is the authority responsible for promoting safety, security, and efficiency in civil aviation within the United States.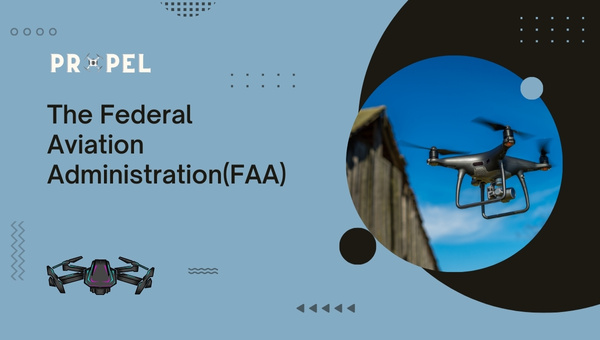 This includes ensuring that all planes, ranging from small private charters to large commercial airlines, are operating according to regulations and standards set by the FAA.
Aside from this, the FAA also plays an essential role in securing our airspace from any potential threats. Moreover, it is responsible for establishing and enforcing applicable aviation guidelines - covering all aspects associated with aviation, including aircraft design & maintenance, pilot training, and licensure.
Furthermore, the agency also supervises air traffic control and airport operations as well as navigation aids such as air traffic control towers and radar devices.
FAA's Part 107
The Federal Aviation Administration (FAA) has laid out the restrictions for taking to the sky with smaller Unmanned Aerial Vehicles (UAVs). To conform to updated Part 107 protocols, UAVs must have a maximum take-off weight of 55 lbs or lower if they plan to fly in the national airspace.
The FAA imposes stringent regulations on drone aviation, so any operators who wish to operate their drones legally must get a remote pilot certificate and register their aircraft with the agency.
Moreover, the law has imposed strict regulations on where and how drones can operate. For instance, operators must be able to observe their drones at all times; flying a drone over people or near an airport is against the law.
Remote Pilot License
With a remote pilot license from the Federal Aviation Administration (FAA), you can monetize your drones in no time. The FAA's process is surprisingly straightforward, so don't delay any longer - reach for those clouds and take flight today.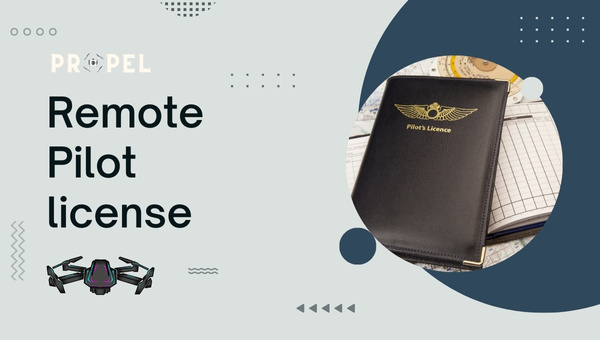 To be an approved remote pilot, the first step is to pass an FAA-sanctioned aeronautical knowledge test at an authorized testing center. Afterward, you have taken and passed your exam and submit your application to the Federal Aviation Administration. Your temporary remote pilot certificate will arrive in due time.
To ensure your remote pilot license remains valid, you must take and pass a recurrent aeronautical knowledge test every two years and complete an online safety course. By doing so, you can easily maintain your license's validity.
Register Your Drone With FAA
Taking the initiative to register your drone with the Federal Aviation Administration in order to use it for commercial purposes legally has never been easier.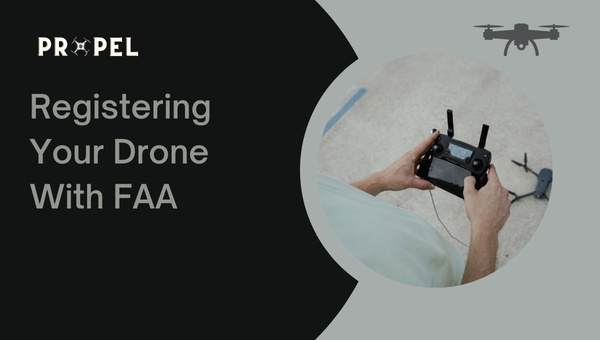 All you need is a few minutes of your time; before you know it, registration will be complete! No longer do you have to spend hours going through paperwork - now registering is fast, simple, and hassle-free.
Take your first step towards drone flying by signing up for an FAA account. Make sure to give all relevant contact information and provide details about the drone you wish to fly. Don't forget; there is also a fee of $5, which must be paid to complete the registration process!
Upon completion of your drone registration, you will receive an official Certificate of Aircraft Registration and a one-of-a-kind registration number that must always be displayed on the aircraft.
Read Also: Drone Laws in Japan, Penalty, Registration
No Drone Zones in North Dakota
Establishing no drone zones is vital to guaranteeing public safety and preventing unwanted disruption caused by UAVs in certain areas.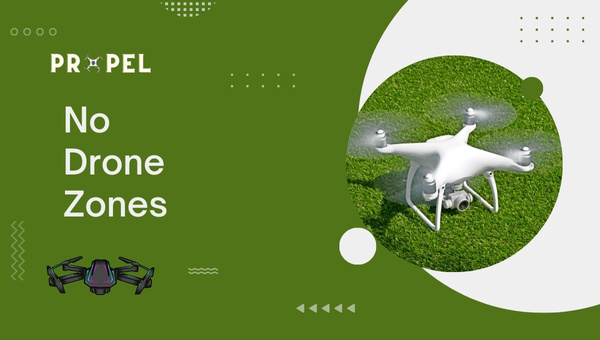 Such measures help to ensure that people are able to enjoy the beauty of nature without having their peace disturbed. By keeping drones out, we can appreciate the tranquility and stillness of our lives uninterrupted - something that everyone should be entitled to.
Drone-free areas generally include airports, military bases, prisons, and other important sites that require an elevated degree of security, such as hospitals or national parks.
Unless authorized by the responsible officials (like if they authorize surveying or research), unmanned aerial vehicles should not enter these places for any reason.
Ignoring no drone zones can result in serious penalties from civil authorities, including hefty fines and imprisonment if the laws are breached.
While drones offer incredible benefits for many applications, it is important to remember their restrictions near no drone zones in order to keep everyone safe.
Read Also: All New Drone Laws in Illinois
FAQs
Is it lawful to fly drones in North Dakota?
Yes, flying drones in North Dakota for recreational purposes is lawful.
Where can I find no drone zones?
No drone zones are generally established around airports, military bases, prisons, and other areas that require heightened security. It is important to research any local restrictions before attempting to fly drones in those areas.
Do I need a license to operate my commercial drone?
Yes, you will need a license to operate your commercial drone.
Conclusion
Flying drones in North Dakota is a great way to explore the skies and capture amazing aerial views. To ensure your experience goes smoothly, register your drone with FAA, follow all commercial rules and regulations, and remain aware of no drone zones.
Also, remember to renew your license every two years and complete an online safety course in order to maintain its validity. In North Dakota, make sure to abide by the FAA regulations and always fly responsibly.
Be mindful of other aircraft and people on the ground, stay away from airports, follow all rules for drone registration, and be aware that any violations could lead to hefty fines or even jail time.
By flying with caution and adhering to the laws, you can ensure your safety and avoid any legal risks associated with drone use.
By following these guidelines, you'll know how to safely fly a drone in North Dakota while being aware of the potential consequences if you don't adhere to them. Have fun but fly responsibly.
We hope this article was useful for you and that it provided a valuable resource. If so, don't hesitate to share the content with your network or leave a comment below.