Parrot Anafi Detailed Review (2023 Updated)
Updated On: January 8, 2023
The Parrot Anafi is a new drone on the market that's shaking up the industry with its impressive features and low price. But how does it stack up against the competition? And is it worth your money?
In this article, we'll take an in-depth look at the Parrot Anafi to help you decide if it's the right drone for you. Anafi is a small, lightweight drone that folds up for easy transport.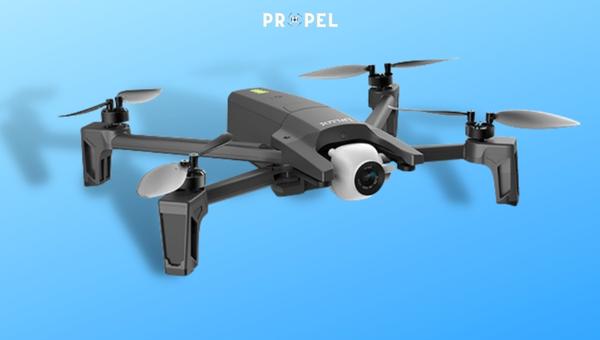 Its number of innovative features set it apart from other drones on the market. For example, it has an automatic tracking feature that allows you to follow your subject without manually controlling the drone.
Its gimbal system gives you smooth, cinematic footage no matter what type of terrain you're flying over. We will discuss Anafi's features in more depth later in this review.
Also, Check: 10 Best Parrot Drones
Specifications of Parrot Anafi
| Specs | Detail |
| --- | --- |
| Flight time | 25 minutes |
| Range | 4km |
| Speed | 15m/s |
| Camera | 1/2.4-inch CMOS sensor, with an aperture of f/2.4, 4K cinema-quality footage in 4096x2160 resolution at 24 frames per second. |
| Dimension | Unfolded(175x240x65mm) |
| Weight | 320g |
| Battery | 2700mAh and 3.6V |
| Charging time | 1 hour |
| Advanced Features | Return to Home, Follow me mode, Waypoints, point of interest, 360 Degree |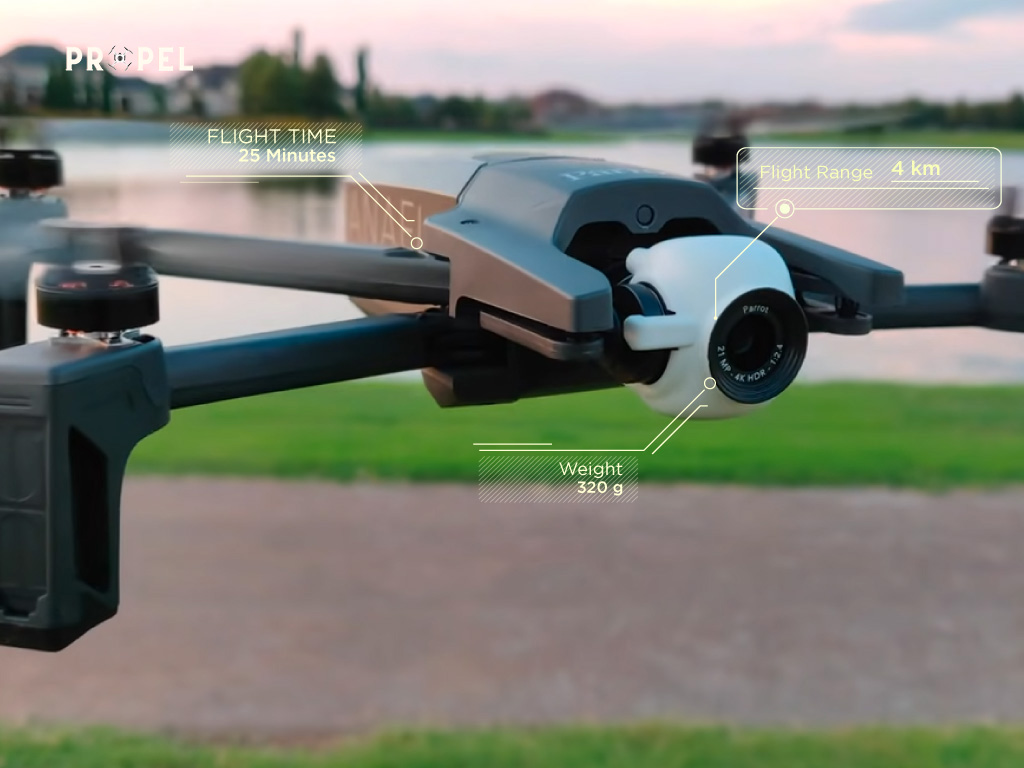 Flight time
Flight time is one of the main features of the Parrot Anafi. This impressive drone offers up to 25 minutes of uninterrupted flight time, allowing you to easily capture all your most memorable moments.
Compared to other drones on the market today, this drone can stay in the air longer and cover more ground than ever before. With such a long flight time, you can explore all the nooks and crannies of your favorite spots in no time.
Range
The range of the Parrot Anafi is a major selling point for this drone, boasting an impressive 4 km. This means that users can fly their drone for far longer than many other drones on the market, giving them more control over their footage and allowing for more shots from further away.
For example, when filming nature scenes or sports events, the increased range of the Parrot Anafi lets the user capture shots they wouldn't otherwise be able to get.
This long-range capability makes this drone a great choice for outdoor enthusiasts who want to get stunning footage from far away.
Camera
The Parrot Anafi drone offers an impressive set of features when it comes to its camera. The camera has a 1/2.4-inch CMOS sensor and a low-dispersion aspherical lens with an aperture of f/2.4, making it capable of capturing stunning 4K cinema-quality footage in 4096x2160 resolution at 24 frames per second.
Its wide-angle lens allows for a wider field of view, giving you more creative freedom when filming. Additionally, its Digital Image Stabilization feature reduces motion blur and camera shake to ensure your footage is always smooth and stabilized.
Speed
Speed is important when buying a drone, and the Parrot Anafi certainly doesn't disappoint. With an impressive speed of 15 m/s (around 33 mph), this drone can get you to your destination quickly and efficiently.
That speed makes it suitable for various activities like filmmaking, racing, and photography. Plus, it's fast enough to keep up with most other drones today.
This speed is also great for capturing fast-paced action shots and aerial footage since you'll be able to keep up with the subject of your photos or videos.
Dimension and Weight
The Parrot Anafi is a highly advanced quadcopter drone that offers an impressive range of features and capabilities. With a size of 175x240x65mm when unfolded, the Anafi is a small but powerful machine. It's surprisingly lightweight for its size, too, weighing in at just 320g, making it perfect for carrying on your travels.
The Anafi also features an ultra-compact folding design, which allows it to be easily stored and transported when not in use. This makes it ideal for photographers who are on the go and need a reliable drone to take with them.
Additionally, its foldable design enhances its portability, allowing you to take it wherever you go. So, the Anafi can come along for the ride wherever you're traveling.
Battery
The battery of the Parrot Anafi is one of the most impressive features this drone has to offer. It has a large capacity of 2700mAh and 3.6V, which allows for an extended flight time of up to 2h30 on Android devices and 5h30 on iOS devices. 
This long battery life ensures you'll get your footage without worrying about running out of juice, which is important for getting the perfect shot. So you can focus on getting the perfect shot without worrying about running out of power.
Durability and Design
Parrot Anafi is a quadcopter drone designed to be highly durable and reliable. The drone's frame is made with high-grade carbon fiber, making it resistant to impacts and crashes.
Additionally, the frame also has a built-in shock absorber which helps minimize the damage caused by hard landings. Furthermore, the propellers are also highly durable and resilient, which can withstand multiple impacts without breaking.
The overall design of the Parrot Anafi is sleek and modern. It has a unique folding design which allows it to be quickly folded up and stored away when not in use.
Furthermore, it features two antennas which help boost the signal strength and range, making it more aesthetically pleasing. Additionally, the drone is lightweight, making it easy to transport and store.
Performance
The performance of the Parrot Anafi drone is incredibly impressive, boasting a range of features that make it one of the best drones on the market. The Anafi has an incredible flight time of 25 minutes on a single battery, which is longer than most other consumer drones.
It also has an impressive top speed of 55km/h, allowing users to reach their desired destination quickly. Additionally, the Anafi has a maximum flight altitude of 122m and can be controlled up to 2km away with its controller.
It also has various sensors, such as ultrasonic sensors and a 3-axis gimbal camera, that allow for smooth footage regardless of wind speed or turbulence. The Parrot Anafi drone is a great choice for those seeking a powerful and reliable drone.
So, the Parrot Anafi is worth considering if you're looking for a drone with great features and performance. With its impressive speed, range, and flight time, this drone will help you easily capture amazing aerial shots and videos.
Advanced Features of Parrot Anafi
Several advanced features are available with the Parrot Anafi drone, making it an ideal choice for anyone looking to take their drone flying experience to the next level. Some of them are
Return to home
The Return to Home feature is a lifesaver for drones. No one wants to lose their drone or have it fly away and be out of reach. With the Return to Home feature enabled, your drone will automatically fly back to its starting point and land safely.
You don't have to worry about losing your drone or having it fly away; the Return to Home feature will take care of it, which makes this feature indispensable when using Anafi, which is a great thing to have, considering that it doesn't come with many features.
Follow me Mode
The Follow me Mode on the Parrot Anafi drone is a powerful feature that allows users to capture stunning footage with minimal effort. With this mode, the drone can autonomously track and follow a subject, making it ideal for capturing action shots or getting aerial footage of subjects in motion.
It utilizes advanced image recognition technology to recognize faces, objects, and other subjects. Additionally, it also has an obstacle avoidance system which helps it navigate around obstacles and stay away from danger.
Waypoints
The Parrot Anafi drone is an incredible technology boasting many features that make it ideal for capturing stunning aerial footage. One such feature is its waypoint mode, which allows users to create intelligent flight paths and ensure they can capture the shots they need.
Waypoints enable users to designate points on a map, and then the drone will move between them autonomously, taking pictures or videos that can be edited and shared easily.
This is especially useful for filmmakers, who can program the drone to take shots from various angles without controlling it manually.
The waypoints also help keep the drone safe, as users can set up boundaries and avoid flying over restricted airspace or other obstacles that could cause damage.
Point of interest
Point of Interest (POI) is a powerful feature of the Parrot Anafi drone. It allows users to automatically create waypoints around an object or landmark of interest, enabling them to capture stunning aerial shots with ease.
With Point of Interest, the drone will fly in a circular pattern around the chosen object, allowing users to easily adjust the flight's altitude, angle, speed, and direction. This makes capturing photos from multiple angles easy and efficient, perfect for creating visually stunning content.
Additionally, a Point of Interest can efficiently cover large areas or monitor objects from a safe distance. With its advanced tracking capabilities, the Parrot Anafi drone is a great choice for capturing stunning aerial shots.
360-degree mode
The 360-degree mode on the Parrot Anafi is a revolutionary feature that provides users with an incredibly versatile and immersive aerial experience. The ability to rotate the camera up to a full 180 degrees allows those behind the controls to capture images and videos from almost any angle imaginable.
All in all, the 360-degree mode on the Parrot Anafi is an incredibly powerful feature that provides users with a level of versatility and creativity previously unavailable to those who fly drones.
Whether you're looking to capture amazing footage from new perspectives or want added control over your shots, the 360-degree mode on the Parrot Anafi is sure to please.
Pros and Cons of Parrot Anafi
Pros
The return to Home feature ensures the drone is safe and secure
Follow Me Mode uses image recognition technology for tracking and following objects
Waypoints allow users to create intelligent flight paths with minimal effort
CONS
Limited range means the drone can't always get the shots you want
No obstacle avoidance system can lead to potential collision risks
The point of Interest feature is limited in range and tracking capabilities
Alternatives of Parrot Anafi
There are several alternatives to the Parrot Anafi drone, which offer comparable features and specs. Some are as follows,
DJI Mavic
The DJI Mavic is an advanced quadcopter drone with a wide range of features, including obstacle avoidance sensors and 4k video capture. It also offers up to 27 minutes of flight time, a maximum speed of up to 40 mph, and transmission distances of up to 8km.
This is perfect for those looking to get serious with their aerial photography. So if you're looking for something more professional and advanced than the Parrot Anafi, the DJI Mavic is a great alternative.
Autel Evo
The Autel Robotics EVO is a powerful drone that boasts a range of automated flight modes, 4k video recording, and up to 40 minutes of flight time. Additionally, it has obstacle-detection sensors and return-to-home capabilities for extra safety.
It is perfect for those looking for an even more advanced aerial experience. So if you're looking for a drone that offers more safety and reliability than the Parrot Anafi, then the Autel EVO is worth considering.
Summary
The Parrot Anafi is a great drone for the price. It has some great features, like folding up and fitting in a small carrying case. The camera also shoots good videos and stills. However, there are a few drawbacks. First, it doesn't have a gimbal, so the videos can be shaky if you're not careful when flying.
Second, the battery life could be better. It only lasts about 20-25 minutes per charge. But overall, the Anafi is an excellent value for the money and would make a great gift for anyone who loves drones.
So if you're looking for a good, low-cost drone to get you started in the hobby, the Parrot Anafi might be just right for you. It has enough features and quality to explore the world of drones without breaking your budget. You won't regret giving it a try! We hope you like the article.
Thank you!